The GQ Approach – Laurel April 2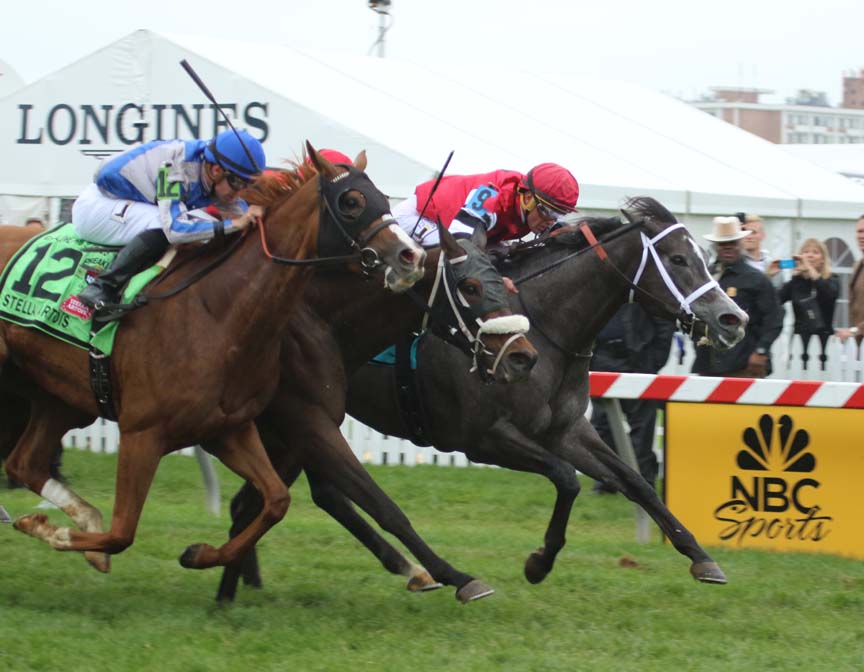 Mizz Money (#9) held off Vielsalm (in between) and Heath (#12) to win the Grade 3 Gallorette. Photo by Laurie Asseo.
The GQ Approach features full-card selections from Laurel Park (w/ live racing every Friday, Saturday and Sunday through May 7, 2017; Post Time 1:10pm EDT), including a daily Best Bet, Longshot Play, and multi-race wagers — including the 20 cent Rainbow Pick-6, 50 cent Jackpot Pick-5, as well as Pick-4s and rolling Doubles, Pick-3s and the Super High-5.

[su_box title="
Today's Carryovers
" style="glass" box_color="#66ADCC"]
Rainbow Pick 6: $1,577.56
Super High 5: no carryover
Late Pick 5: no carryover[/su_box]
[su_box title="GQ's Handicapping Tip of the Day" style="glass" box_color="#66ADCC"][stray-random][/su_box]
[su_box title="Best Bet of the Day" style="glass" box_color="#66ADCC"]Race 5 / #1 – Miss Nosy (7-2)[/su_box]
[su_box title="Longshot Play of the Day" style="glass" box_color="#66ADCC"] Race 6 / #7 – Carolina Dreams (8-1)[/su_box]
[su_box title="
Multi-race Wagers
" style="glass" box_color="#66ADCC"]
Race 1: $2 Double  1, 4  w/ 2, 3  ($8)
Race 3: $0.50 Pick-3  3, 5, 6  w/ 2, 9, 10  w/ 1, 2, 3 ($13.50)
Race 5: $0.50 Pick-4  1, 2, 3  w/ 3, 4, 7  w/ 1, 6  w/ 2, 7 ($18)
Race 7: $2 Double  1, 6  w/ 2, 7  ($8)
[/su_box]
[su_heading size="21″ align="left"]Analysis[/su_heading]
Weather: Mostly Sunny; highs in the mid-50s
Scheduled Turf races: 4th, 6th and 8th
Projected track conditions… Main: FAST  Turf: OFF
Post Time for 1st race is 1:10pm EDT
Race 1
#1 – Speightshill (1-1): Tough to take even money or possibly less on this 1 of 20 5-year-old gelding but that speaks volumes about his competition; class drop and cut back to 6f makes him the one to beat
#4 – All Blinged Out (5-1): Spent first six races of career in Ohio Valley jumping from TP to Mnr to Btp and back getting trounced in all 4 races v. winners at low levels; so what's the attraction? Trainer L. Gaudet takes over and adds Blinkers… she 3 for 6 with this angle
#3 – Maryland's Best (6-1): Last year showed promise when third in MD Million Nursery but bled in next start, hence addition of Lasix in first start in 3-months
Race 2
#3 – Royal Hussar (5-2): Has traded punches with the two others mentioned here in last 3; like the rider switch to A. Cintron who has gotten 21% of "Ham" Smith's runners to Winners Circle
#2 – Clubman (9-5): This early Triple Crown nominee has shown talent in first 3 career starts but appears to lack will to win; trainer J. Egan adds Blinkers in hopes today is Graduation Day
#7 – Twin Valor (3-1): Lost by a whisker in only race (of 8) at this one mile distance; H. Karamanos needs this one to relax early in order to have enough left in the tank for the stretch drive     
Race 3
#3 – Squashville Road (3-1): Trainer J. Robb has this one moving forward since $10k claim 4 races back; speed figures have steadily improved and is only runner in here to have won at one mile… and did it twice
#6 – Bull Ensign (9-5): Vulnerable favorite appears to be off form which explains the drop from AlwN1x; blinkers off angle will attract those who swear by it; will need pace help
#5 – Ten Hut (7-2): Tries to stretch out from sprints which didn't go well once before but that was prior to owner/trainer G. Rosenthal's prudent claim for $5k; could find himself on the lead early and steal it if nobody challenges him             
Race 4 is OFF THE TURF
#9 – Pomeroy's Package (4-1): Mother Nature postponed Turf Season Opening Day at Laurel; Lone Lrl dirt try was forgettable but was in G3 DeFrancis Dash; he's the speed of the speed and with the field decimated with scratches is the one to beat
#10 – Flyingtobechilders (7-2): Whether on or off the turf, this 8-year-old gelding does equally well on either surface; comes off second main track victory in 8 such starts        
#2 – Ruth Less Blue (9-2): Trainer H. McMahon does well second race after claim; though he had hoped for turf, this one's first fast track try v. open $16k at Pen was a decent effort
Race 5
#1 – Miss Nosy (7-2): *** BEST BET *** Stepped up in latest only to have saddle slip in early stages of that contest; Y. Ortiz should take advantage of a paceless race and milk to early fractions to save enough gas for the long stretch run to the second wire            
#2 – Our Karin Louise (3-1): Seems when this filly was runner-up in Lrl debut two back she was in peak form based on laying an egg in next/latest outing v. many of the same, two of which (#1 & #3) are in here      
#3 – Include a Check (5-2): Successful two turn stretch out against N2L in latest and claimed by trainer M. Reid still riding an 0-fer the meet; retains "Cowboy" Hamilton services who will certainly never again forget one mile races at Lrl go to the second wire (re: R3 on Apr. 1)            
Race 6 is OFF THE TURF
#7 – Carolina Dreams (8-1): $$$ LONGSHOT $$$ Turf would have been nice but fast track record isn't too shabby (19:3-7-3); previous to facing N1x at Pen, hit the board in 3 straight locally v. $5k foes
#3 – Stormy Salute (5-1): Makes third start after S. Lake claim who obviously planned on a '17 turf campaign; since that's on hold he should take advantage of short field as last victory came at this level  
#4 – Vale Ridge (10-1): Late running style requires some pace help which might be hard to find in a short field; J. Torres who guided this mare to victory two back is back in the irons  
Race 7
#1 – Love Rules (5-2): Has faced some of the local heaviest hitters while getting minor shares; hasn't seen Winners' Circle since 2015 but gets best chance today
#6 – Gavin Streetsense (5-1): Fresh off romping against $16kN2L and claimed by trainer L. Gaudet (23% 1st off claim), may take back off what could be a torrid pace; apprentice C. Carrasco has guided 2 of 3 mounts for Gaudet to Winners Circle
#5 – Supervisor (10-1): Continues to answer every bell as connections continue to challenge him stepping up in class once again, third race after layoff; should get great stalking trip in hopes of a pace meltdown  
Race 8 is OFF THE TURF
#7 – Stalk (4-1): Appropriately named as it fits his running style which should be perfect in here with plenty of early speed to get leg weary in deep stretch; adds Blinkers in hopes of getting diploma; was runner-up in last as the 5th place finisher came back to break maiden yesterday
#2 – Flankenstein (7-2): Gets a half furlong break in distance which might be short enough for jock to nurse her early speed home; class drop from $25k to $16kMCL helps as well
#10 – English Tudor (8-1): Would have loved to see this one on turf based on bloodlines but will stick this English Channel colt due to second time blinkers angle
YESTERDAY'S NEWS
On Saturday April 1st at Laurel had 6 winners from the 9-race card (2 Top Selections; payoff in BOLD) having $2 WIN pay-offs of $11.00 (1st race), $6.00 (2nd), $3.20 (4th), $16.00 (5th), $8.60 (7th) and $3.20 (8th). Of the suggested multi-race wagers hit the R1-R2 $2 DOUBLE for $20.60 (cost: $12). Top Selections in 2017 are 85 for 331 (25.68%). In 2016, Top Selections were 304 for 1,213 (25.02%).
BEST BET of the Day (38: 12-8-7; in 2016 127: 31-29-19) Barin (3rd race: 7-2 M/L; 5-2 PT) was outrun early and appeared not to care for the muddy surface and was never a threat while finishing 7th.
LONGSHOT PLAY of the Day (35: 2-2-8; in 2016 124: 13-13-16) Alarming (9th race: 8-1 M/L; 8-1 PT) urged entering the turn, was four wide leaving the bend and was never a factor finishing 5th.