The GQ Approach – Laurel April 1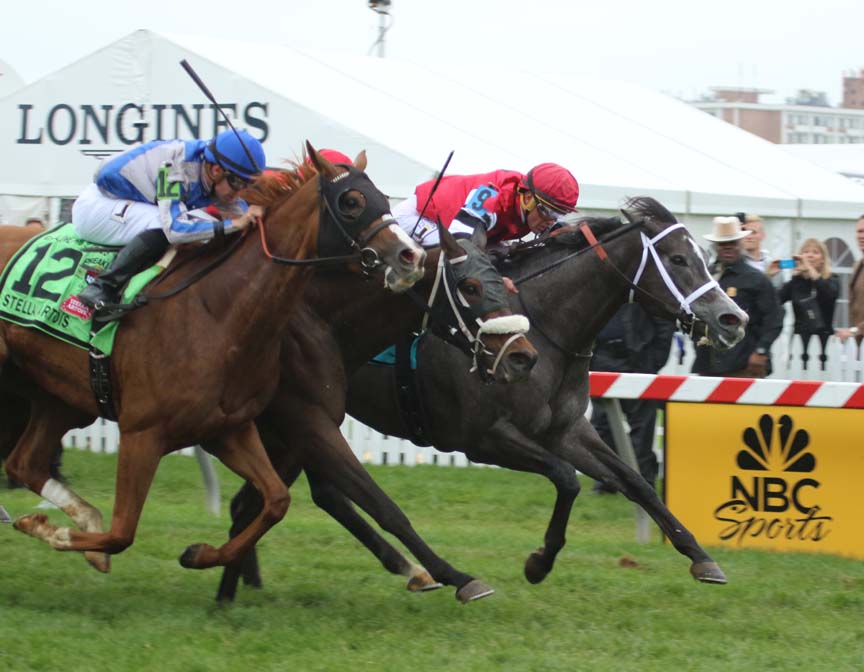 Mizz Money (#9) held off Vielsalm (in between) and Heath (#12) to win the Grade 3 Gallorette. Photo by Laurie Asseo.
The GQ Approach features full-card selections from Laurel Park (w/ live racing every Friday, Saturday and Sunday through May 7, 2017; Post Time 1:10pm EDT), including a daily Best Bet, Longshot Play, and multi-race wagers — including the 20 cent Rainbow Pick-6, 50 cent Jackpot Pick-5, as well as Pick-4s and rolling Doubles, Pick-3s and the Super High-5.

[su_box title="
Today's Carryovers
" style="glass" box_color="#66ADCC"]
Rainbow Pick 6: no carryover
Super High 5: $8,868.44
Late Pick 5: no carryover[/su_box]
[su_box title="GQ's Handicapping Tip of the Day" style="glass" box_color="#66ADCC"][stray-random][/su_box]
[su_box title="Best Bet of the Day" style="glass" box_color="#66ADCC"]Race 3 / #3 – Barin (7-2)[/su_box]
[su_box title="Longshot Play of the Day" style="glass" box_color="#66ADCC"] Race 9 / #5 – Alarming (8-1)[/su_box]
[su_box title="
Multi-race Wagers
" style="glass" box_color="#66ADCC"]
Race 1: $2 Double  3, 4, 7 w/ 3, 4  ($12)
Race 3: $1 Pick-3  3, 5, 6  w/ 1, 4, 6  w/ 4, 6, 7  ($13.50)
Race 5: $0.50 Pick-4  4, 6  w/ 1, 4  w/ 2, 4, 8, 9  w/ 2  w/ 3, 5, 7 ($24)
Race 7: $2 Double  2 w/ 3, 5, 7  ($6)
[/su_box]
[su_heading size="21″ align="left"]Analysis[/su_heading]
Weather: Mostly Cloudy; highs in the mid-50s
Projected condition of main track: SLOPPY to GOOD
No turf racing until Spring 2017
Post Time for 1st race is 1:10pm EDT
Race 1
#4 – Classic Wildcat (7-2): This 11-year-old gelding trained by KTL simply loves to run; tossing last one as he must have been in there to fill the race; back at level where he's been successful
#3 – Kowboy King (5-2): Gradually coming back down to level where he can win; third start after $5k claim after holding his own against open $15k and $11k claimers
#7 – Colony Strike (5-1): Steps up into unfamiliar territory while in jail after trainer/owner M. Catalano, Jr. claim; first time going 6f in 29th career start; will enjoy the off track early in the card
Race 2
#3 – After the Cut Off (9-2): Maybe it's wishful thinking but after dissecting this geldings PPs, he gives his best effort when going two turns; that fact T. McCarthy gets back on is a plus
#4 – Atascaderan (7-5): Took a lot of early money in latest but couldn't hold off a fast closing rival; has to travel a 1/16th further today but might be able to slow it down early
#5 – Spirit of Freedom (5-2): First start going two turns but bloodlines suggest it's overdue; wasn't ready to take on $10k level so he's back to $5kN4x and boasts top Brisnet Prime Power# in this field     
Race 3
#3 – Barin (7-2): *** BEST BET *** First start after A. Merryman claim for $16k; this capper believes new connections have turf in mind for this gelded son of Pioneerof the Nile but has great chance to graduate as he gets an upgrade in the saddle after being beaten favorite in past two
#6 – E Takes the Lead (2-1): Willing to draw a line through last one on turf as he was way wide into the 1st turn; best two races speed figure-wise were his only two on dirt 
#5 – Looks Like Simon (5-1): KY-bred FTS by Eddington out of a Great Notion mare is bred for going long and has been working steadily; A. Cintron/H. Smith have been a good team (21%)
Race 4
#1/1A – Balkan/El Manut (2-1): Formidable 1-2 punch from the J. Corrales barn though both are 3-year-olds taking on elders for the first time, still if either can jump out to early lead and never look back
#4 – Joshie (8-5): A Cash Cow who has been burning bettors money as she been 2-1 or less in last 7 starts, PT favorite in 6 of them yet failed to win any of them; only victory came on the synthetic at WO; an Exchange Wager players dream horse
#6 – Bourbon and Beer (9-2): Interesting move when stepped up in first start after $16k H. McMahon claim when out of jail, showing nothing; there are plenty of red flags but just don't care for the others
Race 5
#6 – Marrakech (3-1): This "Express" (it's a CSN reference) spent winter at Tam facing much better while earning minor awards; appears field will set quick early fractions setting it up perfectly for her jock to pounce in deep stretch; never OTB at this distance (5:2-2-1)
#4 – Recanted (6-1): Prx invader for trainer S. Lake exits a string of four Alw25000s races where he didn't do bad considering his double-digit odds; gets class relief here for Lrl debut  
#7 – Cort'n Asong (8-1): Trainer H. McMahon wins at 21% clip w/ second race after claim runners; note last race was in with a stablemate; going against better judgment w/ 7 win apprentice going a route, typically against this cappers religion
Race 6
#4 – Gobi (4-5): Not only a stand out on paper but there's no other early speed in here to keep her honest on the front end; if she's 4-5 comes Post Time, consider it a gift… no April Fools
#2 – Cotton Eye Gem (4-1): Toss latest as she proved she's not only a sprinter but not ready for that level yet, if ever; best races of young career have comes at this level; only runner in here to have beaten winners
#1/1A – Backseat Driver/Haveaniceweekend (6-1): One of these two from same owner, different trainers, need to run with the favorite early in hopes of softening her up; #1 is up from GP and first start w/ trainer (36% that angle) while #1A ships in from NY looking for easier foes  
Race 7
#8 – Saint Mistress (5-1): Ran better (3rd) than her 12-1 odds in first start since last April finishing 4 lengths behind the #4 in here; can turn the tables for trainer E. Geralis who with limited runners is having a nice meet (11 of 47; 23%) while 5 for 15 in overall this year
#2 – Sazerac Girl (5-2): Lone win came on turf and those 7 runner-up finishes from 20 career starts shouts "Second-itis"!!! yet the bettors keep drinking the Kool-Aid as she's been beaten favorite in last three outings
#4 – Picnic Party (3-1): Speed figures have been ascending in past three efforts, no coincidence since trainer D. Dilodovico claimed her; gets an easier task today in second try v. winners  
Race 8
#2 – American Road (1-1): Let's see… NY shipper, third race after layoff, getting class relief, trainer L. Rice (18 for 39 at meet) and a huge Brisnet Prime Power# edge = no brainer; so why not Best Bet? GQ's self-imposed restriction of  requiring ML odds of 9-5 or higher 
#1 – Forever Bernardini (12-1): Amazing Fact of the Day… his dam sold for $3.5 million when in foal to him (credit to my bloodlines nerd, Chris V. for that nugget); has never hit the board on fast track but third race after layoff and first time getting two turns makes him worth a look
#3 – Coach Pat (5-1): 3-year-old faces elders for first time in his career; prudent claim by trainer "Ham" Smith who rarely visits the racing office to drop a claiming slip, took this one in career debut for $25k as he romped by 7+ lengtsh
Race 9
#5 – Alarming (8-1): $$$ LONGSHOT $$$ All the warning signs are there, quickly dropped after disappointing first race after C. Gonzalez claim, now gets offered for less ($9k) but lost any shot in latest when taken up on the turn; comes back trying to sprint again against a weak field
#7 – Triple Black Jack (8-5): Trainer F. Campitelli adds blinkers after a trio of frustrating starts at this level; this 5½f distance gives this gelding his best chance to graduate 
#3 – Year Book (6-1): Ded based trainer K. Decker shifted his operation to MD for at least Spring-Summer racing; his runners have been overlooked as one (38-1) just missed taking yesterday's nightcap; this one earned a 73 Brisnet# in latest, second best among this group
YESTERDAY'S NEWS  
On Friday March 31st at Laurel had 5 winners from the 9-race card (2 Top Selections; payoff in BOLD) having $2 WIN pay-offs of $3.80 (2nd race), $3.80 (3rd), $6.80 (4th), $7.60 (5th) and $5.00 (7th). Of the suggested multi-race wagers hit the R3-R5 50 cent for $17.00 (cost: $13.50). Top Selections in 2017 are 83 for 322 (25.78%). In 2016, Top Selections were 304 for 1,213 (25.02%).
BEST BET of the Day (37: 12-8-7; in 2016 127: 31-29-19) Alright Alright (7th race: 9-5 M/L; 8-5 PT) rushed up between horses down the backstretch, set the pace in the two path around the turn and finished gamely to hold onto the runner-up spot and returned $2.20 to PLACE and.$2.10 to SHOW.
LONGSHOT PLAY of the Day (34: 2-2-8; in 2016 124: 13-13-16) The Iron Bank (6th race: 6-1 M/L; 2-1 PT) scratches reduced the file to 5, which is why the odds were far from being longshot worthy, in any case, off a bit slow, settled in behind a pair who were quicker to get the lead, swung 5-wide on the tunr, made up some ground entering the stretch but flattened out in the drive to complete the Trifecta and returned $2.10 to SHOW.