The GQ Approach – Laurel March 31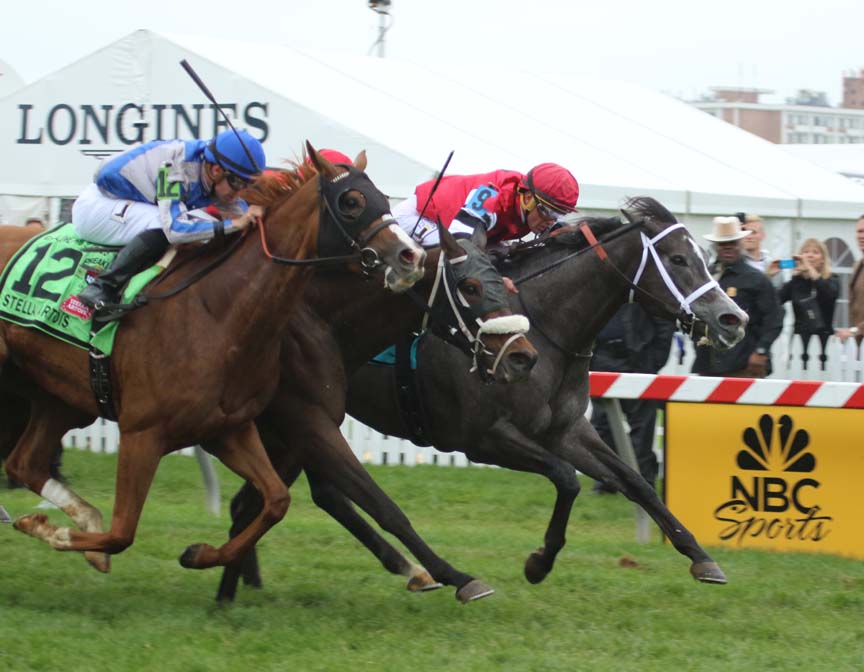 Mizz Money (#9) held off Vielsalm (in between) and Heath (#12) to win the Grade 3 Gallorette. Photo by Laurie Asseo.
The GQ Approach features full-card selections from Laurel Park (w/ live racing every Friday, Saturday and Sunday through May 7, 2017; Post Time 1:10pm EDT), including a daily Best Bet, Longshot Play, and multi-race wagers — including the 20 cent Rainbow Pick-6, 50 cent Jackpot Pick-5, as well as Pick-4s and rolling Doubles, Pick-3s and the Super High-5.

[su_box title="
Today's Carryovers
" style="glass" box_color="#66ADCC"]
Rainbow Pick 6: $774.13
Super High 5: no carryover
Late Pick 5: no carryover[/su_box]
[su_box title="GQ's Handicapping Tip of the Day" style="glass" box_color="#66ADCC"][stray-random][/su_box]
[su_box title="Best Bet of the Day" style="glass" box_color="#66ADCC"]Race 7 / #3 – Alright Alright (9-5)[/su_box]
[su_box title="Longshot Play of the Day" style="glass" box_color="#66ADCC"] Race 6 / #3 – The Iron Bank (6-1)[/su_box]
[su_box title="
Multi-race Wagers
" style="glass" box_color="#66ADCC"]
Race 1: $2 Double  3, 5, 6 w/ 1, 2, 6  ($18)
Race 3: $1 Pick-3  2, 3, 7  w/ 3, 5, 7  w/ 2, 4, 6  ($13.50)
Race 5: $0.50 Pick-4  4, 6  w/ 1, 3, 8  w/ 1, 3 w/ 1, 5, 6 w/ 6, 9 ($36)
Race 7: $2 Double  1, 5, 6 w/ 6, 9 ($12)
[/su_box]
[su_heading size="21″ align="left"]Analysis[/su_heading]
Weather: Mostly Cloudy w/ rain; highs in the low-50s
Projected condition of main track: SLOPPY
No turf racing until Spring 2017
Post Time for 1st race is 1:10pm EDT
Race 1
#6 – Horseshoe Harbour (9-2): Though trainer M. Reid still seeks first trip to Lrl Winners Circle, he knows how to with changing from sprint to route (29%) which he does here in second start off claim dropping back down to level where this gelding was runner-up at same this distance 
#5 – Abolitionist (9-5): The first of two Rudy Rod. NY shippers on the card (other in R2); second start off the claim has shown lack of stamina in final eighth sprinting v. better at Aqu yet stretches out simply due to dropping to MD lowest MCL level ($10k)
#3 – Mine Quarry (15-1): Didn't run a lick in debut for $16k going just 5½f but barn is doing the right thing giving this gelded son of Discreetly Mine more ground to get going  
Race 2
#1 – Lovely Marissa (9-5): Truth be told why look at the running line when trainer L. Jones is 9 for 15 with runners, just once OTB at Lrl; isn't that how the talking heads on the horse racing channel pick'em?! C'mon Man!
#6 – J R Star (2-1): Second Rudy Rod. Runner is 0 for 10 but always has gotten a check; drops in for the tag for the first time after nearly 3-months away from the races; like the work tab
#2 – Redeeming Love (9-2): Second time blinkers and start after trainer M. Eppler claim, runner-up last out when moved up in class; not offered for $40k tag thanks to waiver option for MD-Bred/Sired runners     
Race 3
#2 – Mid Ocean (6-5): Four consecutive runner-up finishes, three as Post Time favorite makes one believe he's contracted Second-itis; running style demands on an honest pace but even a sub-par effort gets the best of this group 
#3 – Wyfold (12-1): Pen shipper should be part of the early pace has he stretches back out and gets services of CT journeymen C. Hiraldo who guided him to N2L victory followed by SHOW effort behind next out winner; broke maiden here
#7 – Surfspun (15-1): With a sloppy track being a near-guarantee, need to give this 7-year-old a look based on off track record (2:1-1-0); this sprinter has gone a mile twice w/ a runner-up finish 
Race 4
#7 – Never Stop Looking (2-1): Has been on a roll of late winning 3 of last 4 starts, only loss came going long; faces much of the same cast he beat in last outing
#5 – American Progress (6-1): Might be insane to think he can turn the tables on top pick and #1 but off track record will help as career best speed fig was earned on in the slop
#3 – The Pulse (5-2): Claimed out of last effort for fourth time in past 6 starts; been succeeding way beyond typical career level, steps up again… at some point he'll realize he's a $7,500 claimer
Race 5
#6 – I'm So Munny (9-5): Speed of the speed and gets a break cutting back a half furlong; should improve after runner-up effort with first time Lasix
#4 – Littlefirefighter (3-1): Blinkers on this Into Mischief gray filly for trainer L. Rice who gets 43% of her Lrl starters to Winners Circle; makes second career start, first since last July on Sar turf
#2 – She's Achance Too (3-1): Beaten favorite while being much the second best in first start since late October; boasts top Brisnet Prime Power#; big question mark as to whether she can handle a sloppy track              
Race 6
#3 – The Iron Bank (6-1): $$$ LONGSHOT $$$ From 14 starts, won and was runner-up in only two starts with today's jock, S. Gonzalez in the irons… both came on an off track; threat to go gate-to-wire
#8 – Go Bo Go (2-1): Steep drop to bottom level just three races after trainer R. Sillaman $10k claim; didn't embarrass self v. $16kN2L in last two; might be a reclaim target for trainer P. Schoenthal at this price
#1 – R Lucifer (5-1): Unruly and unprepared at start coming 4-months after last race, but unleashed his typical strong, late kick to earn PLACE spot; gets additional half furlong today 
Race 7
#3 – Alright Alright (9-5): *** BEST BET *** Owner/trainer D. Jacobson caught a break as this field came up short on early speed, something his runner has as he's won three in a row since adding blinkers while earning triple-digit Brisnet# in last two, something none of his foes today have earn even once in their entire careers
#1 – Power Nap (4-1): Came up three-quarters length short as favorite to a tough customer in latest after turning in a career best effort, beating Joy Drive (#7 in here) and next out winner (Daily News)
#4 – Vorticity (2-1): Excellent effort for first start in 14-months but only good enough for SHOW purse at Aqu; returns to home track to face what should have been a bit easier company but this event could be won by 5 of the six entered IMHO but lacks pace  
Race 8
#1 – Midway Gold (3-1): Another L. Jones runner coming north after winter vacation at FG; won debut sprinting but second start going two turns wasn't as fruitful; T. McCarthy has had 5 mounts for Jones, won with 4 of them
#6 – In Arrears (4-1): Interesting as he was transferred to trainer C. Lynch who puts blinkers back on after giving up lead in final strides; broke maiden over a sloppy Lrl surface at this distance
#5 – Fast Talk (15-1): Didn't surprise connections when won at first asking as he was sent off 7-2 second choice in $25kMCL, getting final fraction in 12 1/5, best in here
Race 9
#6 – Cooking Up a Storm (9-2): Should have plenty of early speed to chase down in second start after G. Brooks claim and having an extra furlong where he's been successful (10:4-4-0)
#9 – Candy Stalker (6-1): Seems to run his best when not expected to; Prx shipper won only previous start at Lrl which happened to be on a "good" track w/ same jock as today (J. Pimentel)
#7 – Resurgence (7-2): Faced open $5k claimers in latest and nearly got the 'W"; loves Lrl (9:4-2-2) and off track (3:2-1-0) but 7 lb. apprentice J. Miller needs to be strong enough to harness his early speed to go 7f
YESTERDAY'S NEWS  
On Sunday March 26th at Laurel had 6 winners from the 8-race card (3 Top Selections; payoff in BOLD) having $2 WIN pay-offs of $5.40 (1st race), $6.80 (2nd), $6.80 (3rd), $4.00 (5th), $2.40 (7th) and $4.20 (8th). Of the suggested multi-race wagers hit the R1-R2 $2 DOUBLE for $27.80 (cost: $12) and the R7-R8 $2 DOUBLE for $4.00 (cost: $6). Top Selections in 2017 are 81 for 313 (25.88%). In 2016, Top Selections were 304 for 1,213 (25.02%).
BEST BET of the Day (36: 12-7-7; in 2016 127: 31-29-19) Goldies Tale (6th race: 3-1 M/L; 3-1 PT) bobbled at the break, recovered and moved up between rivals nearing the five eighths pole to entertain the pace, battled along the rail as prominent foe backed out mid turn, altered out leaving the three sixteenths, chased and gave way grudgingly to save the third spot to return $2.80 to SHOW.
LONGSHOT PLAY of the Day (33: 2-2-7; in 2016 124: 13-13-16) Don't Poke the Cat (5th race: 5-1 M/L; 6-1 PT) two wide on the turn, swung to the four-path entering the stretch, advanced outside horses to reach a striking position in upper stretch and flattened out missing the PLACE position by a neck to return $2.80 to SHOW.