The GQ Approach – Laurel March 26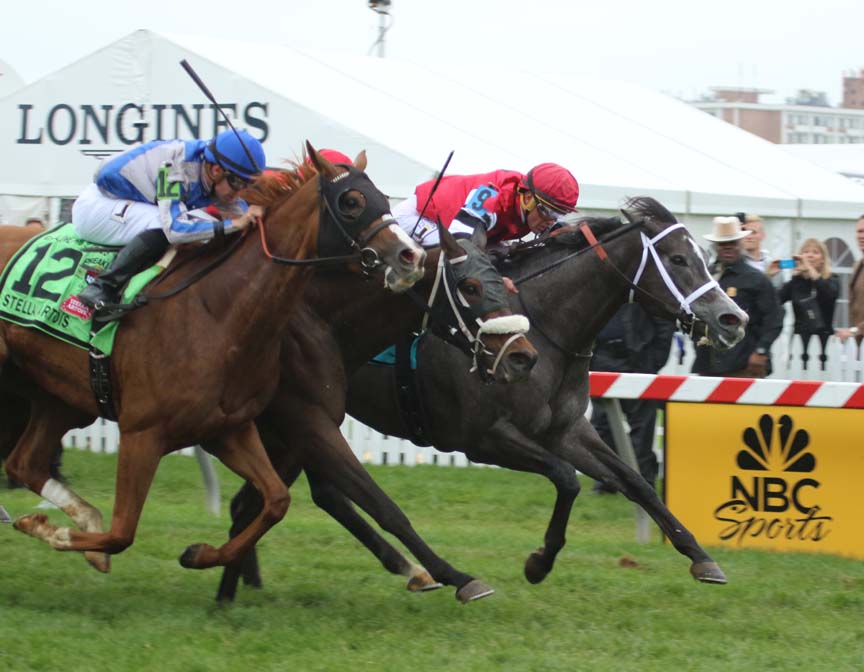 Mizz Money (#9) held off Vielsalm (in between) and Heath (#12) to win the Grade 3 Gallorette. Photo by Laurie Asseo.
The GQ Approach features full-card selections from Laurel Park (w/ live racing every Friday, Saturday and Sunday through May 7, 2017; Post Time 1:10pm EDT), including a daily Best Bet, Longshot Play, and multi-race wagers — including the 20 cent Rainbow Pick-6, 50 cent Jackpot Pick-5, as well as Pick-4s and rolling Doubles, Pick-3s and the Super High-5.

[su_box title="
Today's Carryovers
" style="glass" box_color="#66ADCC"]
Rainbow Pick 6: no carryover
Super High 5: $570.92
Late Pick 5: no carryover[/su_box]
[su_box title="GQ's Handicapping Tip of the Day" style="glass" box_color="#66ADCC"][stray-random][/su_box]
[su_box title="Best Bet of the Day" style="glass" box_color="#66ADCC"]Race 6 / #2 – Goldies Tale (3-1)[/su_box]
[su_box title="Longshot Play of the Day" style="glass" box_color="#66ADCC"] Race 5 / #7 – Don't Poke the Cat (5-1)[/su_box]
[su_box title="
Multi-race Wagers
" style="glass" box_color="#66ADCC"]
Race 1: $2 Double  1, 3, 5  w/ 3, 4  ($12)
Race 3: $1 Pick-3  1, 2, 5  w/ 2, 6, 7  w/ 2, 3, 7  ($13.50)
Race 5: $0.50 Pick-4  3, 7  w/ 2, 6  w/ 4, 5, 7  w/ 2, 7, 8  ($18)
Race 7: $2 Double  4, 5, 7  w/ 8  ($6)
[/su_box]
[su_heading size="21″ align="left"]Analysis[/su_heading]
Weather: Mostly Cloudy w/ chance of showers; highs in the low-50s
Projected condition of main track: GOOD
No turf racing until Spring 2017
Post Time for 1st race is 1:10pm EDT
Race 1
#3 – Abruzzi's Star (7-2): Lone came on turf from 5 lawn tries; debut was on dirt and appeared not ready for career debut as he was away from races for 5 months before next start; not bred for turf over dirt so surface switch should not matter; Blinkers off
#1/1A – Parade of Nations/Deal Driven (9-5): #1 is the stronger of the two in here dropping from $50k to $25k Claimer; #1A stepping up in first race after $15k claim is a show of confidence as he's out of jail
#5 – Hail the General (6-1): Could turn out to be a great claim on trainer H. McMahon's part as this gelded son of General Quarters romped by 6½ lengths here v. $16kMCL; time to put his big boy pants on
Race 2
#4 – Rowd E Allie (7-2): Thrown to the wolves in the G2 Barbara Fritchie and expectedly could not hang with the early speed in there; will get the early lead but it won't be easy cut back to 5½ furlongs will help those get her weary legs to the wire
#3 – Aunt Rose (9-5): Seeks natural Hat Trick in her Lrl debut; this PA-bred has been away since mid-January simply because her condition (N3x) just doesn't fill often; Prx-based trainer P. Pearce only ships when her runners have a shot (2:0-1-1 at Lrl)
#1 – Giddy Up (8-1): Second of trainer A. Pecoraro's scheduled starters on the card; is 27% with turf-to-dirt runners as is this one who went a mile on the Tam lawn in this condition; she's 1 for 2 on the Lrl main track start but that win was over a sloppy surface     
Race 3
#1 – Fairy Cat (3-1): Could get a perfect set up for his late run as there's four in here who need the lead early; boasts top Brisnet Prime Power# but needs to break personal Lrl maiden (13:0-3-3)
#5 – Mail Order Groom (6-1): Always getting a minor share while running on late; less than a length behind top pick two back at same distance and condition; trainer R. Sillaman in a slump (2 for 33 in '17)
#2 – Joe Franklin (2-1): Even though "Joe" stopped on a dime in latest at Aqu, first time with blinkers versus open $10k claimers, the drop seems appropriate for trainer D. Jacobson who spot runners to win (32% at Lrl)   
Race 4
#7 – Northern Prancer (7-2): Prevailed by a nose v. N3L but foe she beat came back to get 3rd career win impressively on Saturday; there's plenty of early speed to her inside to help with her late kick
#2 – Picky Bits (5-2): Speed figures have been ascending and appears to be the speed of the speed; been part of Exacta in 6 of 8 starts at this 6 furlongs distance; both trainer & jock (P. Farro/R. Rosado) come down I-95 from Prx just for this one
#6 – Avalancha (6-1): Another Prx shipper dropping in class from a N2Y took the overland route not showing much; got the SHOW money in only other start at Lrl three races back at this level
Race 5
#7 – Don't Poke the Cat (5-1): $$$ LONGSHOT $$$ Beaten favorite in latest attempt, his 10th, at earning diploma but rode a dead rail; previously ran into traffic when coming up a length short; cut back from one mile to 7 furlongs might be 'third time is a charm' at this level
#3 – Our Proud Wildcat (9-5): Could be a hunch play for all the UK fans hoping they can get to the Final Four w/ a win over UNC today; adds blinkers after being 6-5 beaten favorite in latest try to graduate
#2 – Seven Knots (12-1): Blinkers off worked to the turn of a $65 winner for owner/trainer S. Purdy with his only other runner when taking the hood off; third start after layoff as well            
Race 6
#2 – Goldies Tale (3-1): *** BEST BET *** Others on this card might be more obvious but going for value here as she's faced better in last two efforts, those winners came back yesterday to run 1-2; both career wins, from as many starts, came at this middle distance; if the track has some moisture that should help as well
#6 – Flint Hill (9-2): Always needs more real estate than the 6 furlongs in last effort at this level; gets an additional panel but is reliant on quick early fractions which may not materialize to get to Winners Circle
#5 – Sippy Cup (3-1): Runner-up in last but winner couldn't handle step up yesterday and was well beaten; might want the lead here as only the #1 will seem eager out of the gate  
Race 7
#5 – Lights of Medina (6-5): A rare T. Pletcher shipper… but don't get too excited, TAP won't show and this gal may not either as "Teflon Todd" is winless at current Lrl meet (5:0-0-1); on paper this filly who makes her 4th career start is the deserving favorite but the race isn't run on paper
#7 – Lady Keswick (5-1): Spend the winter at GP after missing by a neck in her debut here last Oct.; her form went south as well in two races at GP; returns home and stretches out; like the 6f work she turned in recently
#4 – Quick Witted (5-1): KY/home-bred FTS by Afleet Alex out of a Sefapiano mare who was a graded stakes winner on the turf but broke her maiden on the dirt; this gal has been outworking her uncoupled stablemate in here (#6)… if you wish to believe the Clockers times  
Race 8
#8 – Astrollinthepark (9-5): Bet against trainer Larry Jones' shippers at your own risk (14:8-2-3 at Lrl meet); was heavily backed debut at FG when runner-up the graduated in next outing, both going 6f; showed early speed in those efforts and bullets in the AM makes her the one to beat in this 5½ furlong contest
#7 – Hailey's Flip (6-1): Is just one of three in this field of 9 to have beaten winners; been away since last Sept. after being runner-up in restricted stakes at Del; sent to GP to get ready to 3-year-old campaign and the 7 nicely spaced works would indicate she's ready
#2 – She's Stunning (5-2): NY shipper for trainer B. Brown pulled out a gritty victory at Prx last time out after exiting a key race two back; this filly may need more than 3 weeks to turn in another top effort, so she could be vulnerable
YESTERDAY'S NEWS  
On Saturday March 25th at Laurel had 5 winners from the 9-race card (2 Top Selections; payoff in BOLD) having $2 WIN pay-offs of $8.60 (2nd race), $4.40 (3rd), $5.60 (4th), $6.00 (6th) and $3.40 (8th). Top Selections in 2017 are 78 for 305 (25.57%). In 2016, Top Selections were 304 for 1,213 (25.02%).
BEST BET of the Day (35: 12-7-6; in 2016 127: 31-29-19) Wazzala (5th race: 2-1 M/L; 3-5 PT) disputed the pace three wide to upper stretch then gave way while salvaging third to return $2.10 to SHOW.
LONGSHOT PLAY of the Day (32: 2-2-6; in 2016 124: 13-13-16) Ruby's Love (6th race: 10-1 M/L; 5-1 PT) disputed the early pace outside a foe then faltered to finish 7th.