The GQ Approach – Laurel March 25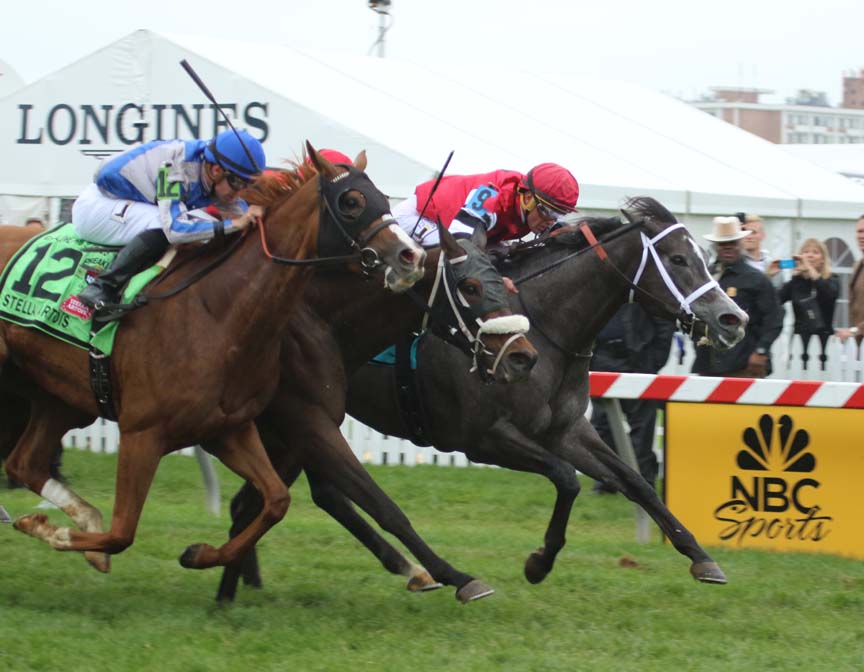 Mizz Money (#9) held off Vielsalm (in between) and Heath (#12) to win the Grade 3 Gallorette. Photo by Laurie Asseo.
The GQ Approach features full-card selections from Laurel Park (w/ live racing every Friday, Saturday and Sunday through May 7, 2017; Post Time 1:10pm EDT), including a daily Best Bet, Longshot Play, and multi-race wagers — including the 20 cent Rainbow Pick-6, 50 cent Jackpot Pick-5, as well as Pick-4s and rolling Doubles, Pick-3s and the Super High-5.

[su_box title="
Today's Carryovers
" style="glass" box_color="#66ADCC"]
Rainbow Pick 6: $5,282
Super High 5: no carryover
Late Pick 5: no carryover[/su_box]
[su_box title="GQ's Handicapping Tip of the Day" style="glass" box_color="#66ADCC"][stray-random][/su_box]
[su_box title="Best Bet of the Day" style="glass" box_color="#66ADCC"]Race 5 / #7 – Wazzala (2-1)[/su_box]
[su_box title="Longshot Play of the Day" style="glass" box_color="#66ADCC"] Race 6 / #3 – Ruby's Love (10-1)[/su_box]
[su_box title="
Multi-race Wagers
" style="glass" box_color="#66ADCC"]
Race 1: $2 Double  2, 6, 7  w/ 1, 2  ($12)
Race 3: $1 Pick-3  3, 5, 7  w/ 1, 3, 6  w/ 7  ($9)
Race 5: $0.50 Pick-5  7  w/ 3, 5, 7  w/ 2, 4 w/ 4, 5 w/ 3, 4, 6  ($18)
Race 8: $2 Double  4, 5  w/ 3, 4, 6  ($12)
[/su_box]
[su_heading size="21″ align="left"]Analysis[/su_heading]
Weather: Mostly Cloudy; highs in the mid-70s
Projected condition of main track: FAST
No turf racing until Spring 2017
Post Time for 1st race is 1:10pm EDT
Race 1
#2 – Neymani (7-2): Twice ran behind a really nice filly (Faze the Nation) who held her own against 4-year-olds; has the early speed to relish cut back in second start after H. McMahon claim
#7 – Chips Included (5-2): Rode a dead rail against the best, local 3-year-olds and never could get near the early lead as she has been accustomed to… can makes amends versus this group
#6 – Lil Pom Pom (3-1): Debut winner at Tam last month in $16kMCL event went gate-to-wire with plenty left in the tank; just a small move forward could make her 2 for 2
Race 2
#2 – Majestic Island (7-5): Add blinkers and drops to the bottom of the claiming barrel after failing to hit the board at Prx as 3-5 Post Time favorite
#1 – Capture the Sun (6-1): Chased the two early speedsters in here (#4 and #6) in last outing gaining late; gets an extra 1/16th to pass them with chance to give 10 lb. bug first win
#6 – Bust (5-2): Appears will be matching stride for stride w/ the #4 again as these two are the only ones who possess early speed; this gal seems to have a bit more stamina     
Race 3
#7 – Include Gold (9-5): Speed figures have been ascending even though she got caught at the wire in latest versus similar; loves Lrl (6:3-2-0) and catches a weak OC$16k field
#5 – Staff Sgt Reckless (5-1): Trip up I-95 to Prx proved to be fruitless when put in over her head v. Alw25Ks; last win came in this condition going 6f here; should handle stretch out
#3 – Boosting (6-1): Rail trip in latest may have hampered chances; J. Pimentel stays aboard in effort to turn tables on Morning Line favorite        
Race 4
#1 – More Stormyweather (7-2): Held her own in tough OC$20kn1x event at this distance after romping in 1st level allowance as runner-up was next out winner
#3 – Carolina Gold (5-2): CT shipper for trainer K. Patterson who when gives jock G. Almodovar a leg up they have gotten to Winners Circle an insane 49% of the time (36 for 73 in past year); this mare has been Post Time favorite in 9 of last 10 outings while delivering victory just 4 times
#6 – Little Miss Lupe (3-1): Exits win at CT versus Alwn1x fillies and mares; returns to Lrl and level where this 7-year-old mare was last runner-up after winning when 12-1
Race 5
#7 – Wazzala (2-1): *** BEST BET *** Flashed early speed and settled for runner-up spot in first two starts at this level; couldn't make speed last after C. Gonzalez claim and move up to $25kMCL when short price in both of those starts; drop back to 2x runner-up level should result in graduating
#6 – Notthatitmatters (4-1): Takes appropriate class drop from $25kMCL as she seeks diploma in 9th career start; cuts back from two turns and gets hot riding apprentice C. Carrasco
#1 – Gimme Kimmy (3-1): First start off H. McMahon claim steps up while in jail; runner-up in last two while clear of SHOW runner by a combined 25 lengths           
Race 6
#3 – Ruby's Love (10-1): $$$ LONGSHOT $$$ In over his head versus Alw7500s when making first start for new barn; makes quick come back in just two weeks and in against a group of $10kn4x that should be easier to run with
#5 – Sugimoto (4-1): Second start after F. Allen claim was game when couldn't get to winner in field of 5 when trying to come off the pace; has back class and appears to be rounding into form
#7 – Sir Orinoco (5-2): Drops down a level to get back on the winning track; Brisnet# speed figures have improved in past two efforts going 7 furlongs; cut back to 6f should help  
Race 7
#2 – Henry the King (5-1): Was heavily backed in latest when trainer G. Sacco took blinkers off… that didn't work out so they go back on today at this same level where he was runner-up twice in both previous efforts this year
#4 – Golden Glint (3-1): Fourth behind a pretty talented trio in an OC32k2nx that stacked up like a stakes, which is what the winner of that contest returned to do; switch to "Cowboy" S. Hamilton can only help
#6 – Any Court Inastorm (8-1): Been knocking heads with OC40kn3x so this group of n2x should provide a better opportunity to score at a price plus stretches out from sprint to distance he has handled in the past (2:0-1-1) v. better  
Race 8
#5 – Flatterywillgetyou (5-2): One of two NY shippers for trainer L. Rice's who holds a huge (10 pt.) Brisnet Prime Power# edge over Morning Line favorite (#4); this NY-bred has won half of her starts (4 for 8), one in open company; disappointed in '17 debut but capable of a big effort in today's feature
#4 – Tricky Zippy (2-1): Was turned out for nearly a year before getting back into training for her 5-year-old campaign; trainer T. Morley takes over for J. Jerkens as she makes first start outside of the empire state; nice work pattern indicates she'll be ready
#6 – Tripocha (9-2): Away since mid-Dec. ships up from GP where this lightly raced 5-year-old mare has competed in all 9 career outings; should get a nice stalking nice in hopes of firing late
Race 9
#3 – Colonel Argo (7-2): Cuts back from two turn try and sheds the blinkers which have been on in past 2 of 3 career starts; connections had high hopes when sending him off as 7-2 3rd choice in debut but didn't have a clean trip… and that was against better ($25kMCL)
#4 – Wilko Freeway (8-1): Steps up from bottom level maidens after coming alive late when blinkers were added going long after horrible debut; trainer J. Corrales switches from 8% to 16% jock
#6 – Desert Frontier (9-2): If you look up "bust" in Webster's you may find a picture of this now gelded, Japanese-bred son of Empire Maker who was purchased from $315k as a yearling, then claimed for $40k out of debut when sent off as 3-5 favorite, losing by 27 lengths, was dropped to $25k on turf, added blinkers and finished 12 behind winner; could third career start for $16kMCL be worse?
YESTERDAY'S NEWS  
On Friday March 24th at Laurel had 6 winners from the 9-race card (2 Top Selections; payoff in BOLD) having $2 WIN pay-offs of $7.00 (1st), $2.40 (2nd), $7.40 (3rd), $7.60 (5th), $6.40 (7th) and $6.20 (9th). Top Selections in 2017 are 76 for 296 (25.68%). In 2016, Top Selections were 304 for 1,213 (25.02%).
BEST BET of the Day (34: 12-7-5; in 2016 127: 31-29-19) Jess I Am (7th race: 2-1 M/L; 3-5 PT) broke slow then rated to the outside of the eventual winner down the backstretch in slow fractions, couldn't match strides and fell back from the leader, responded when set down for the drive but was no match for the winner and weakened to lose the runner-up spot to return $2.10 to SHOW.
LONGSHOT PLAY of the Day (31: 2-2-6; in 2016 124: 13-13-16) Wiredancer (3rd race: 10-1 M/L; 13-1 PT) lightly bumped with a foe leaving the starting gate, showed speed in the two path between horses and weakened through the lane while finishing 5th.