The GQ Approach – Laurel March 24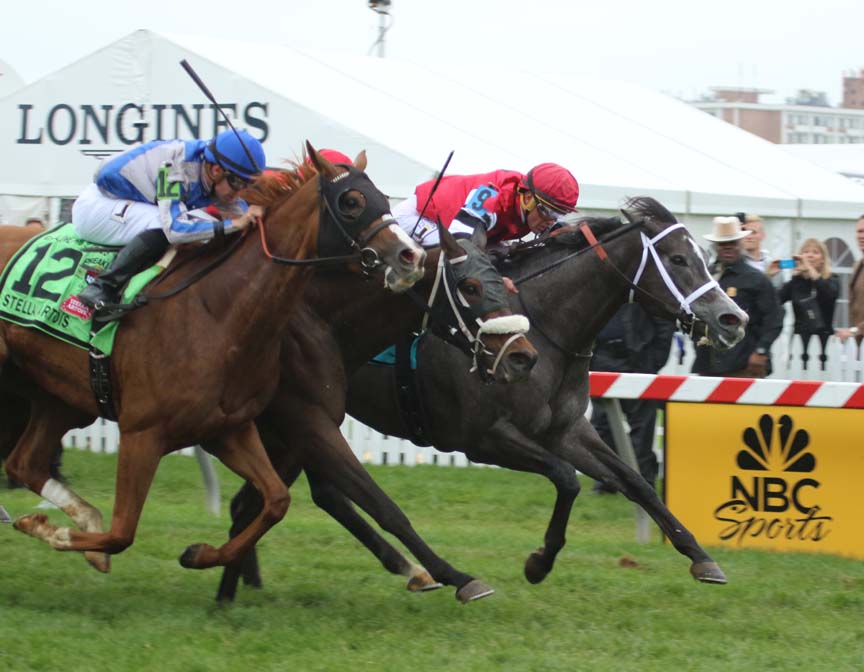 Mizz Money (#9) held off Vielsalm (in between) and Heath (#12) to win the Grade 3 Gallorette. Photo by Laurie Asseo.
The GQ Approach features full-card selections from Laurel Park (w/ live racing every Friday, Saturday and Sunday through May 7, 2017; Post Time 1:10pm EDT), including a daily Best Bet, Longshot Play, and multi-race wagers — including the 20 cent Rainbow Pick-6, 50 cent Jackpot Pick-5, as well as Pick-4s and rolling Doubles, Pick-3s and the Super High-5.

[su_box title="
Today's Carryovers
" style="glass" box_color="#66ADCC"]
Rainbow Pick 6: $3,946
Super High 5: no carryover
Late Pick 5: $7,281[/su_box]
[su_box title="GQ's Handicapping Tip of the Day" style="glass" box_color="#66ADCC"][stray-random][/su_box]
[su_box title="Best Bet of the Day" style="glass" box_color="#66ADCC"]Race 7 / #8 – Jess I Am (2-1)[/su_box]
[su_box title="Longshot Play of the Day" style="glass" box_color="#66ADCC"] Race 3 / #2 – Wiredancer (10-1)[/su_box]
[su_box title="
Multi-race Wagers
" style="glass" box_color="#66ADCC"]
Race 1: $2 Double  2, 7  w/ 3, 5  ($8)
Race 3: $1 Pick-3  2, 3, 5  w/ 1, 3, 7  w/ 2, 5, 7  ($13.50)
Race 5: $0.50 Pick-5  2, 5, 7  w/ 3, 8  w/ 5, 8  w/ 5, 6  w/ 1, 5, 7  ($36)
Race 8: $2 Double   4, 5, 6 w/ 1, 7  ($12)
[/su_box]
[su_heading size="21″ align="left"]Analysis[/su_heading]
Weather: Partly Cloudy; highs in the mid-60s
Projected condition of main track: FAST
No turf racing until Spring 2017
Post Time for 1st race is 1:10pm EDT
Race 1
#2 – Street Bullet (5-2): Beaten favorite versus cheaper at Pen but had a rough start then had no room to run at the ¼ pole; all 7 career wins have come at lovely Lrl from just 18 local starts
#7 – Greek God (9-2): R Larry Johnson owns & breeds millions of dollars in horse flesh, yet he had the need to take back this 6-year-old gelding he bred for $5k? Goes for natural Hat Trick plus 2nd & 3rd place finishers in latest came back to win
#6 – Pleiadian (3-1): Interesting that connections who lost this 7-year-old gelding 4 races back for $11k reclaimed him for $15k yet drops him in for $7,500 tag first race off claim
Race 2
#5 – Mazzy Star (3-5): Tough to look elsewhere as she's been knocking on the door at this level in past 4 outings while taking overland route; jock switch and woeful foes makes it Graduation Day
#3 – African Wildcat (9-2): Lack of confidence from barn who dropped her from $16k to this $10k level in first race in 9-months, sprinting when her previous best was two turns; will appreciate stretch out to one mile
#6 – Wildcat Rising (3-1): 0 for 21 makes one wonder if she'll ever earn her diploma; should improve off her fourth-place finish in latest, her first going one mile, same distance as in here     
Race 3
#2 – Wiredancer (10-1): $$$ LONGSHOT $$$ Where's the early speed?! IMHO this CT shipper who's been quick from the gate going 4½ furlongs is the only runner who wants & gets the first jump; 7 lb. bug J. Miller is perfect rider to hustle this one to the early lead and discourage others late clicking off slow fractions; second best in latest behind CT sprint star Poco Loco
#5 – Better Way (5-2): A real head-case as she never participates in the Post Parade; missed by a nostril hair after getting lead late in last effort at this condition; speed figures have been ascending under 5 lb. bug J. Torres
#3 – Crisis Averted (9-2): Suspect drop from $12,500 when in jail to $5k after reclaiming for $10k, just a race after losing her for $10k; last win came versus $5kN2L going 6 furlongs            
Race 4
#1 – Summer Run (2-1): Gets rail assignment after showing early speed in debut when offered for $16k, weakened late to be a well clear to get the SHOW purse; head scratcher though as to why drop to bottom level ($10k MCL) in second start when husband-wife Lynch team purchased this one as a yearling for $47k
#7 – Italian Lemonade (5-2): Beaten favorite in latest, his 8th career outing, when pinched back at the start when sandwiched between two rivals; needs to get clean break and go to lead to make amends
#3 – Wilko's Goldeneye (9-2): Made debut breaking from rail showing no speed but got it going once hitting the stretch when the "Cowboy" (S. Hamilton) took him off the rail to rally to be the runner-up when 29-1; trainer D. Souder seeks first win at Lrl meet (0 for 14)
Race 5
#2 – Willie B Mine (5-1): Just 3 for 28 lifetime while unable to locate Winners Circle in last 18 consecutive starts, but today faces weaker than he has been just behind, like recent winners Joy Drive, Daily News & Minor Legend
#7 – Readyheartandsoul (9-2): The good news is this NY shipper has increased his speed figures since coming back from 5-month layoff, with two runner-up finishes; the bad news is his trainer is 0 for 5 I '17 and he's finished second in 7 of his last 8 races, elevated to 1st in one of those via DQ; so can you trust putting him on your horizontal wagers?
#5 – Hickory Hill (5-2): Has looked like a world-beater in last two, both impressive victories but at 5½ furlongs while when stretching out to 6f, seems to run out of steam (8:1-1-1)
Race 6
#8 – Simply a Gem (9-5): This race could be timed with a sun dial as none of these gals have flashed early speed but this one adds Blinkers after being a bit tardy early in both career starts; T. McCarthy rode her in last outing at Parx very conservatively; should be more aggressive today
#2 – Averil's Dream (20-1): Hard to imagine any of these managing to reach the wire first before Post Time of the 7th race… but someone has to and this 8-year-old showed some life in latest w/o jock asking her for much
#7 – Catch (3-1): Appropriately named but not as in "Catch me if you can" but more like "I'll give you a double-digit lead and try to catch you"; trainer A. Merryman must be thinking, "Just one more start, then she can get back on grass."
Race 7
#8 – Jess I Am (2-1): *** BEST BET *** Shouldn't face any early pressure from these gathered foes; Brisnet# speed figures have been ascending over the past 4 efforts; protected under this optional claiming condition while main threats are in for the tag; biggest negative is this ridgling has never beaten winners (13: 1-3-5)
#5 – Double Whammy (7-2): Toss that last outing in the John B. Campbell stakes when eased; had no business being in there but now offers one of the strangest "angles" in horse racing… often runners come back to win in the race after being "eased"; is in for the $20k tag though
#2 – Visual Effect (12-1): Loved his strong late run when sprinting versus similar when making first start after M. Reid claim; protected and stretches out which appears will be to his liking      
Race 8
#6 – C J's Fire (3-1): Well-traveled 4-year-old filly makes 7th career start for 4th different trainer at 4th different venue; didn't care for turf @ SA so owner ships her across the country looking for softer competition; been training sporadically for C. Gonzalez with two bullets in most recent works
#5 – Tiz a Diamond (4-1): Jock H. Karamanos knows who butters his bread, it's trainer M. Eppler as he picks this mare over the Sagamore Farm runner (#1); was much the second best behind an impressive winner next out (Next Best Thing); second start with blinkers
#4 – Super Sharp (2-1): Another M. Eppler runner who scored with apprentice C. Carrasco aboard in latest; only runner in here, after scratch of #2, to have beaten winners… 3x to boot  
Race 9
#1/1A – Macroeconomics/Anna May Our Queen (7-2): Though the #1A is the better of the entrymates on paper, but the #1 is an intriguing first off claim for C. Gonzalez (30%) especially off an 8% trainer; still think #1A carries this duo with gate-to-wire score
#7 – I Just Wanna Win (4-1): Can boast highest Brisnet Prime Power# but has been beating on cheaper conditional claimers; this open claiming event will be a tough task despite of loving the Lrl dirt (9:6-1-0)
#5 – Charm City (3-1): Takes typical drop in second start after claim, now that she's out of jail; gave up lead late when facing better while the winner came back to repeat; needs to overcome record at this distance (4:0-0-3) and fact she's 0 for 12 on a fast, dirt oval
YESTERDAY'S NEWS  
On Sunday March 19th at Laurel had 4 winners from the 8-race card (3 Top Selections; payoff in BOLD) having $2 WIN pay-offs of $4.20 (1st), $4.00 (2nd), $2.40 (3rd) and $8.20 (4th). Top Selections in 2017 are 74 for 287 (25.78%). In 2016, Top Selections were 304 for 1,213 (25.02%).
BEST BET of the Day (33: 12-7-4; in 2016 127: 31-29-19) Danny My Boy (1st race: 9-5 M/L; 1-1 PT) advanced in the two path on the far turn, gained lead between horses entering the stretch then drew off under intermittent urging to win by 7¼ lengths to return $4.20 to WIN, $2.40 to PLACE and $2.10 to SHOW.
LONGSHOT PLAY of the Day (30: 2-2-6; in 2016 124: 13-13-16) Cooking Up a Storm (5th race: 10-1 M/L; 14-1 PT) was no factor, swung to the seven path near the eighth pole and passed a pair of tired foes while finishing 5th.