The GQ Approach – Laurel March 19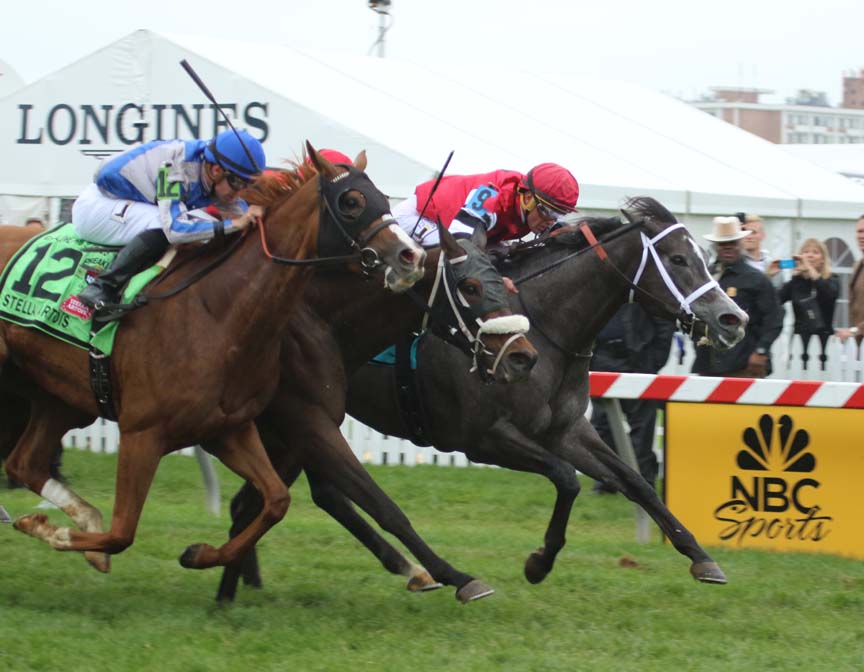 Mizz Money (#9) held off Vielsalm (in between) and Heath (#12) to win the Grade 3 Gallorette. Photo by Laurie Asseo.
The GQ Approach features full-card selections from Laurel Park (w/ live racing every Friday, Saturday and Sunday through May 7, 2017; Post Time 1:10pm EDT), including a daily Best Bet, Longshot Play, and multi-race wagers — including the 20 cent Rainbow Pick-6, 50 cent Jackpot Pick-5, as well as Pick-4s and rolling Doubles, Pick-3s and the Super High-5.

[su_box title="
Today's Carryovers
" style="glass" box_color="#66ADCC"]
Rainbow Pick 6: $2,326.52
Super High 5: no carryover
Late Pick 5: no carryover[/su_box]
[su_box title="GQ's Handicapping Tip of the Day" style="glass" box_color="#66ADCC"][stray-random][/su_box]
[su_box title="Best Bet of the Day" style="glass" box_color="#66ADCC"]Race 1 / #6 – Danny My Boy (9-5)[/su_box]
[su_box title="Longshot Play of the Day" style="glass" box_color="#66ADCC"] Race 5 / #1 – Cooking Up a Storm (10-1)[/su_box]
[su_box title="
Multi-race Wagers
" style="glass" box_color="#66ADCC"]
Race 1: $2 Double  6  w/ 1, 5  ($4)
Race 3: $1 Pick-3  1, 2, 7  w/ 3, 4, 8  w/ 1, 4, 6   ($13.50)
Race 4: $0.50 Pick-5  3, 4  w/ 1, 4, 6  w/ 5, 7 w/ 2, 3 w/ 1, 6, 7 ($36)
Race 7: $2 Double   2, 3 w/ 1, 6  ($8)
[/su_box]
[su_heading size="21″ align="left"]Analysis[/su_heading]
Weather: Partly Cloudy; highs in the mid-40s
Projected condition of main track: FAST
No turf racing until Spring 2017
Post Time for 1st race is 1:10pm EDT
Race 1
#6 – Danny My Boy (9-5): *** BEST BET *** In latest was compromised at the start by a rival which somehow went unnoticed by the Equibase chart callers, yet still rallied late to get up for the SHOW purse as runner-up that day came back to win yesterday; make first start after trainer A. Eubanks claim (13%) and should take advantage of a probably pace meltdown
#2 – Stonescape (5-2): Took a big step up while in jail after trainer C. Lynch claim… showed early speed then faded going today's distance; must respect T. McCarthy/C. Lynch team (27% past year) 
#7 – Photogenic (6-1): Hasn't seen the back end of a rival at any call his in last two outings; would be suicide to try it again while seeking natural Hat Trick; he can be rated and should be today if V. Carrasco reads the PPs
Race 2
#5 – Big Slick (5-2): Drops to $11k level after having won for $25k 3 back over a couple next out winners; appears inning barn is simply seeking another Winners Circle photo as he showed late interest in latest finishing 2½ behind #1A
#1/1A – Wilko's Last Dance/Balkan (7-5): This duo has the best two "last race" Brisnet speed figures but both possess early speed so one of them may scratch; Balkan should be considered the stronger of the two
#6 – Determined Nation (9-2): May be better than latest as he was struck on a dead rail for most of the trip in latest when in versus top two and got the best of Balkan two back
Race 3
#2 – Schmiss (9-2): This is the third time in the past month this FTS by Hard Spun has been entered at Lrl to make her debut (for $40k then $25k) but scratched out as each time looked like she'd be up against a buzz-saw; this group doesn't look too tough so trainer L. Rice may let her run
#7 – She Is Special (7-5): Trainer L. Jones shipped this gal up from FG along with nice filly (Jenda's Agenda) who won the Caesar's Wish stakes yesterday, who broke maiden in same race in which this gal was 5thd, 11 lengths back; drops from MSW in for $25k tag
#1 – Important (9-2): Been competing at this maiden level since trainer M. Trombetta this home-bred from Sagamore Farm; needs to proof she doesn't have "Second-itis" 
Race 4
#3 – Rare Eagle (2-1): Appears to be the best of this mixed bag 8 runners seeking their 4th career victory; needs some pace help as he comes from the clouds; makes first start for Jagger Inc (aka J. Ness) after being runner-up at same level in latest
#4 – Max Crown (15-1): Don't be fooled by the fact latest race was at bottom level ($5k) when failing as favorite on class drop; that was 4 months ago, was out of training until Feb. and shows nice 5-work pattern coming into today's race 
#8 – Rick's Boy (5-2): That "Botched start" comment was closer to the fact he should have been declared a non-starter has it appeared he start was hampered by Asst. Starter at Pen; regardless it's tough thinking he can win in his 32nd career start having been runner-up 11 times
Race 5
#1 – Cooking Up a Storm (10-1): $$$ LONGSHOT $$$ Always a good sign to see a trainer reclaim a runner-up, especially when paying a premium and has confidence to run him back while "in jail"; incredibly has improved Brisnet# speed figure in each of his last 5 races; this deep closer catches a field filled with early speed
#6 – Two Term Leader (9-2): Looked scary good winning at lower level two back, in first outing off C. Gonzalez claim; held his own next outing v. Starter Allowance group
#4 – Kowboy King (6-1): Surprisingly was Post Time favorite when in for $15k in first start after A. Farrior $5k claim, and failed while jock rode a dead rail to a 4th place finish            
Race 6
#7 – North Ocean (6-5): Hard to find any fault with this 8-year-old gelding whose been feasting on Alw5000s over the past year; seeks 7th win from his last 8 starts; stamina may be tested by other "need the lead" runner (#6)
#5 – Senor Quickie (6-1): Thought this one could turn the tables on top pick last outing as this Capper saw a pace meltdown but others didn't test top pick early so he romped; could he possibly be runner-up for fourth straight races v. #7?
#4 – Huntin'theholidays (10-1): Looks like a prudent claim for $5k as this 4-year-old romped by nearly 10 lengths, has the back class but out of conditions; he'll need to survived in these Starter Allowances over the next two years  
Race 7
#3 – Star Eighty (9-2): Not crazy about the short Morning Line price for this 6-year-old mare exiting a $7,500 open claimer and jumping into $OC25kn2x but appears she could steal it on the front end as she did in winning her last two
#2 – Daisy Cutter (7-5): Second of two entered on card for trainer L. Rice who does well placing her NY runners in races at Lrl (33: 14-5-4); exits NY-bred minor stakes where she completed the Superfecta
#1 – Understanding (5-1): Only one win out of 16 fast track starts but has been a model of consistency at this level; got beat by a nose in latest as winner came back to destroy similar  
Race 8
#1 – Quickasaflash (5-2): Decision to add blinkers has been a good one but still seeks first trip to Winners Circle; tough assignment from rail but count on T. McCarthy to give usual 110% effort
#6 – Softude (12-1): Either the off track or tow turns did this gray in as she sprinted clear for 4 furlongs then stopped when equipped first time with blinkers; cuts back to sprint and could surprise
#7 – Nancy R (6-1): Appears talent is there to break maiden at the bottom level but in first 2 starts looked content just running with the pack; have faith that trainer F. Allen III will figure out what makes this gal tick and the lightbulb will come on… eventually
YESTERDAY'S NEWS  
On Saturday March 18th at Laurel had 8 winners from the 11 race card (4 Top Selections; payoff in BOLD) having $2 WIN pay-off of $7.40 (1st race), $2.40 (2nd), $4.20 (3rd), $9.40 (6th), $8.60 (7th), $6.40 (8th), $2.80 (10th) and $3.60 (11th). On Top Selections in 2017 are 71 for 279 (25.45%). In 2016, Top Selections were 304 for 1,213 (25.02%).
BEST BET of the Day (32: 11-7-4; in 2016 127: 31-29-19) O Dionysus (9th race: 9-5 M/L; 3-5 PT) lacked speed, advanced four deep on the far turn, gained the lead in upper stretch, drifted in a bit in mid-stretch, took lead late but caught at the wire missing by a nose in a game effort to return $2.20 to PLACE and $2.10 to SHOW.
LONGSHOT PLAY of the Day (29: 2-2-6; in 2016 124: 13-13-16) Aspen Hilltop (10th race: 12-1 M/L) was SCRATCHED.