The GQ Approach – Laurel March 18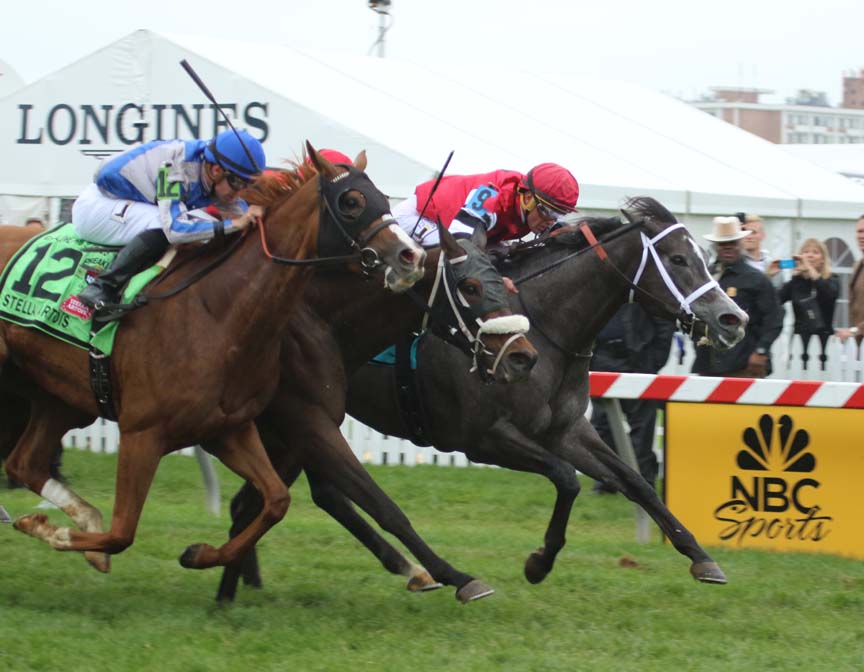 Mizz Money (#9) held off Vielsalm (in between) and Heath (#12) to win the Grade 3 Gallorette. Photo by Laurie Asseo.
The GQ Approach features full-card selections from Laurel Park (w/ live racing every Friday, Saturday and Sunday through May 7, 2017; Post Time 1:10pm EDT), including a daily Best Bet, Longshot Play, and multi-race wagers — including the 20 cent Rainbow Pick-6, 50 cent Jackpot Pick-5, as well as Pick-4s and rolling Doubles, Pick-3s and the Super High-5.

[su_box title="
Today's Carryovers
" style="glass" box_color="#66ADCC"]
Rainbow Pick 6: no carryover
Super High 5: $568.63
Late Pick 5: no carryover[/su_box]
[su_box title="GQ's Handicapping Tip of the Day" style="glass" box_color="#66ADCC"][stray-random][/su_box]
[su_box title="Best Bet of the Day" style="glass" box_color="#66ADCC"]Race 9 / #6 – O Dionysus (9-5)[/su_box]
[su_box title="Longshot Play of the Day" style="glass" box_color="#66ADCC"] Race 10 / #2 – Aspen Hilltop (12-1)[/su_box]
[su_box title="
Multi-race Wagers
" style="glass" box_color="#66ADCC"]
Race 1: $2 Double  1, 3, 5  w/ 1, 4  ($12)
Race 3: $1 Pick-3  2, 3, 7  w/ 4, 6, 7  w/ 1, 5, 6  ($13.50)
Race 7: $0.50 Pick-5  5, 7  w/ 3, 4, 5  w/ 6 w/ 1, 2, 4, 8 w/ 4, 6, 9 ($36)
Race 10: $2 Double  2, 4, 8 w/ 4, 6  ($12)
[/su_box]
[su_heading size="21″ align="left"]Analysis[/su_heading]
Weather: Partly Cloudy; highs in the mid-50s
Projected condition of main track: FAST
No turf racing until Spring 2017
Race 1
#3 – Colony Strike (5-2): Prefers an off track which could be the case in early races; most wins have come at CT while looking for first at Lrl in spite of good showings (3:0-2-0)
#1 – Whiskey Sour (6-1): Returns to two turns where he's 2 for 5 lifetime; has improved speed figure-wise in last three outings, all against $5k open claimers but sprinting or one-turn mile
#5 – Puget Sound (2-1): Trainer K. Magee's other uncoupled runner is where T. McCarthy landed but it's been awhile since this 12-time winner has faced open claiming company; Post Time favorite in last 5 outings but only delivered victory twice
Race 2
#5 – Seeing'n'believing (3-5): A standout in this open $7500 one mile affair, but why would one offer this 4-year-old filly for cheap after she won Alw$42kn1x two start back? Damned if you use and damned if you don't
#1 – Banana Anna (5-1): If the program favorite has any chinks in her armor, this gal didn't care for the mud when claimed by J. Ness' replacement trainer for owner Jagger Inc. (aka J. Ness)… wait, why is this allowed?! Regardless, "Anna" might do better if the track is fast
#4 – Sliding Lady (10-1): Returns to Lrl seeking natural Hat Trick after beating up foes at CT in conditional $5k; has hit the board in the past locally in these open claiming events     
Race 3
 #3 – C B Bodeister (7-2): The most experienced 3-year-old in this contest wants the early lead otherwise tends to get discouraged quickly and stop trying; only see one other rival who many challenge him for the lead, if not he could go gate-to-wire
#7 – Supermensch (6-1): A bit leery backing him, but J. Pimentel could have taken mount on #6 but lands here as he and trainer J. Maldonado have gotten 50% (8 of 16) to Winners Circle; lone win came on the turf at Del last Sept.        
#2 – Leftovers (9-2): Like the sprint coming off layoff where after troubled start showed interest late; maiden win came at Aqu in Dec. came the only other time traveling distance               
Race 4
 #6 – Grace Isabella (4-1): Was unfortunate in meeting two buzz-saws in both career outings while being part of Superfecta; her late speed numbers are the best in this field while she stretches out from 6 to 8 furlongs
 #7 – Indian Paint (5-2): Two starts, two times bridesmaid; debut was last Nov. at CD when 17-1; last came here last month; both races indicate this daughter of Uncle Mo needs more distance… gets an extra furlong in here
#4 – My Golden Rose (9-5): Trainer M. Nevin also has a runner in R10 stakes, so did this one just fill the trailer because she was due for a race? Maybe not as she was game runner-up in Lrl debut well clear of SHOW foe
Race 5
#6 – Yes Mz Adah (8-5): Honest running filly (12:1-3-4) likes fast track (5:0-2-3) but sole victory came on the grass at GP; class drop after nose lose at Prx but that was 2 months ago, no works since but trainer M. Zulueta wins at 27% clip after similar layoffs
 #5 – Crookit (6-1): Catch-22; lone win came on an off track; forecast for card is "iffy" but even track is fast, this gal is a threat based on rally to get SHOW purse in latest versus same level
#1 – Eyerish Inspired (6-1): Seems to be hot and cold even when runner at same level; will need some pace help has she's never led at any call since she broke maiden in debut 10 races ago            
Race 6
#1 – Legend's Hope (6-1): Though a distant runner-up in latest at this level, may have regressed a bit due to the huge effort (90 Brisnet#) in winning the $10kN2L two back, when he got the better of #2 in here
#6 – Flight Crew (6-1): Showed speed for 6 furlongs then faded in versus similar going 1 1/16 miles; cut back to sprint and fact this group lacks early speed could see this one go gate-to-wire
#2 – Slick William (7-2): Pulled off a shocker in OC$25k event for new barn off trainer B. Worton $9k claim; enthusiasm tempered a bit when 3-5 runner-up came back 7 days later and ran 5th in a SNW1NX but SHOW horse returned an easy winner in $16kN2L yesterday    
Race 7 is the $75,000 Conniver Stakes
#5 – Bawlmer Hon (9-5): Prefers two-turn affairs as she's competed in open stakes company in her last two efforts, showing early speed then holding on to be bridesmaid in the MD Racing Media stakes; don't be fooled by her 0 for 1 at this distance as she stumbled badly losing any chance at the start when 2-1 favorite
#7 – If I Was a Boy (5-1): At first look appears to be overmatched as she finally beat winners (AlwN1X) in her ninth try while earning career best 90 Brisnet#; steps out of her comfort zone (6 furlongs) as she gave up the lead in late in her latest of 2 lifetime tries traveling 7 panels
#2 – Next Best Thing (2-1): 12-time winner from 54 starts making stops at Lrl, Pen, Prx and Del for trainer Claudio Gonzalez; cuts back from one mile victory v. tough AOCn1x group when in for $20k tag    
Race 8 is the $75,000 Not For Love Stakes
#4 – Laki (6-1): Lightly raced 4-year-old gelding is riding a three-race win streak; only career loss came in debut on turf and without Lasix; is the speed of the speed and will likely play "Catch me if You Can" with H. Karamanos in the irons; from his latest win, the SHOW finisher (Joy Drive) came back Mar. 10 to dust a nice OC$20kn1x field
#5 – Sonny Inspired (5-2): Won this event last year when it was prematurely named the Ben's Cat Stakes; has the class to repeat based on having run in more stakes races than his competition in here combined; won last outing, his 7th but first away from Lrl, a $30k Handicap at CT which amounted to a paid evening workout; has been equally successful on all kind of surfaces
#3 – Stolen Love (7-2): Would be appropriate for this 10-time winner to take the race named for his sire; this 7-year-old gelding goes for the natural Hat Trick and first ever stakes victory; concern is how long he can maintain his current form, which is the best of his career; winless on an off track (12:0-4-3) is good to know in case Mother Nature delivers some precipitation
Race 9 is the $100,000 Private Terms Stakes
#6 – O Dionysus (9-5): *** BEST BET *** The sky's the limit for this MD-bred Bodemeister colt… well, maybe the skies over Maryland as he easily disposed of 7 rivals in the Miracle Wood stakes here last month and is on the fast track (no pun intend) to take all three MD Preakness preps; is built for two-turns and should shine here; had horrific trip two back in loss to High Roller (#2); next stop the Federico Tesio
#5 – Hashtag Alex (4-1): This gelded son of Afleet Alex must have been showing trainer John Servis signs of being special has he broke maiden in third career start against winners earning a gaudy 93 Brisnet#, avenging a nose loss in previous outing to J.J.'s Candy, his two turn debut, both coming at Prx
#3 – No More Talk (10-1): May surprise if he continues to progress in third start with Lasix after two one mile contests; has the look of a two-turn runner so this event is where he can show it
Race 10 is the $100,000 Caesar's Wish Stakes
#2 – Aspen Hilltop (12-1): $$$ LONGSHOT $$$ There were high expectations for this $350k yearling purchase after successful debut at Sar last August when she unleashed furious late kick; on the shelf until Jan. to prep for G2 event at GP which was disastrous as she stumbled over a fallen foe on backstretch, managed to stay on her feet but jock saved her for another day
#8 – Jenda's Agenda (7-5): Trainer Larry Jones isn't shipping this undefeated daughter of Proud Citizen north from New Orleans (FG) because he has a craving for MD crabcakes, the edible kind not the #6; has never seen the back end of a rival at a call and might get cooked as plenty in here will provide a pressured pace
#4 – Super Star (9-2): Rebounded nicely in most recent efforts (a win & runner-up twice) in a trio of minor stakes at Lrl after trailing throughout in G1 Frizette last Oct. going one mile; gives that distance a second try here; encouraging that T. McCarthy stays aboard       
Race 11 is the $75,000 Harrison E. Johnson Memorial Stakes
#6 – Kaitain (10-1): Took an ill-advised trip in latest along a dead Lrl rail as jock seemed to know there was a bigger fish to fry and didn't ask for much late; that was worst defeat of 11 race career and has always been gaining in deep stretch when having clear sailing; tall task for first try going this distance and in an open stakes company but these connections wouldn't have entered this lightly raced 6-year-old if they didn't think he warranted a shot; will be heard from in deep stretch
#4 – Bodhisattva (6-1): Upset winner ($47.80) in John B. Campbell as race set up perfectly for his deep closing style; pace may be just as hot for this event; seems that trainer Jose Corrales was able to rediscover the old form that saw him winning 2- and 3-year-old stakes locally
#9 – Matt King Cool (7-5): Trainer L. Rice ships in from NY again as she gave this late blooming Cool Coal Man colt an easy 4-year-old debut when he went gate-to-wire, in hand by 4+ lengths in an AOC$32kN2X last month but will face more pressure early here; if name sounds familiar, he was 4th in '16 G1 Wood Memorial
YESTERDAY'S NEWS  
On Friday March 17th at Laurel had 5 winners from the 8 race card (5 Top Selections; payoff in BOLD) having $2 WIN pay-off of $4.60 (3rd race), $11.40 (4th), $5.80 (5th), $4.20 (7th) and $5.00 (8th). Of the suggested multi-race wagers hit the R3-R5 50 cent Pick-3 for $18.55 (cost: $9), R7-R8 $2 DOUBLE for $13.00 (cost: $6) and the R5-R8 50 cent Pick-4 for $40.75 (cost: $27). On Top Selections in 2017 are 67 for 268 (25.00%). In 2016, Top Selections were 304 for 1,213 (25.02%).
BEST BET of the Day (31: 11-6-4; in 2016 127: 31-29-19) Borino (7th race: 5-2 M/L; 1-1 PT) bumped with GLORIA PATRL leaving the starting gate, was put to urging in the three path near the half mile pole, angled to the four-path leaving the far turn, bid for the lead outside leader approaching the eighth pole, dueled with that one and determinedly prevailed after being brushed by foe approaching the sixteenth pole to return $4.20 to WIN and $2.20 to PLACE and $2.10 to SHOW.
LONGSHOT PLAY of the Day (29: 2-2-6; in 2016 124: 13-13-16) Next Street (4th race: 6-1 M/L; 9-2 PT) prompted the pace in the four path while under rating and outside a pair of rivals, dogged by rival on the inside heading towards the quarter pole, asserted herself in upper stretch and pulled away under a drive to win by 5½ lengths and return $11.40 to WIN and $5.00 to PLACE and $3.40 to SHOW.