The GQ Approach – Laurel March 17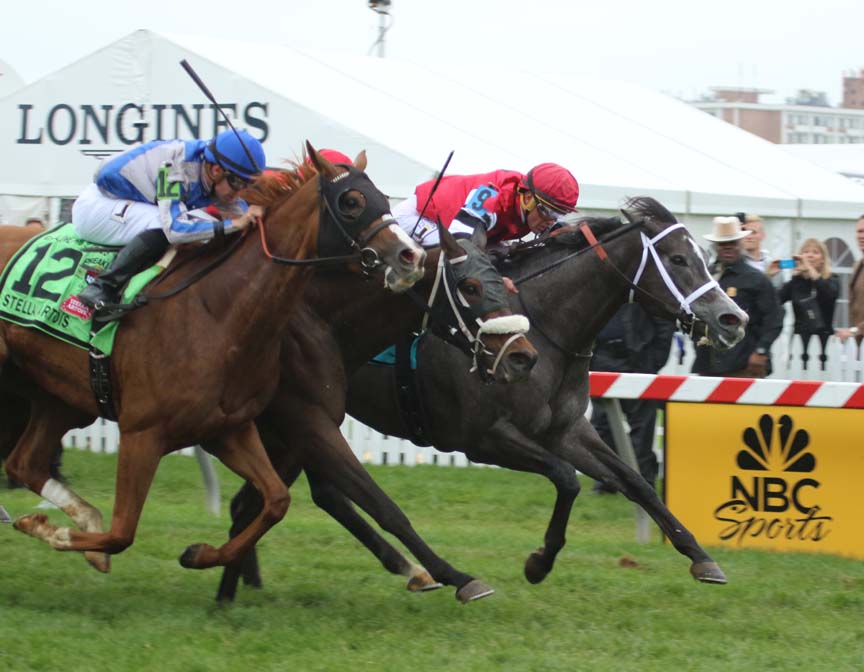 Mizz Money (#9) held off Vielsalm (in between) and Heath (#12) to win the Grade 3 Gallorette. Photo by Laurie Asseo.
The GQ Approach features full-card selections from Laurel Park (w/ live racing every Friday, Saturday and Sunday through May 7, 2017; Post Time 1:10pm EDT), including a daily Best Bet, Longshot Play, and multi-race wagers — including the 20 cent Rainbow Pick-6, 50 cent Jackpot Pick-5, as well as Pick-4s and rolling Doubles, Pick-3s and the Super High-5.

[su_box title="
Today's Carryovers
" style="glass" box_color="#66ADCC"]
Rainbow Pick 6: no carryover
Super High 5: $1,817.53
Late Pick 5: no carryover[/su_box]
[su_box title="GQ's Handicapping Tip of the Day" style="glass" box_color="#66ADCC"][stray-random][/su_box]
[su_box title="Best Bet of the Day" style="glass" box_color="#66ADCC"]Race 7 / #2 – Borino (5-2)[/su_box]
[su_box title="Longshot Play of the Day" style="glass" box_color="#66ADCC"] Race 4 / #5 – Next Street (5-1)[/su_box]
[su_box title="
Multi-race Wagers
" style="glass" box_color="#66ADCC"]
Race 1: $2 Double  3, 4, 7 w/ 4, 5  ($12)
Race 3: $1 Pick-3  2, 6, 7  w/ 1, 5, 7  w/ 2, 5, 6  ($13.50)
Race 5: $0.50 Pick-4  2, 5, 6  w/ 2, 6  w/ 2 w/ 3, 8, 9  ($9)
Race 8: $2 Double  2, 4  w/ 3, 8, 9 ($12)
[/su_box]
[su_heading size="21″ align="left"]Analysis[/su_heading]
Weather: Partly Sunny; highs in the upper-40s
Projected condition of main track: FAST
No turf racing until Spring 2017
*** Happy St. Patrick's Day ***
Race 1
#7 – Stalk (8-5): Like him but not the ML odds; winners of his last two outings came back to run 1-2 in their first start against winners; can boast ascending Brisnet#s in last 3 races which are tops among this group     
#3 – Party Regent (2-1): Second time blinkers often lead to a Winners Circle visit; reunited with H. Karamanos who nearly took him gate-to-wire in debut v. cheaper; was 4 lengths behind top choice in latest      
#4 – Impressive Way (5-1): Seems that J. Pimentel has taken over as trainer C. Lynch "go to" maiden rider as this duo scored w/ two FTS last weekend; this one makes 4th career start but first since last March    
Race 2
#4 – Chickaletta (7-2): Only runner in this field with more than 4 wins; drops from open claiming while disappointing bettors in last two as Post Time favorite; doesn't care for an off track which could have been excuse in latest        
#5 – Barbie Stones (3-1): Shooting for 4th consecutive victory, second with trainer J. Robb; always makes one, big, late run in the stretch to catch leg weary foes; he'll get the fast pace, but will the track hold that speed?
#3 – I Am Superior Too (4-1): One of three who should be vying for the early lead but has shown enough stamina in the past to prevail if the track is kind to those with early foot     
Race 3
#2 – Turbin (5-2): Trainer L. Gaudet trades one 10 lb. bug for another in hopes of getting this 7 y.o. to the Winners Circle for first time since last July; was in over her head in Str Alw last outing
#6 – Showmeister (8-5): Makes 2017 debut after getting 4-month vacation; had enjoyed a year filled with Str Alw eligibility but returns here for $5k tag, which raises a yellow flag         
#7 – Cold Facts (7-2): 8 y.o. gelding may be headed for retirement unless J. Ness replacement trainer, C. Jensen, can hope dropping to Lrl bottom claiming level can rejuvenate his will to win        
Race 4
#5 – Next Street (5-1): $$$ LONGSHOT $$$ Tough to figure ML is higher than one she beat (#2) in their latest race; she'll once again get a nice stalking trip and an additional 1/16th mile to run down pace setters
#1 – Tzi Pink Freud (15-1): Was overmatched in $25k claimer by a very nice filly (Faze the Nation) who just missed when pitted against elders; class drop to $11k should make her feel better about herself early on and gain confidence to stay on through the stretch
#7 – Michael's Butterfly (2-1): One look at this gals PPs and one can hear the robot from Lost in Space, "Warning! Warning!"; connections from both times she's been claimed waited until "out of jail" to race her back at same level, this time trainer T. Iannotti is offering a discount    
Race 5
#2 – Gavin Streetsense (5-2): "Tub, Tap, Tag and Drop" applies here, which was a phrase that could be read in the daily newspapers back in the day when horse racing columns/analysis could be found; has 2 runner-up finishes from as many starts at today's distance
#6 – Watch the Tie (4-1): NY-based trainer G. Gullo (1 for 1 at meet) ships this class dropper from $25k to $16k seeking second career win in 15th start; not as leery about this one as the drop not substantial as was one of Gullo's who was a gate scratch last week
#5 – Justalittlebitmore (7-2): Had a rough go late in first race against winners; cuts back to distance where he broke maiden; interesting jock switch from K. Gomez (36% w/ trainer) to hot 10 lb. bug C. Carrasco            
Race 6
#6 – Mid Ocean (2-1): Runner-up in last two outings, the most recent v. cheaper, yet gets the Program Choice label… indicates how week this group is; trainer M. Eppler should have been able to rediscover this ones' back class by now, if not, it'll be note to self, lay off of this one next time
#2 – Andy's Love (7-2): Passed by top pick in here two back after getting lead in mid-stretch; won latest by a nose but was DQ'd for interfering with foe during the drive when 3-5 favorite
#1 – Bob's My Uncle (6-1): Jumped a condition (n4x) in last race while not embarrassing himself; runs here for same N3L condition he did two back when 2-1 second choice and but encountered traffic at 1/16th pole     
Race 7
#2 – Borino (5-2): *** BEST BET *** Was nominated to the $75k Conniver Stakes on Saturday but connections opted to place her where she can be successful and win her second career race v. others hoping for the same; should be plenty of gals wanting to be on or near the lead giving T. McCarthy a clear outside lane to catch them those leg-weary gals in deep stretch
#4 – Bring Me Answers (3-1): Prudent claim by K. Magee taking this Mineshaft filly for $10k out of her career debut; was stepped up to $25kMCL and romped by 11 lengths; add blinkers for first race against winners… because it's obvious she needs them (sarcasm)
#5 – Include Gold (2-1): Hard to believe she'll come right back after a hard fought race just 8 days ago, when beaten by a head; if she does she may not have that edge in order to handle top pick today    
Race 8
#8 – Theyallcomehome (3-1): This field of N4L is filled with cheap speed that will no doubt seek oxygen turning for home while this one, dropping two class levels should pick them off in deep stretch
#3 – Supah Czech (9-2): Ran dead last for first time since duplicating that feat in the G2 Peter Pan last May… he was shortly thereafter gelded; the lesson here… almost give it your best so you do not finish last! Drops to lowest claiming level as well in search of back class
#9 – Cold Spice (7-2): Has ripped through two conditions in last two races seeking natural Hat Trick at the same one mile distance; K. Gomez/L. Gaudet team get 36% to Winners' Circle
note: This Capper resisted the temptation to tout the ultimate Hunch Play of the Day… #5 – Just Irish (15-1)
YESTERDAY'S NEWS
On Sunday March 12th at Laurel had 7 winners from the 9 race card (2 Top Selections; payoff in BOLD) having $2 WIN pay-off of $4.60 (1st race), $6.00 (3rd), $8.20 (4th), $6.40 (5th), $6.60 (6th), $8.20 (7th) and $13.20 (9th). Of the suggested multi-race wagers hit the R3-R5 50 cent Pick-3 for $30.00 (cost: $13.50). On Top Selections in 2017 are 62 for 260 (23.85%). In 2016, Top Selections were 304 for 1,213 (25.02%).
BEST BET of the Day (30: 10-6-4; in 2016 127: 31-29-19) Big Brother Bubba (1st race: 5-2 M/L; 9-5 PT) lacked speed, raced in the two path for much of stretch while rallying to be runner-up just a half-length behind the winner to return $2.80 to PLACE and $2.40 to SHOW.
LONGSHOT PLAY of the Day (28: 1-2-6; in 2016 124: 13-13-16) Conquest See Ya (8th race: 6-1 M/L; 5-1 PT) stalked the pace four wide, was ridden along between foes mid turn but lacked the needed energy to hit the board to finish 4th.