The GQ Approach – Laurel March 12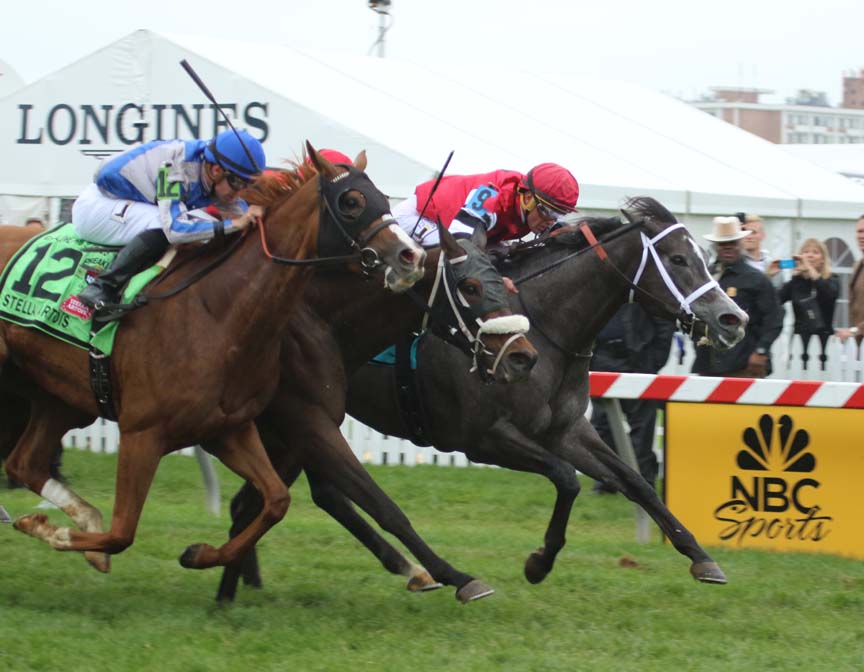 Mizz Money (#9) held off Vielsalm (in between) and Heath (#12) to win the Grade 3 Gallorette. Photo by Laurie Asseo.
The GQ Approach features full-card selections from Laurel Park (w/ live racing every Friday, Saturday and Sunday through May 7, 2017; Post Time 1:10pm EDT), including a daily Best Bet, Longshot Play, and multi-race wagers — including the 20 cent Rainbow Pick-6, 50 cent Jackpot Pick-5, as well as Pick-4s and rolling Doubles, Pick-3s and the Super High-5.

[su_box title="
Today's Carryovers
" style="glass" box_color="#66ADCC"]
Rainbow Pick 6: no carryover
Super High 5: $3,229.29
Late Pick 5: no carryover[/su_box]
[su_box title="GQ's Handicapping Tip of the Day" style="glass" box_color="#66ADCC"][stray-random][/su_box]
[su_box title="Best Bet of the Day" style="glass" box_color="#66ADCC"]Race 1 / #7 – Big Brother Bubba (5-2)[/su_box]
[su_box title="Longshot Play of the Day" style="glass" box_color="#66ADCC"] Race 8 / #7 – Conquest See Ya (6-1)[/su_box]
[su_box title="
Multi-race Wagers
" style="glass" box_color="#66ADCC"]
Race 1: $2 Double  1, 7 w/ 1, 3,4  ($12)
Race 3: $1 Pick-3  1, 2, 6  w/ 2, 3, 6  w/ 3, 6, 7  ($13.50)
Race 5: $0.50 Pick-5  3, 7 w/ 1, 7  w/ 4, 5  w/ 2, 6, 7  w/ 2, 7, 9  ($36)
Race 8: $2 Double  2, 6, 7 w/ 2, 7, 9  ($18)
[/su_box]
[su_heading size="21″ align="left"]Analysis[/su_heading]
Weather: Mostly SUNNY; highs in the mid-30s
Projected condition of main track: FAST
No turf racing until Spring 2017
REMINDER: 1st Post starting SUNDAY, March 12th will be 1:10pm EDT
Race 1
#7 – Big Brother Bubba (5-2): *** BEST BET *** Been facing much better foes than the assembled group in this opener; should get a nice stalking trip as there's plenty of early speed to his inside
#1 – Honor Commitment (8-5): One of two trainer M. Pino runners on the card; makes Lrl debut and third start after layoff; has disappointed backers both times he's gone off as Post Time favorite
#5 – Inner Fire (5-1): Has improved Brisnet speed figures in each of his last four starts at Lrl, earning career best in latest when winning $5kn2L
Race 2
#3 – Hallucination (5-2): Prx shipper gets the nod over this weak group of 3 y.o. fillies searching for their second lifetime win; this gal has been consistent since being claimed out of debut by trainer M. Pino
#1 – Star Touch (2-1): Not much of an effort in both starts facing winners after breaking maiden for $25k MCL locally; biggest challenge will be stretching out to one mile
#4 – Tresso (7-2): Another invader from PA; took 2 months off after maiden win at today's distance; distant 3rd in return; J. Toledo/M. Shuman have done well (4 for 11)     
Race 3
#6 – All This Jazz (7-2): Ran a winning race but caught in deep stretch by a pair of foes; this time as J. Toledo takes over; could try to go gate-to-wire
#1/1A – I Have No Secrets/Undaunted Spirit (5-2): Trainer J. Corrales duo ran coupled in most recent starts as it was #1 debut w/o Lasix… gets it today; #1A has shown much better since addition of Lasix
#2 – Jazzlyn (20-1): Has had the look of wanting to going further; though this isn't two turns, it stretches her out further than any other, which back to Y. Ortiz could help             
Race 4
#2 – Flying Arrow (2-1): KY-bred FTS by Tapit out of an Indian Charlie mare cost a cool $400k as a yearling; extensive worktab shows gap between last Aug. until Jan.; trainer L. Rice ships them in ready to win
#6 – Twin Valor (7-2): Nice 3 y.o. Into Mischief gelding has been on the short end in 7 starts to the likes of El Areeb and Irish War Cry; missed by a nose in latest going one mile
#3 – No Mo Dough (3-1): Trainer G. Motion sends out KY-bred FTS by Uncle Mo who may want more than 6 furlongs; been working well at Fai with nice gate works going 5 and 6f
Race 5
#3 – Carolina Dreams (2-1): Runner-up in first start for trainer K. Cartagena when transferred from Prx-based M. Zulueta (27%) barn; that was going 6f, stretches back out to preferred distance (9:2-3-2)
#7 – La Bruna Forte (7-5): Turf runner still seeks first fast track win (9:0-2-2) after runner-up to next out winner when dropped to this level from Alwn1x; T. McCarthy stay aboard for K. Magee
#6 – Champagne Time (4-1): Took longer than usual (3 starts) after C. Gonzalez claim to get to Winners Circle which required drop to this bottom; this N3L may be skipping a condition just to fill race?            
Race 6
#7 – Don't Poke the Cat (8-5): Scratched from yesterday's $16kMCL as stablemate ran second as odds on favorite; though he gets in here for $25kMCL there aren't any foes to truly fear based on PPs
#1 – Coach Pat (4-1): Nice spot for M. Dubb owned KY-bred FTS by Old Fashioned out of an Elusive Quality mare for trainer J. Maldonado who's on a hot streak (22% at meet; 36% in '17); that final AM bullet drill will get your attention 
#5 – Archie's Revenge (12-1): Could score at a nice price in this weak looking $25kMCL as he stretches out from sprints to one mile which pedigree suggests success; trainer C. Tapscott looks to break 0 for 21 at Lrl meet    
Race 7
#5 – Moonspell (5-2): Exits dominating maiden breaking win in 8th career start, albeit on an off track; trainer A. Merryman must have cured his ills during 8-month layoff or jock F. Lynch is the perfect fit
#4 – Speightshill (8-5): The Lightbulb Theory needs to be in effect as this 5 y.o. gelding finally got to winners Circle in 19th career start; ML oddsmaker believes in it as well based on favoritism
#3 – Forever Bernardini (10-1): Has had a rough go of it racing on a fast track (3:0-0-0) but sprinting in first outing after 2-monthh layoff is not in his DNA; look for better effort going one mile  
Race 8
#7 – Conquest See Ya (6-1): $$$ LONGSHOT $$$ Toughest race on the card IMHO; hard to toss any of the 8 who will go postwards, so this one making third start and after layoff for trainer C. Lynch has progressed nicely and should move forward giving best effort in here
#2 – Henry the King (5-1): Edged top pick by a head to be runner-up to next out winner Stolen Love who is likely ML favorite or second choice in $75k stakes sprint on Saturday; been part of Exacta in all 3 fast track races
#6 – Blu Moon Ace (4-1): Has faced better (n3x) in past couple over an off track where he's better on a fast track (5: 2-1-1); 10 lb. wonder bug C. Carrasco gets the mount as H. Karamanos takes usual spot aboard a L. Rice shipper (#3)
Race 9
#7 – Snoutus Quo (9-2): Usually not a fan of CT shippers but this one came via Tam earning decent Brisnet speed figures to be considered a player at this bottom level N2L; only entry for trainer R. Nagle (19% with shippers)
#2 – Vaughn (4-1): Took ill-advised step up in latest to $16kN2L and got drubbed; back in for $5k where she was runner-up two back
#9 – Cheering for Al (7-5): Many NY shippers who take a steep drop come up empty at Lrl except trainer L. Rice's; still not having a warm and fuzzy feeling about this form Rudy Rod trainee who hasn't been out since Dec. 30th   
YESTERDAY'S NEWS  
On Saturday March 11th at Laurel had 6 winners from the 9 race card (2 Top Selections; payoff in BOLD) having $2 WIN pay-off of $19.60 (1st race), $8.20 (3rd), $10.80 (4th), $4.60 (5th), $4.40 (6th) and $3.00 (9th). Of the suggested multi-race wagers hit the R3-R5 50 cent Pick-3 for $29.95 (cost: $13.50). On Top Selections in 2017 are 60 for 251 (23.90%). In 2016, Top Selections were 304 for 1,213 (25.02%).
BEST BET of the Day (29: 10-5-4; in 2016 127: 31-29-19) Color Me Sexy (5th race: 3-1 M/L; 5-2 PT) chased the pace two wide around the turn, drifted to the three path in upper stretch and gave way to finish 5th.
LONGSHOT PLAY of the Day (27: 1-2-6; in 2016 124: 13-13-16) San Cristo (4th race: 8-1 M/L; 14-1 PT) was taken wide soon after a sluggish beginning, was hustled along five wide around the turn, angled wider for the drive and closed steadily under repeated left handed rousing to finish 4th.