The GQ Approach – Laurel March 11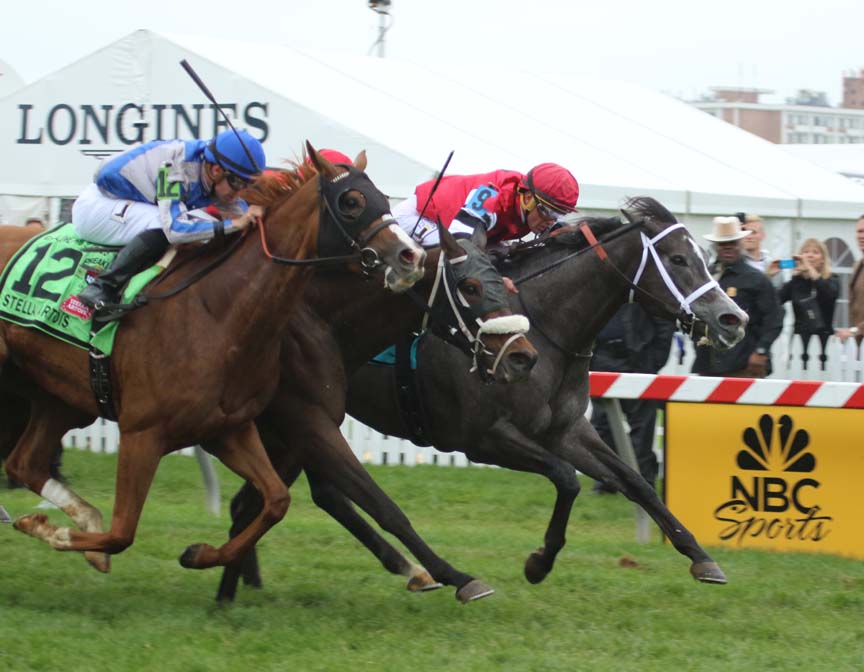 Mizz Money (#9) held off Vielsalm (in between) and Heath (#12) to win the Grade 3 Gallorette. Photo by Laurie Asseo.
The GQ Approach features full-card selections from Laurel Park (w/ live racing every Friday, Saturday and Sunday through May 7, 2017; Post Time 12:30pm EDT), including a daily Best Bet, Longshot Play, and multi-race wagers — including the 20 cent Rainbow Pick-6, 50 cent Jackpot Pick-5, as well as Pick-4s and rolling Doubles, Pick-3s and the Super High-5.

[su_box title="
Today's Carryovers
" style="glass" box_color="#66ADCC"]
Rainbow Pick 6: $4,579.02
Super High 5: $546.76
Late Pick 5: no carryover[/su_box]
[su_box title="GQ's Handicapping Tip of the Day" style="glass" box_color="#66ADCC"][stray-random][/su_box]
[su_box title="Best Bet of the Day" style="glass" box_color="#66ADCC"]Race 5 / #6 – Color Me Sexy (3-1)[/su_box]
[su_box title="Longshot Play of the Day" style="glass" box_color="#66ADCC"] Race 4 / #3 – San Cristo (8-1)[/su_box]
[su_box title="
Multi-race Wagers
" style="glass" box_color="#66ADCC"]
Race 1: $2 Double  1 w/ 1, 5, 6  ($6)
Race 3: $1 Pick-3  1, 6, 7  w/ 3, 7, 8  w/ 3, 6, 7  ($13.50)
Race 5: $0.50 Pick-5  6  w/ 1, 2, 5, 7  w/ 5, 11  w/ 3, 5, 7  w/ 4  ($12)
Race 8: $2 Double  3, 5, 7 w/ 4  ($6)
[/su_box]
[su_heading size="21″ align="left"]Analysis[/su_heading]
Weather: Mostly SUNNY; highs in the mid-30s
Projected condition of main track: FAST
No turf racing until Spring 2017
REMINDER: 1st Post starting SUNDAY, March 12th will be 1:10pm EDT
Race 1
#1/1A – Don't Poke the Cat/Barin (7-5): Looks like a FREE SPACE for your horizontal wagers; if both run they could easily run 1-2; they've been knocking at the door v. better
#6 – Colonel Argo (9-2): Drops after two so-so efforts sprinting in $25k MCL; pedigree suggests he'll do better going two turns; second start with blinkers often renders improvement
#4 – Rodon (8-1): Trainer G. Capuano gets results (31%) with runners second time going a route; drop after finishing 6-lengths behind #1A in here makes him a candidate to complete the Trifecta
Race 2
#5 – Sippy Cup (4-1): Was in way over her head in latest facing open claimers and ran like it; has yet to win on a fast track (9:0-0-5) but "The Snake" will give a leg up to red hot riding apprentice C. Carrasco who has started career winning 3 of first 4 mounts
#1 – Flint Hill (5-1): Has had a hard time getting into races on a consistent basis as this is trainers only runner; should find this group easier as she exits a "key" race when 5th
#6 – My Adeline (5-2): Something went amiss as she was a badly beaten lukewarm Post Time favorite in latest going one mile in first start off the claim for H. Wolfendale; cuts back to sprint    
Race 3
#7 – Hurricane Sheila (9-5): This ownership group of which trainer L. Rice is a part has brought some nice runners to Lrl and have won…Freedom Tower (Feb. 19), Karaoke Queen (when FTS last spring), Joy Drive (yesterday), the list goes on; they paid $230k this Congrats FTS as a 2 y.o.
#1 – Superfriend (5-1): FTS is stable/workmate of another C. Lynch trainee, Fast Talk, a colt who won at first asking here yesterday w/ J. Pimentel up; on Feb. 26th this one outworked her male counterpart from the gate going 4 furlongs
#6 – She's Achance Too (2-1): Was out of training 3 months after missing by a head in the MD Million Lassie last Oct. in just her second start; like the worktab over the past 45 days       
Race 4
#3 – San Cristo (8-1): $$$ LONGSHOT $$$ Only 3 others along with this one in here has competed in open claiming at this level but he's the only one who has won; recent outings have been so-so but is capable of surprising at a price
#7 – Flyingtobechilders (6-1): Turf runner ended winter vacation at GP early after 3 disappointing turf outings; G. Capuano gives him one dirt at bottom of barrel daring someone to claim this 8 y.o. just prior to turf season in MD
#8 – Dukin' With Dale (5-2): Often wonder if this is a reference to the fight between trainer Dale Romans and "Indian Charlie" newsletter editor, Eddie Musselman? The namesake is the speed of the speed in here and KO out his competition early in first open claiming race start
Race 5
#6 – Color Me Sexy (3-1): *** BEST BET *** Faced allowance company in first two starts after trainer R. Leaf claim out of $5kN4L when runner-up; comes back to that level retaining H. Karamanos riding services in hopes of a better trip off the rail
#3 – L X Sunrise (5-1): Backers of this 3 for 41 runner may have been smart to PLACE this 6 y.o. Cash Cow whose been runner-up an amazing 19 times… 18 of those on a fast track from 33 starts; can you say, "bottom wheel in the Exacta"?! 
#7 – Wildcat Gaze (7-2): Could be lone speed in this 5½ furlong event as she cuts back from 6 furlongs and might steal this race if the track starts being kind to front runners; jock G. Almodovar's only mount on the card and he's 3 for 3 at the current meet w/ trainer K. Magee        
Race 6
#2 – Le Weekend (5-2): Exits what appears to have been a tough debut race as runner-up came back to break maiden easily; this MD-bred gets protected based on condition of this $40k MCL
#1 – Do You Like That (7-2): FTS by Flower Alley out of a Dixie Union mare is a Sagamore Farm home-bred; always need to respect connections as they spot runners to win (30%)
#8 – Midday Prayer (8-1): KY-bred FTS by successful MD-sire Redeemed out of a Yonaguska mare indicates sprinter speed as shown in the worktab; jock/trainer a good team (4 for 12 at meet)     
Race 7
#5 – No Entiendo (5-2): Aptly named gelding for my Spanish friends in wondering why this NY shipper comes in dropping to bottom level when he's competed for $16Kn2L at Aqu? Maybe it's time to cut bait, hoping someone claims him; trainer G. Gullo won with only other shipper to Lrl
#11 – Split (6-1): Away since mid-August, started training again 2 months ago; connections must like him as they take advantage of Waiver Claiming option and protect him
#3 – Just the Zip (10-1): Like the cut back to a sprint after stretch out to one mile in latest, showing early speed then throwing in the towel in the stretch, saving him for another day… like today
Race 8
#7 – Risky Guy (8-5): This is one classy and fit 7 y.o. who has done well while eligible for these low-level Starter Allowances; apprentice C. Carrasco, 1 for 1 w/ trainer J. Maldonado, takes over for older brother who sticks with the #3 in here
#5 – Zen Papa (10-1): Immediately lost his form when claimed off D. Jacobsen (shocker, not!) but was facing better when starting for trainer D. Barr; had no chance in latest as it was loaded with early speed, unlike today
#3 – Two Term Leader (5-2): Unable to compete above the $5k level for the past year, all it took was being claimed by the right outfit to discover the Fountain of Youth for this 7 y.o. as stepped up off the C. Gonzalez claim and won, improving his Brisnet# 26 points (73 to 99)! Sniff, sniff
Race 9
#4 – Enduring Warrior (6-5): Trainer L. Rice (42% at Lrl) has endured 3 losing races at Aqu after claiming him for $40k last Sept.; next start wasn't until New Years Day so there were issues but the betting public has made him PT favorite in 5 of his 8 starts; comes to MD as he couldn't beat NY lowest maidens ($20k)
#6 – Zimbabwe (4-1): Bet trainer G. Motion hopes he can rid himself of this underachiever; failed to hit the board when PT favorite at this bottom maiden level; F. Lynch (41% w/ trainer) takes over for T. McCarthy who opted for 6 mounts at GP today
#1 – Mist On the Moskva (6-1): PA-bred returns to MD after a couple Pen $15k MCL races showing early speed then fading; this will be first fast track sprint start which ecomes in 11th career outing  
YESTERDAY'S NEWS  
On Friday March 10th at Laurel had 7 winners from the 9 race card (1 Top Selection; payoff in BOLD) having $2 WIN pay-off of $3.40 (1st race), $10.00 (2nd), $9.60 (3rd), $3.80 (4th), $15.80 (6th), $4.40 (7th) and $27.80 (9th). Of the suggested multi-race wagers hit the R1-R2 $2 DOUBLE for $22.20 (cost: $18). On Top Selections in 2017 are 58 for 242 (23.97%). In 2016, Top Selections were 304 for 1,213 (25.02%).
BEST BET of the Day (28: 10-5-4; in 2016 127: 31-29-19) It's a Bang (5th race: 5-1 M/L; 3-1 PT) two wide midway on the turn, was taken to the five path in upper stretch, advanced between horses and flattened out in the final strides to finish 4th while just one length behind the winner.
LONGSHOT PLAY of the Day (26: 1-2-6; in 2016 124: 13-13-16) Great Smoke (8th race: 12-1 M/L; 16-1 PT) prompted the early pace three wide and gave way to finish 5th.