The GQ Approach – Laurel March 10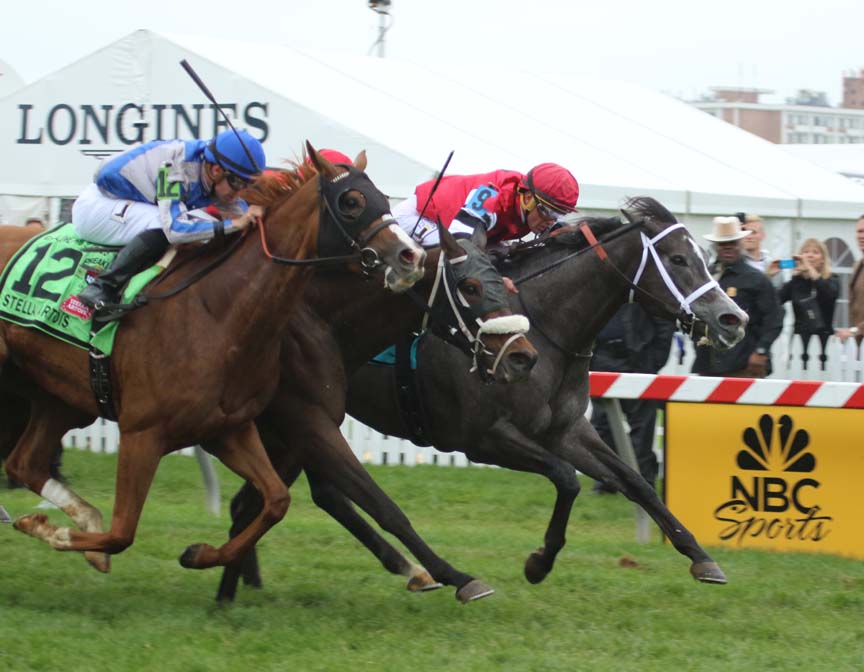 Mizz Money (#9) held off Vielsalm (in between) and Heath (#12) to win the Grade 3 Gallorette. Photo by Laurie Asseo.
The GQ Approach features full-card selections from Laurel Park (w/ live racing every Friday, Saturday and Sunday through May 7, 2017; Post Time 12:30pm EDT), including a daily Best Bet, Longshot Play, and multi-race wagers — including the 20 cent Rainbow Pick-6, 50 cent Jackpot Pick-5, as well as Pick-4s and rolling Doubles, Pick-3s and the Super High-5.

[su_box title="
Today's Carryovers
" style="glass" box_color="#66ADCC"]
Rainbow Pick 6: $3,461.94
Super High 5: $2,428.15
Late Pick 5: no carryover[/su_box]
[su_box title="GQ's Handicapping Tip of the Day" style="glass" box_color="#66ADCC"][stray-random][/su_box]
[su_box title="Best Bet of the Day" style="glass" box_color="#66ADCC"]Race 5 / #1 – It's a Bang (5-1)[/su_box]
[su_box title="Longshot Play of the Day" style="glass" box_color="#66ADCC"] Race 8 / #8 – Great Smoke (12-1)[/su_box]
[su_box title="
Multi-race Wagers
" style="glass" box_color="#66ADCC"]
Race 1: $2 Double  3, 5, 6 w/ 1, 3, 4  ($18)
Race 3: $1 Pick-3  3, 5, 7  w/ 3, 6, 7  w/ 1, 3, 8  ($13.50)
Race 5: $0.50 Pick-5  1, 8  w/ 1, 3, 5  w/ 1, 6, 9 w/ 3, 7, 8 w/ 3 ($27)
Race 8: $2 Double  3, 7, 8 w/ 3, 7  ($12)
[/su_box]
[su_heading size="21″ align="left"]Analysis[/su_heading]
Weather: Mostly Cloudy w/ periods of rain; highs in the low-40s
Projected condition of main track: SLOPPY
No turf racing until Spring 2017
REMINDER: 1st Post starting SUNDAY, March 12th will be 1:10pm EDT
Race 1
#3 – Honor the Fleet (5-2): Wow, what a debut, yet came up a neck short of the victory while being 6 lengths in front of the SHOW horse; he personally ran the final fraction in 11 4/5; bloodlines support stretch out
#6 – Clubman (7-2): Led most of the way going two turns in second start, along a dead rail; was beaten favorite that day by less than 2 lengths; jock switch to J. Pimentel is a positive move
#5 – Godlovesasinner (20-1): Three starts and three SHOW finishes while moving up the class ladder from $16k to $25k to $40k and now into MSW; needs to improve greatly but running style suggests he'll like going
Race 2
#4 – Boomrang Toy (9-5): NY shipper is lone entry on the card for M. Nevin while she doesn't get usual local rider (V. Carrasco on Rudy Rod's #1), F. Lynch is capable replacement on this "need the lead" type getting a 1/16th break in distance
#3 – Nye (6-1): Drops in for tag for first time in career and attracts T. McCarthy to ride; if track is kind to early speed he could be an upset factor shortening up to 5 1/2 furlongs
#1 – Baduke (3-1): Can boast best last race Brisnet# of this bunch when going same distance on a sloppy Lrl surface; never OTB on an off track (3:0-1-2); might get pace help to get up late
Race 3
#7 – One Proud Wildcat (8-5): Interesting that T. McCarthy lands here instead of C. Lynch's runner (#5) for which he has 1st Call; adds Lasix on the drop after 4 starts in So. FL
#5 – Fast Talk (4-1): Tough to think this FTS by Backtalk out of a Forest Wildcat mare is "live" since T. McCarthy isn't in the irons but hard to ignore the work tab especially recent two from the gate; trainer C. Lynch gets 21% FTS to Winners Circle
#3 – Flankenstein (5-2): Connections have tested waters against better after a pair of runner-up finishes at this $25kMCL level… and the results were not good; will need smart ride from 7 lb. bug J. Torres         
Race 4
#7 – Include Gold (6-1): 2 for 2 on an off track which is likely this afternoon; first try going 7 panels but should handle the cut back from two turns; in best form of his life right now
#6 – Super Sharp (3-1): bug Carlos Carrasco puts his perfect (2 for 2) rider record on the line, getting a shot from trainer M. Eppler who's trying to avoid a possible fourth straight loss as Post Time favorite; last win came in this same condition
#3 – Tango Delta (3-1): Sneaks into this event under an allowance condition while still being in "jail" after being claimed for $15k; has been hitting the board at 7 furlongs and shorter but let's see how new barn does with her  
Race 5
#1 – It's a Bang (5-1): *** BEST BET *** Most foes in here have already failed vs. similar but this drops into this condition with 12 days to spare; should find this group easier to handle and would relish running on an off track (6:2-0-1)
#8 – Lunar Rock (7-2): Runner-up in his past three starts, all at this level; compromised at the start when bobbled in latest while sent off as Post Time favorite; jock switch could help trainer H. James get off the schneid at current meet (10:0-3-1)
#3 – Cutty Shark (5-2): 6 y.o. gelding has tons of back class but has been claimed a couple times while hovering near the bottom; first start for new barn was ugly; drops a level in hopes of a turn around            
Race 6
#1/1A – Boheme de Lavi/Moon Vision (6-1): Prefer #1 as this 6 y.o. mare has found her old form while winning last two starts quite handily; continues to ascend towards her prior class level; makes first start after claim for S. Lake (11%); #1A is on a 4-race win streak but faces toughest task yet since Lake claimed her for $5k six races back
#5 – My Magician (6-1): Makes third start after layoff; showed improved in latest being runner-up and getting impressive 90 Brisnet#; both career wins came at 6 furlongs (8:2-1-1)
#3 – Zippity Zoom (9-5): Has top Brisnet Prime Power# in here but has been struggling lately v. NY-breds; trainer L. Rice also has entry in race 8; might be a "play against" candidate but jock/trainer have been tough this meet (8 for 18)
Race 7
#1 – Always a Suspect (7-2): Banking on this runner being the primary reason trainer K. McLaughlin is shipping in from NY; got buried in G3 Withers in first try at two turns; prior to that got nailed at the wire in minor stakes at Aqu to a next out winner
#9 – Johnny Hop (5-1): Was all out in fighting off fellow FTS who is in today's R1 (#3) so based on how that one runs back could be an indictor on this ones chances; 92 Brisnet# to start career isn't shabby at all
#6 – Recruiting Ready (2-1): Circles back home after banging heads with top 2-year-olds in the country racing at CD, Sar and GP; won't be the piece of cake Sagamore likely thought this would be when entered   
Race 8
#8 – Great Smoke (12-1): $$$ LONGSHOT $$$ Brisnet# speed figs have been climbing ever since trainer P. Magill reclaimed this gelding 6 races back; turned in best effort speed fig-wise in latest when clearly second best to next out winner
#3 – Hauler (6-1): Appears to be a gate-to-wire candidate in first race off H. McMahon claim (13%) even though he comes off a campaign going long; has been facing open claimers; off track record is attractive (5:2-1-1)
#7 – Concordia's Way (5-2): Looked like a world beater when in versus state-bred and open N1X prior to finding the N2X quite tougher; gets a break as this new OC$20kn1x allows his type in
Race 9
#3 – Bust (3-1): Trainer T. Morley ships in from The Big A and brings 7 lb. bug who rode this one to $20k maiden victory in latest; leery about hasty drop to $5k for first test v. winners and giving additional price break though
#7 – Baby's Dancer (10-1): Overbet IMHO when in a weak $10kN2L sprint; should find these gals easier to battle early on and will relish an off track (2:1-1-0); biggest obstacle will be jock (0 for 12 in '17)
#8 – Annies Revenge (4-1): Looks destined for a career at CT going 4 ½ furlongs as even 5 panels at Pen was too far with addition of blinkers; lone win came on Pim turf   
YESTERDAY'S NEWS  
On Sunday March 5th at Laurel had just 4 winners from the 8 race card (2 Top Selections; payoff in BOLD) having $2 WIN pay-off of $4.60 (1st race), $7.60 (3rd), $7.80 (5th) and $3.40 (8th). On Top Selections in 2017 are 57 for 233 (24.46%). In 2016, Top Selections were 304 for 1,213 (25.02%).
BEST BET of the Day (27: 10-5-4; in 2016 127: 31-29-19) Northern Prancer (3rd race: 3-1 M/L; 5-2 PT) along the inner rail entering the turn, eased out approaching the stretch, was taken to the five path at the head of the lane, remained on her left lead, closed under right hand whipping and was up in time to return $7.60 to WIN, $3.20 to PLACE and $2.60 to SHOW.
LONGSHOT PLAY of the Day (25: 1-2-6; in 2016 124: 13-13-16) Perfect Game Cain (4th race: 6-1 M/L; 7-2 PT) had speed inside, rated off the leaders heading towards the turn then angled out, chased past the five sixteenths then needed more between foes to finish 4th.