The GQ Approach – Laurel March 5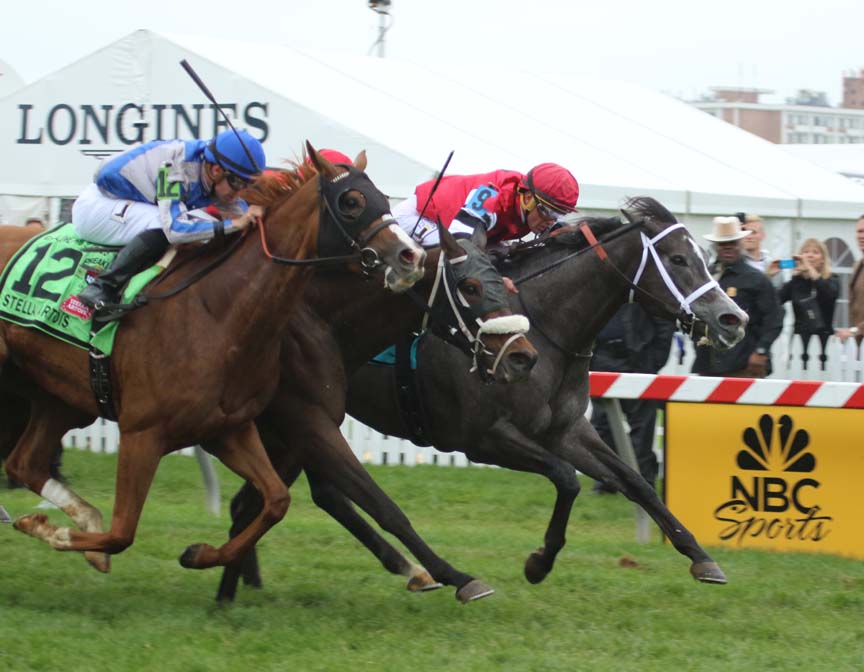 Mizz Money (#9) held off Vielsalm (in between) and Heath (#12) to win the Grade 3 Gallorette. Photo by Laurie Asseo.
The GQ Approach features full-card selections from Laurel Park (w/ live racing every Friday, Saturday and Sunday through May 7, 2017; Post Time 12:30pm EDT), including a daily Best Bet, Longshot Play, and multi-race wagers — including the 20 cent Rainbow Pick-6, 50 cent Jackpot Pick-5, as well as Pick-4s and rolling Doubles, Pick-3s and the Super High-5.

[su_box title="
Today's Carryovers
" style="glass" box_color="#66ADCC"]
Rainbow Pick 6: $1,958.13
Super High 5: $926.97
Late Pick 5: $5,188.72[/su_box]
[su_box title="GQ's Handicapping Tip of the Day" style="glass" box_color="#66ADCC"][stray-random][/su_box]
[su_box title="Best Bet of the Day" style="glass" box_color="#66ADCC"]Race 3 / #2 – Northern Prancer (3-1)[/su_box]
[su_box title="Longshot Play of the Day" style="glass" box_color="#66ADCC"] Race 4 / #2 – Perfect Game Cain (6-1)[/su_box]
[su_box title="
Multi-race Wagers
" style="glass" box_color="#66ADCC"]
Race 1: $2 Double  4, 6, 7  w/ 2, 4  ($12)
Race 3: $1 Pick-3  1, 2, 7  w/ 2, 4, 7  w/ 2, 5, 6  ($13.50)
Race 5: $0.50 Pick-5  2, 7  w/ 5, 6  w/ 5, 6, 7  w/ 1, 3, 8  w/ 6, 8 ($36)
Race 8: $2 Double  1, 3, 8  w/ 6  ($6)
[/su_box]
[su_heading size="21″ align="left"]Analysis[/su_heading]
Weather: Mostly Sunny; highs in the upper-30s
Projected condition of main track: FAST
No turf racing until Spring 2017
Race 1
#6 – Asset Allocation (1-1): One of two runners on the card for trainer L. Rice who often ships in "live" maidens who cannot get it done v. better in The Big Apple; drops from $40k to $16k MCL
#4 – Celtic Ruler (4-1): Gets placed at a level where he has a realistic shot at earning his diploma; F. Boyce previously rode both of trainer T. Keefe's uncoupled entries in here & picks this one
#7 – Summer Run (3-1): FL-bred FTS by Put It Back cost $47k as a yearling yet connections confidence level must be low offering this colt for $16k in debut; still need to respect C. Lynch firsters (21%)
Race 2
#4 – Battle Midway (9-5): Lone entry for Bel-based trainer D. Cannizzo who does well shipping into Lrl (8:1-2-2); will need some pace help to prevail using late rallying in the stretch
#2 – It Behooves Me (3-1): Ascending BRIS speed figs coming off a near career best 96 sat closer to the early lead than ever before resulted in win v. AlwN1x… might be new tactics that will work again
#5 – Monkey's Medal (8-1): Drops to lowest level of career and has yet to see Winners' Circle in previous dozen tries at this distance (12:0-1-5); should improve off latest going 7 furlongs     
Race 3
#2 – Northern Prancer (3-1): *** BEST BET *** Rough trip in latest yet still nearly prevailed when losing a headbob photo; K. Gomez retains mount trying to make amends and gets an extra 1/16th to close in on rivals late
#7 – Better Way (5-1): Has running style that should be perfect for 6 furlongs yet is 0 for 9 with 3 runner-up efforts at this distance; finished 3 lengths behind top pick in latest when having her own trip issues
#1 – Show Giant (5-2): 10 lb. bug Carlos Carrasco (yes, he's Victor's younger brother) puts perfect riding career (2 for 2) on the line after improbable riding debut yesterday; this NY shipper was dropped off at D. Goetz (subbing for W. Potts) barn to hopefully get claimed; has speed to jump to early lead and hope hold off late comers at the wire            
Race 4
#2 – Perfect Game Cain (6-1): $$$ LONGSHOT $$$ Deceivingly good 4th place effort going one mile on the drop from $10kn4L; cuts back to sprint today where he's done the most of his damage (9:2-1-3); V. Carrasco takes over for 7 lb. bug & has won on 4 of 10 mounts for trainer K. Nations at current meet
#7 – Slide by You (3-1): A pair of Show placings after passing N3L condition at today's distance; stumble at the start of latest didn't help the cause when sent off 5-2 second choice
#4 – Let's Be Frank (9-5): Largely ignored (8-1) when dropped from $10k to $5k yet managed stay on to be runner-up; makes third start for trainer G. Capuano
Race 5
#5 – Brute Force (3-1): This Sagamore Farm home-bred hasn't panned out so as they typically do, it's time to quickly cut bait on steep drop from $40kN2L at Prx; second start with blinkers
#6 – My Own Lane (5-1): This lightly raced 5-year-old gelding will make a living on the turf but that start will need to wait another month; not a vote of confidence from trainer K. Magee offering for $12,500 coming off 2+ month layoff when claimed for $16k but maybe trying to steal a purse until turf season
#2 – Brother Slick Nick (4-1): Convincingly broke maiden in first try on fast track… in 13th career start, albeit for $10k MCL; faces a stiffer challenge today but lightbulb may have been turned on  
Race 6
#5 – Wazzala  (5-2): Hasn't been able to carry her early speed from gate-to-wire but gets a break in distance cutting back from 7 to 6 furlongs; C. Gonzalez gets 25% of second race after claim runners to Winners' Circle
#6 – My Sweet Autumn (8-1): Two career starts at CT showed she wants more real estate than 4 ½ furlongs… and gets it here; late pace figures indicate she can compete v. these
#7 – Lac Ofcommunication (3-1): Comes north after being bridesmaid in debut for $16k tag at Tam when taking plenty action at the betting windows (5-2); attracts J. Toledo to pilot     
Race 7
#3 – Best Yes (5-2): Failed as 3-5 favorite just 7 days ago when caught late after being engaged in a quick, early pace; BRIS speed figures on a gradual climb; just a matter of time before he gets win #2
#8 – Willie B Mine (2-1): Honest running gelding who rarely gets support from the bettors makes first start since Jan. 13th; one needs to go back to 2015 to find last trip to Winners' Circle
#1 – Jump Jive an Wail (6-1): Stepping outside of comfort zone by cutting back to sprint (2:0-1-0); A. Cintron/M. Eppler are winning at 25% during current meet   
Race 8
#6 – Lil Habit of Mine (9-5): Maiden win in debut was stamped as "legit" when runner-up came back to easily destroy her competition; could be in for another battle on front end as there's plenty of other speedy gals in here
#8 – Sounds Delicious (7-5): Trainer L. Rice's other starter on the card freaked in second start earning a 97 BRIS speed figure to win by 9 lengths at Aqu which followed her modest 66 in her maiden breaking debut locally
#1 – Heaven's Door (15-1): Finally enters a race in which Faze the Nation is not also entered; that one ran yesterday, caught late when in first time versus elders so this one just might be a diamond in the rough making first start off P. Magill claim
YESTERDAY'S NEWS  
On Saturday March 4th at Laurel had just 4 winners from the 9 race card (2 Top Selections; payoff in BOLD) having $2 WIN pay-off of $4.40 (1st race), $5.80 (2nd), $3.20 (4th) and $7.20 (9th). On Top Selections in 2017 are 55 for 225 (24.44%). In 2016, Top Selections were 304 for 1,213 (25.02%).
BEST BET of the Day (26: 9-5-4; in 2016 127: 31-29-19) Tunnel Beach (1st race: 9-5 M/L; 6-5 PT) sped to the early lead, set the pace in the two path around the turn, dueled inside Gimme Kimmy and narrowly prevailed to return $4.40 to WIN, $2.20 to PLACE and $2.10 to SHOW.
LONGSHOT PLAY of the Day (24: 1-2-6; in 2016 124: 13-13-16) Warleigh (7th race: 6-1 M/L; 4-1 PT) disputed the pace outside Grecian Prince, remained on his left lead through the stretch and weakened under right hand whipping to finish 4th, less than one length behind the winner.