The GQ Approach – Laurel March 4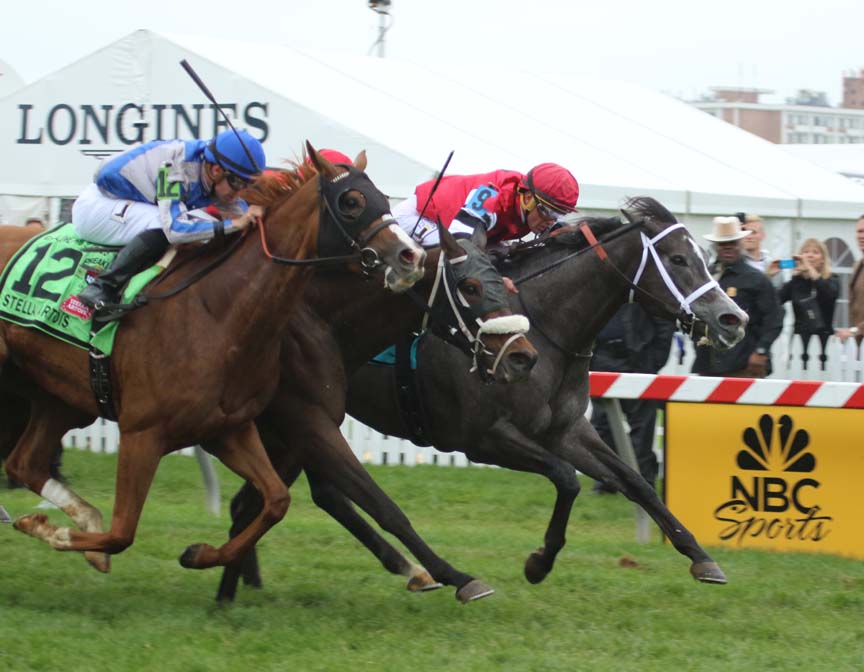 Mizz Money (#9) held off Vielsalm (in between) and Heath (#12) to win the Grade 3 Gallorette. Photo by Laurie Asseo.
The GQ Approach features full-card selections from Laurel Park (w/ live racing every Friday, Saturday and Sunday through May 7, 2017; Post Time 12:30pm EDT), including a daily Best Bet, Longshot Play, and multi-race wagers — including the 20 cent Rainbow Pick-6, 50 cent Jackpot Pick-5, as well as Pick-4s and rolling Doubles, Pick-3s and the Super High-5.

[su_box title="
Today's Carryovers
" style="glass" box_color="#66ADCC"]
Rainbow Pick 6: $871.02
Super High 5: no carryover
Late Pick 5: no carryover[/su_box]
[su_box title="GQ's Handicapping Tip of the Day" style="glass" box_color="#66ADCC"][stray-random][/su_box]
[su_box title="Best Bet of the Day" style="glass" box_color="#66ADCC"]Race 1 / #3 – Tunnel Beach (9-5)[/su_box]
[su_box title="Longshot Play of the Day" style="glass" box_color="#66ADCC"] Race 7 / #8 – Warleigh (6-1)[/su_box]
[su_box title="
Multi-race Wagers
" style="glass" box_color="#66ADCC"]
Race 1: $2 Double  1, 3  w/ 4, 5 ($8)
Race 3: $1 Pick-3  3, 5, 6  w/ 4, 5, 6  w/ 1, 5, 7 ($13.50)
Race 5: $0.50 Pick-5  5, 7  w/ 5, 7  w/ 1, 3, 8  w/ 1, 7  w/ 2, 5, 7 ($36)
Race 8: $2 Double  1, 7  w/ 2, 5, 7 ($12)
[/su_box]
[su_heading size="21″ align="left"]Analysis[/su_heading]
Weather: Mostly Sunny; highs in the upper-30s
Projected condition of main track: FAST
No turf racing until Spring 2017
Race 1
#3 – Tunnel Beach (9-5): *** BEST BET *** Only runner in here to show life in early stages of a race; did so when drop to this level from MSW in second career; only mount on the card for L. Garcia
#1 – African Wildcat (3-1): Away since last June but shows a nice pattern of works over past 3 months; will be first start on fast track as 2 forgettable starts came on turf, other 2 on off track
#6 – Gimme Kimmy (7-5): No T. McCarthy today as he's at Aqu to ride El Areeb in Gotham; no offense to K. Davis but any jock would be a downgrade even though "Kimmy" was runner-up at this level, 12 in front of Show runner
Race 2
#4 – Macroeconomics (7-2): Family run outfit has done well with this Exchange Rate filly since claiming for $5k @ Pid last Oct.; toss that last race in slop on Christmas Eve as it was v. boys
#5 – Balabusta (3-1): Runner-up against similar in first race after trainer K. Magee claim out of a race where #3 got the better of her by 2 lengths; new barn has a way of improving runners quickly
#3 – Star Eighty (8-5): Looked like a world beater in romp when dropped after claim at today's level; has back class to repeat here     
Race 3
#5 – Italian Lemonade (7-5): Ships up from FL ending winter stay in hopes of getting diploma in the Mid-Atlantic; competed at higher level (7:0-1-2); 4th when beaten favorite in latest 
#3 – Chatter Pattern (4-1): Tried stretching out to two turns in latest try to break maiden but threw in the towel after 4 furlongs while being rank; good sign that V. Carrasco stays aboard for return to sprint
#6 – Papa Vinny (8-1): Drops after running 4th in debut for $16k MCL when 7-1; adds blinkers, F. Boyce returns to ride but trainer R. Leaf has struggled (1 for 27 at meet) 
Race 4
#6 – Party Regent (5-1): Continues to step up the class ladder while trying to graduate; needed more than the 4½f at the CT bull ring when 1-2 favorite; add blinkers and gets third different jock (C. Quinones) in as many career starts
#4 – Speightshill (7-5): Hard to take these odds when getting a new apprentice making riding debut today (also has mount in R3); has the early speed to clear this group on drop from MSW; has been beaten by a number of next out winners
#5 – Yankee Tar (10-1): Trainer M. Eppler is still trying to figure this 4-year-old gelding who was off for a year and ran dull in return when chilly on the board (21-1); adds blinkers hoping it helps
Race 5
#7 – Big Slick (5-1): Paid immediate dividends to owner/trainer G. Rosenthal winning for $25k after claiming for $15k; took shot with this NY-bred at Aqu in OC$75kn1x and got buried; can rebound versus this group
#5 – Z Supreme (4-1): First start after trainer K. Magee claim (25%) but this one came from Rudy Rod barn when winning v. #1 and #3 but got beat by top pick by 5+ two back
#1– Determined Nation (6-1): Only runner in here who has beaten winners; runner-up to the #5 in latest; BRIS speed figs have been climbing since returning to sprints; jock exits #3 to ride      
Race 6
#5 – E Lizzy (9-2): Will need pace help as this mare comes from the clouds; has been facing much tougher since trainer J. Egan took over the conditioning duties; runner-up 3 back to local stakes winner Winter#
#7 – Lady Terp (3-1): Has been a money earner at the OC$32kn2x level over the past year while being protected but finally after winning 3 back, hasn't hit the board in2 races since or tag; big drop as she's on sale for 30% off
#1 – Seeing'n'believing (7-2): Winner of 3 of her last 4; 2 for 2 at Lrl; speed figures ascending; typical drop in second race after claim for K. Magee; J. Toledo off #2 to ride this one
Race 7
#8 –Warleigh (6-1): $$$ LONGSHOT $$$ Has been facing much better than the likes of this group; makes third start after layoff; has early speed to clear and stamina to get 7 furlongs as he's 2 for 2 at the distance
#3 – To Dare (5-1): Has found some of his old form thanks to trainer M. Eppler who put him in for $5k to get confidence back and slowly stepped him up in last two; needs pace help to rally late
#1/1A – Grecian Prince/Cort'n Asong (3-1): Formidable duo from H. McMahon barn; "Prince" ins only one who can challenge top pick for early lead; has 2 runner-up efforts at distance from 2 starts; stablemate was beaten favorite when claimed for $10k; confident move stepping up and out of jail   
Race 8
#7 – Gold Braid (8-5): Only both parts of entry are not stepping up in class but this one is well deserved ML favorite; came up a nose short of making it 2 for 2 at this one mile distance and was well clear of Show runner (#1)
#1/1A – Parade of Nations/Actin Tiz (5-2): #1 is the better of the two; appears to be candidate to bottom wheel in Tri as he's Showed in last 3; "Tiz" couldn't handle hot pace first time v. winners after romping by 6 in $16kMCL two back
#5 – Wolfinbarger (10-1): Surprise debut winner in $25k MCL contest where uncoupled stablemate was sent off Post Time favorite; sire Redeemed has proven plenty of good 3-year-olds and this one could blossom into another
Race 9
#7 – Never Stop Looking (7-2): Runner with back class started 2017 with a New Years' Day win at lowest level of career; has climbed ladder in last two, getting another win at this level, all with K. Davis aboard 
#5 – Mr. Game Seven (15-1): Dumped rider (W. Ho) in latest when shipped to CT; back home where he has been most successful (6:2-2-0) when competing against similar; Pedroza who has been J. Robb's "go to" rider is back in irons     
#2 – American Progress (10-1): Tends to get in trouble while still being game to get a minor share; makes third start after layoff; has back class to surprise at a price
YESTERDAY'S NEWS  
On Friday March 3rd at Laurel had 7 winners from the 9 race card (3 Top Selections; payoff in BOLD) having $2 WIN pay-off of $2.80 (1st race), $5.80 (2nd), $25.60 (4th), $3.20 (5th), $4.20 (6th), $9.00 (8th) and $7.20 (9th). Of the suggested multi-race wagers hit the R1-R2 $2 DOUBLE for $11.20 (cost: $12) and R8-R9 $2 DOUBLE for $57.20 (cost: $12). On Top Selections in 2017 are 53 for 216 (24.54%). In 2016, Top Selections were 304 for 1,213 (25.02%).
BEST BET of the Day (25: 8-5-4; in 2016 127: 31-29-19) Thissongisaboutyou (8th race: 3-1 M/L; 2-1 PT) grabbed command soon after the start and set a rated pace in the three path, dropped in a path leaving the far turn while maintaining command, was confronted from her outside after a half mile, ceded command soon into the lane and faded through the final furlong to finish 4th.
LONGSHOT PLAY of the Day (23: 1-2-6; in 2016 124: 13-13-16) Nancy R (7th race: 8-1 M/L; 7-1 PT) came out leaving the starting gate, chased the pace four deep around the turn, failed to rally and drifted out in mid-stretch to finish 4th.