The GQ Approach – Laurel March 3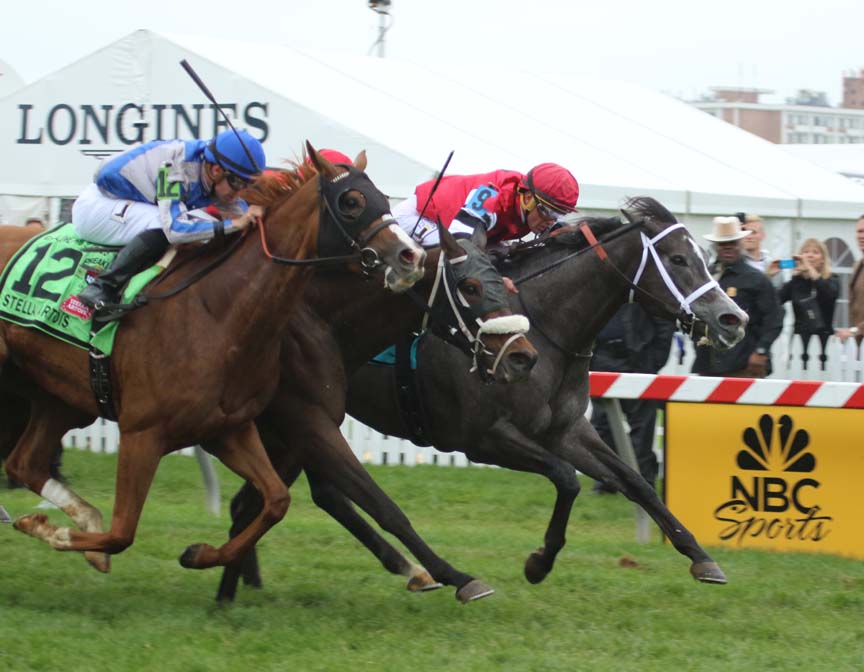 Mizz Money (#9) held off Vielsalm (in between) and Heath (#12) to win the Grade 3 Gallorette. Photo by Laurie Asseo.
The GQ Approach features full-card selections from Laurel Park (w/ live racing every Friday, Saturday and Sunday through May 7, 2017; Post Time 12:30pm EDT), including a daily Best Bet, Longshot Play, and multi-race wagers — including the 20 cent Rainbow Pick-6, 50 cent Jackpot Pick-5, as well as Pick-4s and rolling Doubles, Pick-3s and the Super High-5.

[su_box title="
Today's Carryovers
" style="glass" box_color="#66ADCC"]
Rainbow Pick 6: no carryover
Super High 5: no carryover
Late Pick 5: no carryover[/su_box]
[su_box title="GQ's Handicapping Tip of the Day" style="glass" box_color="#66ADCC"][stray-random][/su_box]
[su_box title="Best Bet of the Day" style="glass" box_color="#66ADCC"]Race 8 / #5 – Thissongisaboutyou (3-1)[/su_box]
[su_box title="Longshot Play of the Day" style="glass" box_color="#66ADCC"] Race 7 / #5 – Nancy R (8-1)[/su_box]
[su_box title="
Multi-race Wagers
" style="glass" box_color="#66ADCC"]
Race 1: $2 Double  3, 6  w/ 1, 3, 5 ($12)
Race 3: $1 Pick-3  3, 4, 6  w/ 1, 2, 3  w/ 3, 4, 7 ($13.50)
Race 5: $0.50 Pick-5  3, 4  w/ 2, 5, 7  w/ 1, 3, 5  w/ 5  w/ 4, 5, 6 ($27)
Race 8: $2 Double  3, 5  w/ 4, 5, 6 ($12)
[/su_box]
[su_heading size="21″ align="left"]Analysis[/su_heading]
Weather: Mostly Cloudy; highs in the upper-30s
Projected condition of main track: FAST
No turf racing until Spring 2017
Race 1
#3 – I Just Wanna Win (3-1): Trainer P. Magill reclaim indicates he wants to realize the fruits of his labor in getting this mare back to the races after 7-month layoff in 2016; goes for Hat Trick
#6 – I Am Superior Too (6-1): Trainer M. Gorham has gotten this 5-year-old mare back on track winning her N3L and N4L conditions in 2 of her last 3 outings; likely Stewards scratch of #1 due to condition of race leaves this event wide open
#2 – Stormy Mama (15-1): Just 1 for 26 over the Lrl dirt and has never hit the board in 8 starts at this distance yet could sneak in Trifecta to make it less Chalky
Race 2
#3 – Boheme de Lavi (3-1): Won rather easily when given major class relief in latest; see no reason why this small step up would be a deterrent from duplicating that effort today
#5 – J La Tache (5-2): This non-winner of 2 lifetime from 13 races faces seasoned veterans; been on the shelf since last August and is protected in this optional claimer; broke maiden here last March
#1/1A – Moon Vision/More Stormyweather (3-1): A nice duo sent out by trainer S. Lake as either could get the job done; "Moon" can boast best last BRIS speed figure; "Stormy" comes off an Alwn1x win; both in for the tag     
Race 3
#4 – Important (7-2): Has the look and pedigree to be successful going two-turns; a distant runner-up in last outing appears to be the better of the two M. Trombetta uncoupled entries (#1 is the other runner)
#6 – Saida (2-1): Certainly bred to run two turns by Giant's Causeway out of an Indian Charlie mare; did better in first 3 starts @ Pid but has yet to take to natural dirt surface of Lrl
#3 – Rosie McGuire (15-1): Taking a shot here as trainer M. Eppler gives Eclipse award winning apprentice L. Ocasio first mount for her which is his only mount on the card; adds blinkers             
Race 4
#1 – Persie (7-2): Didn't have an alert start at this same level going two turns; is 2 for 2 at this one mile distance and will have no pressure early as foes lack speed to challenge… if J. Toledo can hustle him out of the gate
#3 – Best Man (5-1): NY shipper for trainer Rudy Rod has found open claiming a lot tough than conditional events; finds this non-winner of 4 lifetime attractive to make the trip and provide jock P. Fragoso a chance to break 0 for 10 start to 2017
#2 – Jose Sea View (5-2): Only entry for high win pct. (33% in '17) Prx-based trainer M. Zulueta; gets class relief after so-so efforts in $25k Starters; drops to lowest level of career in search of first ITM finish from 3 fast, natural dirt track starts
Race 5
#4 – Senor Quickie (7-2): Three consecutive runner-up finishes since trainer A. Eubanks reclaimed this 8-year-old gelding, tow have come at the hands of today's 6-5 ML favorite #7, but gets pace help in trying to turn the tables          
#3 – Uncle Woodrow (4-1): Ends winter vacation at Tampa early while seeking natural hat Trick; prefers an off track (2 for 3) which he won't get today; first shot in Starter Allowance company
#7 – North Ocean (6-5): Has been winning in gate-to-wire fashion in spite of Lrl dirt not being that kind to early speed; tough test in here as he'll face plenty of pressure at every call           
Race 6
#2 – Dancing With Maude(5-2): Beaten favorite in last two MSW efforts, one when falling victim to now Derby contender Irish War Cry; cuts back to 6 furlongs which should give best shot at graduating
#7 – Tipu Run (8-1): FTS by Astrology out of a Yonaguska mare has an extensive work tab but without a gate work; like the 5 furlong bullet in final prep; cost $42k as a yearling at Kee
#5 – Uplifting (2-1): Prx shipper won debut but got DQ'd; then stepped up to MSW earning a very impressive 92 Brisnet# yet was only good enough for Place; Prx rider R. Rosado makes trip down I-95 for only mount on card   
Race 7
#5 – Nancy R (8-1): $$$ LONGSHOT $$$ Connections liked something about this Friesan Fire filly as she was sent off 4-1 in a field of 8 in debut, didn't get the best of trips and faded; jock K. Davis sticks with her instead of #1 who is ML favorite… Hmmm
#3 – Love's Legend (9-2): Took plenty of action at the windows (3-1) in debut v. $40kMCL but had nothing to offer after a quick start; takes huge, hasty drop and switches to journeyman C. Quinones who is 2 for 9 w/ trainer P. Schoenthal
#1 – Friesan Gal (2-1): 10thd start could be the charm as best efforts have come since being dropped to $10kMCL level; BRIS speed figs have been ascending and cut back to 6 furlongs will leave V. Carrasco who takes over for K. Davis no excuses   
Race 8
#5 – Thissongisaboutyou (3-1): *** BEST BET *** Can boast top BRIS Prime Power# in here; trainer M. Tormbetta is 27% with beaten favorites; stands out as far as mid-late pace numbers go
#3 – If I Was a Boy (9-2): Has traded punches with top pick in the past but on the short end in most recent face-off; T. McCarthy fits this filly like a glove (6:1-3-1) but needs to find a cure for Seconditis (6x from 13 starts)
#1 – Gloria Patri (5-1): Lightbulb Theory came through as this gal stepped up to win OC$25k immediately earning diploma v. $25kMCL; took a 2-month break since but shows two works
Race 9
#6 – Mazzy Star (3-1): xBest finish from 10 starts is one runner-up effort but was ridden along a dead rail in latest while lacking room to run; let's hope for a better ride v. similar
#4 – Reward the Gypsy (2-1): Has shown the most promise since dropping to this bottom maiden level and adding blinkers; nipped top pick in here by a nose for the runner-up spot two races back
#5 – Waves On the Sea (8-1): An ugly lifetime record (15:0-2-0) but only 5 have been on a fast track with one of the runner-up finishes; change of scenery via trainer switch could do wonders as well plus stretching out could be what the doctor ordered   
YESTERDAY'S NEWS  
On Sunday February 26th at Laurel had 6 winners from the 9 race card (2 Top Selections; payoff in BOLD) having $2 WIN pay-off of $9.20 (1st race), $3.20 (2nd), $3.20 (3rd), $5.00 (6th), $19.40 (8th) and $7.20 (9th). Of the suggested multi-race wagers hit the R1-R2 $2 DOUBLE for $26.40 (cost: $8). On Top Selections in 2017 are 50 for 207 (24.15%). In 2016, Top Selections were 304 for 1,213 (25.02%).
BEST BET of the Day (24: 8-5-4; in 2016 127: 31-29-19) Cotton Eye Gem (4th race: 5-2 M/L; 3-2 PT) rated off the early pace, angled out leaving the three eighths pole, circled six wide into the lane, made a run nearing the eighth pole then flattened out to finish 5th.
LONGSHOT PLAY of the Day (22: 1-2-6; in 2016 124: 13-13-16) Resident Scholar (6th race: 9-2 M/L; 9-1 PT) moved up outside the winner nearing the far turn, was under pressure five wide into the lane and came up empty to finish 4th.