The GQ Approach – Laurel February 26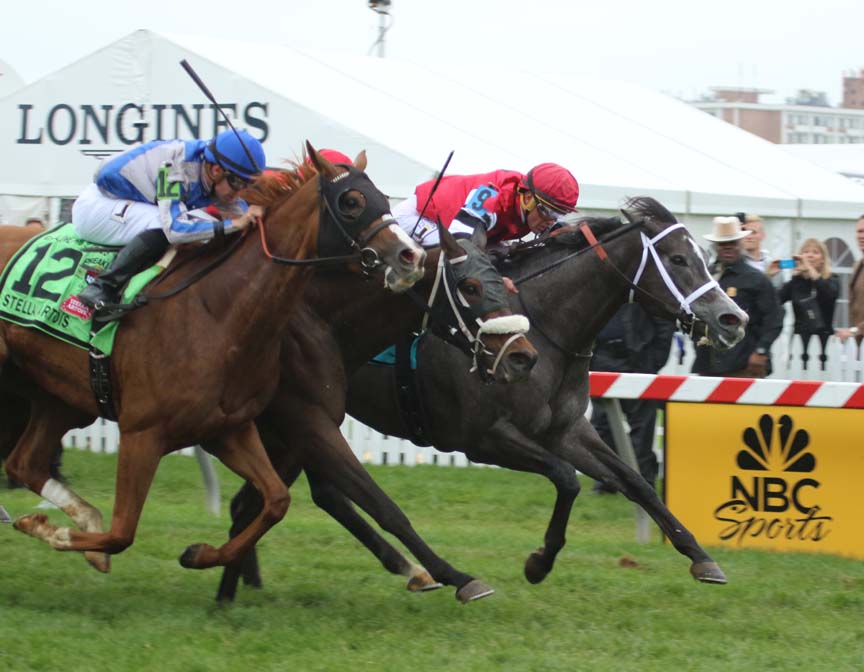 Mizz Money (#9) held off Vielsalm (in between) and Heath (#12) to win the Grade 3 Gallorette. Photo by Laurie Asseo.
The GQ Approach features full-card selections from Laurel Park (w/ live racing every Friday, Saturday and Sunday through May 7, 2017; Post Time 12:30pm EDT), including a daily Best Bet, Longshot Play, and multi-race wagers — including the 20 cent Rainbow Pick-6, 50 cent Jackpot Pick-5, as well as Pick-4s and rolling Doubles, Pick-3s and the Super High-5. 
CARRYOVERS
Rainbow Pick 6: $27,221.11
Super High 5: no carryover
Late Pick 5: no carryover
BEST BET OF THE DAY
Race 4 / #7 – Cotton Eye Gem (5-2)
LONGSHOT PLAY OF THE DAY
Race 6  / #6 – Resident Scholar (9-2)
[su_heading size="21″ align="left"]Multi-race wagers[/su_heading]
Race 1: $2 Double 3, 7 w/ 1, 3  ($8)
Race 3: $1 Pick-3  1, 3, 6  w/ 7  w/ 3, 6, 7  ($9)
Race 5: $0.50 Pick-5  6, 7  w/ 2, 5  w/ 2, 4, 9  w/ 4  w/ 6, 7, 8 ($18)
Race 8: $2 Double  4  w/ 6, 7, 8  ($6)
[su_heading size="21″ align="left"]Analysis[/su_heading]
Weather: Mostly Sunny; highs in the mid-40s
Projected condition of main track: FAST
No turf racing until Spring 2017
Race 1
#7 – Mid Ocean (8-5): Drops back to $5kn3L where trainer M. Eppler claimed him two back; just missed as Post Time favorite in $10kn3L while in jail, earning career best speed figure
#3 – Cold Spice (3-1): Came to life in latest when dropped to bottom level N2L; trainer L. Gaudet & jock K. Gomez win at a 32% clip
#1 – Stone Crab (2-1): Had been successful racing in the Empire State the past year but headed to MD for latest and some class relief; only managed Show purse so connections drop him again
Race 2
#3 – Value Added (3-1): Could steal it on the front end as one other rival is eager from the gate; need to put faith in 7 lb. bug to conserve energy early and stay off the dead rail… yep, it's still dead
#1 – Include a Check (9-5): Fits the "2 levels up, then 1 down after claim" angle for trainer G. Brooks; though she's built to handle two turns, she didn't in only two turn 2 outings
#2 – Crookit (5-2): Beat 2 of the 3 others in this event not mentioned here, so even though only victory came on an off track, she has experience at the distance (3:0-2-0)     
Race 3
#3 – Huntin'theholidays (8-5): Recorded 84 Brsinet# in each of his last two which are by far the best among this group but need to raise the caution flag as to why he's dropping in class after such performances
#6 – Run for Zach (4-1): Step up after earning third lifetime trip to Winners' Circle did not go well; needs to take advantage of outside post to get a nice stalking trip
#1 – After the Cut Off (6-1): McCarthy bails yet doesn't have another mount in here but R. Chiappe gets called upon as he's been able to get this one to the wire first in the past            
Race 4
#7 – Cotton Eye Gem (5-2): *** BEST BET *** One glimpse at the past performances shows there's early speed possessed by every runner except this gal; prefers shorter sprint distances like today's (5½ f) and is 2 for 3 at this distance; breaking from far outside is an added plus
#5 – Brook's on Fire (10-1): Ran behind top pick in most recent two outings; adds blinkers and had a slight meltdown in gate prior to last start which likely caused poor showing
#2 – Hanalei Sunset (4-1): Second time blinkers and changing racing venue from Lrl to CT improved this Pollard's Vision filly by 39 speed figure points… say whaaat?! A repeat puts her in the mix
Race 5
#6 – Magic Harbor (4-1): Beaten favorite in first race after K. Magee claim for a nickel when stepping up while in jail; drops back down and reunited with T. McCarthy              
#7 – No Brakes (9-2): Appropriately named 12 y.o. that continues to compete gets class relief after knocking heads in Starter Allowance company all of 2016; hope 2% jock make him successful      
#3 – C J's Awesome (5-2): Typical NY shipper for trainer D. Jacobson… suddenly off form as he has struggled in latest pair after winning v. $10k open claiming; stats point to an easy victory but this capper is leery; adds blinkers            
Race 6
#5 – Resident Scholar (9-2): $$$ LONGSHOT $$$ Reclaimed by trainer F. Allen III for this same tag two back when steadied and OTB as 3-5 favorite; chalking up distant 4th v. $15k Claimers to off track (2:0-0-0)
#2 – Bridge Builder (3-1): Appears to have found his class level as he rallied in the stretch to be runner-up versus similar last time out; did encounter trouble in previous starts v. better
#3 – Brilliant Choice (5-1): Hard to figure the form of this Jekyll & Hyde runner other than this ridgling won at this level two back and is the only one in here who has beaten winners     
Race 7
#2 – It's a Trend (9-2): Brisnet speed figs have been on steady rise since trainer K. Neilson previously had this mare consistently in the Exacta at this level last Summer
#4 – Carolina Dreams (5-2): Been racing at one mile or more distances at Prx and locally yet shows up in this 6f having just one prior try sprinting (8th by 14); trainer K. Cartagena wins w/ 28% beaten favorites; didn't have the cleanest of trips in most recent two
#9 – Gethot Stayhot (2-1): Nearly pulled off gate-to-wire score at same level in last outing stretching out to one mile after predominately sprinting; this will be third race after layoff  
Race 8
#4 – Best Yes (8-5): Had the perfect trip in same condition as today behind two who dueled for early lead but neither backed up… both actually won their next outing; may decide to go gate to wire with lack of  early speed  from others  
#1 – Slick William (6-1): Third race after layoff and steps up for new barn seeking to tap into Willie's back class; exits two key races at $10kn2L level where the two winners came back to run 1-2 here last weekend
#3 – Gavin Streetsense (5-2): Best efforts have come on an off track which he won't get today (9:0-2-1 on fast track); trainer K. Magee calls on T. McCarthy to right this ship after poor outing at Prx
Race 9
#7 – Prime Number (9-2): Lrl debut in 48th career start was forgettable; today drops to back $5k and just makes the N1Y condition by a half dozen days; look for this 9 y.o. to lead the pack from start to finish
#6 – Scip of Vindy (10-1): Has had issues leaving gate cleanly; been making a leaving at Pen while lone Lrl start came on MD Million Day in Starter Allowance… got embarrassed; these are a much weaker group
#8 – Barnards Galaxy (9-2): This hapless 8 y.o. has not won on natural dirt (18:0-1-4) and has only 6 wins from 73 starts; recent runner up finishes could indicate he's on the cusp of greatness   
YESTERDAY'S NEWS  
On Saturday February 25th at Laurel had 5 winners from the 9 race card (2 Top Selections; payoff in BOLD) having $2 WIN pay-off of $4.80 (1st race), $2.60 (5th), $10.80 (6th), $3.40 (7th) and $6.60 (9th). On Top Selections in 2017 are 48 for 198 (24.24%). In 2016, Top Selections were 304 for 1,213 (25.02%).
BEST BET of the Day (23: 8-5-4; in 2016 127: 31-29-19) Tale of E Dubai (8th race: 9-5 M/L; 6-5 PT)  pulled his way clear in the opening furlong, set a rated pace off the rail, entered the lane three wide, wandered outward under a drive in mid-stretch, dug in when collared and gave way grudgingly to get beaten by a half-length and return $2.80 to PLACE and $2.20 to SHOW.
LONGSHOT PLAY of the Day (21: 1-2-6; in 2016 124: 13-13-16) Gator Boy (2nd race: 6-1 M/L; 6-1 PT) saved ground off the early pace, eased out to be three wide for the drive but could only muster up a mild kick to grab the Show purse to return $2.10 to SHOW.