The GQ Approach – Laurel February 25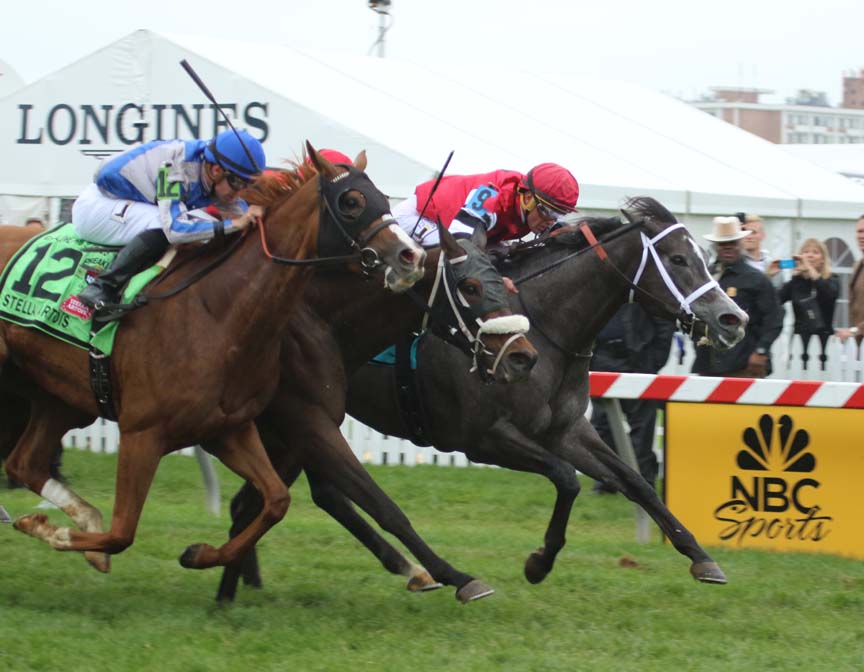 Mizz Money (#9) held off Vielsalm (in between) and Heath (#12) to win the Grade 3 Gallorette. Photo by Laurie Asseo.
The GQ Approach features full-card selections from Laurel Park (w/ live racing every Friday, Saturday and Sunday through May 7, 2017; Post Time 12:30pm EDT), including a daily Best Bet, Longshot Play, and multi-race wagers — including the 20 cent Rainbow Pick-6, 50 cent Jackpot Pick-5, as well as Pick-4s and rolling Doubles, Pick-3s and the Super High-5. 
CARRYOVERS
Rainbow Pick 6: $22,800.89
Super High 5: no carryover
Late Pick 5: no carryover
BEST BET OF THE DAY
Race 8 / #6 – Tale of E Dubai (9-5)
LONGSHOT PLAY OF THE DAY
Race 2  / #6 – Gator Boy (6-1)
[su_heading size="21″ align="left"]Multi-race wagers[/su_heading]
Race 1: $2 Double 2, 3, 6  w/ 2, 6, 7  ($18)
Race 3: $0.50 Pick-3  1, 2, 5  w/ 1, 3, 4  w/ 1, 5, 7  ($13.50)
Race 5: $0.50 Pick-5  5, 7  w/ 1, 3  w/ 3, 6, 10  w/ 5, 6  w/ 5, 7, 9 ($36)
Race 8: $2 Double  5, 6  w/ 5, 7, 9  ($12)
[su_heading size="21″ align="left"]Analysis[/su_heading]
Weather: Mostly Cloudy w/ chance of T'storms; highs near 70
Projected condition of main track: FAST
No turf racing until Spring 2017
Race 1
#6 – Weatherurnot (3-1): Only runner in this N2L event to have graduated at this distance; A. Serpa seems to have saved her for other day when unable to keep pace early in latest
#2 – Street Miz (8-5): This M/L favorite is 1 for 19 lifetime indicates how "victory driven challenged" the others are; efforts along dead rail in latest gives hope start #20 could be special
#3 – Dewdrop's Heart (2-1): First start after 8-month layoff was not an all-out try but more of a one mile jog… never felt the whip while chilly on the board; should be asked to give her best today
Race 2
#6 – Gator Boy (6-1): $$$ LONGSHOT $$$ Others in here seem vulnerable in here stretching out to 7 furlongs; got beat by #7 & #5 in latest but stumbled at start which cost his usual positioning early; has best career Brisnet# of this group going 7 panels
#7 – Go Bo Go (7-5): First time trying this middle distance but few times he's gone further he's tired; last two at this level led most of the way but got outfinished; question his will to win
#2 – Ring Collector (9-2): Part of uncoupled entry for trainer D. Dilodovico (also has #6); thinking 1 of the 2 were entered to make this race "go"… not sure which as this one comes from SoCal, 3-month layoff and beat just 1 rival in last 3 races at higher levels     
Race 3
#1 – Hurler (9-2): Troubled trip when distant runner-up on step up after dusting beaten $5k Claimers; concerned that 6f not his ideal distance (30:3-5-11) but maintenance on track this week may have made the rail the place to be… take note of how track plays in earlier races
#5 – Cutty Shark (3-1): Claiming off Mary Eppler often does not result in a runner moving forward but that last race came against open claimers; tough to take at a short price when 1 for 21 at distance; hasn't won a race since Jan. 2015 (0 for 22 streak)
#2 – Joe Franklin (5-2): Takes drop seeking first win in nearly a year and a half, which was just prior to start in BC Turf Sprint; never been off the board at Lrl (2:0-1-1) and 8 of 10 at distance    
Race 4
#3 – Winner's Dream (7-2): Sagamore Farm runner won at first asking convincingly @ Aqu as 6-5 PT favorite while available for $20k Tag even though bought at '14 Kee Sept. Sale for $130k; life must be good at Under Armour?! Can handle this mixed bag of foes
#1 – Sazerac Girl (3-1): Needs a cure for her Seconditis (19:1-7-4) and maybe switch to P. Schoenthal barn via claim will be the elixir; Brisnet numbers have been climbing in last 4 dirt starts
#4 – Bayshore Drive (8-1): One of the 4 in here who graduated in their last start; whether it was Blinkers Off or synthetic to natural dirt move that got her to wire first, the lightbulb is now on
Race 5
#7 – Adios Annie (6-5): Ran a winning race, losing by a neck and well clear of Show runner in debut; no reason to believe she won't move forward and take care of business as expected
#5 – Dixie Dancer (8-5): Far from the Prima Ballerina that Ms. Oxley thought she'd be when shelling out $460k for her as a yearling; trainer G. Motion gave her time off after 0 for 3 start; regrouped and adds blinkers; extensive work pattern brings her into race fit
#1/1A – Bubbly/I'm So Munny (6-1): Bode Miller owned duo has flashed talent in limted starts… #1 seeks form when runner-up in debut to local star Crabcakes while #1A has been fast early in both starts, the latest on New Years' Day; adds Lasix            
Race 6
#3 – Ten Hut (8-5): A prudent $5k claim 4 races at back for trainer G. Rosenthal with a win followed by two runner-up finishes at this level, will try shorter sprint distance for first time
#1 – Magritte (7-5): Rode a dead rail after impeding a few runners to his inside at the start causing DQ from second to third; cost jock the mount as T. McCarthy takes the reins today
#7 – Slew Love (6-1): Wasn't given much of a chance in latest when in tight at the start; the 2 for 29 lifetime is a concern putting him on horizontal tickets but is 1 for 3 at distance     
Race 7
#10 – Animal Quiet (9-5): Tough race with many making second career start but this one has had 8 so far, hitting the board in all of them; earned career and race best 79 Brisnet# in latest v. MSW; drops back in for ($40k) Tag seeking diploma
#3 – Tennessee Wildcat (10-1): Not many TN-breds are found on race track let alone winning races but this one was runner-up in debut as 2-1 PT favorite; A. Cintron stays here while taking off #4
#6 – Buddy Anthony (12-1): Sent off second choice in debut while having a troubled trip after being a step slow from the gate should have gotten an education and can only have benefited from the experience   
Race 8
#6 – Tale of E Dubai (9-5): *** BEST BET *** Appears to be Lone Speed in short field and track could be playing to speed after two days of track maintenance this week; add in possibility of rain making for an Off track and it all adds up to a likely gate-to-wire score following career best Brisnet# when beating OC$32N2x foes       
#5 – Blu Moon Ace (5-2): Trainer Robbie Bailes has done well since private purchase of this Malibu Moon gelding, catching off tracks for the first time and winning; if Ho-RAIL-tio Karamanos rides it today as usual, the rail may be golden… need to take note from earlier races   
#2 – Just Call Kenny (9-2): Was a bit anxious in last start as he broke through the gate pre-race (never a good sign) yet rallied late to get the Show purse; that was his first start since mid-May
Race 9
#7 – All This Jazz (9-2): Best race of 6 race career came in only two turn try… only a sloppy track 3 races back; hhas something to prove after failing as 3-5 favorite at this level two back      
#9 – Thirst for Diamonds (5-2): One of 3 class droppers in here seeking to graduate but takes the steepest of drops from $40k @ Prx; adds Blinkers and fact T. McCarthy takes mount will make her likely PT favorite; Prx based trainer E. Allard has done well at meet (6:2-1-0)      
#5 – Ms. Picadilly (8-1): First two efforts going one turn have the look of a runner with no early speed needing two turns; not crazy about jock selection (2%) but when he wins they are at prices 
YESTERDAY'S NEWS  
On Monday February 20th at Laurel had 6 winners from the 9 race card (4 Top Selections; payoff in BOLD) having $2 WIN pay-off of $3.00 (1st race), $3.20 (2nd), $5.40 (3rd), $6.60 (4th), $6.60 (5th) and $5.60 (9th). Of the suggested multi-race wagers hit the R1-R2 $2 DOUBLE for $5.60 (cost: $6) and the R3-R5 50 cents PICK-3 for $14.85 (cost: $13.50). On Top Selections in 2017 are 46 for 189 (24.34%). In 2016, Top Selections were 304 for 1,213 (25.02%).
BEST BET of the Day (22: 8-4-4; in 2016 127: 31-29-19) Boheme de Lavi (5th race: 7-2 M/L; 2-1 PT) five deep around the turn, advanced outside horses, took the lead in mid-stretch and drew clear under brisk urging to prevail by 2¼ lengths and return $6.60 to WIN, $3.40 to PLACE and $2.40 to SHOW.
LONGSHOT PLAY of the Day (20: 1-2-5; in 2016 124: 13-13-16) Smart Alex (9th race: 6-1 M/L) was SCRATCHED.