The GQ Approach – Laurel February 20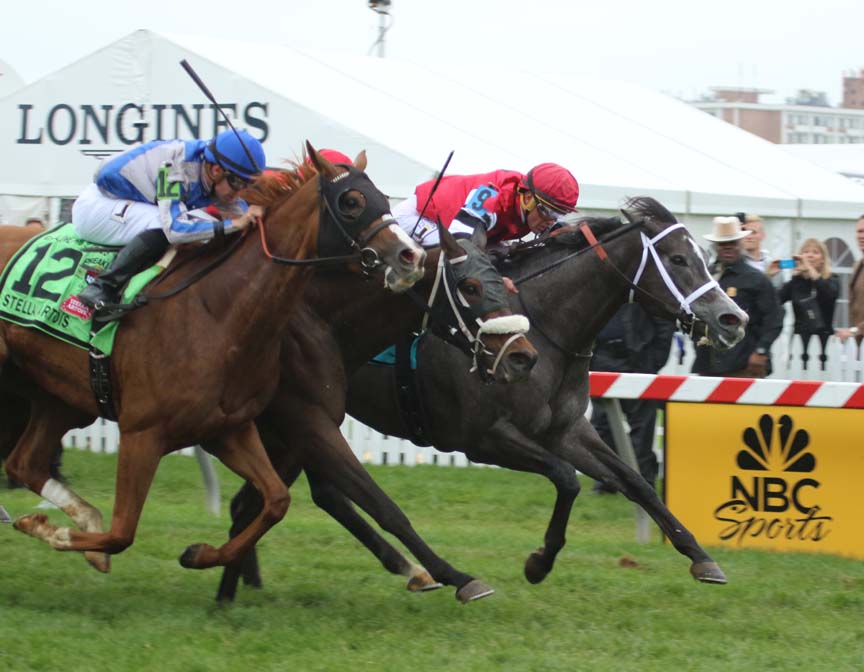 Mizz Money (#9) held off Vielsalm (in between) and Heath (#12) to win the Grade 3 Gallorette. Photo by Laurie Asseo.
The GQ Approach features full-card selections from Laurel Park (w/ live racing every Friday, Saturday and Sunday through May 7, 2017; Post Time 12:30pm EDT), including a daily Best Bet, Longshot Play, and multi-race wagers — including the 20 cent Rainbow Pick-6, 50 cent Jackpot Pick-5, as well as Pick-4s and rolling Doubles, Pick-3s and the Super High-5. 
CARRYOVERS
Rainbow Pick 6: $19,702
Super High 5: no carryover
Late Pick 5: no carryover
BEST BET OF THE DAY
Race 5 / #8 – Boheme de Lavi (7-2)
LONGSHOT PLAY OF THE DAY
Race 9  / #6 – Smart Alex (6-1)
[su_heading size="21″ align="left"]Multi-race wagers[/su_heading]
Race 1: $2 Double 2 w/ 1, 3, 7  ($6)
Race 3: $0.50 Pick-3  3, 4, 5  w/ 1, 4, 7  w/ 5, 6, 8  ($13.50)
Race 5: $0.50 Pick-5  5, 8  w/ 1, 3, 5  w/ 4, 8  w/ 3, 4  w/ 5, 6 ($24)
Race 8: $2 Double  3, 4 w/ 5, 6, 7  ($12)
[su_heading size="21″ align="left"]Analysis[/su_heading]
Weather: Mostly Sunny; highs in the mid-60s
Projected condition of main track: FAST
No turf racing until Spring 2017
Race 1
#2 – Faze the Nation (6-5): Beat a few others in here handily in last outing, her third consecutive victory; unless one of those foes have improved drastically and/or she's tailed off, don't see any of the newcomers touching her
#1 – Heaven's Door (3-1): Has had the dubious distinction of being bridesmaid to the top pick in her last 2 efforts; look for a three-peat unless jock switch to T. McCarthy can make up 2-4 lengths
#3 – Neyami (8-1): Claimed for $25k by H. McMahon on step up when sent off as Post Time favorite v. top two in here, only to disappoint, finishing 4th by nearly 7 lengths
Race 2
#1 – Snow Queen (9-2): Tough assignment on the rail may want to let others clear and get covered up to make a wide late run into the lane as the Lrl rail has been dead lately but track maintenance scheduled on Monday A.M. as there was no training; might want to take note
#7 – Double Sharp (9-5): After knocking heads in MSW races in first 9 starts of her career, connections seek a realistic trip to Winners' Circle by dropping in for $25k tag; gate-to-wire gets it done
#3 – Preppy (5-2): Purchased just last month at Kee for $12k when then owners figured after 10 starts without a win racing predominately in NY in MSW and $40k MCL; could be a diamond in the rough or a white elephant     
Race 3
#5 – Inner Fire (7-2): Been runner-up at this level in his past two efforts when blinkers were added; key was 7 lb. bug elected to ride a dead rail in both; maybe she has finally read the memo and will try an outside run today
#3 – Charlie's Darlin (9-2): Going with the "Lightbulb Theory" here as this 6-year-old gelding finally broke his maiden last time in his 15th career start; now he gets it and should do well here
#4 – Drive at Nite (5-2): His 1 for 22 lifetime record can make ones' eyes bleed but has been a Cash Cow hitting the board 13 times; cut back from one mile to six furlongs is the distance which that lone win came             
Race 4
#4 – Andy's Love (7-2): Drops back to $5k level after trying $10kn3L three times but those speed figs are good enough to capture third career victory; actually won @ Pen $5kN3L but was DQ'd
#1/1A – J R Jellybean/White Bluff (9-5): Suspect one of these Prx shippers may scratch as A. Serpa listed on both class droppers; "JR" won $7500n2L while speed figs have been ascending; entrymate been sprinting and tries 7 panels for first time in 17th start
#7 – Unbridled Hero (10-1): Giving this 5-year-old another chance due to his pre-race meltdown and bad start when sent off as 4-5 favorite on drop from OC$16k to this level, weakening after a few furlongs
Race 5
#8 – Boheme de Lavi (7-2): *** BEST BET *** There is concern that this 6-year-old mare is off form based on turning in her worst performance in quite some time in latest AND was in for the tag; $13k price cut might be a yellow flag or connections desire to get a Winners Circle photo; hoping it's the latter w/ F. Lynch back in the irons      
#5 – Celebrity Star (5-1): Uncoupled entry as stablemate is #7 (6-1) could be Lone Speed in this contest filled with class droppers where it's anyone's guess who is "live" and who's not
#6 – Tango Delta (5-1): Been racing against better as have many in here but at least she has been getting minor shares; been splitting time between CT and Lrl has 2 of 3 wins have come locally in just 5 starts            
Race 6
#5 – Bethel Wildcat (7-2): Not sure if he just loves an off track (2 for 2) or just had an off day in only fast track start (and loss) from 3 career starts; makes 4-year-old debut and will try to build on those speed figs that have progressively gotten better
#3 – Concordia's Way (5-1): Twice an Also-Ran at this level after impressively winning v. N1x but has since been DQ'd by stewards; should improve on cut back from 7f to 6f
#1 – Power Nap (3-1): Freaked in latest running a career best 99 Brsinet# as Show horse (Daily News) came back to win but runner-up (Joy Drive) was a disappointing third as odds-on favorite Saturday; third race after layoff but may bounce after such a huge effort    
Race 7
#8 – Danny My Boy (2-1): Has looked like a world-beater in last three outings… all victories but that was with trainer A. Eubanks as S. Lake claimed this gelding but waited until "out of jail" to run him back in $5k open claimers as he's out of conditions
#4 – San Cristo (8-1): Fourth in latest but less than 3 lengths behind #9 and #3 in here; cut back from one mile to 6 furlongs could be the difference
#3 – Colony Strike (7-2): Runner-up as beaten favorite to #9 in here last outing; sprinting is not his strong suit but has 1 win from 2 starts at this distance with two runner-up finishes at Lrl in as many tries   
Race 8
#4 – In Arrears (3-1): Claim to fame is he beat KY Derby contender El Areeb by 4-lengths in maiden win; hasn't been able to duplicate that effort in the 4 races but 3 of them have come in minor stakes company
#3 – Fly E Dubai (10-1): First start on a fast track as he won career debut on turf then was a distant third over a sloppy Lrl surface; trainer may have rethought strategy and believes he can sprint?
#6 – Windcries (7-2): Likely the speed of the speed and has been caught by some nice ones locally so if he gets the early lead like in the recent past, today he may be able to hold off late comers
Race 9
#6 – Smart Alex (6-1): $$$ LONGSHOT $$$ Call this a "homer pick" as this Capper has a small ownership interest in this one but she catches a weak $10kN2L; there's enough early speed in here that if track continues to play to off the pace runners, she should be in the mix late after running an 11 4/5 final fraction in latest
#5 – Katie's Caddie (7-2): Has shown a bit of improvement since blinkers were added three races back; that last one v. $16k was better than it looks on paper; only win came on an off track though     
#7 – Pardontori'french (5-1): Lone win came on a sloppy track at CT… today will be fast @ Lrl but last two runner-up finishes locally on fast track gives hope that she's moving in the right direction    
YESTERDAY'S NEWS  
On Sunday February 19th at Laurel had 7 winners from the 9 race card (0 Top Selections; payoff in BOLD) having $2 WIN pay-off of $62.40 (1st race), $8.20 (2nd), $5.00 (4th), $18.00 (6th), $4.00 (7th), $8.00 (8th) and $6.40 (9th). Of the suggested multi-race wagers hit the R1-R2 $2 DOUBLE for $378.20 (cost: $12) and the R8-R9 $2 DOUBLE for $34.00 (cost: $18). On Top Selections in 2017 are 42 for 189 (22.22%). In 2016, Top Selections were 304 for 1,213 (25.02%).
BEST BET of the Day (22: 7-4-4; in 2016 127: 31-29-19) Sliding by You (4th race: 3-1 M/L; 5-2 PT) stumbled badly at the break, regrouped but lost ground six wide and continued six wide making a run into the lane, sustained to the sixteenth marker then flattened out getting the third spot to return $2.80 to SHOW.
LONGSHOT PLAY of the Day (21: 1-2-5; in 2016 124: 13-13-16) Northern Prancer (2nd race: 6-1 M/L; 4-1 PT) chased the pace, angled three wide gaining into the lane, steadied when beaten to position by the winner leaving the sixteenths, altered out while on her left lead, battled back to gain a slim lead in deep stretch but lost the bob at the line to return $4.20 to PLACE and $2.80 to SHOW.