The GQ Approach – Laurel February 19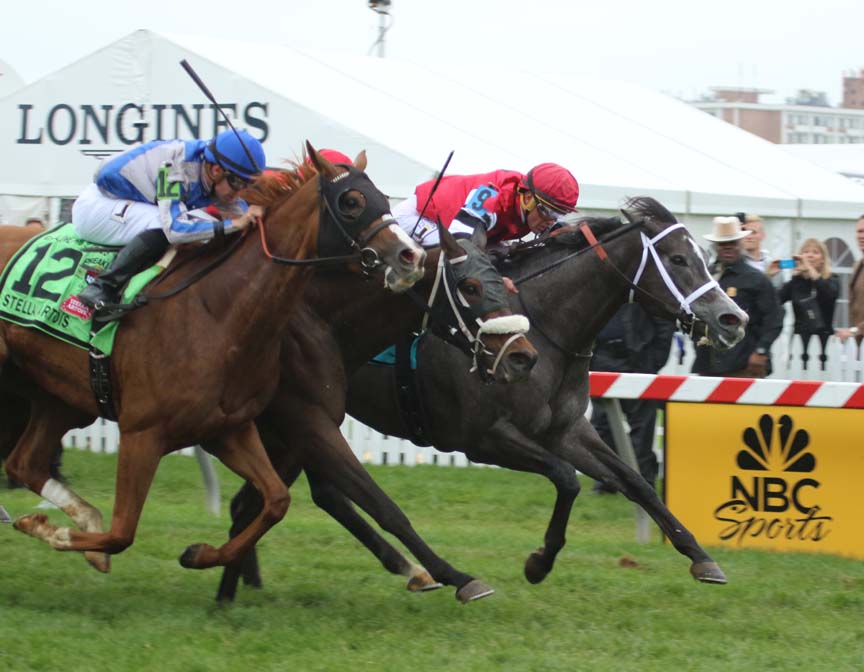 Mizz Money (#9) held off Vielsalm (in between) and Heath (#12) to win the Grade 3 Gallorette. Photo by Laurie Asseo.
The GQ Approach features full-card selections from Laurel Park (w/ live racing every Friday, Saturday and Sunday through May 7, 2017; Post Time 12:30pm EDT), including a daily Best Bet, Longshot Play, and multi-race wagers — including the 20 cent Rainbow Pick-6, 50 cent Jackpot Pick-5, as well as Pick-4s and rolling Doubles, Pick-3s and the Super High-5. 
CARRYOVERS
Rainbow Pick 6: $16,390.01
Super High 5: $1,159.07
Late Pick 5: no carryover
BEST BET OF THE DAY
Race 4 / #7 – Slide by You (3-1)
LONGSHOT PLAY OF THE DAY
Race 2  / #6 – Northern Prancer (6-1)
[su_heading size="21″ align="left"]Multi-race wagers[/su_heading]
Race 1: $2 Double 2, 5, 6 w/ 3, 6  ($12)
Race 3: $0.50 Pick-3  1, 3, 8  w/ 3, 5, 7  w/ 1, 2, 3  ($13.50)
Race 6: $0.50 Pick-5  1, 2, 3  w/ 3, 6, 10  w/ 4, 7 w/ 2, 6 w/ 5, 7 ($36)
Race 9: $2 Double  2, 5, 6 w/ 4, 5, 7  ($18)
[su_heading size="21″ align="left"]Analysis[/su_heading]
Weather: Mostly Sunny; highs in the mid-60s
Projected condition of main track: FAST
No turf racing until Spring 2017
Race 1
#2 – Alarming (1-1): Bel-based trainer G. Weaver seems to be looking to unload this Unbridled's Song gelding purchased for $125k just 11 months ago; completed the Super @ Aqu in $30kMCL 3 weeks ago, so why the drop to $10k? The yellow flags should be waving outside the racing office
#6 – Jackson S (10-1): Drops another level in the maiden claiming ranks in search for some life as he's been double-digit lengths behind the leader at every call in all 3 career races; may two turns will wake him up
#5 – Troubled Lover (10-1): Not too much early speed signed up here so this colt who has been dreadful in latest two v. NY-bred $25k MCL might get to lead and stay in second start w/ blinkers
Race 2
#6 – Northern Prancer (6-1): $$$ LONGSHOT $$$ Reunited with K. Gomez after D. Thorpe's magic touch failed to be sustained after consecutive victories, not his fault in latest as "Prancer" has proven she doesn't care for an off track; this late runner will have early speed types to catch
#3 – Another Badge (6-1): Dumped rider at the start in latest a level above her condition (N3L) but 2 previous outings was incredibly quick going one mile but ran out of gas in deep stretch
#8 – Poco Loco (2-1): Vulnerable favorite because she gets leg weary beyond 5 furlongs; hence she's winless at tracks in her home state (MD); could be doubly tough to get the "W" here with plenty of other early speed to challenge her from the get go; the class drop makes her attractive     
Race 3
#8 – Big Platinum (5-2): Took 9 races to find this ridglings level where he may be able to win… it's here ($10kMCL); appears to be building stamina in order to take early lead and outlast foes
#3 – Full of Beans (4-1): Gets 5th different jock in 6th career start might be a detriment but seems to be the only angle left for trainer F. Allen to try to get this ones' diploma at bottom level
#1 – Rock Harbor (10-1): Third start since trainer P. Schoenthal claimed this now 0 for 16 5-year-old gelding; blinkers put back on after switch to sprint proved he has no speed for sprints            
Race 4
#7 – Slide By You (3-1): *** BEST BET *** Has been a different since trainer Bill Campbell claimed him three races back and added blinkers in second start; deserves to climb the class ladder but connections appear to be happy with prospects of winning races
#5 – Dukin' With Dale (2-1): Lynch was hell bent on getting this guy to the lead even after hitting gate upon exiting it; that had to use a bit of energy which left him a few strides short of victory; sent of as Post Time favorite in last 4 races, but has won only one
#3 – Spirit of Freedom (5-1): Finally came to life in third race after big class drop and coincidentally added blinkers as speed figs continue to climb; beat $5kN3L in latest
Race 5
#3 – Expectations (3-1): One would think they are high… the expectations that is for this Speightstown 4-year-old who hails from the G. Motion barn and coaxes T. McCarthy away from the Cal Lynch 5-year-old (#5) as the jock typical rides all of Lynch's runners; like the work tab since Thanksgiving
#2 – Speightshill (9-2): Can you trust a 6-year-old, 0 for 17 maiden? Typically no but this one has faced a number of next out winners while being competitive (4:0-2-2) since joining the J. Maldonado barn; won't retire a maiden
#1 – Self Start (5-1): Nice debut earning an 80 Brisnet# when third going 6 furlongs; stretch out to 7 panels is likely what this MD-bred Jump Start wants after getting an education in first outing    
Race 6
 #6 – Fairy Cat (3-1): Qualifies for condition (Non-winner since Aug. 19, '16) even though he won 3 weeks ago @ Pen because it was for $4k; in last 3 races has recorded Brisnet speed figs better than any rival in here
#10 – Gaelic Man (6-1): Has spent his 20 race career sprinting half way around (4½f) the CT bull ring but running style and bloodlines suggest he's not distance challenged
  #3 – Colton's Grand (8-1): Away since Sep. 30 '16 when tossed into AlwN1x @ CT after being claimed for $5k; like the four works leading up to return; has had success @ Lrl (8:2-0-2)     
Race 7
#7 – Head for the Shore (5-1): Returns to one mile distance where she faced Forever Liesl who Showed in the Wide Country stakes here yesterday; giving her a pass for not improving in mud; fired a bullet in only work since last start
#4 – I Got the Boy (5-2): Adds Lasix in third career start but first on dirt; last Fall raced on turf going long showing late interest to get Show purse in debut and runner-up next out
#2 – Tickled Pink (2-1): KY-bred FTS by Shackleford cost a cool $250k at Kee Sept. '15 yearling sale; great looking work pattern but will debut without Lasix for trainer G. Motion   
Race 8
#6 – Street Bullet (7-2): A nice $7,500 claim for trainer K. Magee four races back immediately stepped up to win in open $15k Claimer; hasn't hit the board in the two since but was just 1½ behind winner who won next out as well; love Lrl (17:7-1-0) so expecting top effort with pace help
#2 – Magic Cash (5-1): Like top pick in here, should benefit from a lively pace; Cory Jensen takes over for the suspended J. Ness; giving T. McCarthy a leg up will help chances to get first training win since 2010 (17:7-3-2 for career)
#5 – Sheikinator (3-1): Feeling his oats in the A.M. with a bullet drill in last work prior to ending 2 month vacation; drops to lowest claiming level of his career; has been OTB in 3 Lrl starts
Race 9
#5 – Colonel Argo (4-1): Blinkers go on after troubled debut when sent off 3-1; comes right back in two weeks at same level w/ J. Toledo in the irons
#7 – Robey's Boy (7-2): Adds Lasix for 2017 debut; failed miserably sprinting on turf in debut then dropped a level and tried dirt, with better results, showing late foot… stretches out a couple furlongs
#4 – Mine the Cape (6-1): WV-bred FTS by Mineshaft shows some inconsistent works for trainer A. Farrior who is 1 for 2 with runners who debut for a tag   
YESTERDAY'S NEWS  
On Saturday February 18th at Laurel had 9 winners from the 10 race card (3 Top Selections; payoff in BOLD) having $2 WIN pay-off of $4.00 (1st race), $4.80 (2nd), $3.20 (3rd), $12.00 (4th), $8.20 (5th), $10.00 (6th), $3.80 (7th), $47.80 (8th) and $8.20 (9th). Of the suggested multi-race wagers hit the R1-R2 $2 DOUBLE for $10.60 (cost: $18) and the R3-R5 50 cents PICK-3 for $57.55 (cost: $13.50). On Top Selections in 2017 are 42 for 180 (23.33%). In 2016, Top Selections were 304 for 1,213 (25.02%).
BEST BET of the Day (21: 7-4-3; in 2016 127: 31-29-19) Crimson Secret (1st race: 4-1 M/L; 7-2 PT) gained a three-wide lead entering the turn, then weakened through the stretch drive finishing 4th.
LONGSHOT PLAY of the Day (20: 1-1-5; in 2016 124: 13-13-16) Ocean Knight (10th race: 10-1 M/L; 8-1 PT) dropped back soon after the break while removed from the inside, came under a ride leaving the far turn, sustained a four wide run from the five sixteenths pole too late then flattened out in final strides finishing 4th.