The GQ Approach – Laurel February 18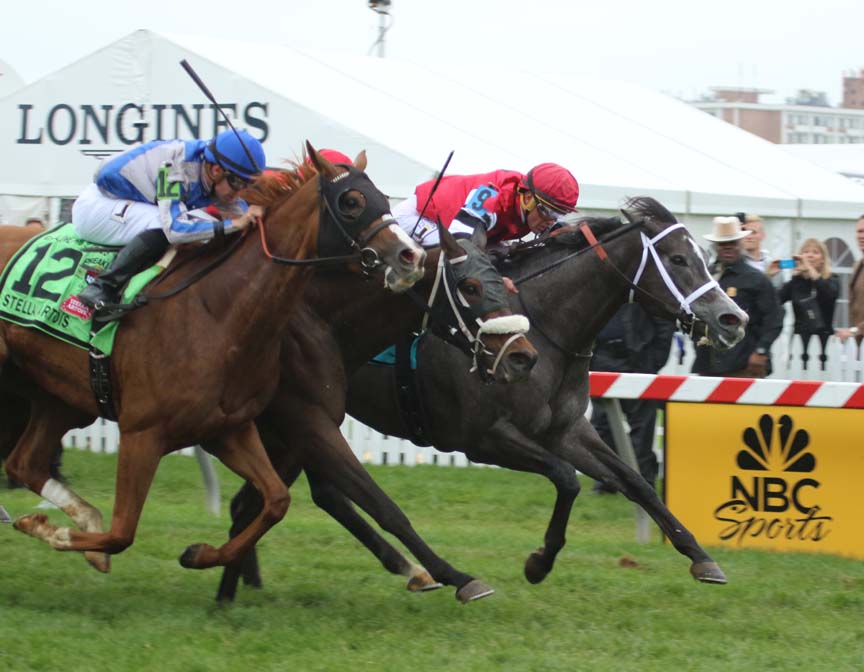 Mizz Money (#9) held off Vielsalm (in between) and Heath (#12) to win the Grade 3 Gallorette. Photo by Laurie Asseo.
The GQ Approach features full-card selections from Laurel Park (w/ live racing every Friday, Saturday and Sunday through May 7, 2017; Post Time 12:30pm EDT), including a daily Best Bet, Longshot Play, and multi-race wagers — including the 20 cent Rainbow Pick-6, 50 cent Jackpot Pick-5, as well as Pick-4s and rolling Doubles, Pick-3s and the Super High-5. 
CARRYOVERS
Rainbow Pick 6: $9,519
Super High 5: no carryover
Late Pick 5: $4,619
BEST BET OF THE DAY
Race 1 / #6 – Crimson Secret (4-1)
LONGSHOT PLAY OF THE DAY
Race 10  / #10 – Ocean Knight (10-1)
[su_heading size="21″ align="left"]Multi-race wagers[/su_heading]
Race 1: $2 Double 2, 6, 7 w/ 1, 2, 7  ($18)
Race 3: $0.50 Pick-3  2, 3, 5  w/ 2, 5, 6  w/ 4, 6, 7  ($13.50)
Race 6: $0.50 Pick-5  2, 3  w/ 4  w/ 5, 6, 8 w/ 1, 3, 8 w/ 6, 10 ($18)
Race 9: $2 Double  1, 3, 8  w/ 4, 6, 10  ($18)
[su_heading size="21″ align="left"]Analysis[/su_heading]
Weather: Mostly Sunny; highs in the mid-50s
Projected condition of main track: FAST
No turf racing until Spring 2017
Race 1
#6 – Crimson Secret (4-1): *** BEST BET *** Nearly pulled off gate-to-wire upset when 18-1 v. similar in latest outing; shortens up from 6f to 5 1/2f and should get early lead w/o much pressure and finish
#7 – Hickory Hill (5-2): First start of 2017 was an impressive win but at lowest level of his 15 race career; based on bullet work since, he's ready to handle this jump back up in class
#2 – Legend's Hope (3-1): Steps up to class level in which he could compete last Spring; H. Karamanos knows what makes this one tick; late pace runner needs to get in high gear earlier
Race 2
#1 – Joy Drive (3-1): Though most contenders in here have beaten winners, "Joy" has not (6:1-2-2) but finished 2-lengths ahead of a next out winner who beat two rivals (#2 and #3) in here today
#7 – Laki (5-2): Lightly raced 4-year-old has yet to race on a fast track, going 2 for 2 on an off track after forgettable debut on grass; boasts better Brisnet# (99) of this group
#2 – Warleigh (8-1): Is the speed of the speed who typically leads foes into the stretch only to weaken in deep stretch… going 6 furlongs… but today's event distance is just 5 ½ furlongs     
Race 3
#3 – Matt King Coal (8-5): Fourth place finisher in 2016 G1 Wood Memorial makes his 4-year-old debut; if he hasn't lost a step, this should prove to be a public workout as he's only had two published A.M. drills this year
#2 – Spring Quality (9-2): Wow! This 5-year-old gelding makes just his third career start; won debut nearly 2½ years ago @ Kee then second start came 17 months later, winning @ Tam recording a 97 Brisnet#; been steadily working towards comeback since mid-Dec.
#5 – Jeezum Jim (12-1): If somehow the top pick (#3) does not go to the lead, V. Carrasco will find himself able to slow the pace considerably and could outlast this talented field             
Race 4
#5 – Really (2-1): Really?! Filly is 1 of 3 Rudy Rod shippers but is only one not in a stakes race; drops from MSW as the rest of these ladies last raced for a tag; no truth to the rumor that she has a full brother named "Wtf"
#2 – Thrist for Truth (6-1): Beaten favorite in first start after 6-month layoff; those TIM speed numbers have proven to be a bit kind but it's still the best of in this field
#6 – Schmiss (9-2): Scratched from the Lrl nightcap on Friday when in for $25k to due trainer L. Rice's "go to" MD jock (H. Karamanos; 38% w/ her) stuck with a "live" one who won by 11½ while paying $23.60; this FTS by Hard Spun out of a Tapit mare may need this one w/o Lasix but hard to leave off tickets
Race 5 is $75,000 MD Racing Media Stakes
#4 – Winter (4-1): Lynch trainee was clearly best in what on paper was a wide open Nellie Morse; sat a perfect trip that day and might well find another good journey here under McCarthy; she's never been worse than second at the trip
#6 – Wait Your Turn (3-5): Rudy Rod trainee has logged three wins and a second from four starts; her only defeat came to Karen's Silk, who won a stake in her very next start, and two back, this runner bested Tale for Ruby, who won the Safely Kept at LRL in her next tilt; quickened nicely to leave the field gasping in 9-length romp last out, a race that's produced two next-out winners; like seeing I. Ortiz, Jr. here; only concern is the outer post and the other speed inside; could be any kind, but let's take a stand against expected short odds
#7 – Cayman Croc (5-1): Breen trainee has placed twice in five stakes tries and will need her running shoes here; nothing wrong with her two back effort when fifth, but beaten just less than four, in the G3 Go for Wand; two that beat her won next out with 95+ Beyer figs; with K. Carmouche in the irons, she'll look to make a run in the lane past tiring speed types at a distance she hasn't been worse than third in six tries            
Race 6 is $75,000 Wide Country Stakes
#2 – Crabcakes (5-2): A perfect 3 for 3, this MD-bred daughter of Great Notion should face only mild pressure early conserving energy to go the 7 panels as she did in the MD Juvenile Filly Championship; can handle being high weight (122 lb.), spotting all of her rivals 6 lbs.; a couple recent bullet works indicates she's ready to roll
#3 – Forever Liesl (7-2): NY shipper for trainer M. Nevin made the trip down I-95 on Dec. 31, '16 to break maiden in second start traveling one mile following a near miss at The Big A when 20-1; her Brisnet speed figures say she can handle the jump into stakes versus this group; been working consistently in the A.M.; any move forward puts her in the mix
#1 – China Grove (3-1): Makes 3 y.o. debut after a deceivingly good 6th-place effort in G2 Golden Rod at CD in late Nov. as 6-length winner came back to win Silverbulletday stakes at FG; Kee-based shipper has faced tough company as she's been victim of 5 next out winners in her 8 race career    
Race 7 is $75,000 Miracle Wood Stakes
#4 – O Dionysus (8-5): Got beat by High Roller (#7) in local stakes as 2-5 favorite but had a horrific trip, travelling behind rivals under a strangle hold most of the way; prior to that lost by a nose to Irish War Cry who came back to an easy winner of the G2 Holy Bull winner; if J. Toledo gives this MD-bred Bodemeister colt a clean trip, the Federico Tesio could be in his future
#7 – High Roller (5-2): Impressive victory in Frank Whiteley stakes when stretched out to 7 furlongs will meet the runner-up and third place finishers again; a consistent runner thus far (4:1-2-1) worse placing came against El Areeb in the James F. Lewis III Stakes; recent A.M. drills indicate he's still on the muscle and should relish the added distance
#6 – Everybodyluvsrudy (4-1): Hard to gauge what class level he belongs, having three runner-up finishes v. maidens before winning and getting buried in two graded stakes races; having lost to the likes of El Areeb, Mo Town and Practical Joker implies talent is there, but is there enough for I. Ortiz, Jr. to get him home first?
Race 8 is $75,000 John B. Campbell Stakes
#5 – Turco Bravo (3-1): Not many 8-year-olds can win in first start after a 6-month layoff but based on the bullets on this old-timer's work pattern and back class, gets the nod here; circle his last three non-graded $100k+ stakes races, as this one is, and you find three victories; nice to see NY-based jock R. Maragh will be in the irons
#6 – Page McKenney (2-1): Cross-entered in $250k G3 General George which he won last year; hard to believe trainer M. Eppler won't take a shot there based on purse difference even though it came up a bit tough, word is "Page" is better than ever; if he goes here it'll be hard to imagine being any worse than runner-up as he's been in the Exacta 10 of 14 over Lrl dirt and never OTB at 1 1/8 mile distance
#8 – Bodhisattva (12-1): Race should set up perfectly for this deep closer due to the fact that the other 8 runners all possess either early or pressing speed; with what should be quick early fractions, this one should have clear sailing entering the stretch to catch leg weary rivals
Race 9 is $300,000 G2 Barbara Fritchie Stakes ;
#3 – By the Moon (2-1): Class of the field owns a Grade 1 win at a mile and a Grade 3 score at this trip; last out, cleared to the lead nearing the stretch like she would win for fun, but High Ridge Road (#1 in here) ground her down for the win; has tactical speed to make a good trip here – she was up on solid fractions last; down side: just two wins in 11 tries on a fast main track and one in seven at the distance
#8 – Wonder Gal (9-2): Tiz Wonderful mare was fifth in this spot a year ago, but looks better here than she did then; nothing wrong with third-place finish in the G3 Go for Wand – though beaten by High Ridge Road – and follow-up couldn't have been easier; regular pilot K. Carmouche comes in, but note she's winless at the trip
#1 – High Ridge Road (5-2): Wore down favored By the Moon last out to get up late after coming under the stick mid-turn; improving mare has won four of five and is spotless in three Lrl tries; may have benefited from the additional furlong last out, but that was a big effort for a barn that knows how to get a horse ready for a big race; has not won at less than one mile   
Race 10 is $250,000 G3 General George Stakes
#10 – Ocean Night (10-1): $$$ LONGSHOT $$$ Nice bounce-back last out, a front-running allowance score after disastrous G1 Cigar Mile, and if you toss that, he's been solid as a third-place finish in the Kelso came behind G3 winner Anchor Down and next-out Breeders' Cup Dirt Mile winner Tamarkuz; has speed breaking from the outside and still can improve.. upset contender?
#6 – Stallwalkin' Dude (5-2): Formful 7 y.o. millionaire just keeps churning out big efforts and might have been best last but for a tough trip; he was fourth in his only prior Lrl trip ('15 De Francis); I. Ortiz, Jr. makes the trip and figures to try to give this one a mid-pack type of journey
 #4 – Classy Class (15-1): Not a terrible try last out for this McLaughlin trainee, but not clear why he was so far out of it; like to see R. Maragh come down for the mount, and he can move forward in second off a brief layoff (and just his fourth since late '15); his connections have always treated like a runner, and outrunning expected long odds here would be no surprise       
YESTERDAY'S NEWS  
On Friday February 17th at Laurel had just 4 winners from the 8 race card (1 Top Selection; payoff in BOLD) having $2 WIN pay-off of $3.60 (1st race), $12.20 (3rd), $10.80 (6th) and $23.60 (8th). On Top Selections in 2017 are 39 for 170 (22.94%). In 2016, Top Selections were 304 for 1,213 (25.02%).
BEST BET of the Day (20: 7-4-3; in 2016 127: 31-29-19) Sound the Horns (7th race: 5-2 M/L; 3-2 PT) forwardly placed early on, raced 3-wide into the turn with slight urging but came up empty when set down for the drive, weakening to finish 6th.
LONGSHOT PLAY of the Day (19: 1-1-5; in 2016 124: 13-13-16) Monkey Medal (5th race: 10-1 M/L; 11-1 PT) rated in mid-pack down the back stretch, raced two wide on the turn while being asked and lingered to towards the back making up a little ground in the stretch to finish 6th.