The GQ Approach – Laurel February 17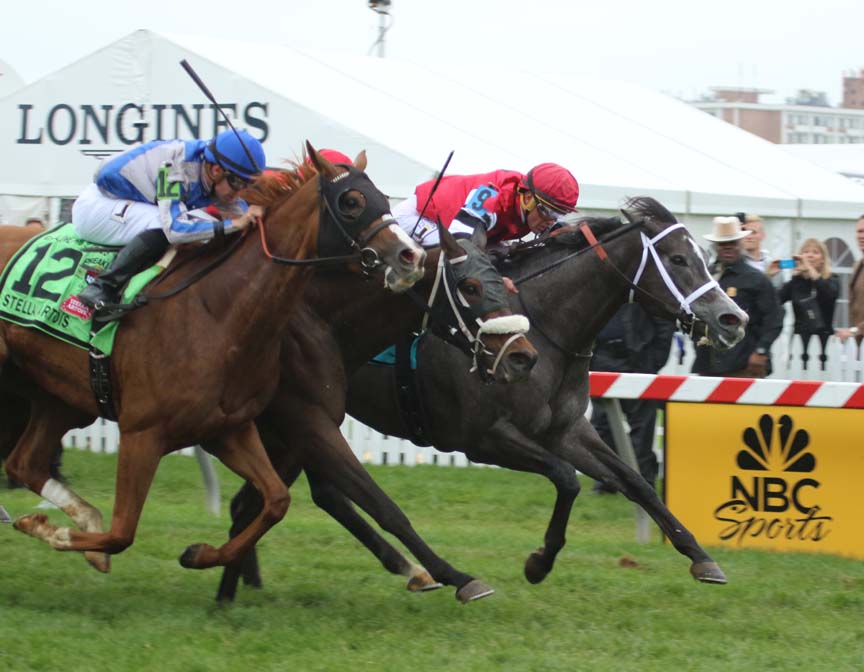 Mizz Money (#9) held off Vielsalm (in between) and Heath (#12) to win the Grade 3 Gallorette. Photo by Laurie Asseo.
The GQ Approach features full-card selections from Laurel Park (w/ live racing every Friday, Saturday and Sunday through May 7, 2017; Post Time 12:30pm EDT), including a daily Best Bet, Longshot Play, and multi-race wagers — including the 20 cent Rainbow Pick-6, 50 cent Jackpot Pick-5, as well as Pick-4s and rolling Doubles, Pick-3s and the Super High-5. 
CARRYOVERS
Rainbow Pick 6: $7,815
Super High 5: $343
Late Pick 5: no carryover
BEST BET OF THE DAY
Race 7 / #6 – Sound the Horns (5-2)
LONGSHOT PLAY OF THE DAY
Race 5  / #3 – Monkey Medal (10-1)
[su_heading size="21″ align="left"]Multi-race wagers[/su_heading]
Race 1: $2 Double 1, 2, 7 w/ 2, 3  ($12)
Race 3: $0.50 Pick-3  4, 5, 7  w/ 1, 7, 8  w/ 3, 4, 7  ($13.50)
Race 4: $0.50 Pick-5  7, 8  w/ 3, 4  w/  1, 3, 4 w/ 1, 6 w/ 1, 4, 7  ($36)
Race 7: $2 Double  1, 6 w/ 1, 2, 5  ($12)
[su_heading size="21″ align="left"]Analysis[/su_heading]
Weather: Mostly Sunny; highs in the mid-40s
Projected condition of main track: FAST
No turf racing until Spring 2017
Race 1
#1 – Look Within (5-2): Class dropper attracts jock J. Montano for only mount on the card who with trainer O. Figgins have won at a 33% clip in the past year; will need to send from the rail
#2 – Hail the General (8-5): Earned a creditable 78 Brisnet# in debut @ Pen in $15k MCL; gets ML favoritism nod based on that number and getting T. McCarthy in the irons
#7 – Horseshoe Harbour (3-1): Takes mandatory step up in class after M. Reid claim for $10k; cuts back from one mile but still may be the one who gets the early lead and hold others off late
Race 2
#2 – Bon Voyage (3-1): Prx shipper been holding his own v. open $8k Claimers but in three previous trips to lovely Lrl has only managed one third place effort; good shot w/ S. Gonzalez aboard
#3 – Resurgence (7-2): 4 wins in last 6 starts but all the while dropping in class; trainer J. Robb figured this $1.35 million purchase as a yearling has to be worth at least $5k even at age 7; never OTB at Lrl (7:4-1-2)
#5 – Seve (5-1): 6-time winner with 2 coming since Oct., not Aug. per condition is still eligible due to one being for less than today's $5k tag; just 1 for 13 at distance but maybe J. Pimentel will give this S. Lake runner an honest effort     
Race 3
#5 – Miss Nosy (5-1): The comment "Steadied often" makes it seems like a miracle that she actually Showed; previous to that ran behind two next out winners… both efforts came against similar in here today
#4 – Nyx Warrior (4-1): Pen-based runner fresh off N2L at this distance ran 4th last Fall here v. much better; gets protected and should have plenty of pace to run at late
#7 – Navajo Kitten (7-2): Hasn't seen Winners' Circle in nearly two years and blew chance to end winless streak in latest when Post Time favorite but had issues at the start and throughout; have to think she fits in here for Lrl debut             
Race 4
#8 – Invisible Crown (6-1): Turf runner on the shelf since Thanksgiving gets dirt start in hopes of paying a few barn bills for trainer C. Frock; does have a runner-up finish (in $16kMCL) from 3 career dirt starts
#7 – Mr. Coupons (7-2): Appears to have "Second-itis" (19:1-6-2), especially at Lrl (4:0-3-0); makes 10th try at conquering $5kN2L; if T. McCarthy can't get him to the wire first, nobody can
#1 – Leroy Brown (5-1): House Horse is bred to run on turf but stayed north when turf season ended; seems like they're trying to cut bait by running him on dirt for $5k; lately proved he can pick up minor awards
Race 5
#3 – Monkey Medal (10-1): $$$ LONGSHOT $$$ Dull in latest on an off track and cuts back to 7 furlongs (4:0-0-0) yet V. Carrasco signs on; guess who was aboard for his last win… which was jocks only other time in the irons; Hmmm
#4 – Sam Sparkle (9-5): Deserving ML favorite based on class but red flags are waving as he was claimed for $40k out of last race… back in August @ Sar; offered today for $25k screams "Vulnerable favorite"!
#7 – County Corrections (7-2): Does best work on an off track but seems as though trainer J. Ness has tapped into this 7-year-olds back class since claiming for $16k a half dozen races back            
Race 6
#4 – Dharmaster (7-2): This KY-bred son of Bodemeister has steadily improved, speed figure wise but curiously was cold on the toteboard (9-1) in latest and ran to those odds after being runner-up in his previous start; he's bred to go long so this first chance to go two turns could mean it's graduation day
#1 – Clubman (5-2): Took plenty of action at the windows (7-2) for debut going 7 furlongs, but just got an education showing willingness to closely follow the pack; like the recent 6 furlong bullet work to prepare for stretch out
#3 – Cannavaro (3-1): This ridgling who hails from the G. Motion barn had a short stay at TAM as thoughts of being successful on the turf were dashed early when he Showed in first dirt start, going two turns in spite of a troubled trip with first time Lasix     
Race 7
#6 – Sound the Horns (5-2): *** BEST BET *** Appears West Point Thoroughbreds may have a shot at recouping the some of the $255k they paid for this now gelded son of Include out of a Fusaichi Pegasus mare; this late-bloomer has the look of a future star after just 2 career races sprinting and gets a couple more furlongs to run which should be right in his wheelhouse
#1 – Jess I Am (2-1): NY shipper for trainer J. Terranova (3:1-1-0 at Lrl) took 11 starts to get first win then was compromised early on in latest/first v. winners; makes third start after layoff and last two Brisnet speed figs have been best of his career
#5 – I'm Mr. Blue (7-2): Always seems to pick up a minor share having been stuck in this condition for quite a while as last victory came 13 races ago (Jul. '15); beaten favorite makes third start after layoff   
Race 8
#1 – Wazzala (7-2): Takes step up off C. Gonzalez claim for $16k after two runner-up finishes; beat in debut by next out winner, then winner of latest came back to run 4th in $11k Claimer; should easily get early lead v. this group and could pay immediate dividends in gate-to-wire score
#2 – Bring Me Answers (10-1): First start after K. Magee claim for $10k takes mandatory step up; strangely H. Karamanos stays on instead of riding #4 for trainer L. Rice as he's been her "go to" MD jock… hmmm
#5 – Happy Haunts (12-1): KY-bred FTS by Hard Spun cost $60k at Kee Sep. '15 sale; works have been sporadic but trainer is 2 for 8 with runners debuting for a tag; ownership group typically spots them to be successful but using 7lb. bug is out of character, worth a shot
YESTERDAY'S NEWS  
On Sunday February 12th at Laurel had 5 winners from the 8 race card having $2 WIN pay-off of $5.20 (1st race), $17.60 (4th), $5.60 (5th), $5.20 (6th) and $4.20 (7th). On Top Selections in 2017 are 38 for 162 (23.46%). In 2016, Top Selections were 304 for 1,213 (25.02%).
BEST BET of the Day (19: 7-4-3; in 2016 127: 31-29-19) American Progress (2nd race: 4-1 M/L; x-1 PT) was lightly steadied near the five eighths, stalked under rating while between rivals mid turn then lacked a solid stretch kick finishing 5th.
LONGSHOT PLAY of the Day (18: 1-1-5; in 2016 124: 13-13-16) Be Back (6th race: 6-1 M/L; 5-1 PT)    bobbled at the break, stalked the pace in about the two path, was under pressure mid turn, faded and brushed with a rival in mid-stretch while finishing 6th.