The GQ Approach – Laurel February 12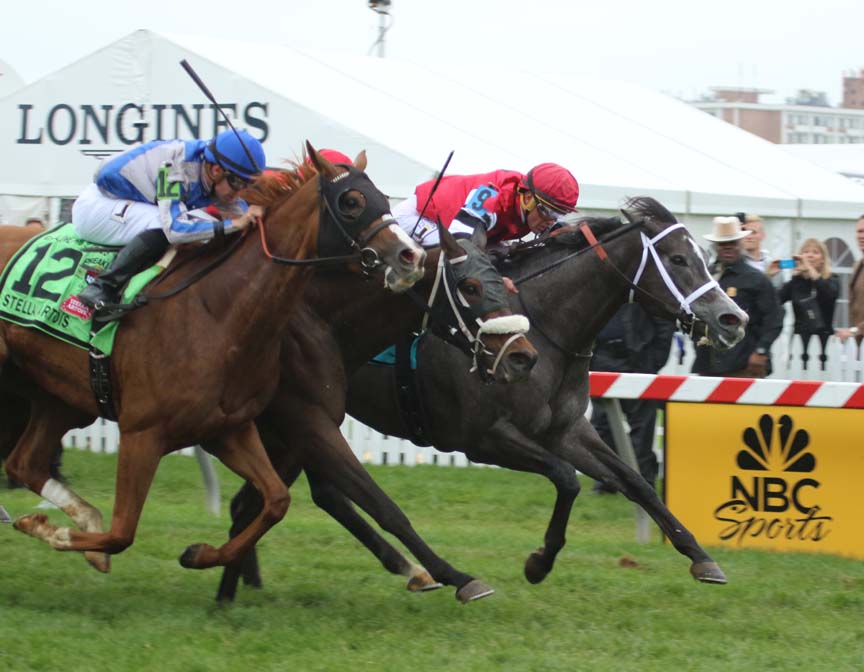 Mizz Money (#9) held off Vielsalm (in between) and Heath (#12) to win the Grade 3 Gallorette. Photo by Laurie Asseo.
The GQ Approach features full-card selections from Laurel Park (w/ live racing every Friday, Saturday and Sunday through May 7, 2017; Post Time 12:30pm EDT), including a daily Best Bet, Longshot Play, and multi-race wagers — including the 20 cent Rainbow Pick-6, 50 cent Jackpot Pick-5, as well as Pick-4s and rolling Doubles, Pick-3s and the Super High-5. 
CARRYOVERS
Rainbow Pick 6: $4,951.62
Super High 5: no carryover
Late Pick 5: no carryover
BEST BET OF THE DAY
Race 2 / #2 – American Progress (4-1)
LONGSHOT PLAY OF THE DAY
Race 6  / #6 – Be Back (6-1)
[su_heading size="21″ align="left"]Multi-race wagers[/su_heading]
Race 1: $2 Double 1, 5, 7  w/ 2, 4  ($12)
Race 3: $0.50 Pick-3  1, 3, 7  w/ 1, 5, 6  w/ 1, 2, 5  ($13.50)
Race 4: $0.50 Pick-5  1  w/ 1, 5  w/ 2, 3, 6  w/ 1, 4, 5  w/ 1, 3, 8 ($27)
Race 7: $2 Double  1, 4, 5  w/ 3, 8  ($12)
[su_heading size="21″ align="left"]Analysis[/su_heading]
Weather: Mostly Cloudy w/ periods of rain; highs in the mid-40s
Projected condition of main track: GOOD
No turf racing until Spring 2017
Race 1
#7 – Chatter Pattern (3-1): NY shipper for R. Rodriguez has failed to hit the board in first 5 starts, all against NY-breds in MSW and a couple high level claimers
#1/1A – Wilko Freeway/Wilko's Last Dance (6-1): #1 is FTS by Wilko scheduled to raced w/o Lasix; #1A showed early speed in debut v. $16kMCL before tiring; one may scratch as L. Luzzi listed on both
#5 – Let Me Sleep On It (7-2): Owner must be a Meatloaf (music) fan; a decent 3rd in Laurel debut at this same level indicates graduate day could happened anytime soon
Race 2
#2 – American Progress (4-1): *** BEST BET *** Best Brisnet speed figure came on an off track and at today's distance; drops down to a level where he was successful just 9 months ago
#4 – Comanche Ruler (7-2): Ness runner hasn't panned out since claiming for $16k 5 races back, running this gelding in AlwN1X; in for $15k tag trying to get to Winners' Circle
#6 – Great Smoke (10-1): Speed figures have been ascending since trainer P. Magill claim for $10k; has done well at Lrl (14:5-3-0) and has placed and won in last two off track efforts
Race 3
#7 – Actin Tiz (5-1): Talented 3 y.o. gelded son of Tizway graduated just 14 days ago in gate-to-wire fashion; runner-up who was 6 lengths back, came back to win impressively on step up
#3 – Nicamore (10-1): Broke maiden in most recent outing; stretches out beyond 6 furlongs for first time in career which may uncover his true talent; makes first start for trainer G. Brooks
#1/1A – Mabrouk/Deal Driven (4-1): Zayat duo are trained by two different NY-based conditioners (J. Terranova & L. Rice) who get their NY shippers to Lrl Winners' Circle at 33% clip   
Race 4
#1/1A – Chickaletta/Money for Maria (4-1): Hard to believe this J. Ness entry will go off at these odds, unless one of them get scratched; #1was beaten favorite for $15k while $1A has had success at 7f (2:1-0-1); T. McCarthy listed on both
#6 – Stormy Salute (5-1): Blinkers which have been on in her last 8 races come off today; 1 for 2 at this distance and by the looks of her late kick sprinting, this middle distance should be to her liking
#5 – Balabusta (5-1): Claimed in last two outings but her 9 race record indicates that $5k claiming is where she can compete; will knock heads a step higher and be hard pressed to find stamina going 7f    
Race 5
#5 – Senor Quickie (9-2): Since reclaiming this 8 y.o. gelding on Christmas Eve, trainer Annette Eubanks has rekindled his competitive spirit, stepping up in class twice and being runner-up in both
#1/1A – Risky Guy/North Ocean (3-1): A strong 1-2 punch as both have done well in these Start Allowance events; "Risky" is 7 of 9 ITM on an off track; "Ocean" as won 4 of last 5 outings but gets first start for new barn after claim     
#2 – Cooking Up a Storm (5-1): Has been well behind Risky Guy in two races recently but that was prior to being claimed by trainer K. Magee who has gotten 25% to Winners Circle "first race after claim"            
Race 6
#6 – Be Back (6-1): $$$ LONGSHOT $$$ Brisnet speed figures continue to ascend and put in a good effort in local bow when 39-1 shipping in from CT; first time in for a tag would relish an off track if Mother Nature would cooperate
#3 – Moonspell (4-1): Drops back in for $25k tag as 5 of 7 starts have been v. MSW, the other two at this level; based on similar competition today looks to be best chance to get first win
#2 – We Were Kings (9-2): A carbon copy of #3 as these two have faced off in their two most recent outings, took turns finishing ahead of each other… flip a coin today     
Race 7
#1 – Shaunna Alexandra (9-5): A winner coming off a 14-month layoff; appears to be the speed of the speed in this short field of 6; don't expect much value as she has been sent off at odds of 2-1 or less in her past 8 of 10 races
#5 – Scip's Sonata (6-1): Would greatly benefit from an off track (8:3-1-1); traffic trouble in latest makes that effort look bad; hoping this mount for Y. Ortiz (8%) turns out to be one of his winning rides at a price
#4 – Absatootly (5-2): Initial trip to Lrl for NY-based trainer C. Baker (23%); this filly has been mixing it up with state-breds in minor stakes in the Empire State butt is a "need the lead" type to get to Winners' Circle… that might be a tough task in here going against #1   
Race 8
#3 – Gimme Kimmy (5-1): Only 3 of the 10 in here are dropping in class but this one takes the steepest drop from $25k; sheds the blinkers after 5 career races of them not helping
#8 – My Sangria (3-1): Best placing, a runner-up effort came on a sloppy GP surface over a year ago; based on Brisnet Prime Power# she's the best of this poor lot of $10k maidens
#1 – Wildcat Rising (10-1): No interest in entrymate (#1A) in case #1 gets scratched; latest effort, her 19th gives hope that she may not be a career maiden; V. Carrasco back in irons is a plus
YESTERDAY'S NEWS  
On Saturday February 11th at Laurel had 5 winners from the 9 race card (2 Top Selection; payoff in BOLD) having $2 WIN pay-off of $11.00 (1st race), $9.00 (2nd), $7.20 (4th), $5.20 (7th) and $6.40 (9th). Of the suggested multi-race plays hit the R1-R2 $2 DOUBLE for $54.80 (cost: $18). On Top Selections in 2017 are 38 for 154 (24.68%). In 2016, Top Selections were 304 for 1,213 (25.02%).
BEST BET of the Day (18: 7-4-3; in 2016 127: 31-29-19) Z Supreme (9th race: 3-1 M/L; 2-1 PT) raced in the two path on the turn, closed inside horses the final furlong and drove clear late to win by 1½ lengths to return $6.40 WIN, $3.80 PLACE and $2.20 SHOW.
LONGSHOT PLAY of the Day (17: 1-1-5; in 2016 124: 13-13-16) Fleur de Force (5th race: 6-1 M/L; 7-2 PT) chased the pace three wide between horses on the turn and hung in the stretch while finishing third to return $3.40 SHOW.