The GQ Approach – Laurel February 11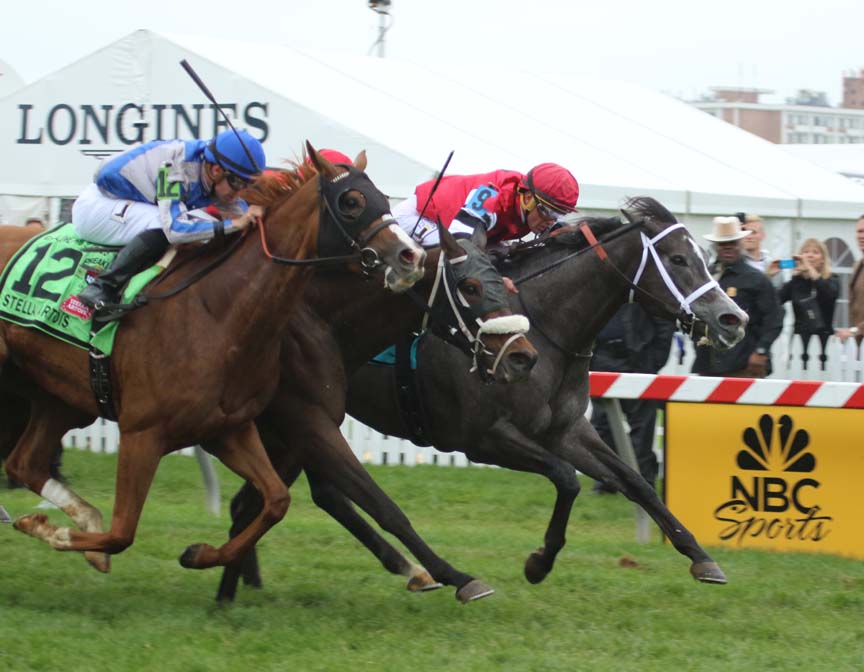 Mizz Money (#9) held off Vielsalm (in between) and Heath (#12) to win the Grade 3 Gallorette. Photo by Laurie Asseo.
The GQ Approach features full-card selections from Laurel Park (w/ live racing every Friday, Saturday and Sunday through May 7, 2017; Post Time 12:30pm EDT), including a daily Best Bet, Longshot Play, and multi-race wagers — including the 20 cent Rainbow Pick-6, 50 cent Jackpot Pick-5, as well as Pick-4s and rolling Doubles, Pick-3s and the Super High-5. 
CARRYOVERS
Rainbow Pick 6: $3,835.20
Super High 5: no carryover
Late Pick 5: no carryover
BEST BET OF THE DAY
Race 9 / #5 – Z Supreme (3-1)
LONGSHOT PLAY OF THE DAY
Race 5  / #8 – Fleur de Force  (6-1)
[su_heading size="21″ align="left"]Multi-race wagers[/su_heading]
Race 1: $2 Double 1, 4, 5  w/ 2, 6, 7  ($18)
Race 3: $0.50 Pick-3  2, 4, 5  w/ 2, 5, 6  w/ 2, 6, 8  ($13.50)
Race 5: $0.50 Pick-5  6, 8  w/ 1, 3, 5  w/ 3, 5  w/ 1, 4  w/ 2, 5, 8 ($36)
Race 8: $2 Double  1, 4  w/ 1, 5, 8  ($12)
[su_heading size="21″ align="left"]Analysis[/su_heading]
Weather: Mostly Sunny; highs in the mid-50s
Projected condition of main track: FAST
No turf racing until Spring 2017
Race 1
#1 – Tiz Majesty (6-5): Connections have finally come to their senses after this gals 0 for 11 start to her career strictly against MSW and drop her way down to $10kMCL; a yellow flag or just trying to get a Winners' Circle photo? Hopefully it's the latter
#4 – Reward the Gypsy (5-2): Woke-up in third start, first with blinkers in a game runner-up finish at this same level; speed figures have improved in each start as well
#5 – Cantate Domino (12-1): Responded a bit to the class drop off the layoff in that she showed some late interest sprinting; going two turns may rekindle the stamina she showed in her second start (runner-up v. $40kMCL)
Race 2
#2 – Stone Crab (5-2): Trainer O. Figgins will saddle this crustacean namesake via 25% Bel-based trainer J. Englehart; that fact, class relief and T. McCarthy in irons will make him likely favorite
#7 – Mid Ocean (4-1): Claimed by trainer M. Eppler for $5k on steep drop which resulted in runner-up finish; she wheels this one right back moving up to $10k, still lower much lower than class career level so it would not be a surprise to see them in the Winners' Circle
#6 – Theyallcomehome (7-2): Looking to break Lrl maiden (7:0-2-2) for V.Carrasco/C. Gonzalez team whose win percentage has been slipping of late; needs an honest pace to get to wire first late
Race 3
#4 – Rare Eagle (3-1): Shipper from Prx has been an Also Ran in much higher Starter Alw and Alw N1X lately; beat $16kN3L @ Pen 3 races back so he figures here
#2 – Supah Czech (6-1): 2 of 3 wins have come @ Lrl in just 8 starts over the local oval; used to compete against much better; the talent is there it's just whether today is one of his better days
#5 – Run for Zach (8-1): Been enjoying Lrl dirt oval (3:2-1-0) and added distance since being stretched out 3 races back; second start with blinkers and appears able to handle this next condition as he shifts into high gear when asked            
Race 4
#5 – Holiday Magician (7-2): Gate-to-wire maiden winner two back was unable to get lead v. $25k claimers going 7 furlongs; cut back to 5½ should fit her well
#6 – Twist 'n Shout (3-1): Makes third start after layoff, with blinkers and chance to further improve on speed figures; enjoyed drop to $11k showing early speed but got caught at the wire
#2 – Chips Icluded (9-5): Broke maiden in 5th lifetime start, proving she does have enough stamina to go at least 5½ furlongs… over a sloppy track; tall task first time facing winners
Race 5
#8 – Fleur de Force (6-1): $$$ LONGSHOT $$$ Away 60 days after dull effort in slop finishing nearly 7 lengths behind #5 in here; chance to redeem herself on a fast track
#6 – Our First Candy (4-1): Maiden score in latest at today's distance while runner-up was 6+ lengths clear of Show horse; will benefit from others first exposure to stretching out from sprints
#2 – Neetee Rides Again (7-2): Just 10 days ago was beaten favorite v. lesser @ CT for trainer D. Capuano who gets a jock upgrade today; can boast top Brisnet Prime Power#            
Race 6
#3 – J La Trache (1-1): Makes first start since Aug. 1st @ Sar when last of 4 runners in $100k stakes; nice work pattern @ Fai leading up to return; lone win came here and at this distance
#1 – If I Was a Boy (5-1): Turned in worst effort of her 12 career outings in latest BUT that was traveling one mile, the furthest she has raced while competitive in the early stages; will relish cut back to 6 furlongs
#5 – Holiday Blues (9-2): Two third place finishes at this level, though one was on turf makes this filly a threat; looks for first victory over fast track (4:0-1-1)     
Race 7
#3 – Johnny Hop (2-1): KY-bred FTS by Bodemeister was a $350k West Point Thoroughbred purchase at OBS in Mar. '16; extensive work tab with recent bullet gate work makes him one to beat
#5 – Alive (9-2): Most experienced 3 y.o. in the race makes 4th start got dusted in $100k Marylander Stakes by G2 Holy Bull winner Irish War Cry; any improvement and he graduates
#1 – Honor the Fleet (6-1): KY-bred FTS by nice freshmen sire To Honor and Serve has a work pattern riddled with bullets for trainer Louis Albertrani making Lrl meet debut   
Race 8
#1 – Karaoke Queen (2-1): Appears to be lone speed which gives her the nod here in spite of stepping up into N2X condition while foes have faced better
#4 – Alpine Sky (7-2): Has mixed it up in minor stakes events in last two at huge odds and ran to those odds; prior to those was a fast closing runner-up at this condition
#2 – E Lizzy (6-1): Needs some pace help from unlikely sources to unleash her deep closing kick; extra 1/16th will help turn the tables on #4
Race 9
#5 – Z Supreme (3-1): *** BEST BET *** No coincidence that the lightbulb came on when the blinkers went on; Zayat Stables is all about winning, so the class drop after 4th and 3rd place finishes v. better was predictable
#8 – Game Winning Shot (7-2): Off-the-board in just one of 9 starts (9:2-2-4); romped in $15kN2L sprinting event @ Pen recording best speed figure in here; can stalk this speed heavy group
#1/1A – Spring Ahead/Balkan (5-1): Both possess early speed so it would behoove the connections to scratch one; #1A gelded since breaking maiden sounds strange; #1 should show a bit more patience early cutting back from one mile   
YESTERDAY'S NEWS  
On Friday February 10th at Laurel had 5 winners from the 9 race card (2 Top Selection; payoff in BOLD) having $2 WIN pay-off of $4.20 (2nd race), $3.20 (6th), $3.40 (7th), $8.60 (8th) and $3.80 (9th). Of the suggested multi-race plays hit the R8-R9 $2 DOUBLE for $21.60 (cost: $18). On Top Selections in 2017 are 38 for 154 (24.68%). In 2016, Top Selections were 304 for 1,213 (25.02%).
BEST BET of the Day (17: 6-4-3; in 2016 127: 31-29-19) Trulamo (8th race: 7-2 M/L; 3-1 PT) raced in mid-pack in the early stages between rivals, was put to the drive on the turn, moved 4-wide entering the stretch passed tiring runners but could not make up ground on the winner and hung late to salvage the third to return $3.00 SHOW.
LONGSHOT PLAY of the Day (16: 1-1-4; in 2016 124: 13-13-16) After the Cut Off (5th race: 6-1 M/L; 7-2 PT) bumped a rival when coming in at the break, chased the pace three wide to the stretch and gave way in the final furlong to finish 6th.