The GQ Approach – Laurel February 10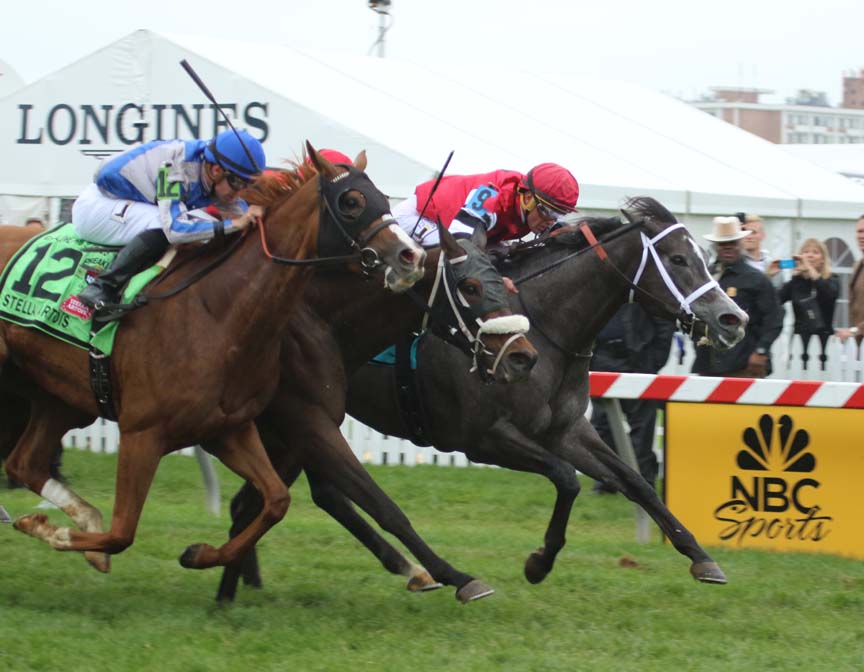 Mizz Money (#9) held off Vielsalm (in between) and Heath (#12) to win the Grade 3 Gallorette. Photo by Laurie Asseo.
The GQ Approach features full-card selections from Laurel Park (w/ live racing every Friday, Saturday and Sunday through May 7, 2017; Post Time 12:30pm EDT), including a daily Best Bet, Longshot Play, and multi-race wagers — including the 20 cent Rainbow Pick-6, 50 cent Jackpot Pick-5, as well as Pick-4s and rolling Doubles, Pick-3s and the Super High-5. 
CARRYOVERS
Rainbow Pick 6: $2,598
Super High 5: $2,939
Late Pick 5: $4,704
BEST BET OF THE DAY
Race 8 / #4 – Trulamo (7-2)
LONGSHOT PLAY OF THE DAY
Race 5  / #7 – After the Cut Off  (6-1)
[su_heading size="21″ align="left"]Multi-race wagers[/su_heading]
Race 1: $2 Double 1, 2, 6 w/ 1, 5, 6  ($18)
Race 3: $0.50 Pick-3  1, 5, 6  w/ 3, 6, 7  w/ 7, 9, 10  ($13.50)
Race 5: $0.50 Pick-5  7, 9  w/ 3, 6, 7  w/  2, 3, 4 w/ 4, 7 w/ 2, 6 ($36)
Race 8: $2 Double  4, 5, 7 w/ 2, 4, 6  ($18)
[su_heading size="21″ align="left"]Analysis[/su_heading]
Weather: Mostly Sunny; highs in the mid-30s
Projected condition of main track: FAST
No turf racing until Spring 2017
Race 1
#1 – Alwaysacontest (6-1): Drops from open $7,500 to conditional $5k Claimer; won easily 3 back when in against similar sprinting; tries one mile for just second time in 58th career start
#6 – La Bruna Forte (2-1): Appears MD's '16 award winning trainer K. Magee is ready to cut bait with this 6 y.o. gal who will face the cheapest of runners in her career; she's made her living on turf and synthetic v. better while winless on dirt (8:0-1-2)
#2 – Private Marina (12-1): Been facing cheaper @ CT and Pen; tardy start in latest cost position early as PT favorite and never got involved; 7 lb. bug girl J. Miller back in irons and should get early lead v. these rather easily and could upset in gate-to-wire score
Race 2
#1/1A – Barin/Don't Poke the Cat (5-2): Strong entry boasts the top two Brisnet Prime Power numbers; #1 failed as PT fav. last effort one class lower while #1A drops a level after getting Show purse in adventurous trip as jock lost whip entering the stretch
#6 – Story Spinner (2-1): Claimed by trainer M. Eppler for $16k out of second start, a runner-up effort locally following a nice late run in debut @ Pen for the Show purse; originally a $30k purchase last March at OBS
#5 – Rodon (8-1): Showed nothing in debut over a muddy Lrl surface when taking some action at the windows (6-1); trainer G. Capuano is at his best with runners making second career start (28%) therefore look for improvement on a fast track           
Race 3
#1 – Rider On the Storm (3-1): Hasn't been able to build on his gate-to-wire debut win while competing in a quartet of Alw42kN1X events; has only beaten one rival in last two races but steep class drop should help him make a second visit to the Winners' Circle
#6 – Go Bo Go (7-5): Previously trained by R. Preciado; P. Schoenthal may have just wanted to get a race into this 4 y.o. colt when put in over his head; back at level where he got caught at the wire by a next out winner, two back
#5 – Gator Boy (7-2): Turf runner has never hit the board in 4 lifetime dirt tries but that can change if he can duplicate that 83 Brisnet# two back when 5th just 2½ behind the winner going 7f             
Race 4
#6 – Quickasaflash (7-5): Couldn't handle multiple maiden class level step up to $25k when used up early after bumped around leaving the gate; drops back to level and distance where she was bridesmaid; add blinkers for a bit more focus
#3 – Nancy R (5-1): Home/MD-bred FTS by Friesan Fire hasn't shown she bad, so need to give her a look especially after that final gate drill which may indicate she'll be quick early
#7 – Jazzlyn (10-1): In her 3 career efforts she's been beaten by a combined 54 lengths; yeah that's how bad this field of $10kMCL are… but she adds Lasix today, note she wore blinkers in latest when stumbled badly exiting the starting gate  
Race 5
#7 – After the Cut Off (6-1): $$$ LONGSHOT $$$ Drops back to a level where he can be successful; was third best to a next out winner while runner-up stepped up in class and won impressively two races later; a trio in here exit a weak $10kN4L and ML favorite is vulnerable IMHO
#9 – Perfect Game Cain (4-1): Has caught off tracks in past two starts which are not necessarily to his liking; multi-class drop and getting a fast track should help a potential gate-to-wire score
#10 – Holiday Mousse (8-1): Never got on track (no pun intended) in latest as she raced 6-wide on the turn leaving nothing for the stretch drive; drops to lowest claiming level of 13 race career        
Race 6
#7 – Champagne Time (8-5): 7 lb. bug J. Torres gets a second chance on this gray filly as they had a rough start in latest when sent off 9-5 favorite and still managed to be much the second best
#6 – Dewdrop's Heart (6-1): Away from the races since last May, turned out then returned to training in Nov.; nice work pattern leading up to today and connections protect her under the Waiver Claiming rule
#3 – Vaughn (3-1): Not Vince or Stevie Ray cuz he's a she and she ain't been cutting it @ The Big A when in for $16kN2L; steep drop as trainer D. Jacobson looks to unload or steal a purse; lone win came on Med turf       
Race 7
#2 – Triple Net (9-5): Hit the board (3rd) on an "off' track for the first time in 6 lifetime starts in first race off trainer H. McMahon claim when stepping up to his back class level; drops down to a spot he can win as McMahon is 28% second race after claim
#4 – Slews Love (12-1): Notice that first off the claim was in against N4L when "in jail" whereas he's a N3L which is today's condition and he's out of jail; like that H. Karamanos signs back on to ride
#3 – Outfielder (20-1): Third race after layoff and first glance says no shot due to a pair of 4th place finishes against lesser but runner-up in last came back to win Sunday; can compete versus this group   
Race 8
#4 – Trulamo (7-2): *** BEST BET *** This late running 4 y.o. filly stretches out to two-turns for just the second time in her 14th career start; was 4thd in first one v. NY-bred N2X; have to believe with enough early speed in here, this gal will be gobbling up ground late
#7 – Include Gold (8-1): Looks like trainer K. Magee got a $5k bargain as she's looked fantastic since adding blinkers and competing against OC$16k and loving the Lrl dirt; takes another step forward
#5 – Seeing'n'believing (3-1): The better of the two uncoupled K. Magee runners? Maybe since she beat her now stablemate (#7) by 4½ lengths when claimed out of that race
Race 9
#6 – Big Branch (4-1): Can boast the top Brisnet Prime Power# of this group by virtue of mixing it up with higher level open claimers albeit an Also-Ran which explains why he hasn't hit the board in four previous starts at Lrl; that should chance today
#2 – Hard Thunder (10-1): Desperately seeking his former self as he continues to slide down the class ladder; poor start compromised chances and thinking jock switch can chance fortunes
#4 – Puget Sound (5-2): A vulnerable favorite even with T. McCarthy in the saddle; 7 y.o. gelding has been sent off as the favorite in last 4 starts but delivered the victory just once, all @ Pen against weaker   
YESTERDAY'S NEWS  
On Sunday February 5th at Laurel had 8 winners from the 9 race card (1 Top Selection; payoff in BOLD) having $2 WIN pay-off of $7.20 (1st race), $16.00 (2nd), $7.60 (3rd), $18.20 (4th), $7.60 (6th), $3.40 (7th), $5.80 (8th) and $23.00 (9th). Of the suggested multi-race plays hit the R5-R9 $50 cent PICK-5 paid 4 correct for $27.10 (cost: $36) and R8-R9 $2 DOUBLE for $90.40 (cost: $12). On Top Selections in 2017 are 36 for 145 (24.83%). In 2016, Top Selections were 304 for 1,213 (25.02%).
BEST BET of the Day (16: 6-4-2; in 2016 127: 31-29-19) Wildcat Gaze (2nd race: 2-1 M/L; 3-2 PT) sprinted clear early and angled in, was overtaken by the winner leaving the far turn, pursed into the lane and faded to finish 5th.
LONGSHOT PLAY of the Day (15: 1-1-4; in 2016 124: 13-13-16) Get Rid Of (5th race: 8-1 M/L; 6-1 PT) four deep on the turn, gained the lead in upper stretch, drifted in inside the eighth pole and hung, getting beat by a half-length to return $6.00 PLACE and $4.00 SHOW.