The GQ Approach – Laurel February 5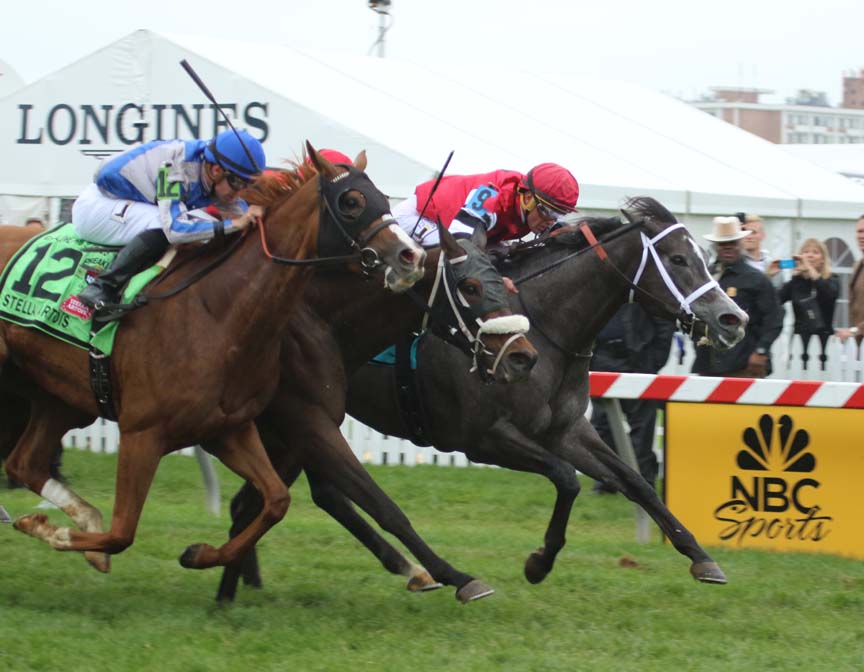 Mizz Money (#9) held off Vielsalm (in between) and Heath (#12) to win the Grade 3 Gallorette. Photo by Laurie Asseo.
The GQ Approach features full-card selections from Laurel Park (w/ live racing every Friday, Saturday and Sunday through May 7, 2017; Post Time 12:30pm EDT), including a daily Best Bet, Longshot Play, and multi-race wagers — including the 20 cent Rainbow Pick-6, 50 cent Jackpot Pick-5, as well as Pick-4s and rolling Doubles, Pick-3s and the Super High-5. 
CARRYOVERS
Rainbow Pick 6: $1,479.13
Super High 5: $377.27
Late Pick 5: no carryover
BEST BET OF THE DAY
Race 2 / #7 – Wildcat Gaze (2-1)
LONGSHOT PLAY OF THE DAY
Race 3  / #6 – Get Rid Of (8-1)
[su_heading size="21″ align="left"]Multi-race wagers[/su_heading]
Race 1: $2 Double  2, 4  w/ 7 ($4)
Race 3: $0.50 Pick-3  1, 5, 6  w/ 2, 4, 5  w/ 4, 5, 7  ($13.50)
Race 5: $0.20 Pick-5  5, 7  w/ 1, 2, 6  w/  1, 4  w/ 2, 6  w/ 2, 6, 9  ($36)
Race 8: $2 Double  2, 6  w/ 2, 6, 9  ($12)
[su_heading size="21″ align="left"]Analysis[/su_heading]
Weather: Partly Sunny; highs in the mid-30s
Projected condition of main track: FAST
No turf racing until Spring 2017
Race 1
#4 – Carolina Dreams (8-5): Has hit the board in past 6 starts v. better, all @ Prx; trainer/jock combo have won at 33% clip from 128 starts over the past year but 0 for 2 at Lrl; runner encountered traffic in last effort when third
#2 – Enigma (9-5): Class dropper from open $10k claiming @ Aqu for trainer M. Nevin (19% at meet) who also has one entered in 3rd race; has a win and third place effort from two previous trips to lovely Lrl
#5 – Gethot Stayhot (4-1): Runner-up in first start for trainer P. Schoenthal via R. Preciado ban as winner came back yesterday to score an easy victory v. $5kN5L; Brisnet speed figs have been ascending
Race 2
#7 – Wildcat Gaze (2-1): *** BEST BET *** Has best last race early speed figures of this group who all like to do their best running early; this mare exits an open $6,250 claiming @ GP while others languished in conditional events in Mid-Atlantic, she'll get first jump and discourage the others
#1 – I Am Superior Too (6-1): Beat $5kN3L two back quite easily but quicker fractions in latest cooked her; breaking from rail and cut back from 6f to 5½f should help chances
#3 – Honeymoon Springs (3-1): Entrymate in latest won when they were sent off as even money favorite as she checked in 4th; this 4 y.o. filly had compiled a decent career resume' (12:3-4-1) racing in PA prior transfer to P. Schoenthal outfit     
Race 3
#6 – Get Rid Of (8-1): $$$ LONGSHOT $$$ Still looking for this gelding to duplicate strong closing effort in debut when getting the Show purse at 32-1; has been an Also Ran in each of 3 dirt efforts that followed; adds Blinkers today and gets "Cowboy" Hamilton back in the irons who recently has a hot hand
#5 – Party Regent (6-1): Usually against this Cappers religion to play a FTS in lower level maiden claimer but this is how bad the others have looked; trainer J. Corrales has won with 16% of MCL type in debut with positive ROI; $9k purchase at OBS in Jun. '15; been working quite a while
#1 – Go Pita Go (5-2): Trainer M. Nevin other runner on card settled for Show purse in Lrl debut off NY-bred MCLs when bet to 6-5 favorite on a "good" surface          
Race 4
#2 – Lil Habit of Mine (4-1): KY-bred FTS by Mineshaft cost $80k at '15 Kee Sept. sale; been outworking stablemate (Tennessee Wildcat) who was second yesterday here in debut for $40k MCL
#5 – Tribal Transit (7-2): 1 of 3 in this field of 8 who has racing experience; got Show money in dirt debut after starting career with four turf, sprint efforts; C. Lynch/T. McCarthy duo make triumphant return to Lrl after capturing G3 Withers w/ Derby contender El Areeb yesterday
#4 – Adios Annie (5-1): FL-bred 3 y.o. daughter of Adios Charlie began training for this debut in mid-November and has progressed nicely in the A.M. firing a couple bullets recently; though trainer G. Capuano only 6% with FTS, this one seems ready to fire at first asking
Race 5
#7 – Sophiatown (2-1): Catches a weak field of $10kN2L as she was just runner-up for $5kN2L but winner came back yesterday just missing v. $5kN3L; trainer K. Magee has cooled off considerably so far in '17 after winning training title in '16
#5 – Scarlett's Image (5-2): Fresh off maiden victory v. $10kMCL, this 5 y.o. mare has a good chance to repeat due to her Closing style and most rivals in here are Early Speed types
#4 – Kellyesque (8-1): Last ran on a fast track in Sept. '16 going one mile; though she's 0 for 7 on fast surface, those were versus better; makes third start after layoff            
Race 6
#6 – Inner Fire (4-1): Barn must have known this gelding would run big with blinkers added in most recent effort when runner-up as 6-5 favorite after being outrun by 10 lengths in previous start v. similar; looking for him to makes amends today
#1 – Mac North (3-1): Was a Vet scratch last weekend when entered for $10kN2L, hmmm; offered today for $4,500 raises yellow flag though outfit just claimed him two back for same price
#2– Devilish Grin (5-2): NY-based trainer G. Gullo makes initial trip down I-95 bringing a big class dropper to town looking to for an easy spot or to dump the 6 y.o. NY-bred… hoping it's the former
Race 7
#1 – Indian Paint (7-2): 4 y.o. home bred Uncle Mo filly makes just her second start; debut came @ CD in Nov. when "best of the rest" when sent off 17-1; has made Fair Hill home since and shows a nice work tab pattern
#4 – Tricky Escape (6-5): Been a bridesmaid in both starts; added Lasix and got an additional furlong in latest which should have helped her graduate but rally came up a head short; can boast best two Brisnet#s among this assembled group
#7 – Karma (4-1): You know what they say about it… karma that is; and through four career starts she has been exactly that but with low expectations, going off 24-1 or higher in each start and has run to those odds; for reasons unknown, G. Motion took on this challenge and if the A.M. works are any indication, he's found what makes her tick   
Race 8
#2 – Rhapsody in Red (3-1): Could find herself on an easy lead as this sprinter faces a half dozen who rarely lead the pack early; stretching out to one mile could challenging for this CT shipper
#6 – Night Madam (5-2): Trainer G. Contessa hasn't hit the board with any of his four shippers from the Big Apple to Lrl but that streak will likely end as this gal has been in-the-money (ITM) in all 4 of her outings at this distance; class drop while speed figs have been ascending should ensure that
#4 – Sippy Cup (10-1): Best finish on a fast track has been third (7:0-0-4) but faced N4L last time out when she's a N3L; two back she when in for N3L here she was hung out 4-wide and faded against a couple others in here who beat her that day when she went off 7-2; could surprise
Race 9
#6 – Patrick Rocks (5-1): Recall this fella early in his career knocking heads against better whiel sprinting and getting minor shares v. better; been aimlessly going long at this level; cut back to sprint could yield desired results     
#2 – Spirit of Freedom (6-1): A 38-1 runner-up when racing first time with blinkers and third start after one year plus layoff; second start with the hood often produces better results and has back class to improve off that effort
#9 – Unbridled Hero (3-1): What to do with this one?! Huge class drop from OC$16k after faltering over sealed Lrl surface in first race after 2-month layoff; has early speed to wire this field but is she sound
YESTERDAY'S NEWS  
On Saturday February 4th at Laurel had 7 winners from the 9 race card (3 Top Selections; payoff in BOLD) having $2 WIN pay-off of $3.60 (1st race), $7.20 (2nd), $5.40 (3rd), $5.60 (6th), $5.40 (7th), $12.80 (8th) and $9.60 (9th). Of the suggested multi-race plays hit the R8-R9 $2 DOUBLE for $60.60 (cost: $18). On Top Selections in 2017 are 35 for 136 (25.74%). In 2016, Top Selections were 304 for 1,213 (25.02%).
BEST BET of the Day (15: 6-4-2; in 2016 127: 31-29-19) Noble Kent (6th race: 7-2 M/L; 5-2 PT) bumped at the break, raced four wide past the seven eighths, gathered momentum leaving the five sixteenths and progressed three wide between rivals into the lane, kept on willingly and was brushed late yet earned the Show purse and returned $2.60 to SHOW.
LONGSHOT PLAY of the Day (14: 1-0-4; in 2016 124: 13-13-16) Squashville Road (5th race: 8-1 M/L; 9-1 PT) eased back when outrun for position entering the first turn, saved ground, angled out turning for home and failed to rally while finishing 4th.