The GQ Approach – Laurel February 4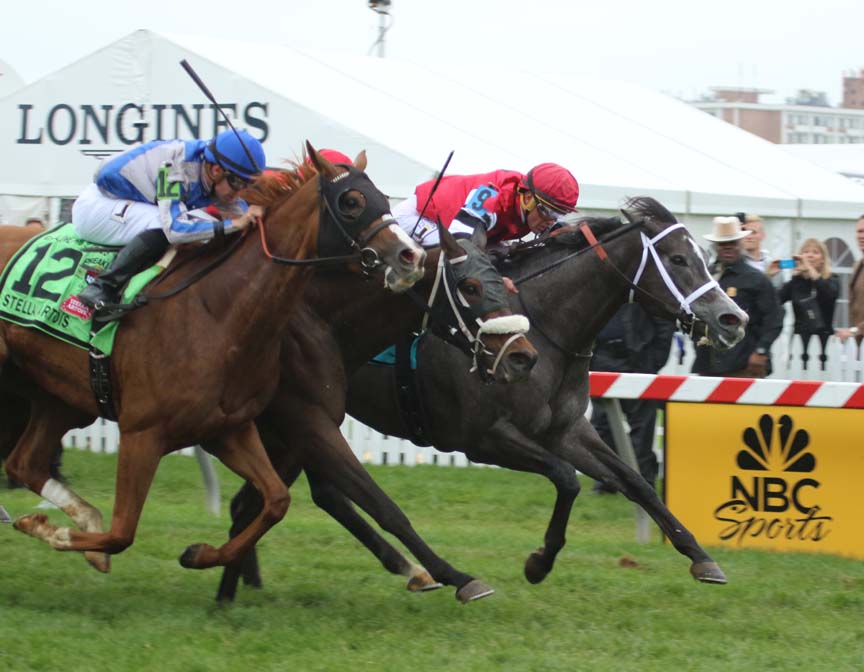 Mizz Money (#9) held off Vielsalm (in between) and Heath (#12) to win the Grade 3 Gallorette. Photo by Laurie Asseo.
The GQ Approach features full-card selections from Laurel Park (w/ live racing every Friday, Saturday and Sunday through May 7, 2017; Post Time 12:30pm EDT), including a daily Best Bet, Longshot Play, and multi-race wagers — including the 20 cent Rainbow Pick-6, 50 cent Jackpot Pick-5, as well as Pick-4s and rolling Doubles, Pick-3s and the Super High-5. 
CARRYOVERS
Rainbow Pick 6: $800
Super High 5: $2,538
Late Pick 5: $3,542
BEST BET OF THE DAY
Race 6 / #6 – Noble Kent (7-2)
LONGSHOT PLAY OF THE DAY
Race 5  / #1 – Squashville Road (8-1)
[su_heading size="21″ align="left"]Multi-race wagers[/su_heading]
Race 1: $2 Double  2, 6  w/ 2 ($4)
Race 3: $0.50 Pick-3  3, 6, 7  w/ 1, 2, 3  w/ 1, 6, 7  ($13.50)
Race 5: $0.20 Pick-5  1, 6, 7  w/ 3, 6  w/  2, 7 w/ 1, 2, 7 w/ 4, 5  ($36)
Race 8: $2 Double  1, 2, 7 w/ 1, 4, 5  ($18)
[su_heading size="21″ align="left"]Analysis[/su_heading]
Weather: Mostly Cloudy; highs in the upper-30s
Projected condition of main track: FAST
No turf racing until Spring 2017
Race 1
#6 – Convoyarie (7-2): Off slower than normal from the gate in latest then was 7-wide on the turn and could not close ground on what was a speed favoring surface last weekend vs. better
#2 – Sally Pollock High (6-1): Got roughed up leaving the starting gate and was visibly thrown off her game, trailing throughout as jock recognized her lack of interest and saved her for another day
#4 – I Just Wanna Win (8-5): Has been doing just that in 5 of her past 8 outings; she seems to do her best running on an off track (Lrl will be fast today); likes Lrl regardless (7:4-0-1)
Race 2
#2 – Cairenn (3-5): Tough to find one in here as talented; seems secret to unleashing that talent was adding blinkers  
#6 – Baltimore Street (8-1): Memories of Blaze Starr… this gal was fast for the first two furlongs then couldn't keep pace in debut for this same $40k MCL
#3 – My Chesa Charm (12-1): Away since Oct. 29 when she backed up in the stretch after showing some early speed; split times were quite impressive by her foes; this group is not nearly as talented     
Race 3
#7 – Sazerac Girl (3-1): Been facing better since trainer D. Capuano claimed this 5 y.o. mare 4 races back; has a nice closing kick to run down field loaded with speed but stretches out to 7 panels for first time in career
#6 – C J's Fire (6-5): This gal has the early speed based PPs and local work tab to put this field away early, but there are others capable of putting the pressure on; one concern is trainer C. Gonzalez is only 4% with new arrivals to his barn
#3 – My Adeline (4-1): Trainer M. Eppler gets 23% of her starters to Winners' Circle when "second race off the claim" as this one is today; ran big to be a clear runner-up first time versus winners and going one mile; cut back in distance should help             
Race 4
#3 – Buddy Anthony (3-1): In spite of trainer G. Contessa's poor record at Lrl (4:0-0-0) with shippers from NY, like the work pattern of this MD-bred FTS by Caleb's Posse who loved the middle distances
#1 – A True Gentleman (4-1): Will make his first start as a gelding and on dirt after 5 failed attempts to break maiden as a turf runner; guess being beaten Post Time favorite in most recent two starts is what cost him his manhood? Dirt works indicate he should do fine on main oval 
#2 – Crafty Sam (5-2): Drops in for tag after facing a who's who in first three outings… El Areeb who runs in G3 Withers @ Aqu, Irish War Cry who goes in the G2 Holy Bull @ GP, both today and Blackjack Buster another emerging star; second start w/ blinkers should help
Race 5
#1 – Squashville Road (8-1): $$$ LONGSHOT $$$ Has turned in two strong efforts since trainer J. Robb claimed him for $10k; jock made premature move IMHO two back which cost a victory; lesson learned and improving speed figures point the way to Winners' Circle
#6 – Segovia (4-1): Runner-up efforts in last two at this level but won't have T. McCarthy in irons today (he's @ Aqu riding El Areeb in G3 Withers); field has enough early speed to this Closer every opportunity to end his 0 for 11 streak @ Lrl 
#7 – Flight Crew (7-2): Has the natural speed to clear this field from outside going into first turn and dictate the pace; A. Citron may be able to put his rivals to sleep clocking slow fractions on what could be a speed favoring surface            
Race 6
#6 – Noble Kent (7-2): *** BEST BET *** Sneaking nice effort versus better in mud when 5th by 3¼ lengths in one turn mile as runner-up came back to win yesterday at that same level; getting back to two turn affair and drop gives this 8 y.o. gelding a chance to visit Winners' Circle for 10th time in career
#3 – North Ocean (2-1): Threat to go gate-to-wire but will need to put away only other speed in here (#4) to hold off the rest; trainer C. Hadry has done well (4:3-1-0) since claiming this old gelding; got beat by a Starter Allowance superstar (Double Whammy) in latest while well clear of Show runner
#7 – No Brakes (6-1): Got to admire this 12 y.o. still competing as he seeks 23rd career win in 110th start; might find this open claimer easier than the Starter Allowances he's been in over the past two years     
Race 7
#7 – Cause He's Western (7-2): Ran a monster race when equipped with blinkers in third race after layoff albeit on a muddy Lrl surface; track will be fast today but anything close to that effort still gets him to the wire first
#2 – Supah Czech (8-1): Prevailed in 3-horse photo versus similar in latest; third race after layoff may provide another step forward though A. Cintron jumps off to ride #7 in T. McCarthy's absence
#6 – To Dare (3-1): Takes big step (back) up in class after getting confidence rebuilder in past two starts for new barn (trainer M. Eppler); should enjoy traveling additional furlong   
Race 8
#2 – Furyofthenorsemen (9-2): Trainer S. Klesaris only uses gas money to ship in from NY when his runners are sitting on a top effort (4:2-1-1); this one should be no exception as he gave John Jones all he could handle 3 back at this level
#1 – Big Louie D (9-5): Drew a field which lacks his type of early speed; if he can shake off a slightest of challenges from #3 early; he could coast home coming off that 101 Brisnet#
#7 – Jrock (12-1): At first glance he looks like a turf runner but his dirt record isn't too shabby (11:3-2-2); returns from a 3-month vacation with a nice work pattern indicating he's ready
Race 9                                                                                                                                                                   
#4 – All This Jazz (6-1): Beaten Post Time favorite in latest when dropped to this level in 5th career start; switch to A. Cintron who gets 22% of trainer "Ham" Smith's runners to Winners' Circle might be the maiden breaking formula
#5 – Socialize (3-1): Huge disappointment for trainer G. Motion as this Broken Vow filly was up the track in last two as Post Time favorite; big drop and F. Lynch (43% w/ Motion) makes today a make or break effort
#1 – Momma Doolittle (8-1): Has been beaten by a number of rivals in here but the fact that L. Garcia is willing to stick around all day just to ride this filly after she gave him fits in the gate last time and was 5-wide sprinting might be the price play in the nightcap   
YESTERDAY'S NEWS  
On Friday February 3rd at Laurel had 7 winners from the 9 race card (3 Top Selections; payoff in BOLD) having $2 WIN pay-off of $4.80 (1st race), $7.80 (2nd), $4.00 (3rd), $7.60 (4th), $29.20 (5th), $19.40 (6th) and $13.00 (7th). Of the suggested multi-race plays hit the 50 cent R3-R5 PICK-3 for $72.15 (cost: $13.50). On Top Selections in 2017 are 32 for 127 (25.20%). In 2016, Top Selections were 304 for 1,213 (25.02%).
BEST BET of the Day (14: 6-4-1; in 2016 127: 31-29-19) Sweet Peaches (9th race: 5-2 M/L; 6-5 PT) rated behind the early leader, moved 3-wide on the turn and was within striking distance entering the stretch but hung in deep stretch to finish 4th.
LONGSHOT PLAY of the Day (13: 1-0-4; in 2016 124: 13-13-16) Private Irving A (5th race: 12-1 M/L; 4-1 PT) showed early speed between rivals down the backstretch, was put to task 2-wide at the quarter pole but did not respond and faded badly in the stretch to finish 8th.