The GQ Approach – Laurel February 3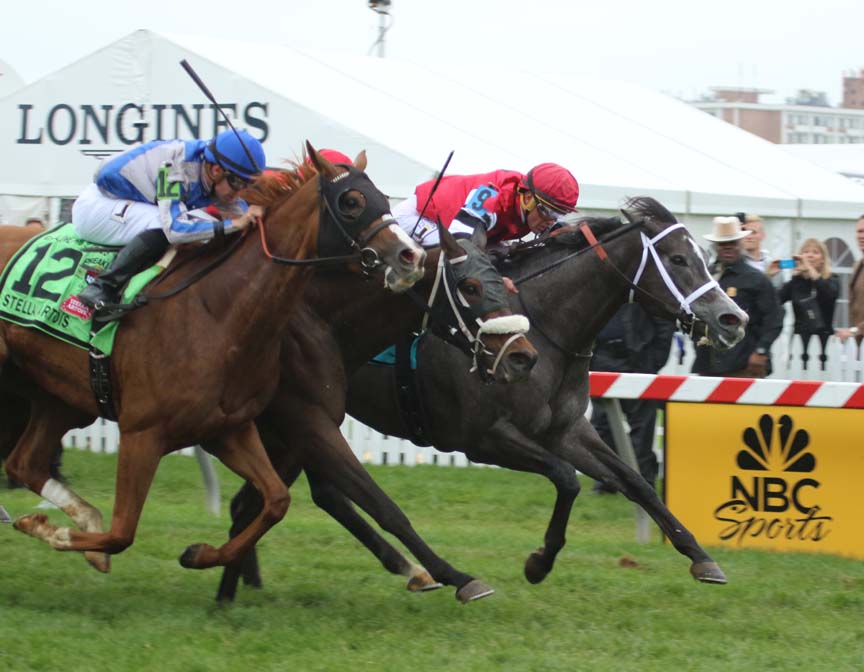 Mizz Money (#9) held off Vielsalm (in between) and Heath (#12) to win the Grade 3 Gallorette. Photo by Laurie Asseo.
The GQ Approach features full-card selections from Laurel Park (w/ live racing every Friday, Saturday and Sunday through May 7, 2017; Post Time 12:30pm EDT), including a daily Best Bet, Longshot Play, and multi-race wagers — including the 20 cent Rainbow Pick-6, 50 cent Jackpot Pick-5, as well as Pick-4s and rolling Doubles, Pick-3s and the Super High-5. 
CARRYOVERS
Rainbow Pick 6: no carryover
Super High 5: no carryover
Late Pick 5: no carryover
BEST BET OF THE DAY
Race 9 / #9 – Sweet Peaches (5-2)
LONGSHOT PLAY OF THE DAY
Race 5  / #6 – Private Irving A (10-1)
[su_heading size="21″ align="left"]Multi-race wagers[/su_heading]
Race 1: $2 Double  5, 6 w/ 4, 7  ($8)
Race 3: $0.50 Pick-3  2, 5, 6  w/ 3, 7, 8  w/ 4, 5, 6  ($13.50)
Race 5: $0.20 Pick-5  4, 5, 6  w/ 4, 6, 8  w/ 5, 6 w/ 4, 6, 8 w/ 9 ($27)
Race 8: $2 Double  4, 6, 8 w/ 9  ($6)
[su_heading size="21″ align="left"]Analysis[/su_heading]
Weather: Mostly Cloudy; highs in the upper-30s
Projected condition of main track: FAST
No turf racing until Spring 2017
Race 1
#6 – Strike the Table (9-5): Claimed out of last race by the now banished R. Preciado and now conditioned by P. Schoenthal; 3 works since that Nov. 26 claim when first Lasix in 9th start; jock J. Miller won on only previous mount for trainer
#5 – Horseshoe Harbour (2-1): Just 1 of 2 in here taking a class drop; fourth in last effort while showing early speed at this distance locally before tiring; might be able to discourage foes by getting early lead and wire'em
#3 – Ponti Premonition (3-1): Kind of disturbing to see the lack of effort in latest when sent off as 2-1 Post Time favorite; that was going 6f, stretches back out to distance where he was runner-up, his best career finish; gets Eclipse Award winning Apprentice (L. Ocasio) back in the irons replacing F. Lynch 
Race 2
#7 – Mr. Spaceman (4-1): Picked up Show purse v. same in mud last time w/ 10 lb. bug girl; trainer L. Gaudet gives journeyman (C. Quinones) the mount, his first with her runners
#4 – Dukin' With Dale (5-2): Just missed by a neck when PT favorite at this level @ Pen; has back class (runner-up here v. better on Oct. 30th) to suggest he's a threat today but 7 Place efforts v. just 3 wins is a concern putting him on top
#5 – Last Confession (3-1): Just missed by a length after matching strides with a big class dropper in latest effort at this level; cuts back to 5½ furlongs, as distance in which he's 2 for 2     
Race 3
#5 – Big Platinum (5-2): Tried to make every pole a winning one in latest but weakened to third as the #4 in here got by him by half-length at the wire; extra 1/16th will do him no favors here but maybe first time racing on a fast track and a potential speed favoring surface will
#6 – RoydBoy (10-1): Gelded after second career start (Jan. 2) when showing early speed for 4 furlongs then stopped on Prx mud v. $40kMCL; debut was educational v. MSW sprinting nudged along early then picked off rivals late when feeling the whip 3x; a threat based on steep drop alone in spite of trainer C. Corby's 0 for 16 sending runners long first time
#2 – Brother Slick Nick (9-5): Drops to lowest maiden claiming level in his 13th career start for trainer H. Wolfendale who is due (1 for 52) at this meet; ironically this will be first start over what the forecast predicts will be a fast track; vulnerable favorite                 
Race 4
#8 – Stylish Notion (5-2): Got body-checked by a foe exiting the starting gate in latest at this level, raced wide throughout yet was game to be best of the rest; a clean trip coming off a brief rest gets the job done
#7 – Dominic's Pride (8-1): Took action (6-1) in debut and showed early speed to race between rivals through the first quarter then dropped to a dead rail in the final furlong; should improve off that effort
#3 – Sweet Georgia N (5-1): Away 2 months to hone racing skills after making out much better on turf than she did in career debut on dirt in MSW; recent pair of works and drop in for tag could make for a winning return
Race 5
#6 – Private Irving A (10-1): $$$ LONGSHOT $$$ Rough local debut versus better for NY-bred invader from FL (i.e. Finger Lakes); hard-knocking 8 y.o. may still have will to win in hopes of giving trainer J. Acquilano (20%) first win at Lrl with 7th starter
#4 – Dr Bolt (10-1): Cuts back to 6 furlongs after experiment going one mile in second start after trainer M. Salazar claim; there's enough early speed types in here to help with the good doctor's late kick
#5 – Lunar Rock (7-2): Second best in last two over Lrl fast track at this same level; trainer J. Herbert seeks long awaited first win as a trainer (0 for 22)            
Race 6
#4 – Look Within (8-1): 4th in debut two back but wiped out a few foes to his inside at the start, yet no inquiry or objection; improved Brisnet# in second outing; drops a bit in third
#6 – Colonel Argo (6-1): KY-bred FTS by Colonel John has a nice, steady work pattern as do most conditioned by "Ham" Smith; may be ready to fire at first asking
#8 – Wolfinbarger (6-1): Normally don't care to pick either of a trainers uncoupled entry in a maiden race, but making exception here for trainer B. Houghton who also has ML favorite (#2); gut is telling me this MD-bred son of Redeeemed may bump up the win percentage of the "higher priced uncoupled entry" angle     
Race 7
#5 – Visual Effect (5-1): Responded well when equipped with blinkers, retaining focus with a late run to the wire; gets an additional furlong and catches a soft field in this $16kN2L; M. Eppler/A. Cintron have won at a 25% clip during the meet
#6 – Complacent (4-1): Nice effort (3rd; ¾ lengths behind winner) in first start in over a year while being backed (3-1); takes a step up as many in here do and retains Prx jock J. Bisono, his only mount on the card
#8 – Some Promises (12-1): This 5 y.o. gelding is 0 for 7 on a fast track but could take advantage of a quick early pace which sets up nicely for his late kick; if he runs back to his last fast track race (3 back on MD Million Day), he could score the upset   
Race 8
#8 – Saratoga Heater (3-1): Interesting how trainer D. Jacobson loses services of J. Toledo to #7 OR has the trainer seen enough and will now use A. Cintron locally for his NY shippers? Thinking the off track and less than ideal trips in last two as Post Time favorite compromised chances
#4 – Colonel Sharp (10-1): Seems like not long ago J. Rose was on top of the world riding Afleet Alex in all 3 Triple Crown races; he's yet to hit the board with 5 Lrl mounts this meet but is 20% w/ trainer T. Beattie over the past year; expect a better effort in second start after 5-month layoff
#6 – Henry the King (4-1): This lightly raced 4 y.o. has never been off-the-board (5:2-1-2) and has run against the best the Mid-Atlantic had to offer during his 2 and 3 y.o. campaigns; was a game runner-up in first start after 7-month layoff
Race 9
#9 – Sweet Peaches (5-2): *** BEST BET *** Reclaimed by trainer M. Trombetta for same owner who lost her 2 races back which is always a good sign; bullet work since last race indicates she's fit and ready to pay immediate dividends; likes Lrl dirt oval (4:1-2-1)
#5 – Better Way (7-2): Has back class but just 2 for 22 lifetime and neither of those came at this distance (8:0-3-0); guess there's a first time for everything? Did get the best of top pick in here 2 back; needs to press cheap speed (#8) early or that one could wire this field
#1 – Mader Bythe Minute (20-1): Her worst 2 races have come on an off track which occurred in her latest and 3 back; she recorded speed figures in previous tries at this level which makes her a threat at a price   
YESTERDAY'S NEWS  
On Sunday January 29th at Laurel had just 4 winners from the 9 race card (3 Top Selections; payoff in BOLD) having $2 WIN pay-off of $9.00 (1st race), $6.20 (5th), $15.20 (6th) and $5.40 (9th). On Top Selections in 2017 are 29 for 118 (24.58%). In 2016, Top Selections were 304 for 1,213 (25.02%).
BEST BET of the Day (13: 6-4-1; in 2016 127: 31-29-19) Cold Spice (9th race: 5-2 M/L; 8-5 PT) disputed the early pace outside of Just the Zip, opened up into the lane and was under urging in the stretch to win by 3¾ lengths to return $5.40 to WIN, $3.80 to PLACE and $2.40 to SHOW.
LONGSHOT PLAY of the Day (12: 1-0-4; in 2016 124: 13-13-16) It's the Journey (4th race: 12-1 M/L; 3-1 PT) eased back off the leader after a furlong, dropped to the rail around the far turn, gave chase into the lane, failed to kick on from there and gave way to finish 4th/last due to 3 early scratches.