The GQ Approach – Laurel January 29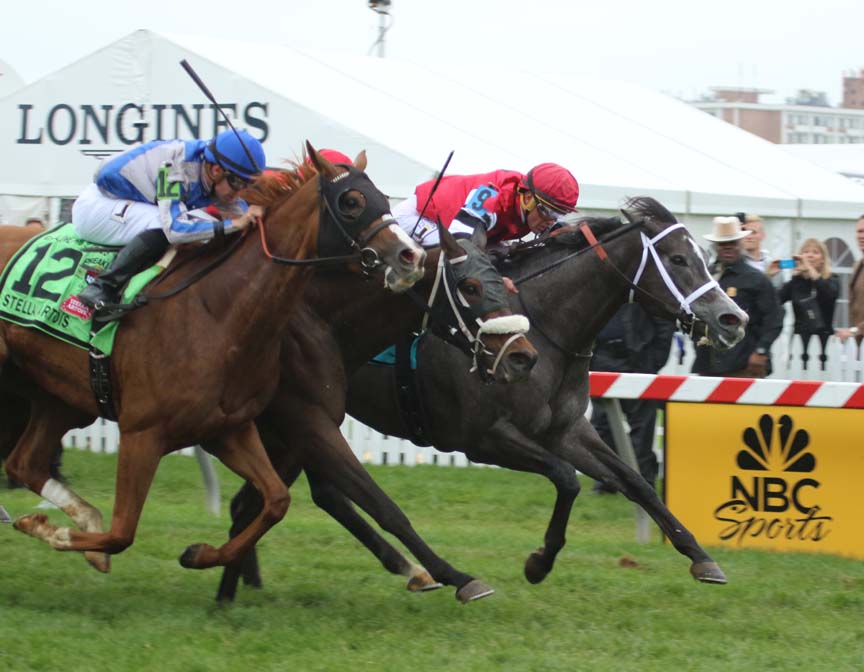 Mizz Money (#9) held off Vielsalm (in between) and Heath (#12) to win the Grade 3 Gallorette. Photo by Laurie Asseo.
The GQ Approach features full-card selections from Laurel Park (w/ live racing every Friday, Saturday and Sunday through May 7, 2017; Post Time 12:30pm EDT), including a daily Best Bet, Longshot Play, and multi-race wagers — including the 20 cent Rainbow Pick-6, 50 cent Jackpot Pick-5, as well as Pick-4s and rolling Doubles, Pick-3s and the Super High-5. 
CARRYOVERS
Rainbow Pick 6: $9,820
Super High 5: $2,114
Late Pick 5: no carryover
BEST BET OF THE DAY
Race 9 / #6 – Cold Spice (5-2)
LONGSHOT PLAY OF THE DAY
Race 4  / #3 – It's the Journey (12-1)
[su_heading size="21″ align="left"]Multi-race wagers[/su_heading]
Race 1: $2 Double  1, 5, 6  w/ 2, 6, 7  ($18)
Race 3: $0.50 Pick-3  3, 6, 7  w/ 1, 3, 6  w/ 1, 5, 7  ($13.50)
Race 5: $0.20 Pick-5  5, 7  w/ 5, 7  w/ 2, 3, 8  w/ 3, 4  w/ 3, 4, 6  ($36)
Race 8: $2 Double  3, 4  w/ 3, 4, 6  ($12)
[su_heading size="21″ align="left"]Analysis[/su_heading]
Weather: Mostly Cloudy; highs in the low-40s
Projected condition of main track: FAST
No turf racing until Spring 2017
Race 1
#5 – Lemon Lover (9-2): Made the best out of a bad situation in the mud when 3rd while still "in jail" after trainer W. Potts claim; has back class and tactic speed to sit off what should be a scramble early for the lead
#6 – Scoff (5-1): NY-based trainer M. Nevin only entry on the card took a $10kN4L field gate to wire at Prx last month; V. Carrasco was in the irons then and will be today
#1/1A – More Stormyweather/Almighty Storm (3-1): The #1A on multi-class drop carries ML favorite torch for this S. Lake duo as the #1 wheels back in just 7 days after claim for $10kN4L
Race 2
#7 – Apollo Landing (6-1): Home/KY-bred FTS by Malibu Moon ships in from Bel for part-owner/trainer M. Dilger who does well (4 for 12) sending firsters long; like the steady work pattern and final prep from the gate; this one is Triple Crown nominated which often doesn't matter but worth mentioning
#2 – Asset Allocation (5-2): Last weekend trainer L. Rice shipped in a FTS with similar so-so works who won convincingly ($10.20); this one didn't slip past Morning Line maker; bought for $87k at 2015 Kee Sept. sale
#6 – Sicilia Mike (2-1): Prx-based trainer G. Sacco brings in NY-bred whose been runner-up in 5 of r6 lifetime starts all against his fellow state breds; adds Blinkers and gets J. Toledo in irons who has guided 2 for 4 other Sacco trained runners to Winners' Circle over the past year     
Race 3
#3 – Real Amazing (4-1): Nicely bred 3 y.o. sprinted on turf here in Dec. (winner came back to repeat yesterday) was very tardy getting into gear but showed late interest; switch to dirt, going 7f on drop and getting T. McCarthy in irons are all pluses that could add up to a "W"
#6 – Story Spinner (5-1): Made a nice late run in debut @ Pen for $15kMCL; like the fact that jockey T. Conner comes in to retain mount; should enjoy added distance
#7 – Wilko's Last Dance (15-1): FTS by Wilko has twice been scratched from $25kMCL, once when stablemate when on to break maiden; trainer can win w/ runners who debut in MCL (17%)            
Race 4
#3 – It's the Journey (12-1): $$$ LONGSHOT $$$ Appears that two turns isn't for him as he showed early speed then faded in both coming off 9 month layoff; sheds blinkers as well returning to sprints where he looked like a promising 2 y.o. against the best of the locals
#1 – Nicaradalic Rocks (5-2): Disappointed backers as Post Time favorite in last two outings; win in '16 MD Million Sprint Hcp. seems so long ago; switch to J. Toledo may help right the ship        
#6 – Joy Drive (3-1): Third race after layoff has been game in previous two at Lrl in same condition; recent speed figure improvements indicate he may be sitting on a big effort
Race 5
#7 – Include Gold (4-1): Prudent $5k claim for K. Magee as this one came back 12 days later in this same condition to nab runner-up spot; has been part of Exacta in all 3 starts at Lrl but both wins have come on an off track              
#5 – Our Karin Louise (4-1): The Light Bulb theory was in full effect as she buried a $15kN2L at Pen right after breaking maiden; goes for natural Hat trick as does A. Rodriguez/B. Houghton duo    
#1 – Kitty Bank (7-2): Just out of jail for trainer K. Cox after romping by 6¼ lengths over $16kN2L for a 6% trainer; 6 of 8 ITM for career this 4 y.o. filly has upside; jockey M. Franklin has been sitting on win #999 foe quite a while            
Race 6
#5 – Ritzy Lass (9-2): Invader from Pen has been a "Win Machine" at this distance (3 for 4) and on natural dirt (5 of 10); C. Potts in from Pen just to ride this mare should be able to dictate slow early fractions as this gal is only runner interested in leading the way down the backstretch
#7 – Literata (7-5): Logical choice as this NY-bred stepped up into restricted stakes company after conquering N1X level 3 back in the Big Apple; makes Lrl debut for trainer R. Rodriguez      
#6 – Understanding (10-1): Might have trouble unleashing a strong rally from back of this pack since the pace will likely be soft but still a threat as she hasn't had the cleanest or most efficient of trips in last two     
Race 7
#8 – Parade of Nations (7-2): Should get a perfect stalking trip from the outside as jockey F. Lynch seems to be the anti-Calvin Borail; Pen-based trainer B. Houghton has been doing well shipping into Lrl (16: 5-2-2) but also has the #5 in Race 5 on today's card
#2 – Deal Driven (5-2): Been idle since breaking maiden in third career outing in $40kMCL at The Big A 2 months ago; has improved on speed figures in each race by leaps and bounds; need to respect NY shippers from the barn of L. Rice
#3 – Printer (6-1): Drops in for $25k tag after testing OC$50N1X three times at Prx under Eclipse Award Winning Apprentice Jockey L. Ocasio; had a rough trip in latest and may not want to get caught up in early speed duel   
Race 8
#3 – Patriotandproud (8-1): First start after J. Ness (31%) claimed this 8 y.o. gelding from M. Casse at WO; has made a living on turf and synthetic while being graded stakes placed; winless on natural dirt (6:0-2-1) but recorded best Brisnet# (100) on it; can win in gate-to-wire fashion as this field is filled with Closers
#4 – Scorch (4-1): Ran a game second in first start in 11 months to next out winner Afleet Willy while holding off the #8 in here who came back to win off of that effort; must respect the Mad Genius (aka trainer M. Dickinson)
#8 – Golden Glint (7-2): Has already won twice at this condition but continues to be eligible has he always gets entered for the tag; only issue is he has never won in back to back races… he won last outing 
Race 9
#6 – Cold Spice (5-2): *** BEST BET *** IMHO appears to be lone speed on the stretch back out from sprinting for L. Gaudet/K. Gomez duo whose 5 for 15 the past year; gets the nod on the class drop from $10kN2L
#3 – Drive at Nite (4-1): Has been one of those "Closing Sprinter" types who tease you like the hot chick in high school; that is shows interest but never seals the deal; first time stretching out to one mile may help get him to Winners' Circle or prove he's a follower
#4 – Mr Coupons (9-2): Rarely runs a bad race but lacks will to win (18: 1-5-2); switch to trainer A. Aguirre who convinced T. McCarthy to give him a shot may be the winning formula
YESTERDAY'S NEWS  
On Saturday January 28th at Laurel had 7 winners from the 10 race card (4 Top Selections; payoff in BOLD) having $2 WIN pay-off of $8.00 (1st race), $2.80 (2nd), $6.20 (3rd), $4.40 (6th), $7.60 (7th) $4.00 (8th) and $7.00 (10th). Of the suggested multi-race wagers hit the $2 DOUBLE in R1-R2 for $17.00 (cost: $4). On Top Selections in 2017 are 26 for 109. In 2016, Top Selections were 304 for 1,213 (25.02%).
BEST BET of the Day (12: 5-4-1; in 2016 127: 31-29-19) Faze the Nation (6th race: 3-1 M/L; 6-5 PT) stumbled at the break, regrouped and settled off the pace and well off the inside, tugged her way forward four wide into the far turn, bid in hand soon after, surged clear when let out leaving the three sixteenths ans widened under steady right handed encouragement to win going away by 4¼ lengths to return $4.40 to WIN, $2.80 to PLACE and $2.20 to SHOW.
LONGSHOT PLAY of the Day (11: 1-0-4; in 2016 124: 13-13-16) Magic Cookie (7th race: 12-1 M/L; 9-1 PT) steadied along the rail entering the turn was not a factor while showing some late interest for a minor share finishing 5th.