The GQ Approach – Laurel January 28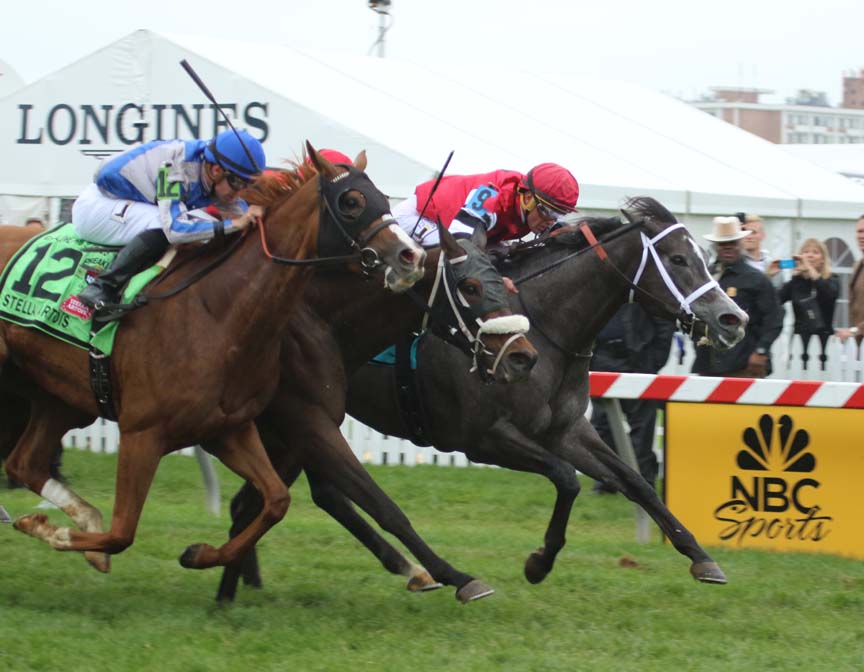 Mizz Money (#9) held off Vielsalm (in between) and Heath (#12) to win the Grade 3 Gallorette. Photo by Laurie Asseo.
The GQ Approach features full-card selections from Laurel Park (w/ live racing every Friday, Saturday and Sunday through May 7, 2017; Post Time 12:30pm EDT), including a daily Best Bet, Longshot Play, and multi-race wagers — including the 20 cent Rainbow Pick-6, 50 cent Jackpot Pick-5, as well as Pick-4s and rolling Doubles, Pick-3s and the Super High-5. 
CARRYOVERS
Rainbow Pick 6: $7,766.79
Super High 5: $1,358.43
Late Pick 5: $12,659.15
BEST BET OF THE DAY
Race 6 / #4 – Faze the Nation (3-1)
LONGSHOT PLAY OF THE DAY
Race 7  / #1 – Magic Cookie (12-1)
[su_heading size="21″ align="left"]Multi-race wagers[/su_heading]
Race 1: $2 Double  4, 5, 7 w/ 2, 4, 5  ($18)
Race 3: $0.50 Pick-3  2, 4, 5  w/ 1, 5, 8  w/ 4, 5, 6  ($13.50)
Race 5: $0.20 Pick-5  4, 6  w/ 4, 8, 11  w/  3, 9 w/ 1, 2 w/ 3, 6, 8  ($36)
Race 8: $2 Double  1, 2 w/ 3, 6, 8  ($12)
[su_heading size="21″ align="left"]Analysis[/su_heading]
Weather: Mostly Cloudy; highs in the low-40s
Projected condition of main track: FAST
No turf racing until Spring 2017
Race 1
#2 – Rumblin Kyle (7-2): Beaten favorite in latest who managed the Show purse but the runner-up came back to win yesterday in $10kN2L; two races back turned out to be a "key" race
#1 – Celtic Moon (3-1): Has taken a liking to the Lrl dirt oval (2:0-1-1) exhibiting a nice closing kick; trainer A. Simoff has a small stable but places runners to be successful (6:1-2-2 at meet)
#5 – Magic Harbor (8-5): Won in a gutty performance a notch below today's condition; has gotten to the Winners' Circle 3 of last 4 times in for a tag
Race 2
#4 – Sound the Horns (6-5): Racings equivalent to a Free Space for your horizontal wagers; had a rough trip in debut when sent off as the 3-2 favorite; will earn first win with similar effort today at less then even money
#7 – War At Sunrise (6-1): Finally came to life when cut back to sprinting in most recent two at Prx when a rank outsider at odds of 25-1 and 21-1, respectively 
#1 – Speightshill (3-1): Maiden could be poster horse for a Cash Cow (16:0-5-6) while off-the-board just once over the Lrl dirt course (7:0-2-4); maybe switch to J. Toledo will yield dividends     
Race 3
#6 – Greek God (6-1): Not much early speed signed up for this one mile event which plays into the hands, er uh, hooves of this 6 y.o. gelding; in spite of making his 43rd career start, he's just 0 for 4 on a fast dirt track; runner-up in latest came back to win on step up and Show runner is/was the #2 in Race 1 today    
#7 – Street Bullet (9-5): Has the look of a sinking ship due to the fact drops below claiming level which trainer K. Magee snatched him 3 races back; not comforting to see jockey F. Lynch decide to ride Magee's uncoupled entry #2 (Whiskey Sour; 10-1) but on paper is one to beat          
#5 – Turbin (5-1): Makes third start after layoff just missing in latest in gritty effort with 10lb. bug girl Jordan Erwin in the irons as she is back aboard today still seeking her first career riding victory       
Race 4
#2 – Church Monkey (5-1): Consider this one the speed of the speed; has had success at this level at Del prior to layoff; third race since coming off the bench should provide favorable results
#3 – Cooking Up a Storm (3-1): 7 y.o. with 50 starts under his belt has been knocking heads with Starter Allowance and N2X types; drops in for a nickel looking for some feed money
#4 – Bully Song (7-2): Disappointed backers in latest with a dreaded "even" comment in that outing against a bit better than this group; looking for some Magee magic
Race 5                                                                                               
#4 – Redeeming Love (5-1): Got an education in $40k MCL debut after slow start and steadied at the half pole, J. Toledo just wrapped her up for another day; trainer H. Wolfendale (1 for 51 at the meet) is overdue
#8 – Honey Bun (5-2): 3rd in debut, 5 ahead of top pick looks for a fast track to flash her early in hopes of a gate-to-wire maiden score
#5 – Important (2-1): Runner-up in first race after trainer M. Trombetta claimed from Sagamore Farm who wanted to make her a turf runner; nice pair of works since last start
Race 6
#4 – Faze the Nation (3-1): *** BEST BET *** Goes for the natural Hat Trick against a couple recent graduates and others who have struggled at this level; Brisnet speed figs have continued steady climb over the past four efforts; P. Schoenthal/S. Hamilton duo are 4 for 8 at current meet
#1 – Heaven's Door (9-2): Bridesmaid behind top pick in here when she couldn't carry her speed; all of a sudden the rail seems to be a hot post; looking for another solid effort
#3 – Holiday Magician (5-1): Got buried 3 starts back by "Faze" but change in tactics reversed fortunes; maiden breaking effort speed figs puts her in contention today     
Race 7
#1 – Magic Cookie (12-1): $$$ LONGSHOT $$$ Appears to be lone speed in this group of $10k MCL; need to look beyond fact that she has stopped on a dime in 2 of her 4 career starts when on the lead after 4 furlongs; taking a leap of faith that the "Cowboy" takes advantage of rail and can hold her together through soft fractions against this group of plodders
#7 – Crazy Bernice (7-2): Decent MSW efforts at CT and Del in first 3 career outings; needs to take a few steps forward to graduate here while getting a more experienced jock (H. Karamanos) in the irons
#6 – Annajax (12-1): This 5 y.o. mare made her career debut just 6 weeks ago yet this will be her fourth start; had no business being in against MSW in latest; might try to wire this group   
Race 8
#5 – Service for Ten (7-2): There's enough early speed in here to set it up for one of his classic late runs, unlike latest when he never got going; beat ML favorite (#7) back in July by 4 when today's jock (F. Lynch) was the pilot
#7 – Struth (2-1): Compromised at the start and 5-wide in latest doomed any chance for this guy who likes to be on or near the lead; part of Exacta in 6 of 8 efforts on fast track as the two OTB outings were versus much better
#1 – Jack's in the Deck (15-1): Been quite a while since this 8 y.o. has been in for a tag; been facing stakes level company the past two years so these foes should help break current streak of 8 races being OTB
Race 9
  #1 – I'm Mr. Blue (7-2): Winless streak has reached 12 but there's light at the end of the tunnel as first outing in 2017 and for new trainer D. Capuano resulted in a strong runner-up effort; jockey A. Cintron stays aboard while having to decide between 3 mounts
#10 – Jump Jive an Wail (10-1): Delivered victory as Post Time favorite over an off track here in latest effort; V. Carrasco takes over for T. McCarthy who has a few mounts on the Pegasus undercard at GP today
 #4 – It Behooves Me (6-1): Failed miserably as PT favorite but had an excuse or two; 0 for 3 going two turns but running style suggests he can prevail at this distance   
Race 10
#9 – Ponti Premonition (5-2): Bonus (10th) race on card features $10k MCL in which today may be the only trip to Winners' Circle for whoever wins it; hoping that F. Lynch can do what 9 other jocks couldn't… that is, get this one to the wire first; cut back in distance may be the key
#6 – Nicamore (3-1): Has improved speed figure-wise in each of his four lifetime starts; runner-up in last outing makes him logical choice of the bettors
#7 – Three Beans (8-1): Decent debut effort when 29-1; showed willingness to pass horse in the stretch; one would think any improvement off that effort makes him a threat to graduate here
YESTERDAY'S NEWS  
On Friday January 27th at Laurel had 5 winners from the 9 race card (x Top Selections; payoff in BOLD) having $2 WIN pay-off of $7.60 (1st race), $9.00 (3rd), $4.60 (4th), $7.80 (5th) and $5.20 (6th). Of the suggested multi-race wagers hit the 50 cent PICK-3 in R3-R5 for $35.00 (cost: $13.50). On Top Selections in 2017 are 22 for 99. In 2016, Top Selections were 304 for 1,213 (25.02%).
BEST BET of the Day (11:4-4-1; in 2016 127: 31-29-19) Cort'n Asong (5th race: 5-2 M/L; 8-5 PT) disputed the pace outside the winner around the turn, failed to keep pace in upper stretch, drifted in near the sixteenth pole and held the place spot to return $3.20 to PLACE and $2.60 to SHOW.
LONGSHOT PLAY of the Day (10:1-0-4; in 2016 124: 13-13-16) Determined Nation (1st race: 6-1 M/L; 5-2 PT) stalked the pace, advanced three deep turning for home, was put to the whip in upper stretch and drew off to win by 3 3/4 lengths to finish 3rd to return $7.60 to WIN, $5.00 to PLACE and $3.60 to SHOW.