The GQ Approach – Laurel January 27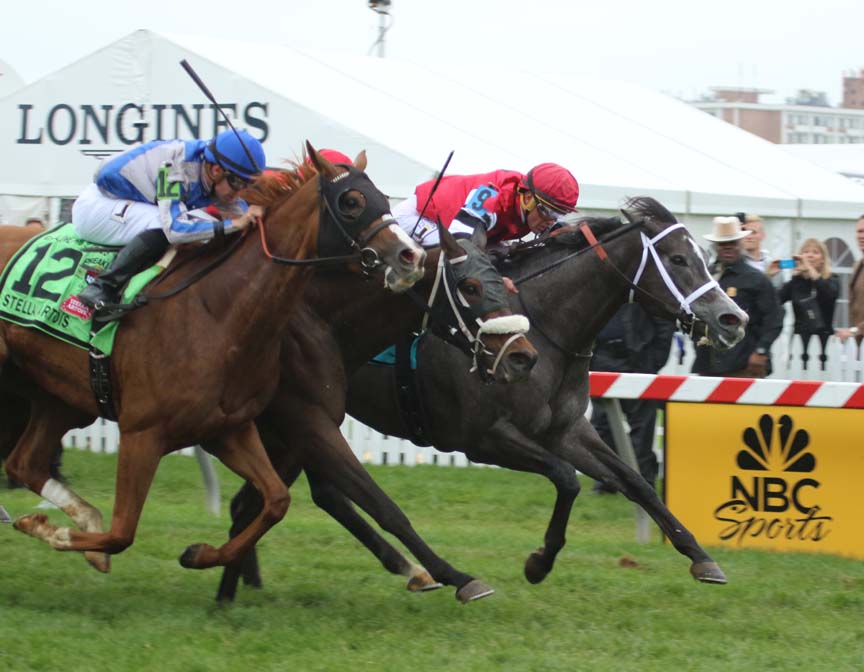 Mizz Money (#9) held off Vielsalm (in between) and Heath (#12) to win the Grade 3 Gallorette. Photo by Laurie Asseo.
The GQ Approach features full-card selections from Laurel Park (w/ live racing every Friday, Saturday and Sunday through May 7, 2017; Post Time 12:30pm EDT), including a daily Best Bet, Longshot Play, and multi-race wagers — including the 20 cent Rainbow Pick-6, 50 cent Jackpot Pick-5, as well as Pick-4s and rolling Doubles, Pick-3s and the Super High-5. 
CARRYOVERS
Rainbow Pick 6: $6,791.53
Super High 5: $4,206.44
Late Pick 5: $433.39
BEST BET OF THE DAY
Race 5 / #6 – Cort'n Asong (5-2)
LONGSHOT PLAY OF THE DAY
Race 1  / #4 – Determined Nation (6-1)
[su_heading size="21″ align="left"]Multi-race wagers[/su_heading]
Race 1: $2 Double  4, 5, 7 w/ 2, 4, 5  ($18)
Race 3: $0.50 Pick-3  2, 4, 5  w/ 1, 5, 8  w/ 4, 5, 6  ($13.50)
Race 5: $0.20 Pick-5  4, 6  w/ 4, 8, 11  w/  3, 9 w/ 1, 2 w/ 3, 6, 8  ($36)
Race 8: $2 Double  1, 2 w/ 3, 6, 8  ($12)
[su_heading size="21″ align="left"]Analysis[/su_heading]
Weather: Mostly Cloudy; highs in the low-40s
Projected condition of main track: FAST
No turf racing until Spring 2017
Race 1
#4 – Determined Nation (6-1): $$$ LONGSHOT $$$ The lesser of the uncoupled P. Schoenthal runners? Stablemate (#8) may be vulnerable while this one showed early speed going one mile for 6f before fading in return to dirt; previous fast track outings were sprints against a couple future stakes winners
#5 – Hosway (8-1): Quick from the gate but something went amiss when in over his head first time versus winners; took the past 3 months to refocus via solid work tab
#7 – Full Quest (2-1): Last two look ugly when in against open $25k claimers immediately after winning at that level raises the caution flag on multi-class drop
Race 2
#5 – Theyallcomehome (9-2): Has been up and down the class ladder like a yo-yo, comes down from OC$16k and should benefit from what should be a contentious pace; like that V. Carrasco reunites with this guy for trainer C. Gonzalez
#2 – Andy's Love (8-1): Third race after layoff, all at same condition; 4th in latest behind the #4 and #7 going 6f but was slow out of the gate and used most of his energy to get into contention shortly thereafter, leaving nothing in the tank for the stretch run
#4 – Ten Hut (9-5): A great $5k claim for owner/trainer G. Rosenthal 3 back who immediately stepped up to $10k and won v. N2L then was a clear runner-up at today's level; definitely one to beat but will try thinking maybe he's lost his edge     
Race 3
#5 – Wazzala (7-2): Bridesmaid in career debut at this level albeit 6+ behind winner but was 4+ clear of Show runner in slop; gets to go an additional 1½ furlongs today as 5f works indicate he should be able to handle it
#2 – Undaunted Spirit (9-2): Huge form reversal from 10th in debut in mud to runner-up on a fast track when dropped to this level and got Lasix; may earn her diploma if she runs back to that effort
#4 – Our First Candy (6-1): Been consistent as far as earning Brisnet speed figs in the 60s in all 6 starts which puts this filly in the mix to graduate; interesting that trainer J. Ness uses S. Gonzalez for just the second time ever… the first resulted in a win              
Race 4
#8 – Hickory Hill (7-2): A bit tardy from the gate in latest @ CT but made up ground late going 4½f; takes appropriate drop to lowest level of career in 15th start seeking second trip to Winners Circle; like that F. Lynch takes the mount
#1 – Slick William (2-1): Beaten favorite when off the bench on big drop to this $10kN2L condition; had lead in mid-stretch but weakened; cut back from 6f to 5½f might help get the job done
#5 – Accelerare (3-1): Don't be fooled into thinking T. McCarthy jumps off #1 to stay on this lightly raced 7 y.o. because he's "live"… it's because since the emergence of KY Derby contender El Areeb for trainer C. Lynch, T-Mac now rides all of this trainers runners
Race 5
#6 – Cort'n Asong (5-2): *** BEST BET *** Just 1 of 2 in this field of 9 dropping in class here; last two v. Alw$42N1X had some heavy hitters and got caught up in quick, early pace in latest; has run best v. OC$16k since arriving at R. Sillaman barn, so if he's "right" today, he should handle this group w/ H. Karamanos back in the irons  
#4 – Mongolian King (4-1): Runner-up in past 2 at lower level to same rival who isn't among this field; has back class to handle step up; loves Lrl dirt oval (5: 1-4-0)
#5 – Let's Be Frank (10-1): Not ready to cast this one aside after showing nothing as 3-2 Post Time favorite in last outing versus similar; interesting trainer switch to G. Capuano who retains T. McCarthy's services            
Race 6
#4 – Particpate (5-2): First start on main oval was in mud but tried going 7f after plenty of two turn starts on turf; faces a weaker group which lacks her type of early speed; a gate-to-wire maiden breaker is likely
#8 – Mazzy Star (8-1): Nearly pulled a huge upset when second at 44-1 in latest following race in which J. Toledo pulled her up shortly after the start; third race after layoff could be the charm
#11 – Stevie the Cat (7-2): 1 of 2 in here for trainer Lynn Ashby and gets jockey T. Wales who makes Lrl meet debut while clicking at 14% this past year w/ Ashby; NY-bred makes first start in 7 months but has a nice work tab     
Race 7
#3 – Heavenly Perfect (8-5): Hard to argument w/ ML-maker Keith Fuestle as this mare can boast top Brisnet Prime Power# and just dusted similar by 5½ lengths 3 weeks ago here
#9 – I O Ines (10-1): Interesting runner who does best work on an off track, unfortunately it will be fast today but jock switch may be able to breath some life into her in first start since Aug. '16
#4 – Charm City (6-1): has made a living racing on grass as she's never entered Winners' Circle after a dirt race (10:0-2-1), then again she's never faced such a weaker group; owner/trainer M. Eppler may be thinking if someone wants to claim this 7 y.o., so be it as it's another 2+ months until local turf races resume  
Race 8
#1 – Holiday Blues (3-1): Guess being the 3rd trainer of this Marathon Farms filly is the charm as R. Graham has gotten this 4 y.o. to the Winners' Circle twice in four starts under her conditioning while missing by a nose and a neck in the other two
#2 – Staff Sgt Reckless (5-2): Takes the step up into N1X allowance company as trainer H. McMahon has been pushing all the right buttons since claiming her for $16k at Sar; two wins and 3 runner-up finishes later finds herself the one to beat in this contest
#6 – Thissongisaboutyou (8-1): Off the board for just the second time on a fast track in latest (8:1-3-2) is reason for generous ML odds; F. Lynch staying aboard is positive sign and could try to take this field from gate-to-wire
Race 9
#6 – Weatherurnot (9-2): Tough race of N2L who lack the will to win but someone will today; this one seems to be in the best form right now so she gets the nod, especially if the track is favoring early speed
#3 – Street Miz (6-1): Disappointed yours truly in last outing as longshot pick… no excuse as she hung in deep stretch; that race may turn out to be a "key" one; jock switch may help
#8 – Mad Mango (7-2): Not a fan of Prx shippers but is dropping one level to lowest of career while being competitive against better; stretches out to one mile which might be a stretch as she was an Also-Ran in both 7f outings   
YESTERDAY'S NEWS  
On Sunday January 22nd at Laurel had just 4 winners from the 9 race card (1 Top Selections; payoff in BOLD) having $2 WIN pay-off of $14.40 (2nd race), $7.60 (6th), $4.20 (8th) and $11.20 (9th). Of the suggested multi-race wagers hit the $2 R8-R9 DOUBLE for $21.60 (cost: $12). On Top Selections in 2017 are 19 for 90. In 2016, Top Selections were 304 for 1,213 (25.02%).
BEST BET of the Day (10:4-3-1; in 2016 127: 31-29-19) Classic Wildcat (6th race: 5-2 M/L; 7-2 PT) settled off the early pace and removed from the inside, picked up the pace four wide leaving the three eighths, steadily progressed into the lane, ranged up to loom a danger in mid-stretch, flattened out but managed to save the place to return $3.40 to PLACE and $2.60 to SHOW.
LONGSHOT PLAY of the Day (9:0-0-4; in 2016 124: 13-13-16) Stone Crazy (7th race: 10-1 M/L; 8-1 PT) along the rail on the turn, eased out turning for home, swung to the far outside near the sixteenth pole and rallied to finish 3rd to return $5.40 to SHOW.