The GQ Approach – Laurel January 22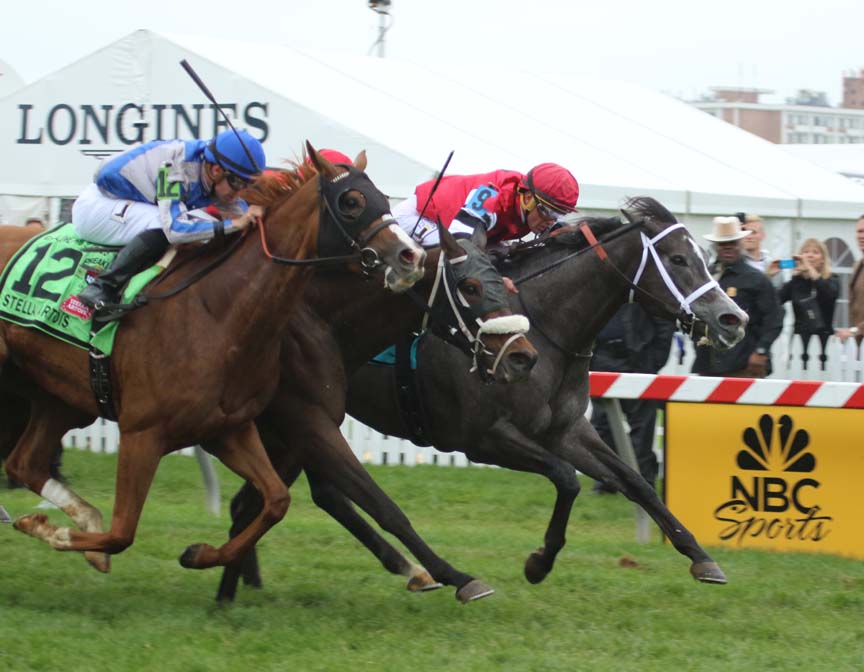 Mizz Money (#9) held off Vielsalm (in between) and Heath (#12) to win the Grade 3 Gallorette. Photo by Laurie Asseo.
The GQ Approach features full-card selections from Laurel Park (w/ live racing every Friday, Saturday and Sunday through May 7, 2017; Post Time 12:30pm EDT), including a daily Best Bet, Longshot Play, and multi-race wagers — including the 20 cent Rainbow Pick-6, 50 cent Jackpot Pick-5, as well as Pick-4s and rolling Doubles, Pick-3s and the Super High-5. 
CARRYOVERS
Rainbow Pick 6: $4,281.36
Super High 5: no carryover
Late Pick 5: no carryover
BEST BET OF THE DAY
Race 6 / #6 – Classic Wildcat (5-2)
LONGSHOT PLAY OF THE DAY
Race 7  / #2 – Stone Crazy (10-1)
[su_heading size="21″ align="left"]Multi-race wagers[/su_heading]
Race 1: $2 Double  1, 6, 7  w/ 7  ($6)
Race 3: $0.50 Pick-3  1, 2, 8  w/ 1, 3, 5  w/ 5, 7, 12  ($13.50)
Race 5: $0.20 Pick-5  5, 7, 9, 12  w/ 6  w/ 2, 6, 8  w/ 1, 7  w/ 1, 7  ($24)
Race 8: $2 Double  1, 5, 7 w/ 1, 7  ($12)
[su_heading size="21″ align="left"]Analysis[/su_heading]
Weather: Mostly Cloudy with periods of rain; highs in the low-50s
Projected condition of main track: FAST to GOOD
No turf racing until Spring 2017
Race 1
#7 – Chips Included (3-1): Graduated versus $16k MCL in latest start, the fifth of are career over a sloppy Lrl surface following successive class drops; previous 3 starts saw those winners come back to repeat
#1 – Michaels Butterfly (7-5): Won impressively in first race off K. Magee claim at this same level, so why not step her up to where she won prior to claim? If she's right, 7-5 would be a gift
#6 – Twist 'n Shout (5-2): NY shipper is one of two starters on the Lrl card (#4 in R2) for trainer G. Weaver… so which one is "live"… maybe both? Takes huge but appropriate class drop as she needed binoculars to see winner in each of her past 4 starts
Race 2
#7 – Sir Luca Richard (8-5): On paper it looks like a chalky K. Magee Double as this gal ran a winning race in latest for this same condition when half-length behind next out winner while nearly 10 clear of Show runner
#4 – Mid Ocean (9-5): Weaver's other NY shipper last caught a fast track 4 races back when well beaten PT favorite in AlwN1X at Pen; drops from $14kN3L at Aqu when 5th by 9 and chilly on the tote v. easily beating $16kN2L just 2 races prior as PT favorite
#2 – Run for Zach (5-1): Hard to imagine that both top two are vulnerable, opening door for a price; most likely would be this gelding who has improved on speed figs since graduating 4 back and adds blinkers today     
Race 3
#1 – Jaw Dropper (4-1): Appropriately named when former owner paid $550k for this Tapit colt less than 2½ years ago; formerly under the "care" of now banished trainer R. Preciado, makes second start for P. Schoenthal after failing as 8-5 fav., with an excuse on drop from MSW to $16k MCL; a clean start will result in gate-to-wire victory
#2 – Go Pita Go (7-5): Only entry on the Lrl card for trainer M. Nevin bringing in this NY-bred/shipper whose failed to hit the board in all 3 starts vs. NY-bred $25k MCL since claiming for $12,500 at GP; add blinkers
#8 – Triple Black Jack (3-1): Distance challenged gelding seems to be destined to make a living at CT going 4½ furlongs as first 8 career tries have seen him give up leads late at today's distance    
Race 4
#5 – Spring Ahead (5-1): Fresh off gate-to-wire maiden score for $10k sprinting, stretches out to one mile which will stamina but J. Batista should be able to dictate soft early fractions in hopes of having something left in the tank for stretch run
#3 – Resident Scholar (3-5): An admirable late run when 4th v. $25k Claimers in first off K. Magee $16k claim when facing winners for first time; a repeat performance gets him into Winners Circle
#1 – Bridge Builder (5-1): Actually beat #3 in maiden breaker 3 back but failed miserably in both outings against winners since, albeit at higher level; switch to T. McCarthy can only help chances
Race 5
 #5 – Bring Me Answers (4-1): Sagamore Farm home/MD-bred daughter of Mineshaft makes career debut in $10k MCL which indicates the brain-trust don't see her as stakes or high level allowance company caliber, so they're willing to cut bait ASAP; she might be good enough to handle these gals; final tune-up for debut was a bullet going 3 furlongs              
#12 – Hanalei Sunset (10-1): Very brief speed in debut a level higher, adds blinkers which were likely on in only work, a bullet, since race; encouraging that V. Carrasco returns to ride      
 #9 – Beatubyachubinose (12-1): Yet to hit the board in 6 starts for trainer S. McBride who went 1 for 38 in '16; steep drop back to a level this filly was nowhere late going two turns; sheds blinkers and jock switch to J.D. Acosta might help            
Race 6
#6 – Classic Wildcat (5-2): *** BEST BET *** This 11 y.o. gelding is like the Energizer Bunny, just keeps running; makes 82nd career start; got appropriate amount of rest since last start to be successful back at level in which he won twice prior to last start v. Alw5000s, twice getting the best of today's ML fav. (#2)
#2 – The Pulse (8-5): Only mount on Lrl card for G. Almodovar who has won on only two mounts he's had for trainer K. Magee at Lrl current meet; duo has won at 30% clip the past year; needs to be on or close to lead to win, which shouldn't be an issue with just one other early speed type in here
#5 – Cutty Shark (6-1): Exited a "Key" race 3 back but only managed runner-up effort in next outing while claimed by M. Eppler; awkward start in first off claim gives legit excuse and reason to believe he could prevail in here     
Race 7
#2 – Stone Crazy (10-1): $$$ LONGSHOT $$$ Connections should be doing a rain dance (off track record is 12:5-1-4); bad that regular/stable jock doesn't come in to ride but good that J. Pimentel (19% w/ trainer at meet) will get leg up for only mount of the day; there's plenty of early speed in here which this gelding needs to set up for his deep closing running style from another zip code at the head of the stretch
#8 – Monkey's Medal (7-2): Faced a very tough OC$32k/N2X last time out; returns to level where he won just two back, beating today's ML favorite #6
#6 – Connemara Coast (3-1): Runner-up in last two efforts at this same level; makes third start after a brief layoff; gotta wonder if this 8 y.o. has lost his competitive edge  
Race 8
#7 – Renaissance Rosie (9-5): Missed by a nose two back at this level when 2-1 second choice yet didn't get the support (5-1) when in v. OC$12500N1X at CT in latest and finished 6th just 1¾ behind winner; CT based trainer J. Runco looking to break 0 for 10 at current Lrl meet
#1 – Folly Fashion (8-1): Badly beaten when very wide as 3-2 favorite at Prx at same level as today; makes Lrl debut and gets J.D. Acosta in irons who gets his mounts to Winners Circle at a 35% clip for 26% trainer M. Vera
#5 – More Stormyweather (3-1): Makes third start after layoff following two third place finishes, the latest behind top pick in here; been a Cash Cow of late, being part of Trifecta in 9 of last 10 starts; retains services of H. Karamanos
Race 9
#1 – D N A Approved (3-1): Finds condition that fits him perfectly as last race won came exactly 6 months ago; having faith that issues at start and 6-wide run is reason for never being involved latest start; prior to that been facing open claimers; starter allowance and N1X types
#7 – Photogenic (7-2): Will need to go gate-to-wire to get just 5th victory in 58th career start; always seems to be in the mix but needs to find something extra to finish; maybe third time for V. Carrasco at the helm will be the charm; does boast top Brisnet Prime Power# of this group       
#9 – Drop to Pop (9-2): Blinkers off and drop from open claiming make this 7 y.o. gelding a player in here in spite of trainer E. Maher woeful 0 for 15 in '16; going with "Blind Squirrel" theory; showed early speed on sloppy Lrl oval in latest   
YESTERDAY'S NEWS  
On Saturday January 21st at Laurel had 6 winners from the 9 race card (3 Top Selections; payoff in BOLD) having $2 WIN pay-off of $8.20 (1st race), $10.20 (3rd), $12.20 (4th), $3.00 (5th), $4.80 (7th) and $13.40 (8th). Of the suggested multi-race wagers hit the 50 cent R3-R5 PICK-3 for $26.65 (cost: $13.50). On Top Selections in 2017 are 18 for 81. In 2016, Top Selections were 304 for 1,213 (25.02%).
BEST BET of the Day (9:4-2-1; in 2016 127: 31-29-19) High Roller (4th race: 7-2 M/L; 5-1 PT) advanced inside rivals leaving the chute and attended the pace, dueled with a trio of rivals to his outside around the turn, shook clear and was guided off the rail entering the lane, kept on under strong handling and was able to keep the 2-5 Post Time favorite (O Dionysus) at bay to win by a half-length to return $12.20 to WIN, $3.60 to PLACE and $2.20 to SHOW.
LONGSHOT PLAY of the Day (8:0-0-3; in 2016 124: 13-13-16) Outfielder (9th race: 6-1 M/L; 9-2 PT) raced in the two path on the turn, worked between horses in the stretch and passed tired ones to finish 4th.