The GQ Approach – Laurel January 21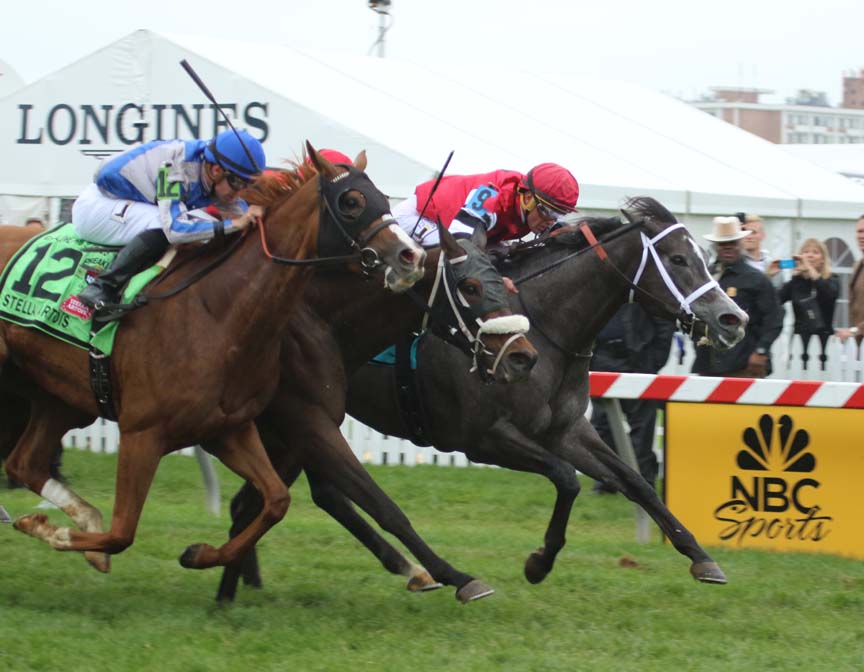 Mizz Money (#9) held off Vielsalm (in between) and Heath (#12) to win the Grade 3 Gallorette. Photo by Laurie Asseo.
The GQ Approach features full-card selections from Laurel Park (w/ live racing every Friday, Saturday and Sunday through May 7, 2017; Post Time 12:30pm EDT), including a daily Best Bet, Longshot Play, and multi-race wagers — including the 20 cent Rainbow Pick-6, 50 cent Jackpot Pick-5, as well as Pick-4s and rolling Doubles, Pick-3s and the Super High-5. 
CARRYOVERS
Rainbow Pick 6: $2,984.45
Super High 5: no carryover
Late Pick 5: no carryover
BEST BET OF THE DAY
Race 4 / #1 – High Roller (7-2)
LONGSHOT PLAY OF THE DAY
Race 9  / #2 – Outfielder (6-1)
[su_heading size="21″ align="left"]Multi-race wagers[/su_heading]
Race 1: $2 Double  5, 6, 7 w/ 2, 7  ($12)
Race 3: $0.50 Pick-3  1, 3, 4  w/ 1, 2, 4  w/ 3, 7, 8  ($13.50)
Race 5: $0.20 Pick-5  7, 8  w/ 1, 7, 9  w/  4, 7 w/ 3, 4, 7 w/ 2, 5  ($36)
Race 8: $2 Double  3, 4, 7 w/ 2, 5, 9 ($18)
[su_heading size="21″ align="left"]Analysis[/su_heading]
Weather: Mostly Cloudy with highs in the mid-50s
Projected condition of main track: FAST
No turf racing until Spring 2017
Race 1
#6 – Chief Tarhe (6-1): This field of $16k maiden claimers lack early speed except this class dropper from $25k level; tries stretching out to one mile which should be well within his ability based on bloodlines
#5 – Barin (3-5): Runner-up in latest at same level, a turf-to-dirt effort which earned him a 74 Brisnet#, over 10 points better than any other rival in here
#7 – Here Comes A.J. (10-1): Slight improvement over debut likely due to class drop; adds blinkers today and stretches out as he was bred not to sprint
Race 2
#7 – J R Jellybean (4-5): Prx invader for 22% trainer J. Guerrero is only class dropper of this $5kN2L event; third start after layoff and J. Vargas, Jr. (33% w/ Guerrero) returns to saddle
#2 – Inner Fire (4-1): Appears to be next best thing in here after having 5-wide trip at this level in most recent effort and just 1 of 2 whose lone win came at this distance; adds blinkers and will carry 14 lbs. less as trainer W. Potts will give bug girl J. Miller a leg up
#8 – Im King (10-1): Sent off over 130-1 in last two at this level yet is just 10-1 ML today? Just goes to show ya what a fourth place effort earns you when half of your rivals are 1 for 30-40 or more    
Race 3
 #3 – Dharmaster (9-2): Took a step forward from debut to second start, showing late kick in both going 6 furlongs, runner-up in latter where fifth place finisher came back to break maiden in next start outing; additional furlong today helps in what appears to be a tough MSW event
#1 – Clubman (5-1): Tough rail assignment for debut as MD-bred by Not For Love has been firing bullets in the A.M. via evenly spaced works for trainer J. Egan who seeks to break 0 for 10 MSW debut drought
#4 – Tiz He the One (4-1): KY-bred FTS by Tiz Wonderful cost $180k as 2 y.o. in training; must respect L. Rice (31% at meet) regardless of so-so works, none from the gate   
Race 4 is the $75,000 Frank Whiteley, Jr. Stakes
 #1 – High Roller (7-2): *** BEST BET *** Nothing wrong with this guy's ledger to date; debut winner ran third behind uber-talented El Areeb in the Lewis and fought on to the end – behind The Great Ronaldo – at too-short a distance (5½ f) as trainer C. Lynch has been wanting longer races for this FL-bred son of High Cotton
 #4 – Blackjack Buster (12-1): Archarcharch gelding got it done in his fourth career outing in the faster of two divisions; the bad news is none of the five to run back from that effort have won; previous to maiden score was distant runner-up to G3 Jerome winner El Areeb
#2 – O Dionysus (6-5): Earned a 100 Brisnet# in try last out in just-miss effort against undefeated Irish War Cry; that was his first try with blinkers which seemed to help this head case keep his eyes on the prize; fear he may bounce
Race 5 is the $75,000 Marshua Stakes
#7 – Star Super (1-1): Now placed in three stakes, two of them local, she was no match for Ms. Locust Point last out in the Gin Talking but was well clear of the rest, including two rivals in here (#3 & #8); will have a solid pace to run at while it's not clear the cutback in distance is a plus, all signs point to a good effort; hate to be a Chalk Eating Weasel, but you take what they give ya
 #8 – Lucky in Malibu (7-2): Awkward break didn't help her cause last out in the Gin Talking, but she ran on gamely for the Show spot; half-sibling to four horses that earned at least $140k; the cutback in distance is not ideal for one who is usually is a little slow getting into gear; like seeing Carrasco take the mount
#3 – Squan's Kingdom (5-1): Nothing wrong with this McBurney trainee's work to date and the fourth-place finish in the Smart Halo was solid; wouldn't be surprised if she appreciates the getting back to 6 panels but she's finished behind the favorite (#7) three times already          
Race 6 is the $75,000 Nellie Morse Stakes
#7 – Bawlmer Hon (5-1): The outer post is sub-optimal, but this one has the speed to clear, save ground and could enjoy the same sort of pace-controlling trip here she benefited from last out as only threat to her early is #2; spotless ledger at the trip (3 for 3) and F. Lynch remains aboard
#1 – Addibel Lightning (5-1): Improving sort's been away since early December; will need to take a step forward as she's still eligible for second allowance, but does like to win (5 of 11); trainer/jock duo of the Prx shipper have won at 34% clip the past year
#9 – Marabea (9-2): Arrives fresh off a win in the Claiming Crown at GP but that, like all 12 of this gals starts have been on the lawn, for which she's bred; trainer L. Gaudet has a 4-for-39 record going turf to dirt as A.M. works over Lrl dirt look fine; been closing into a pace, which she may not get in a wide open group; Morning Line seems a bit short based for first time on dirt
Race 7 is the $75,000 Native Dancer Stakes
#7 – Kid Cruz (2-1): 2014 Preakness runner has been off since August (trainer L. Rice 18% off similar breaks; has run well at the distance (8:3-2-1) but excels going further, like 9 furlongs in winning both starts at Lrl; T. McCarthy takes the reins and should get a hot early pace to take aim at entering the stretch; the love 6 furlong work as final tune-up for this event
#4 – Page McKenney (8-5): He's been a warhorse since coming to the Eppler barn via the Claim Box in '13, logging over $1 million in earnings since, plus a graded win; never worse than second in nine tries at the trip; has the class to defend title, but he's been away nine months – and Eppler is 0-for-8, with a single third place finish, bringing horses back on 230-plus day layoffs means this one is a vulnerable favorite
#1 – Red Dragon Tattoo (9-2): Speedster owns a spotless ledger (3-for-3) and did it easily last out in his first two-turn try; late-running runner-up that day scored in next outing; late arrival to track, two-month gap between races here is of no concern as trainer J. Guerrero gets 34% to Winners' Circle with similar layoff; has worked forwardly for this and has major talent
Race 8
#3 – Claire's Dowery (6-1): Beaten favorite when taking a wide trip in latest at this N1X level; field lacks a "need the lead' type so exiting two sprints having quick 4 furlong times might have her on the early lead and making every pole a winning one
#7 – Karaoke Queen (5-1): On the bench since last May after second career start debacle; resumed training 3 months ago in hopes of being an upper echelon runner connections believed she'd be when they shelled out $400k at auction a year and a half ago 
#4 – Dance N Denae (10-1): A perfect 2-for-2 over Lrl dirt oval and part of Exacta (5:3-2-0) at today's distance but to takes quite the leap forward; V. Carrasco may try to get early lead

Race 9
#2 – Outfielder (6-1): $$$ LONGSHOT $$$ Game 5 y.o. gelding has picked up minor shares when on dirt when in for a tag; distant fourth beyond winner who duplicated win against N4L in next outing; ITM 6 of 7 starts going today's distance; encouraging that F. Lynch stays aboard with a legit chance as long as there's no speed bias  
#5 – Zipping By (8-1): Has earned a living thus far on turf as 3 dirt races resulted in OTB finishes but was fourth versus much better at Tim Labor Day weekend; Boyce/Barr duo 3 for 12 at meet
#9 – Benny and Alex (6-5): Very suspicious class drop for NY-bred shipper changing barns; 32-1 in latest seemed awfully generous based on PPs, but ran to those odds; will have plenty of company vying for early which will likely cook him but using just in case 
YESTERDAY'S NEWS  
On Monday January 16th at Laurel had just 4 winners from the 9 race card (2 Top Selections; payoff in BOLD) having $2 WIN pay-off of $12.20 (3rd race), $6.80 (5th), $6.40 (8th) and $3.60 (9th). Of the suggested multi-race wagers hit the $2 R8-R9 DOUBLE for $16.20 (co0st: $12). On Top Selections in 2017 are 15 for 72. In 2016, Top Selections were 304 for 1,213 (25.02%).
BEST BET of the Day (8:3-2-1; in 2016 127: 31-29-19) Bully Song (2nd race: 9-2 M/L; 5-2 PT) prompted pace while saving ground, was under a ride near the quarter pole and came up empty to finish 4th.
LONGSHOT PLAY of the Day (7:0-0-3; in 2016 124: 13-13-16) Street Miz (4th race: 8-1 M/L; 6-1 PT) raced in mid-pack between rivals near the half, crept closer three wide nearing the quarter pole, swung outside the winner turning for home, closed on her left lead but was out finished while placing 4th.