The GQ Approach – Laurel January 16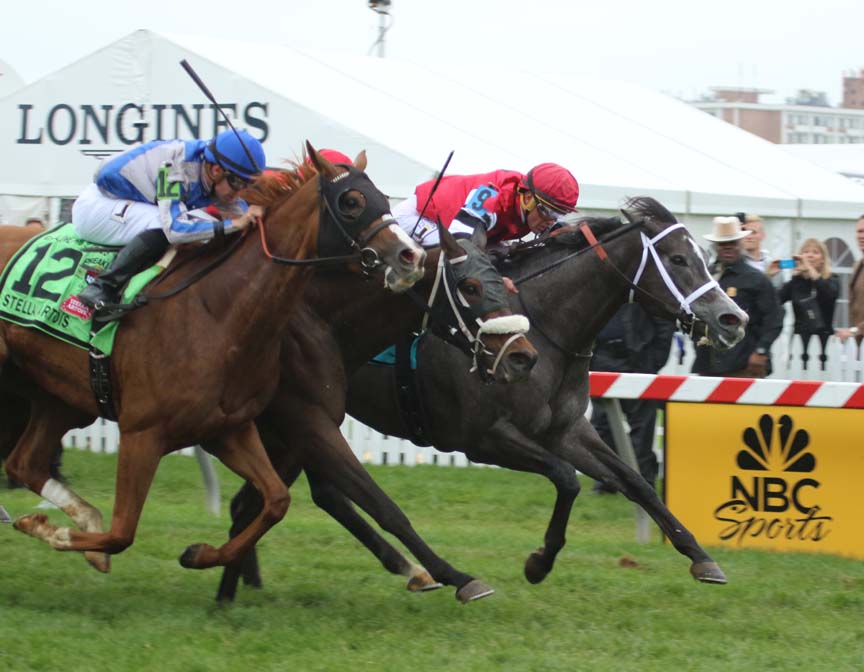 Mizz Money (#9) held off Vielsalm (in between) and Heath (#12) to win the Grade 3 Gallorette. Photo by Laurie Asseo.
The GQ Approach features full-card selections from Laurel Park (w/ live racing every Friday, Saturday and Sunday through May 7, 2017; Post Time 12:30pm EDT), including a daily Best Bet, Longshot Play, and multi-race wagers — including the 20 cent Rainbow Pick-6, 50 cent Jackpot Pick-5, as well as Pick-4s and rolling Doubles, Pick-3s and the Super High-5. 
CARRYOVERS
Rainbow Pick 6: $2,192.83
Super High 5: $6,398.13
Late Pick 5: $985.69
BEST BET OF THE DAY
Race 2 / #4 – Bully Song (3-1)
LONGSHOT PLAY OF THE DAY
Race 4  / #7 – Street Miz (8-1)
[su_heading size="21″ align="left"]Multi-race wagers[/su_heading]
Race 1: $2 Double  1, 6, 7  w/ 1, 3,  4  ($18)
Race 3: $0.50 Pick-3  1, 3, 7  w/ 3, 5, 7  w/ 1, 5, 6  ($13.50)
Race 5: $0.20 Pick-5  1, 6  w/ 1, 4, 6  w/ 5, 6, 8  w/ 1, 3  w/ 6, 7  ($36)
Race 8: $2 Double  1, 3, 8  w/ 6, 7 ($12)
[su_heading size="21″ align="left"]Analysis[/su_heading]
Weather: Mostly Cloudy with highs in the low-40s
Projected condition of main track: FAST
No turf racing until Spring 2017
Race 1
#6 – Miss Glengar (5-1): Came alive in third race after layoff posting a runner-up finish as the first two saw her finishing nearly 40 lengths behind the winner; F. Lynch will be back in the irons
#7 – Scindia (5-1): First start after C. Robinson claim didn't come for 5 months and dropped from open $8k to $5kN1Y; gets the win if she returns to FE dirt form
#1 – Gethot Stayhot (5-2): Trainer P. Schoenthal was the recipient of all Barbara Hopkins owned horses previously trained by Ramon Preciado; so far majority have been entered on a 1-2 class level drop, as this one is, and have run as if they are suffering from withdrawal; Just sayin'
Race 2
#4 – Bully Song (3-1): *** BEST BET *** Four of the seven in here are the "need the lead" type which should bode well for this Closer who can repeat on step up from $5kN1Y winning easily in spite of racing 5-wide on turn
#1 – Cooking Up a Storm (4-1): Biggest threat to top pick as he's been facing Starter Allowance and high level Optional Claimers for the past year; part of Exacta in 9 of 12 Lrl starts
#3 – San Cristo (8-1): Brisnet speed figures have been on a steady rise since being claimed by M. Gorham six races back; A. Serpa was at the helm in the best two of those six     
Race 3
#3 – Holiday Mousse (6-1): After two straight wins, was put in over his head and ran like it (9th by 17 lengths); returns to $10k "non-winners of" level which earned those trips to Winners' Circle
#1 – Candy Stalker (3-1): Didn't run a lick after being taken up early when sent off 2-1 second choice in $10k open claimer; has a pair of runner-up efforts back when A. Velazquez had him, lost via claim then reclaimed two starts later
#7 – Let's Be Frank (7-2): Ok let's… won only start going one mile; gets a jock upgrade but has been on the shelf for nearly 2 months and trainer is just 1 for 50 with runners "first start after 46-90 days"; T. McCarthy gets the call             
Race 4
#7 – Street Miz (8-1): $$$ LONGSHOT $$$ Taking a leap of faith with return to the dirt which was the last time she wore blinkers; faced better back then and could be ignored at the windows
#3 – Dewdrop's Heart (8-1): Connections take advantage of Waiver Claiming Rule which is always a good sign; last start was nearly 7 months        
#5 – Smart Alex (3-1): Maybe third time will be the charm as this 5 y.o. mare has been twice scratched (Vet and Stewards) since breaking maiden @ Aqu for $20k MCL in mid-November; became a better runner w/ addition of blinkers
Race 5
#1 – Leapt (4-1): Gets protected today after a game third place effort when in for same condition last outing; hasn't had to break from rail in quite some time; boasts top Brisnet Prime Power#
#6 – Gloria Patri (2-1): Appreciated the drop from MSW to $25k MCL in a big way as she romped home to earn diploma by 5 lengths; Lightbulb theory or did she beat a weak field?      
#5 – Jazzedjewel (10-1): Debut was awesome earning a strong Brisnet# (81) but was thrown to the wolves against a very nice group of more experienced 3 y.o. fillies, finished last            
Race 6
#4 – I Am Superior Too (7-2): Has best last race speed figure in this bunch and has improved with each start since trainer M. Gorham claimed her four races back
#6 – Sally Pollock High (6-1): Seems to be getting better with age; loves what she is trained to do… run… fast; runner-up in latest while third place finisher won next outing      
#1/1A – Go Ro Ro Go/Honeymoon Spring (2-1): Trainer P. Schoenthal duo for Barbara Hopkins (see comment in Race 1 on #1); these 2 runners do have the top 2 Brisnet Prime Power#s     
Race 7
#6 – Oh What a Delite (6-1): Gets the nod solely due to taking multi-class level drop and won her only start at this one mile distance    
#5 – Neeves (12-1): Transplanted from WO turf and synthetic to run on Lrl dirt, but caught a muddy track and had an adventurous trip while still showing late interest sprinting          
#8 – Tracy Island (12-1): Willing to forgive her initial main track sprinting over a sloppy track as A.M. works on fast track look fine; should give a better account of herself sretching back out  
Race 8
#1 – Afleet Willy (3-1): Goes for natural Hat Trick and loves Lrl dirt oval (8:4-3-1) but the question remains, how will he react to racing 7 furlongs for the first time? Plus, he'll have company on the front end early
#3 – Cocked and Loaded (5-2): Trainer M. Pino has been trying to find this ones back class since claiming him for $40k 5 races back; been runner-up past 3 outings, all at this same level but going a 1/16 to a furlong shorter; can he carry his speed further?
#8 – My Enigma (12-1): Seems to be a notch below his rivals let alone a turf specialist but in his only two dirt tries, a while back, he won and placed and third; could be a sleeper at a price
Race 9
#7 – Silver Starship (8-5): Appears to be a 3 horse race (w/ #3 and #6) as they finished within a length of one another in their latest; giving "Starship" the nod as he was game in losing in a headbob as Post Time favorite; speed figures have been climbing
#6 – Rock Harbor (5-2): An 0 for 14 maiden whose best finish has been third… 5 times! Claimed out of latest by P. Schoenthal means maybe change of scenery helps get diploma
#9 – Big Platinum (15-1): Makes 11th career start first on a fast track (8 on turf and 2 on slop); list of A.M. works show this ridgling handles the dirt just fine
YESTERDAY'S NEWS  
On Sunday January 15th at Laurel had 5 winners from the 9 race card (2 Top Selections; payoff in BOLD) having $2 WIN pay-off of $3.60 (1st race), $5.00 (2nd), $7.00 (4th), $3.60 (6th) and $6.20 (7th).
BEST BET of the Day (7:3-2-1; in 2016 127: 31-29-19) Barbie's Stones (4th race: 9-2 M/L; 5-2 PT) taken to rate early while removed from the inside, came under pressure past the three eighths, angled five wide gathering momentum into the lane, straightened away soon after, made a grinding run under repeated right handed rousing and just got up to return $7.00 to WIN, $3.40 to PLACE and $2.60 to SHOW.
LONGSHOT PLAY of the Day (6:0-0-3; in 2016 124: 13-13-16) Bubbly (5th race: 10-1 M/L; 7-1 PT) three wide on the turn, swung to the six path in mid-stretch and gave way finishing 7th.
On Saturday January 14th at Laurel had just 4 winners from the 9 race card (1 Top Selections; payoff in BOLD) having $2 WIN pay-off of $2.80 (1st race), $19.20 (5th), $5.20 (8th) and $4.00 (9th).
BEST BET of the Day (6:2-2-1; in 2016 127: 31-29-19) Disco Chick (6th race: 5-2 M/L; 8-5 PT) was nudged clear soon after the break, set the pace off the rail and under some coaxing, remained clear under a drive near mid-stretch, dug in when hooked by the winner, kept on gamely but just wasn't quite good enough to return $2.80 to PLACE and $2.10 to SHOW.
LONGSHOT PLAY of the Day (5:0-0-3; in 2016 124: 13-13-16) Z Supreme (4th race: 12-1 M/L; 9-1 PT) raced with the early pace, gave chase around the turn, shifted in nearing the eighth pole and got by a tired rival salvaging third to return $3.80 to SHOW.
Top Selections in 2017 are 13 for 63. In 2016, Top Selections were 304 for 1,213 (25.02%).