The GQ Approach – Laurel January 15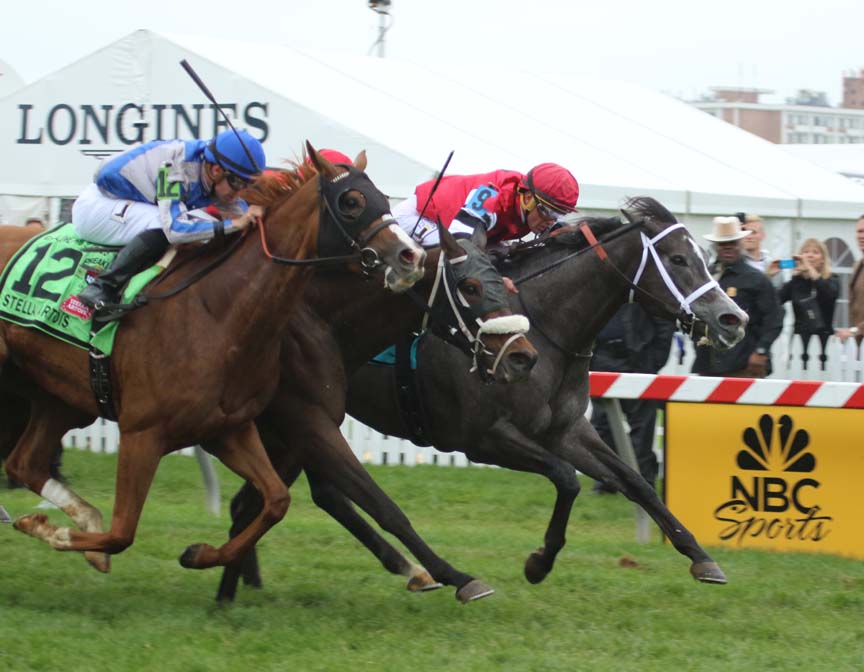 Mizz Money (#9) held off Vielsalm (in between) and Heath (#12) to win the Grade 3 Gallorette. Photo by Laurie Asseo.
The GQ Approach features full-card selections from Laurel Park (w/ live racing every Friday, Saturday and Sunday through May 7, 2017; Post Time 12:30pm EDT), including a daily Best Bet, Longshot Play, and multi-race wagers — including the 20 cent Rainbow Pick-6, 50 cent Jackpot Pick-5, as well as Pick-4s and rolling Doubles, Pick-3s and the Super High-5. 
CARRYOVERS
Rainbow Pick 6: $689
Super High 5: no carryover
Late Pick 5: no carryover
BEST BET OF THE DAY
Race 4 / #7 – Barbie Stones (9-2)
LONGSHOT PLAY OF THE DAY
Race 5  / #4 – Bubbly (10-1)
[su_heading size="21″ align="left"]Multi-race wagers[/su_heading]
Race 3: $0.50 Pick-3  2, 4, 5  w/ 2, 7  w/ 2, 4, 8  ($9.00)
Race 4: $0.50 Pick-4  2, 7  w/ 2, 4, 8  w/ 3, 6, 7 w/ 3, 6, 9   ($27)
Race 8: $2 Double  2, 6, 8 w/ 1, 2, 4  ($18)
[su_heading size="21″ align="left"]Analysis[/su_heading]
Weather: Mid-40s, partly sunny
Projected condition of main track: FAST
No turf racing until Spring 2017
Race 1
  #7 — Howyaformoney (8-1) — In the land of the blind, the one-eyed man is king; in the land of slow maidens, the one with very few starts (one of which was credible) gets the nod. Look for a mid-pack type of trip here.
#3 — Nick Can Fix (8-5) — There are few things your friendly 'capper hates more than maidens rising in class off a defeat, but… earlier thirds against straight maidens at SAR and BEL say he fits here.
#6 — Speightshil (2-1) — One-time pricey yearling ($440k) now just a 6yo maiden; 15 prior failures make him unusable on top, but 10 ITM finishes say use him underneath
Race 2
 #6 Northern Justice (7-2) — Lightbulb on? 5yo broke his maiden easily last out at rock-bottom level in 13th try, fits against sluggish group of lifetime claimers
#5 Mr Coupons (9-5) — Back-to-back runner-up efforts against similar, and only career win came at this two-turn trip
#1 Colmont Fire (2-1) — Winless in 10 tries on the main track and defeated by #5 here in last after premature move to the front
Race 3
#4 – Participate (3-1): Turf experiment looks to have been a failure for Include filly; Egan trainee is half to hard-hitting dirt sprinter Any Court Ina Storm

#2 – Sarah's Treasure (2-1): Has a couple decent tries versus better; first time for a tag (though trainer Graham just 1-for-16 with this move)

#5 – Photo Gallery (10-1): Another ditching the green stuff for the main track, Corinthian mare is a half to a 13-time winner on the dirt; enters off two-plus month layoff

Race 4
#7 – Barbie Stones (9-2): ***BEST BET*** Formful filly two-for-two at the trip, and two-back third better than it looks, as winner outstripped the condition; note Figgins-Montano strike at 33 percent rate

#2 – Northern Prancer (5-1): Modest two-race win streak snapped last out, but she closed nicely while on wrong lead for the show spot, just a half-length from the big prize

#8 – Cinco Zippy (5-1): Seemingly dead mid-turn, City Zip filly showed heart in rallying to lose by just a length; McCarthy hops aboard

Race 5
#4 – Bubbly (10-1): ***LONGSHOT PLAY*** Nothing wrong with debut second behind three-for-three Crabcakes; let's toss Gin Talking disaster; note first Lasix

#8 – Oh My (3-1): Medaglia d'Oro filly bred to be any kind; half to recent LRL maiden special winner Diamond Ring and five $100k earners, including $400k Inspired; keep an eyeball on tote action

#2 – Cairenn (7-2): First Dude filly showing improvement, fought on gamely last out; winner of her debut repeated against stakes rivals in next

Race 6
#7 – Stonescape (5-2): Fire sale in progress; trainer Jacobson 7-for-22 locally on 50 percent drops

#6 – Mr. Spaceman (4-1): Takes appropriate drop after $10k rivals proved too salty; cruised in last try vs. $5k horses; bug girl Erwin looks for first photo

#3 – Resurgence (8-5): Clearly best here on recent form — but connections can't seem to devalue this 7yo fast enough, raising the red flag on a horse likely to be pounded at the windows
Race 7
#9 – Pleiadian (3-1): Has won last two versus similar, run credibly vs. better

#6 – Cold Facts (10-1): Interesting to see Ness move this one up off claim despite poor effort last; return to summer form puts him right there

#3 – Street Bullet (5-2): Crushed similar going two turns last out; jockey Lynch chooses this one over #2, both for trainer Magee  
Race 8
 #2 – Squashville Road (6-1): Big effort last out in first off the claim for trainer Robb; owns two wins at the trip

#8 – Yo Soy El Lobo (7-2): Morning line fave scratched out of Saturday race for this spot; might be loose on the lead on stretch-out to one-turn mile

#6 – Quality Interest (4-1): Interesting comment lines in last two tries; winner of last ran second in follow-up; like to see Carrasco remain aboard, and breeding says stretch-out not an issue

Race 9
#4 – Don't Be Scared (6-1): In this tricky maiden claimer to close the card, suspect Magee trainee will be ready to run; Lion Hearted colt is half to five winning sibs, including $196k winner

#2 – Punch Nephew (9-5): Decent debut effort, gets Carrasco up, and trainer G. Capuano excels with second-start maidens — but not too enthralled with step-up in class off defeat; note he was on the rail on bad-rail day in last

#1 – Wilko's Last Dance (10-1): Scratched out of scheduled 12/31 debut; solid interim work on 1/7; McCarthy-Corrales combo have done good work together