The GQ Approach – Laurel January 14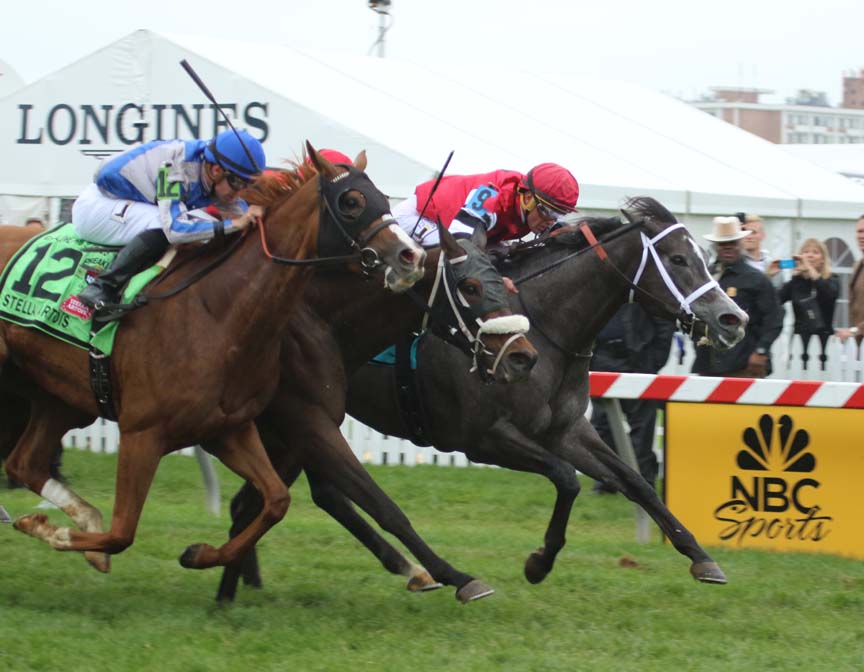 Mizz Money (#9) held off Vielsalm (in between) and Heath (#12) to win the Grade 3 Gallorette. Photo by Laurie Asseo.
The GQ Approach features full-card selections from Laurel Park (w/ live racing every Friday, Saturday and Sunday through May 7, 2017; Post Time 12:30pm EDT), including a daily Best Bet, Longshot Play, and multi-race wagers — including the 20 cent Rainbow Pick-6, 50 cent Jackpot Pick-5, as well as Pick-4s and rolling Doubles, Pick-3s and the Super High-5. 
CARRYOVERS
Rainbow Pick 6: $689
Super High 5: no carryover
Late Pick 5: no carryover
BEST BET OF THE DAY
Race 6 / #1 – Disco Chick (5-2)
LONGSHOT PLAY OF THE DAY
Race 4  / #6 – Z Supreme (12-1)
[su_heading size="21″ align="left"]Multi-race wagers[/su_heading]
Race 1: $2 Double  6 w/ 2, 4, 7  ($6)
Race 3: $0.50 Pick-3  4, 5, 6  w/ 4, 5, 6  w/ 1, 5, 7  ($13.50)
Race 5: $0.20 Pick-5  1, 5  w/ 1, 4  w/ 2, 12 w/ 7, 10, 11 w/ 5, 9  ($24)
Race 8: $2 Double  7, 10, 11  w/ 5, 8, 9  ($18)
[su_heading size="21″ align="left"]Analysis[/su_heading]
Weather: Cloudy with rain showers, highs in the low-30s
Projected condition of main track: SLOPPY
No turf racing until Spring 2017
Race 1
#6 – Royal Saint (2-5): Who claims a horse for $16k and 30 days later run it back for $5k? Answer: David Jacobson; Use or Toss at your own risk
#3 – Titotime (5-1): Still eligible for this N1Y condition after winning @ Pen on Jan. 4 due to it being for less than $5k ($4k); gate to wire threat
#7 – I'll Run the Show (10-1): Trainer S. Pradenas (0 for 16 at Lrl) gives 10 lb. bug girl J. Miller a shot to try to find back class on this one; cut back in distance helps too  
Race 2
#2 – Springtime Wind (3-1): Best effort came in most recent, a fast closing second after traffic in in spite of traffic in the stretch when sent off as 8-5 favorite
#4 – Jumpin' Nancy (6-1): Makes third career start and drops back in for $40k tag, same level she tried in game effort to be bridesmaid
#7 – Honey Bun (5-1): Caught a muddy track in her debut and appears will again today; thinking she got an education and can handle jump from $25k to $40k      
Race 3
#5 – Grecian Prince (9-2): Looks to duplicate latest as he took trip to Winners' Circle versus similar; interesting that T. McCarthy exits to ride #6 instead
#6 – Sir Orinoco (3-1): Lost all chance when broke awkwardly against better; returns to same level in which he prevailed by a head two back
#4 – Lanier (8-5): Third race after layoff; returns to same level where he scored coming off the bench albeit on turf; followed that up with gutsy runner-up try in slop when in against Alw42kN1X             
Race 4
#6 – Z Supreme (12-1): $$$ LONGSHOT $$$ The cut back to sprint from one mile in first race versus winners; showed early speed then gradually faded to fourth; runner-up that day came back to win
#5 – Spinelli (2-1): Logical bettors choice in here as he's been facing better in four race career; T. trainer C. Lynch lured his money rider (T. McCarthy) off the #8
#4 – Full Quest (5-1): Most experienced 3 y.o. of this bunch didn't care for the stretch in latest and is only one in here to have beaten winners
Race 5
#5 – Pistol Posse (5-2): Toledo/K. Magee duo have been meeting in Winners' Circle 20% over the past year; this one has become a more consistent runner w/ blinkers on at this level
#1/1A – Yo Soy El Lobo/Triple Net (3-1): Both have a shot in here but only one may run due to F. Lynch listed on both; #1 takes drop after poor effort over slop @ Prx; #1A makes first start off H. McMahon claim for $5k when runner-up on huge drop in from $35k level
#7 – Grand Notion (10-1): Makes third start for trainer C. Clagett after long layoff following claim; protected in this optional claiming event so look for a better effort today            
Race 6 is the $75,000 What A Summer Stakes
#1 – Disco Chick (5-2): *** BEST BET *** Tough assignment from the rail but this Prx shipper handles Lrl oval just fine (3:0-2-1) and will be doing a rain dance (4:2-1-1); trainer/jockey combo have gotten 37% of runners to Winners' Circle this past year; possible gate-to-wire score
#4 – Southern Girl (3-1): On the shelf since she was OTB in G2 event @ Kee in October; work tab is nothing less than brilliant; 3 for 3 at distance w/ one coming over Lrl dirt oval
#2 – Camille Claudel (15-1): Don't overlook this gal as she's been facing graded stakes though getting soundly beaten; if track comes up "off" she's a must use in exotics (2 for 2)     
Race 7
#12 – Saratoga Heater (5-1): Had a nightmare trip in latest when going for fourth consecutive victory; can start a new win streak here in third race after layoff
 #2 – Drama King (5-2): Makes Lrl debut in 24th career start as NY-bred has been making a living in restricted company in Empire state; last two over an "off" track were not that good
 #5 – Conquest See Ya (7-2): Interesting decision to make first career dirt start here when first six career outings have come at WO, Bel and Sar for previous trainer M. Casse; been handling Lrl dirt in the A.M.   
Race 8 is the $75,000 Fire Plug Stakes
 #7 – Measured (10-1): There's tons of early speed signed up for this stakes so this Closer could turn the tables on the potential Post Time fav. (#8) and catch the leg-weary rivals late
#10 – Chublicious (9-2): Been knocking on the knock getting just minor shares against similar; could put it all together today in third race after layoff
#11 – Imperial Hint (6-1): Buried a group of Prx OC$25kN2X in first start over an "off" track getting a huge Brisnet# (109); jockey J. Flores scheduled to come in and ride
Race 9
#5 – Gavin Streetsense (5-1): Light Bulb theory potential here as he earned diploma in last outing, his 11th after being right there in the half dozen that preceded it; has best Brisnet Prime Power#
#9 – Kohlhase (9-5): NY shipper seems to have gotten better in most recent two when blinkers where added; one of three starters on the card for trainer R. Rodriguez
#8 – Laki (3-1): Graduated in latest on a sloppy, sealed Lrl surface improving Brisnet# by 40 points; no reason to think he cannot duplicate that effort here   
YESTERDAY'S NEWS  
On Friday January 13th at Laurel had 6 winners from the 9 race card (3 Top Selections; payoff in BOLD) having $2 WIN pay-off of $9.60 (1st race), $8.00 (3rd), $3.20 (5th), $5.00 (6th), $13.60 (5th) and $6.00 (9th). Top Selections in 2017 are 10 for 45. In 2016, Top Selections were 304 for 1,213 (25.02%).
BEST BET of the Day (5:2-1-1; in 2016 127: 31-29-19) Greek God (1st race: 3-1 M/L; 4-1 PT) sluggish early, made middle move along the rail to be a threat entering the stretch but weakened in deep stretch to finish 5th. BEST BET ROI = $2.70 ($10.80 / 5)
LONGSHOT PLAY of the Day (4:0-0-2; in 2016 124: 13-13-16) Patrioticandproud (8th race: 6-1 M/L) was SCRATCHED. .