The GQ Approach – Laurel January 13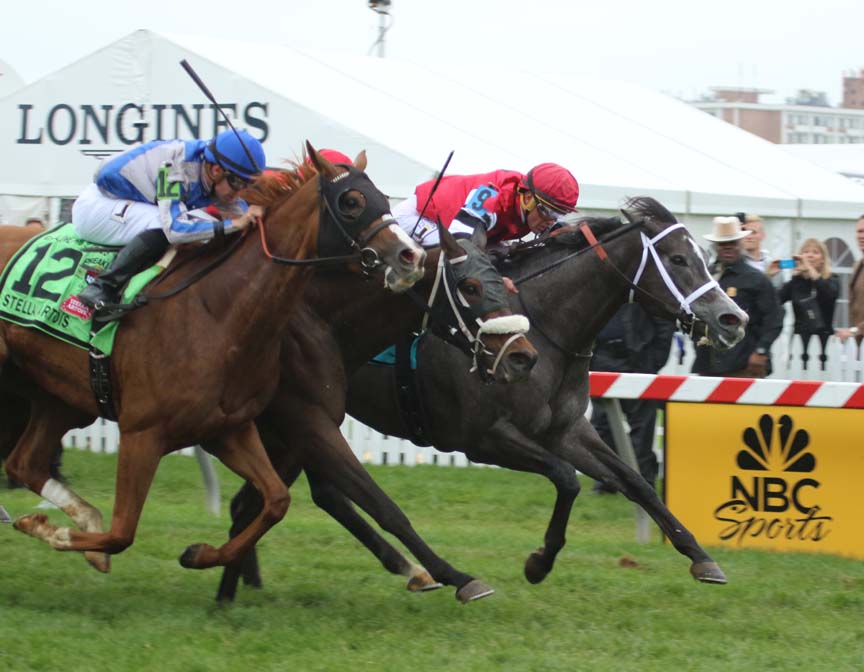 Mizz Money (#9) held off Vielsalm (in between) and Heath (#12) to win the Grade 3 Gallorette. Photo by Laurie Asseo.
The GQ Approach features full-card selections from Laurel Park (w/ live racing every Friday, Saturday and Sunday through May 7, 2017; Post Time 12:30pm EDT), including a daily Best Bet, Longshot Play, and multi-race wagers — including the 20 cent Rainbow Pick-6, 50 cent Jackpot Pick-5, as well as Pick-4s and rolling Doubles, Pick-3s and the Super High-5. 
CARRYOVERS
Rainbow Pick 6: no carryover
Super High 5: $2,351
Late Pick 5: no carryover
BEST BET OF THE DAY
Race 1 / #1 – Greek God (3-1)
LONGSHOT PLAY OF THE DAY
Race 8  / #3 – Patrioticandproud (6-1)
[su_heading size="21″ align="left"]Multi-race wagers[/su_heading]
Race 1: $2 Double 1, 6, 7 w/ 3, 4, 7  ($18)
Race 3: $0.50 Pick-3  4, 5, 8  w/ 2, 3, 6  w/ 1, 5, 8  ($13.50)
Race 5: $0.20 Pick-5  5, 8  w/ 1, 8  w/  5, 6, 13 w/ 2, 3, 6 w/ 8, 9  ($36)
Race 8: $2 Double  2, 3, 6 w/ 7, 8, 9  ($18)
[su_heading size="21″ align="left"]Analysis[/su_heading]
Weather: Mostly Cloudy, highs in the upper-40s
Projected condition of main track: FAST
No turf racing until Spring 2017
Race 1
#1 – Greek God (3-1): *** BEST BET *** Been facing open claimers for $5k and up, gets class break here in with conditional $5k claimers; beaten favorite in latest in the slop does his best work at Lrl and this distance
#7 – Rumblin Kyle (9-2): Got buried when stepped up against Alw5000s; drops back to condition that fits as he was an easy winner two back v. N4L
#6 – Danny My Boy (5-2): 2 for 2 since being transferred to Annette Eubanks barn, running two best Brisnet speed figs of career; whatever is his new feed, he must really like it
Race 2
#4 – Dear Old Dad (9-2): Has shown brief speed against a bit better; cut back to 5½ furlongs might be what the doctor ordered to earn diploma
#3 – Nicamore (2-1): Says something about this group when a runner-up in a CT $7,500 MCL is ML second choice; got beat by ML fav. #1 by 9¼ lengths two back
#7 – Bombero (6-1): When there's a group who have already proven their ability is limited; why not toss in a first-time starter? It's typically against my religion to use FTS in low-level claiming, but this one at least shows competitive spirit in the A.M.     
Race 3
#5 – Notthatitmatters (6-1): Based on her five race career, this daughter of Algorithms best run on dirt came at this one mile distance; 1 of 2 career wins for 10lb. bug girl J. Miller have come on a W. Potts runner
#4 – Socialize (3-1): Need to have faith that the latest clunker was due to the off track when a distant 6th as Post Time favorite; should get a fast track today for T. McCarthy/G. Motion duo
#8 – Trudys Lucky (5-1): Disappointed backers when 5th in latest following narrow defeat at $16k MCL level but Show runner came back to win in next start at same level; steps up while in jail making first start after C. Gonzalez claim (29%)             
Race 4
#3 – Joy Drive (9-2): Ships back in from NY for trainer L. Rice after catching a tough duo here last month in first start since June '16; got the Show purse in a game return effort and should find these fellas a bit easier to handle
#2 – Rider On the Storm (10-1): Owner is no doubt a Doors fan and will be a huge L. Garcia fan if the jock can guide this N2L to a cleaner trip than what he had in latest v. top pick here
#6 – Willie B Mine (5-2): Waffled on this early speed type who will be pressured by cheap speed (#4) early but cut back to 5½ furlongs will certainly enhance chances to finally conquer N1X
Race 5
#5 – Hammerin Aamer (3-5): A Zayat NY shipper saddled by Rudy Rod drops in for tag after so-so results at Sar, Bel and Aqu; boasts best Brisnet# Prime Power# as he catches a weak $40k MCL field
#8 – Royal Hussar (15-1): Gelded since last start on Nov. 27; looks to have future on turf but will need to earn keep on dirt in MD this winter; like the work tab and attract odds
#1 – Flankenstein (9-2): First start for L. Albert after $25k claim; showed he can come from off the pace and run in dirt when stumbled at the start in first dirt try after beginning career with 3 turf efforts and blazing early speed            
Race 6
#8 – Let's Parlay (3-1): Toledo elects to ride Prx shipper for trainer G. Sacco instead of class climber who romped in latest (#5); has faced better latest in the Big Apple
#1 – Boheme de Lavi (7-2): OTB when sent off favorite v. similar here over an off track in latest; wheels right back but gets protected today; trainer K. Magee been as cold as MD weather lately but 29% in 2nd after layoff will get your attention
#7 – Scip's Sonata (8-1): Fits this condition well but only when sprinting… like today; though more than half career wins have come on an off track this mare is always in the mix late     
Race 7
#13 – Mesmerize (5-1): Been on the shelf since July '16 after 4 of 5 career outings on turf, shows a pair of decent works yet entered for lowest maiden claiming price of career for trainer who enters runners at level to win
 #5 – Cantate Domino (12-1): Hard to gauge trainer T. Keefe intentions on huge drop w/ this fragile filly who held her own v. $25k and $40k MCL races when 9 months between starts
 #6 – Scarlett's Image (9-2): Takes appropriate further drop in hopes to find competitive instincts she flashed at Tim when runner-up in weak MSW event   
Race 8
#3 – Patrioticandproud (6-1): $$$ LONGSHOT $$$ Team Ness claimed this 8 y.o. from north of the border for $40k has earned over $600k on turf and synthetic, yet in just a half dozen fast, dirt track starts (6:0-2-1) recorded career best 100 Brisnet speed figure; return to dirt could improve on his 31% "1st after claim" percentage
#6 – Mighty Moses (2-1): Second of two runners on today's card for trainer R. Rodriguez makes Lrl debut; last seen winning N1X at Aqu; appears that stretching out to middle distance was smart move
#2 – Charmed Victory (5-1): This once promising MD-bred must have had serious issues after the Sir Barton last May, falling off horse racing map, getting gelded and transferred to G. Motion to get him back on the right track; by the looks of the work tab he may come back better than ever
Race 9
#9 – Justalittlebitmore (8-5): Best of a poor lot of $16k maiden claimers? Of all entered in this nightcap, this one actually showed ability to pass rivals… at least once… all others are early speed and fade
#8 – Patti's Pirate (8-1): MD-bred FTS by Successful Appeal out of a Housebuster mare has nice work pattern that warrants a long look versus this group
#7 – Baybuilt (12-1): One of many in here with brief early speed but takes the steepest class drop from MSW; comes back from layoff that has been normal procedure for this 5 y.o. w/ just 5 career starts   
YESTERDAY'S NEWS  
On Sunday January 8th at Laurel had 4 winners from the 9 race card (2 Top Selections; payoff in BOLD) having $2 WIN pay-off of $7.20 (5th race), $5.00 (6th), $9.80 (7th) and $17.80 (8th). Top Selections in 2017 are 7 for 36. In 2016, Top Selections were 304 for 1,213 (25.02%).
BEST BET of the Day (4:2-1-1; in 2016 127: 31-29-19) Spiced Commander (5th race: 7-2 M/L; 2-1 PT) sluggish early, raced in the two path on the turn, swung to the five path in upper stretch and passed tired foes to salvage the Show spot to return $3.00 to SHOW.
LONGSHOT PLAY of the Day (4:0-0-2; in 2016 124: 13-13-16) Ghetto Fabulous (2nd race: 5-1 M/L; 9-5 PT) rated off the early pace, circled four wide into the lane and offered up a mild response get the Show purse and return $2.40 to SHOW.