The GQ Approach – Laurel January 8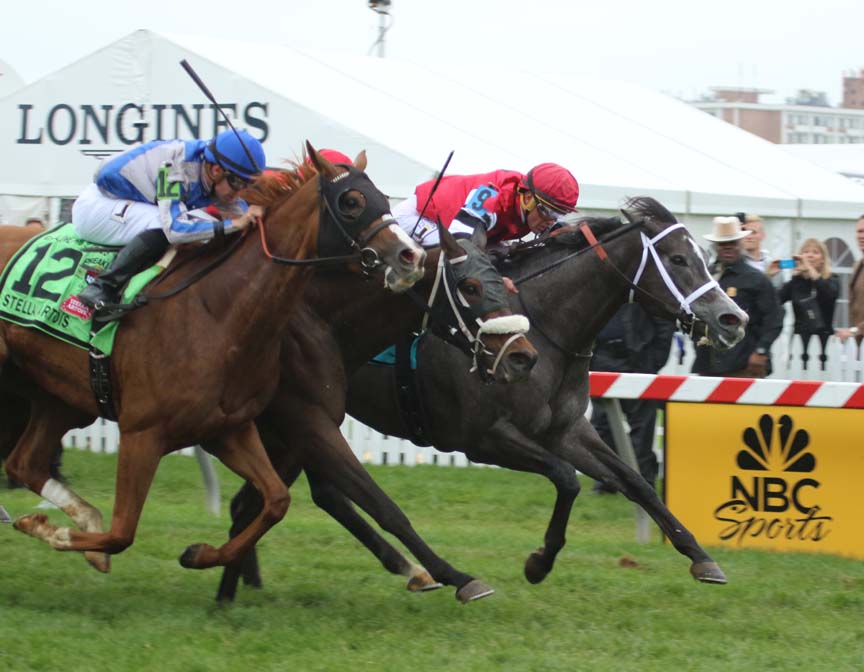 Mizz Money (#9) held off Vielsalm (in between) and Heath (#12) to win the Grade 3 Gallorette. Photo by Laurie Asseo.
The GQ Approach features full-card selections from Laurel Park (w/ live racing every Friday, Saturday and Sunday through May 7, 2017; Post Time 12:30pm EDT), including a daily Best Bet, Longshot Play, and multi-race wagers — including the 20 cent Rainbow Pick-6, 50 cent Jackpot Pick-5, as well as Pick-4s and rolling Doubles, Pick-3s and the Super High-5. 
CARRYOVERS
Rainbow Pick 6: $3,680.03
Super High 5: $1,205.29
Late Pick 5: no carryover
BEST BET OF THE DAY
Race 5 / #6 – Spiced Commander (7-2)
LONGSHOT PLAY OF THE DAY
Race 2  / #3 – Ghetto Fabulous (5-1)
[su_heading size="21″ align="left"]Multi-race wagers[/su_heading]
Race 1: $2 Double  4, 8  w/ 3, 6, 7  ($12)
Race 3: $0.50 Pick-3  2, 5, 8  w/ 2, 3, 4  w/ 1, 2, 6 ($13.50)
Race 5: $0.20 Pick-5  1, 6  w/ 1, 2, 7  w/ 1, 5  w/ 2, 4, 5 w/ 4, 7  ($36)
Race 8: $2 Double  2, 4, 5 w/ 4, 7, 8  ($18)
[su_heading size="21″ align="left"]Analysis[/su_heading]
Weather: Mostly Cloudy, highs in the mid-20s
Projected condition of main track: FAST
No turf racing until Spring 2017
 *** Happy 90th Birthday MOM ***
Race 1
#8 – Late Night Kiss (8-5): With predicted temps barely getting out of the teens, expecting a frozen tundra which often translates to speed… even cheap speed being able to hold leads further… potentially from gate-to-wire… this one fits this scenario since adding blinkers
#4 – Perfect Party Girl (8-1): Should be part of the early pace; drops from $25k after faltering in the stretch on sealed, muddy track; reunited w/ T. McCarthy since debut 8 races back
#6 – Undaunted Spirit (12-1): Beat one runner in debut at $25k level… her entrymate, who came back to be runner-up yesterday when dropped to $10k and added Lasix… as this gal does today
Race 2
#3 – Ghetto Fabulous (5-1): $$$ LONGSHOT $$$ Makes first career fast track start in 11th career outing as Lrl debut on main oval last start was muddy; 3 works at Lrl indicates she can handle it; can take advantage of stalking a trio of early speedsters
#7 – Smart Alex (2-1): "Shake, Shake, Shake… Shake, Shake, Shake… Shake the Claim Box…" as this 5 y.o. MD-bred mare who ships in from NY following maiden breaker in $20k claimer should be a popular claim target; may be vulnerable fav. due to trainer G. Contessa's previous 4 starters at Lrl failing to hit the board
#6 – Weatherurnot (4-1): Most likely the controlling speed but will be pressured from either side; going to chalk up last race woes to the muddy surface 
Race 3
#2 – Slick William (9-5): Hate to be a Chalk Eating Weasel but the speed figs point here; just a few months ago beat eventual MD Million Sprint champ; cut back to sprint should prove fruitful
#8 – Hennessy Fire (9-2): Finally graduated in most recent (8th) start… at Prx… for $10k; descended from MSW as career started with ITM finishes v. top notched colts; possible return to that form; top apprentice who is an Eclipse Award nominee is in just for this ride
#5 – Cold Spice (7-2): Exits weak group of $10N2L when third as runner-up came back yesterday, dropped in for $5k tag and only managed another runner-up finish; getting early lead would help chances             
Race 4
#2 – Goldies Tale (4-1): Boasts top Brisnet Prime Power#; fresh off N2L victory in slop locally, steps up into OC$16k and gets protected
#4 – Kadie'shorseplay (12-1): Need to look past latest debacle over sloppy sealed Lrl surface; fact that H. Karamanos stays on should indicate no issues, ability to bounce back and stretch out
#3 – Include Gold (7-2): Typical K. Magee move first off claim, steps up while "in jail" to see their talent level… sometimes they surprise and win (25%); both career wins came on an off track though
Race 5
#6 – Spiced Commander (7-2): *** BEST BET *** Lightly raced Colonel John 3 y.o. filly has been game in both dirt starts, rallying late after issues at the start; ML fav. and others in here exit weak races
#1 – Brook's On Fire (10-1): Claimed for $15k out of most recent effort where winner and Show runners have come back to win since (Nov. 4)
#2 – Faze the Nation (9-2): Based on how #5 (Our First Candy) in R1 runs may give a clue to this ones chances, as she beat that one to earn diploma; ascending Brisnet speed figs are a plus            
Race 6
#1 – The Great Provider (3-1): Tough assignment from rail for runner looking for first fast track win (8:0-3-2); bottled up in deep stretch when failed to hit the board as favorite on grass
#2 – Ready to Serve (9-2): 12 lifetime starts all at CT, trainer J. Runco's only entry on the card will give Jan Batista (2 for 32 at Lrl) a leg up but over the past year this team has been winning at a 26% clip; was a cash cow while a maiden, fourth in last two efforts v. N1X are only OTB starts
#7 – Magritte (7-2): Been facing much better than his rivals have today but sprinting is not his strong suit; third race after layoff and huge class relief     
Race 7
#1 – Heavenly Perfect (5-2): Compromised at the start in latest at CT v. OC$25k group which was over 2 months ago; with a clean break can get a jump on others and J. Toledo can assess strategy whether to send or stalk
#5 – Balabusta (6-1): Claimed by J. Robb (21% 1st off claim) out of most recent start, her third win in a row leaving her out of conditions having to race in open company or Starter $5k and higher events; can handle step up on a speed favoring track
#9 – Hissy Fit (3-1): Has been PT favorite or no higher than 2-1 in past dozen starts but issues at the start in last two may end that; donned front wraps for first time in latest when showed nothing… check for them today   
Race 8
#4 – Revelation (9-2): At first glance wanted nothing to w/ this G. Motion N2L trainee whose going against more seasoned, runners w/ 2 – 5 wins BUT hard pressed to find early speed among them; counting on this gelding bred to go long to use 6f speed and steal it on front end stretching out to one mile
#2 – Ghost Bay (10-1): Keep waiting for this 5 y.o. to find his 3 y.o. form that saw him compete in minor stakes among the best locally; third start for trainer R. Bailes might be the charm
#5 – I'm Mr. Blue (5-1): Likes the distance (6: 2-2-0) and took 6 weeks off from racing for new trainer D. Capuano to get accustomed to him; like the solid work pattern leading up to today
Race 9
#4 – Elusive Midnight (4-1): Will be interesting to see if Prx shipper and only entry/mount for Prx-based jockey/trainer combo who have gotten to Winners' Circle at 35% clip the past year, will show a bit more speed w/ a clean break; drops a few classes after Show effort when ambitiously placed following maiden win at $10k level
#7 – Arturito (6-1): Exhibits a "Z race" pattern coming out of last effort, in that jock allowed him to eased back in mid-race then asked for his best in the stretch to finish up closer to winner than he was entering stretch; ran behind top pick in that one
#8 – Bridge Builder (9-2): Step slow at start first time v. winners, rushed up then had nothing for the stretch drive, gets some class relief and A. Cintron may try to wire this field as he did in maiden score two back   
YESTERDAY'S NEWS  
On Saturday January 7th at Laurel had 5 winners from the 9 race card (4 Top Selections; payoff in BOLD) having $2 WIN pay-off of $3.80 (1st race), $4.40 (3rd), $4.00 (5th), $8.00 (6th) and $2.60 (7th). Top Selections in 2017 are 5 for 27. In 2016, Top Selections were 304 for 1,213 (25.02%).
BEST BET of the Day (3:2-1-0; in 2016 127: 31-29-19) Magic Harbor (3rd race: 3-1 M/L; 6-5 PT) raced in the two path between horses entering the turn, swung to the five path turning for home, closed steadily outside horses and was up at the wire to win by a head and return $4.40 to WIN, $2.80 to PLACE and $2.60 to SHOW.
LONGSHOT PLAY of the Day (3:0-0-1; in 2016 124: 13-13-16) Outfielder (5th race: 12-1 M/L; 13-1 PT) lacked speed, swung to the six path in upper stretch, raced outside rivals and passed tired ones just missing the Show purse to finish 4th.