The GQ Approach – Laurel January 7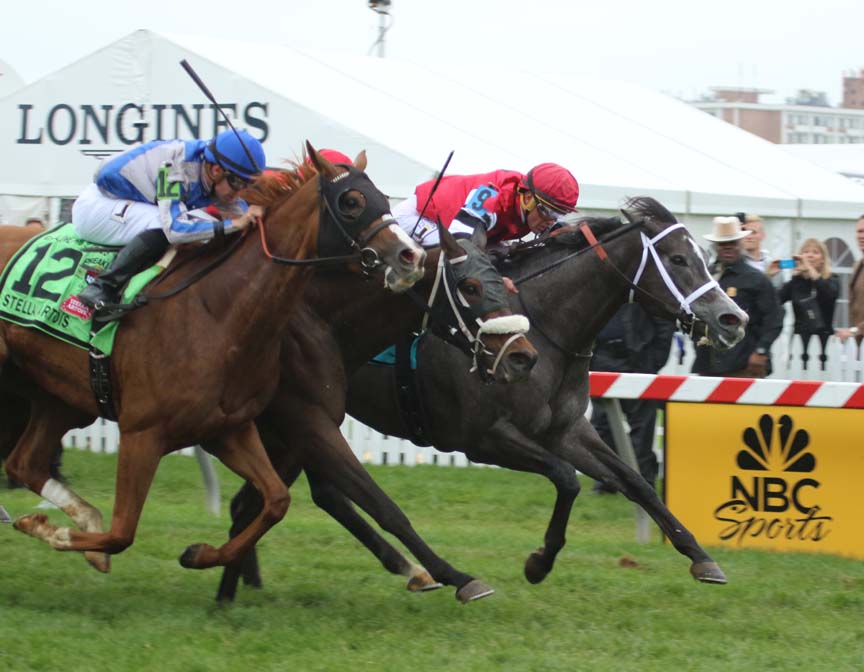 Mizz Money (#9) held off Vielsalm (in between) and Heath (#12) to win the Grade 3 Gallorette. Photo by Laurie Asseo.
The GQ Approach features full-card selections from Laurel Park (w/ live racing every Friday, Saturday and Sunday through May 7, 2017; Post Time 12:30pm EDT), including a daily Best Bet, Longshot Play, and multi-race wagers — including the 20 cent Rainbow Pick-6, 50 cent Jackpot Pick-5, as well as Pick-4s and rolling Doubles, Pick-3s and the Super High-5. 
CARRYOVERS
Rainbow Pick 6: $2,2,64.17
Super High 5: no carryover
Late Pick 5: no carryover
BEST BET OF THE DAY
Race 3 / #7 – Magic Harbor (3-1)
LONGSHOT PLAY OF THE DAY
Race 5  / #4 – Outfielder (12-1)
[su_heading size="21″ align="left"]Multi-race wagers[/su_heading]
Race 1: $2 Double  3, 8  w/ 4, 5, 7  ($12)
Race 3: $0.50 Pick-3  1, 7, 9  w/ 1, 6, 7  w/ 2, 4, 10  ($13.50)
Race 5: $0.20 Pick-5  2, 4  w/ 4, 5, 8  w/ 6, 7  w/ 3, 11  w/ 3, 6, 9  ($36)
Race 8: $2 Double  3, 7, 11  w/ 3, 6, 9  ($18)
[su_heading size="21″ align="left"]Analysis[/su_heading]
Weather: Mostly Cloudy, highs in the mid-20s
Projected condition of main track: FAST
No turf racing until Spring 2017
Race 1
#3 – Sea Pebble (7-5): NY shipper for trainer D. Jacobson, first off the claim and drops (39%); beaten favorite on an off track yet only win came on that type of surface; vulnerable?
#8– Nairet (5-2): Another whose lone win came on an off track but fast track speed figs are comparable and was runner-up in same condition two back; A. Cintron back in the irons
#2 – Wagered (4-1): Makes third start for trainer M. Jones, Jr.; game in latest when missed by a head v. similar at Pen
Race 2
#7 – Bourbon and Beer (9-2): Fresh off maiden win in 6th career start J. Toledo quickened him early and he delivered; could wire this field with help of a frozen, speed favoring dirt surface
#5 – Complacent (6-5): Prx shipper has competed in a race since Dec. '15; IF he's right he should romp; jockey J. Bisono in for this mount and two others for trainer A. Velazquez (18%)
#4 – Bird Humor (15-1): Third start off R. Nagle claim last January; was away 10 months and still not half the runner prior to claim but sign of life in latest when third at Prx     
Race 3
#7 – Magic Harbor (3-1): *** BEST BET *** 8 year old gelding has been facing Starter Allowance company the past year; will find this group of $5kN1Y easier to handle; T. McCarthy/C. Lynch duo are 31% at meet
#1/1A – Two Term Leader/Tens Wild (9-2): One likely will scratch w/ A. Cintron listed on both; #1 is better of the two dropping from Alw5ks but entrymate had very wide trip in latest and will be better price w/o #1
#9 – Turbin (6-1): Faced $5k open claimers in first race after layoff and rallied for third under 10 lb. bug first ever mount; same two try here to get to Winners' Circle and jock an ice water reception returning to Jocks Room             
Race 4
#6 – Crecent Warrior (9-2): Drops from $40k Maiden Claimer after starting career with two tries at that level, showing some run while entering trouble and then wide in both; jock switch should enhance chances
#1 – Cruzin With Pachi (5-1): Never ran a lick in debut when entered with a stablemate who was not much better; adds Lasix and blinkers but tough assignment from the rail
#7 – A True Gentleman (7-2): Maybe… but lost his ability to retire to stud one day (gelded since last start); beaten favorite in last two and makes first dirt start after 5 career races… all on turf
Race 5
#4 – Outfielder (15-1): $$$ LONGSHOT $$$ Been cold on the toteboard in last two; one overhead in MD Million Starter and unproven on turf in latest; Closing sprinter type was runner-up three back v. better going 1/16th shorter than today… also the last time F. Lynch had the mount
#2 – Zen Papa (2-1): Second of two NY shippers on card for trainer D. Jacobson; this one also taking multi-class level drop (31%) from $14kN3L when 4th at Aqu; boasts top Brisnet Prime Power#
#10 – Sir Luca Richard (7-2): Interesting that current connections lost this one two back for $9k (won by 4 v. N2L) then after one race for $14k w/ new barn was privately repurchased, yet shows up for $4,500? Anyone else think something is rotten in Denmark?            
Race 6
#5 – Diamond Ring(9-5): FTS by Malibu Moon out of a Mt. Livermore mare shows a vvery nice work tab at Fai for trainer G. Motion (16% w/ FTS); T. McCarthy taking mount is a plus
#4 – Tricky Escape (2-1): Got a solid 83 Brisnet# in debut when a clear runner-up making a 5-wide rally; adds Lasix 
#8 – Letmebethe One (12-1): Claimed out of turf race in career debut on Oct. 14th for $40k by trainer K. Magee; been on the shelf since stepping up into MSW; two workouts for new barn while the latest was a bullet over Pim dead surface     
Race 7
#7 – Crabcakes (1-1): Very impressive in winning both starts as runner-up to her in last race came back to be third in Gin Talking stakes last weekend; head and shoulders better than her foes in here
#6 – Candycoated Dame (5-2): Very game filly has given 110% effort in all four starts; needs a quick pace early in hopes of unleashing a strong rally in deep stretch to catch leg weary rivals
#2 – Star Studded (7-2): Showed nothing in $100k stakes at Aqu after gate-to-wire debut win when sent off 5-2 favorite; adds Lasix  
Race 8
#11 – Inner Fire (6-1): Tries stretching out to two turns when first time in against winners; cut back to sprint and J. Toledo back aboard for trainer W. Potts is a good sign (duo is 31% at meet)
#3 – Iredell (7-5): Logical choice on drop from $10kN2L when he appeared poised for victory only to get caught late when 9-5 Post Time favorite
#7 – Keepuriondabalado (15-1):Jockey M. Franklin been stuck on career win #999 for quite a while; this longshot has early speed that could be helped if the frozen tundra at Lrl is kind speed
Race 9
#6 – On the Prowl (7-2): Been up and down the maiden claiming class ladder like a Yoo-Yoo; drops to lowest level which could help get her first trip to Winners' Circle
#3 – Why Not Now (8-1): Prx shipper attracts T. McCarthy; in v. boys in latest at this same level; has early speed and if theme of the day is "Speed is holding" then she has legit shot at getting diploma
#9 – Quickasaflash (10-1): Forgettable debut when in for $20k tag; adds Lasix and gets Eclipse Award Apprentice nominee K. Gomez who has won 4 times in 14 mounts for trainer J. Corrales   
YESTERDAY'S NEWS  
On Monday January 2nd at Laurel had 5 winners from the 9 race card (1 Top Selection; payoff in BOLD) having $2 WIN pay-off of $12.60 (2nd race), $12.60 (3rd), $11.60 (4th), $6.40 (6th) and $3.80 (8th). Top Selections in 2017 are 1 for 18. In 2016, Top Selections were 304 for 1,213 (25.02%).
BEST BET of the Day (2:1-1-0; in 2016 127: 31-29-19) Barbie Stones (6th race: 4-1 M/L; 2-1 PT) six wide near the half mile marker, dropped in a few paths leaving the far turn, gained three wide into the lane, swung out approaching the eighth pole, closed sharply under right handed rousing, forged clear heading towards the sixteenth marker and eagerly widened under a drive to win by 6½ lengths and return $6.40 to WIN, $3.20 to PLACE and $2.40 to SHOW.
LONGSHOT PLAY of the Day (2:0-0-1; in 2016 124: 13-13-16) Sheet Lightning (3rd race: 12-1 M/L; 5-2 PT) chased the pace, raced between horses on the turn and faltered to finish 5th.