The GQ Approach – Laurel January 2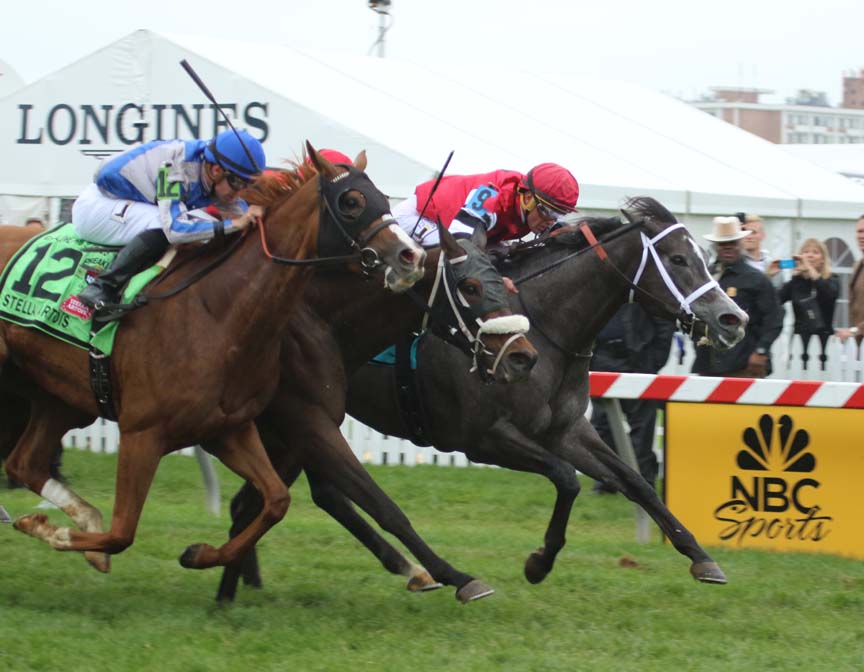 Mizz Money (#9) held off Vielsalm (in between) and Heath (#12) to win the Grade 3 Gallorette. Photo by Laurie Asseo.
The GQ Approach features full-card selections from Laurel Park (w/ live racing every Friday, Saturday and Sunday through May 7, 2017; Post Time 12:30pm EDT), including a daily Best Bet, Longshot Play, and multi-race wagers — including the 20 cent Rainbow Pick-6, 50 cent Jackpot Pick-5, as well as Pick-4s and rolling Doubles, Pick-3s and the Super High-5. 
CARRYOVERS
Rainbow Pick 6: no carryover
Super High 5: no carryover
Late Pick 5: no carryover
BEST BET OF THE DAY
Race 6 / #7 – Barbie Stones (4-1)
LONGSHOT PLAY OF THE DAY
Race 3  / #5 – Sheet Lightning (12-1)
[su_heading size="21″ align="left"]Multi-race wagers[/su_heading]
Race 1: $2 Double  1, 6, 7  w/ 1, 6, 7  ($18)
Race 3: $0.50 Pick-3  2, 5, 8  w/ 1, 6, 7  w/ 3, 4, 7  ($13.50)
Race 5: $0.20 Pick-5  3, 4, 7  w/ 4, 7  w/ 5, 7  w/ 1, 3  w/ 3, 5, 8  ($36)
Race 8: $2 Double  1, 3, 5  w/ 3, 5, 8  ($18)
[su_heading size="21″ align="left"]Analysis[/su_heading]
Weather: Mostly Cloudy w/ 60% chance of rain all day, highs in mid-40s
Projected condition of main track: SLOPPY to GOOD
No turf racing until Spring 2017
Race 1
#6 – Called in Sick (2-1): Romped by 7 lengths at this same level over 3 others in here yet two back got beat by two others who show up in this one; goes to show how quickly young ones develop
#1/1A – Cotton Eye/Spiced Commander (4-1): One of them will likely scratch; #1A on paper is the stronger part of this entry exiting $30kN2L turf event at FG whereas entrymate was runner-up at this level
#7 – Neetee Rides Again (9-2): First start for trainer D. Capuano after claimed for $11k, but weakened when blinkers were added; the hood comes off which could have been legit excuse
Race 2
#6 – Crisis Averted (9-5): Scored easily on multi-level class drop when bet down from 6-1 ML to 4-5; claimed out of that one and steps back up to previous level; broke maiden on a sloppy track
#1 – Northern Mine (6-1): Should get first jump on the rest of these gals as she's fastest for 4 furlongs, getting the final 2 furlongs has been the problem, except when the track is "off"
#7 – Sippy Cup (4-1): Takes the biggest drop in here and should benefit from an off track (3:1-0-1); lone work since latest race was a bullet     
Race 3
#5 – Sheet Lightning (12-1): $$$ LONGSHOT $$$ Typically against my religion to pick a FTS in a low-level maiden claimer (just think about it) but the 5 who have started in races haven't showed much… and that's putting it kindly; V. Carrasco takes the mount for trainer J. Lawrence, this duo is 5 for 15 in the past year
#8 – All This Jazz (2-1): By virtue of runner-up finish when going two turns for first time in fourth start, on a sloppy track earns ML favoritism BUT lost previous two by combined 43 lengths!
#2 – Belle Nation (4-1): In a race that could be timed w/ a sun dial, this filly gets the final spot nod simply due to having the second best Brisnet#s which isn't saying much             
Race 4
#1 – Dukin' With Dale (3-1): Fresh off beating $15kN3L @ Pen this S. Lake shipper has a nice record going this distance (4:3-1-0); last few race speed figs are the best in this group
#7 – Baduke (5-1): NY shipper has disappointed backers in last two @ Prx when sent off 6-5 then 2-1, not hitting the board; can boast highest Brisnet# on an off track though
#6 – Ruth Less Blue (5-1): Gets regular WO-based rider M. Rainford back in the irons after less than stellar turf effort at Lrl in Oct.; been keeping fit at Pen in the A.M.
Race 5
#7 – Path Dependent (7-2): Cut back from two turns didn't do the trick in 16th career start; biggest underachiever (or money burner) of 2016 as he was beaten favorite 6 times and just once more than 9-2 Post Time; being top pick here qualifies for definition of insanity
#3 – Publishanditerate (20-1): Typical Sagamore Farm move with maidens who have proven they are not allowance level or better runners, so they drop in for a tag to get rid of them; in all 3 starts had issues
#4 – Brother Slick Nick (5-2): At the very least this 11 time starter was runner-up when in for same tag and that one was run on a sloppy track            
Race 6
#7 – Barbie Stones (4-1): $$$ BEST BET $$$ Plenty of cheap 4 furlong speed in this N2L sprint where this filly can get in a nice, stalking position and let that speed come back to her in deep stretch; lone win came at this distance; has handled an off track plus trainer/jock combo wins nearly 1 in 3 starts (32%) from 132 this past year
#4 – Fiveoclocksomwhere (3-1): Vulnerable ML favorite, but wouldn't any of these N2L? Sheds blinkers as first two w/ them did more damage, weakening in both w/o getting customary early lead; runner-up in both outings at this distance
#5 – San Gregoria (5-1): Just 1 for 19 but that one came on a sloppy track (3:1-0-1) and at today's distance… over two years ago plus jock was just 2 for 86 in '16, ouch! Drops to lowest claiming level of career    
Race 7
#7 – Crafty Sam (9-2): Addition of blinkers may put this one in the Winners Circle as the speed figures continue to improve as he ran into a pair of buzz-saws in first two starts
#5 – Maryland Pride (7-2): Like the short break after debut on Nov. 11 to become better focused on his job and the string of four works indicates he is a quick learner
#2 – No More Talk (20-1): FTS by Not For Love out of a French Deputy mare cost $140k 15 months ago and the work pattern seems the lofty ML may be lower come Post Time if he's well-meant for debut    
Race 8
#3 – Datt Melody (5-1): Back to the main oval now that turf season is over even though just 1 for 9 on grass; 2 for 5 on an off track; could get first run on rivals as this field lacks a true "need the lead' runner; third race after layoff        
#1/1A – Stolen Love/Negrito (4-1): Interesting that V. Carrasco takes mount on #1 after winning ride on #8 last time…. loyal to C. Gonzalez?; speed figs have been climbing; #1A seems to lack closing punch going 7f… hope both go  
#5 – Connemara Coast (9-2): Runner-up to #8 in latest effort as lukewarm favorite; solid runner who is always in the mix at this $25k level; cut back to 7f might be tougher
Race 9
#8 – A Havilland Man (10-1): Not sure what got into this guy last time when 101-1 other than jock hustled him early and he liked not being behind horses, got passed in mid-stretch but came again to be runner-up with strong gallop out; same effort today earns diploma
#5 – Full of Beans (8-1): Lost all chance when hopped at the start, spotting field a few lengths going 5½ in first race since mid-May; a more alert start gives this gray a chance at a price
#3 – Charlie's Darlin (3-1): Ran the same type of race in all 6 starts… comes flying late to get minor share; hopefully in second start for new barn and jock will ask more of him earlier, otherwise he'll be a career maiden   
YESTERDAY'S NEWS  
A horrendous start to 2017 on Sunday January 1st at Laurel having just 2 winners from the 9 race card (0 Top Selections) having $2 WIN pay-off of $8.80 (2nd race) and $7.80 (9th). In 2016, Top Selections were 304 for 1,213 (25.02%).
BEST BET of the Day (1:0-1-0; in 2016 127: 31-29-19) Tiz Showbiz (4th race: 3-1 M/L; 2-1 PT) taken four wide early and raced well off the pace, came under pressure leaving the three eighths, progressed five wide outside rivals into the lane, straightened away and finished with good energy to close the gap on the winner and return $3.20 to PLACE and $2.10 to SHOW.
LONGSHOT PLAY of the Day (1:0-0-1; in 2016 124: 13-13-16) Chapel of Chimes (6th race: 8-1 M/L; 6-1 PT) three wide outside a pair of rivals early on, responded when given her cue past the three eighths, moved to a slim lead nearing the lane, was engaged from the outside by the eventual winner soon after, dueled with that one to mid-stretch, gave way grudgingly as her rider took a peek at the infield board in deep stretch and just lost the place to return $2.80 to SHOW.