The GQ Approach – Laurel January 1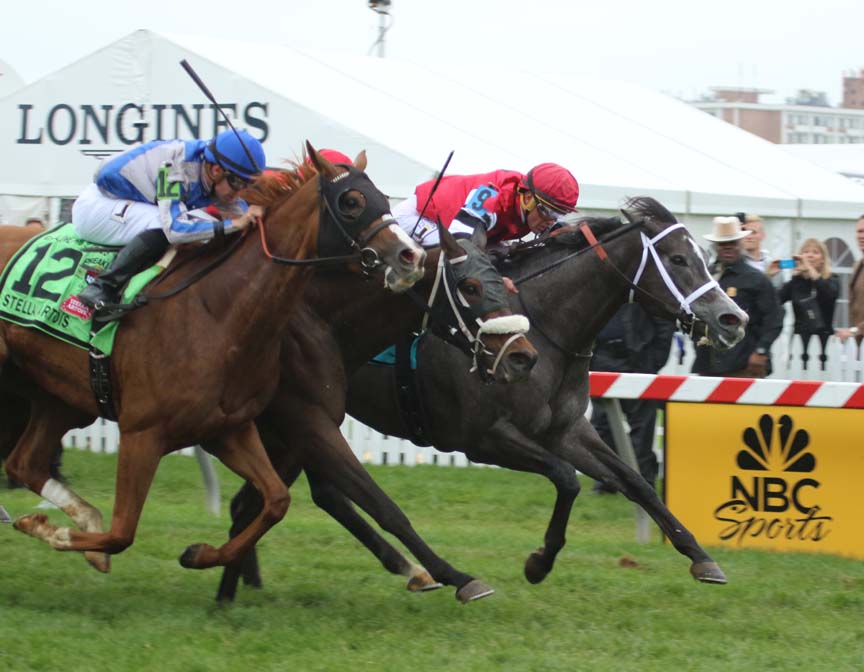 Mizz Money (#9) held off Vielsalm (in between) and Heath (#12) to win the Grade 3 Gallorette. Photo by Laurie Asseo.
The GQ Approach features full-card selections from Laurel Park (w/ live racing every Friday, Saturday and Sunday through May 7, 2017; Post Time 12:30pm EDT), including a daily Best Bet, Longshot Play, and multi-race wagers — including the 20 cent Rainbow Pick-6, 50 cent Jackpot Pick-5, as well as Pick-4s and rolling Doubles, Pick-3s and the Super High-5. 
CARRYOVERS
Rainbow Pick 6: no carryover
Super High 5: no carryover
Late Pick 5: no carryover
BEST BET OF THE DAY
Race 4 / #1 – Tiz Showbiz (9-2)
LONGSHOT PLAY OF THE DAY
Race 6  / #6 – Chapel of Chimes (8-1)
[su_heading size="21″ align="left"]Multi-race wagers[/su_heading]
Race 1: $2 Double  3, 4, 5  w/ 2, 3, 5  ($18)
Race 3: $0.50 Pick-3  5, 7, 8  w/ 1, 6, 8  w/ 1, 2, 3  ($13.50)
Race 5: $0.20 Pick-5  1, 2, 3  w/ 6, 7  w/ 3, 4  w/ 8, 10  w/ 1, 4, 9  ($36)
Race 8: $2 Double  7, 8, 10  w/ 1, 4, 9 ($18)
[su_heading size="21″ align="left"]Analysis[/su_heading]
Weather: Mostly Sunny, high near 50
Projected condition of main track: FAST
No turf racing until Spring 2017
*** HAPPY NEW YEAR ***
Race 1
#5 – I'm So Munny (8-5): This Munnings filly nearly made every pole a winning one when 19-1 in her debut, getting caught just a few strides before the wire; a repeat performance gets her to the Winners' Circle; still no Lasix
#3 – Cairenn (4-1): Makes third career start in third different venue; took a break after first two to "tighten the screws"; adds blinkers
#4 – Tribal Transit (7-2): Four career starts all on the local turf; certainly wasn't specifically bred for the grass so switch to dirt may yield better results
Race 2
#2 – Scindia (4-1): PIM based trainer C. Robinson enjoyed a 30% '16 with just 23 starters; numbers were even better at Lrl (8:3-2-1); claimed this mare for $8k at WO in June and just now making first start for barn; T. McCarthy gets a leg up
#5 – Kobuk Valley (10-1): On the shelf since Sept. 25th when DQ'd from turf win at Mnr; 5 1/2 furlongs may be a bit too far as she's never hit the board in 5 lifetime starts at this distance BUT has early speed which Lrl dirt has been kind to the past two racing days    
#3 – Southern Peach (8-1): 3 for 33 but 1 for 7 on fast track is more reasonable; lost ground when 4-wide at the ¼ pole yet still was a game third v. $5kN4L     
Race 3
#7 – Mr Coupons (9-5): Runner-up in Lrl debut last outing, 8 lengths clear of Show runner; wheels right back at same level for 22% trainer; will need early pace help
#5 – Im a Prankster (6-1): Well beaten Post Time favorite in latest, ran behind #2 and #7 in here today; have to think jock just "wrapped her up" after realizing it wasn't going to be her day
#8 – Colmont Fire (3-1): Here's the handicappers nightmare steep class dropper off two races after layoff where he abruptly threw in the towel in final eighth; quick enough early to get lead v. much weaker (aka slower) runners than he's ever faced; could be a confidence builder            
Race 4
#1 – Tiz Showbiz (9-2): *** BEST BET *** If the prohibitive favorite has lost a few steps and/or doesn't bring his best then this guy takes advantage in second race after H. McMahon claim; appears to like to break from the rail based on past performances; like the fact that J. Toledo reunites w/ this gelding
#6 – Majestic Hussar (4-5): The carrot is dangling… wonder if there will be any takers for 7 y.o. whose earned over $360k in just 27 starts, was a 3-time runner up in $100k+ stakes just a year ago and had the lead in stretch v. $32kN2X in last start (Nov. 18); if he wins and gets claimed, owner walks away w/ a $17,700 pay day
#8 – San Cristo (8-1): Huge reversal in form 2 back when beat open $5k Claimers; held own (4th) next start v. open $7,500; should find these N1Y foes a bit easier; speed figs have been climbing
Race 5
#3 – Antietam Creek (7-2): Makes amends for burning bettors money when beaten favorite by just a half-length in first start after short layoff; blame the 5-wide trip throughout; KTL/J. Toledo (33% at meet) look start '17 on a winning note
#2 – Sweet Peaches (4-1): First start off T. Keefe claim at this level; runner-up in past two likes Lrl (3:1-2-0); both winner and third place finisher from last race were next out winners
#1 – Purnata (3-1): Tries 6 furlongs for first time in 20th career start; just 2 for 19 lifetime with most on the turf or off track (3:1-0-1 on fast track); third when sent off as Post Time favorite in last start         
Race 6
#6 – Chapel of Chimes (8-1): $$$ LONGSHOT $$$ Got off slow in minor stakes last month but showed late interest; won three in a row in Sept.-Oct., one at Pen v. OC$25N2X; 2 for 2 going 1 1/16 miles; faith that 7 lb. bug can provide a nice stalking trip
#7 – Lady Terp (3-1): In for $32k tag after finally beating N2X after 18 months of trying; Lightbulb Theory make be in play here; V. Carrasco back in the irons
#5 – Madam Aamoura (5-2): Speed ball hails from R. Rodriguez barn; won only start going two turns v. N1X four races back; will be pressed early today so it looks like a gate-to-wire win or OTB finish     
Race 7
#4 – Eve (5-2): Connections take advantage of Waiver Claiming Rule as this filly was sidelined immediately after June 18th claim, resumed training in October and is entered at same level allowing her to be run w/o fear of losing her; sign of confidence
#3 – Sliding Lady (5-1): A bridesmaid in her past two efforts; 5-wide trip certainly didn't cost win in latest (lost by 7) but steps her up nicely to get first win at distance in 6th try (5:0-2-1)
#6 – Cracking Good Pins (10-1): Ran evenly against open $5k Claimers, which included the #3 in here today; look for a better effort v. these to hit the board at a price   
Race 8
#8 – Like a Lion (4-1): Prx shipper has been knocking on the door since in competing at this N1X level; jock upgrade is just what the doctor ordered to clear this condition
#10 – Have Hope (5-1): Beaten favorite in latest with an excuse (stumbled at start); can turn the tables on the #3 and #7 who beat her that day
#7 – Clare's Dowery (3-1): Placing runners where they can be successful is key and trainer T. Graham finally realized this gal may not be stakes caliber but showed she can handle state-bred N1X; this unrestricted contest has 6 MD-breds from the 10 starters, so she can handle these as well
Race 9
#9 – Joe Tess (6-1): Maybe a new barn can straight out this head case whose mind seems to wander in the stretch; key here is cut back to a more manageable distance
#1/1A – Hurler/Seve (3-1): #1 is what many New Years' Eve partiers were doing this AM; can pass leg weary rivals in deep stretch with stalking trip from rail; #1A has top Brisnet Prime Power#
#4 – Church Monkey (6-1): Overhead and/or didn't care for mud at CT in latest outing; will be interesting to see if J. Toledo defers early lead to top pick (hope he does); second in lone Lrl dirt try   
YESTERDAY'S NEWS  
On Saturday December 31st at the Laurel Year End Chalkfest had 9 winners from the 9 race card (1 Top Selections; payoff in BOLD) having $2 WIN pay-off of $2.60 (1st race), $6.40 (2nd), $5.40 (3rd), $2.60 (4th), $3.00 (5th), $4.20 (6th), $6.00 (7th), $7.00 (8th) and $5.00 (9th). Of the suggested multi-race wagers hit R1-R2 $2 DOUBLE for $11.60 (cost: $8 due to scratches), R3-R5 $.50 Pick-3 for $4.05 (cost: $9 due to scratches, still OUCH!) and the R8-R9 $2 DOUBLE for $21.60 (cost: $12). In 2016, Top Selections were 304 for 1,213 (25.02%).
BEST BET of the Day (127: 31-29-19) North Ocean (1st race: 4-1 M/L; 3-1 PT) grabbed the early lead as expected but faced pressure to his outside shortly thereafter from the 1-5 Post Time favorite, raced along the rail on the turn with the slightest of leads, was headed in mid-stretch and fought on gamely to be second best and return $3.00 to PLACE and $2.10 to SHOW.
LONGSHOT PLAY of the Day (124: 13-13-16) Just Jack (5th race: 5-1 M/L; 3-1 PT) race confidently behind rivals down the backstretch, 2-wide on the turn then put to task when an opening occurred entering the stretch angled out to take on eventual winner at the 1/16th pole but fell when he tragically broke down.