The GQ Approach – Laurel December 31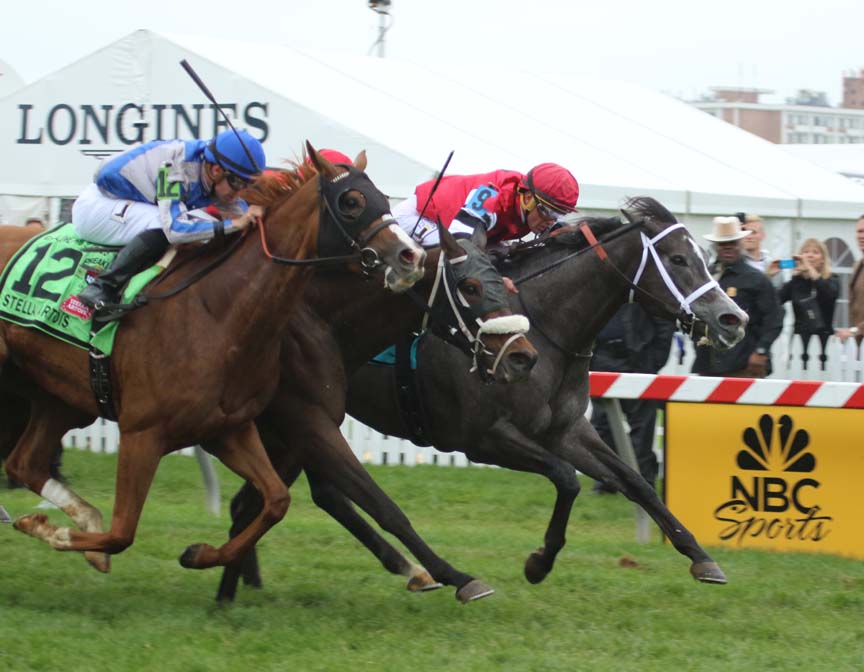 Mizz Money (#9) held off Vielsalm (in between) and Heath (#12) to win the Grade 3 Gallorette. Photo by Laurie Asseo.
The GQ Approach features full-card selections from Laurel Park (w/ live racing every Friday, Saturday and Sunday throughout 2016; Post Time 12:30pm EDT), including a daily Best Bet, Longshot Play, and multi-race wagers — including the 20 cent Rainbow Pick-6, 50 cent Jackpot Pick-5, as well as Pick-4s and rolling Doubles, Pick-3s and the Super High-5. 
CARRYOVERS
Rainbow Pick 6: $12,573
Super High 5: $536
Late Pick 5: no carryover
BEST BET OF THE DAY
Race 1 / #5 – North Ocean (4-1)
LONGSHOT PLAY OF THE DAY
Race 5  / #4 – Just Jack (5-1)
[su_heading size="21″ align="left"]Multi-race wagers[/su_heading]
Race 1: $2 Double  3, 5  w/ 1, 6, 8  ($12)
Race 3: $0.50 Pick-3  4, 6, 7  w/ 2, 4, 5  w/ 2, 4, 7  ($13.50)
Race 4: $0.20 Pick-6  2, 4  w/ 2, 4  w/ 1, 4, 9  w/ 4, 9  w/ 2, 5 w/ 1, 3 ($19.20)
Race 8: $2 Double 2, 5, 8  w/ 1, 3, 5  ($18)
[su_heading size="21″ align="left"]Analysis[/su_heading]
Weather: Mostly Cloudy, highs in the mid-40s
Projected condition of main track: FAST
No turf racing until Spring 2017
$$$ MANDATORY PAYOUTS $$$
Race 1
#5 – North Ocean (4-1): *** BEST BET *** If the Lrl dirt oval holds speed the way it did on Friday, then this Prx shipper will make every pole a winning one against this field who lacks early lick to go w/ him
#3 – Double Whammy (3-5): Goes for natural Hat Trick in third race since layoff; has gone off as prohibitive favorite in last six outings; won most recent race by 6 and three others from that race have won their next start
#6 – To Dare (6-1): Weaker of the M. Eppler uncoupled entry (#3) makes third start for barn; finished 2 behind winner in latest who was runner-up to stablemate in previous start; stretch out should help based on altered running style
Race 2
#8 – Bull Ensign (5-2): Drops down from a trio of N1X outings picking up minor shares; owner never falls in love w/ his runners, hence willing to lose him for $16k
#6 – Segovia (3-1): House Horse gets protected after beaten just a neck in same condition in first race after 3 month layoff; looks for first win over Lrl dirt (10:0-4-3)
#1 – Supah Czech (7-2): A. Cintron will need to send this Uncle Mo offspring because past two rail starts did not go well when not getting early lead yet figured in those races; could "walk the dog" early and hold on late   
Race 3
 #6 – Lift Up (9-5): Surprisingly this M. Dickson trainee got not love at the windows (12-1) in debut sprinting yet just missed by a head as rally fell short; stretches out to one mile and adds Lasix
#7 – Forever Liesl (7-5): NY shipper accompanies stablemate who is prohibitive favorite in R7 stakes; could trainer M. Nevin be expecting a Double? This maiden was runner-up at The Big A in debut, earning 80 Brisnet#, best among this assembled group of 2 year-olds
#4 – Expect a Kitten (6-1): After 4 turf starts at four different venues, this Kitten's Joy must have missed the van to FL and will give dirt a try; based on works over Fai training track, she will handle it            
Race 4 is the $100,000 Marylander Stakes
 #2 – Irish War Cry (9-5): A 4½-length debut winner for trainer G. Motion on Nov. 11 over the Laurel dirt oval, recording an eye-popping 99 Brisnet#; this NJ-bred son of Curlin out of a Polish Numbers mare could be special and get better stretching out; like latest work going 6f
 #4 – Two Charley's (4-1): Second to impressive stablemate El Areeb in the James F. Lewis III Stakes; previously was third behind well-regarded stakes winners No Dozing and the aforementioned O Dionysus after winning his career debut
#5 – O Dionysus (9-2): Beaten favorite in latest outing, an eventful trip in the MD Juvenile Futurity which resulted in first OTB finish of his five race career; willing to forgive that performance as this son of Bodemeister ran career best Brisnet# (95; second best in this field) two back in a restricted stakes at Prx
Race 5 is the $75,000 Jennings Stakes
#4 – Just Jack (5-1): $$$ LONGSHOT $$$ Only 3 dirt, fast track starts in 11 race career w/ bookend victories… in his latest effort, recording career best Brisnet# (97) in a restricted stakes and in career debut 8 months ago; took advantage to quick, early fractions in most recent win, will need the same here to repeat; loves Lrl main oval (4:3-0-1)              
 #2 – Charmed Victory (15-1): Nice ridgling who last Spring faced the best 3-year-olds the Mid-Atlantic had to offer in local stakes; away since getting drubbed in Sir Barton Stakes on Preakness Day; was surprisingly transferred from Hillwood Stables longtime trainer R. Jenkins to G. Motion when training resumed two months ago at Fai not Lrl; expect nothing less than a top effort first time in restricted company     
#7 – John Jones (7-5): Won a Claiming Crown "Win & You're In" qualifier locally on Nov. 6 which led to a game SHOW effort over the GP dirt oval; back home, in restricted company and poised to start a new win streak as jock/trainer combo have been on fire (33% at meet); will get pressure early from both #5 and #9; asking a lot to bounce back after shipping to/from FL a few weeks ago           
Race 6 is the $100,000 Gin Talking Stakes
#1 – Lucky in Malibu (4-1): Gets tough assignment from the rail for first time in eighth career start; runner-up MD Juvenile Fillies Championship right after maiden score which was initial dirt try; speed figures have been on the steady improve as last race final 1/16th time is best in this field
#9 – Aiden's Rag Doll (8-1): Horrendous start in most recent which was first against winners and w/ Lasix yet on her own will recovered making a nice middle move, undaunted when shut off in mid-stretch, angled out and finished just 3½ lengths behind the winner  
#4 – Ms Locust Point (5-2): It's peculiar to find a group of maiden winners where just one of them scored in gate-to-wire fashion (#8) yet that one hasn't seen the lead in 3 races since but this daughter of Dialed In has been close to or on the lead throughout in both of her starts; though trainer J. Servis has fired blanks w/ shippers during current Lrl meet (8:0-0-1)    
Race 7 is the $100,000 Thirty Eight Go Go Stakes
#4 – By the Moon (3-5): Really?! NY-based shippers last 4 of 6 races have been in G1s (5th by 3 in BC F&M Sprint), the other two were G3s, just not as Also-Rans… winning a G3 and a neck lost in G1 Acorn at today's distance; easily won Caesar's Wish in lone Lrl in Mar. '15 
#9 – High Ridge Road (7-2): L. Rice trainee could be the one that kills thousands of Pick-5 & Pick-6 tickets singling the prohibitive favorite; came up a whisker short of G3 win at Aqu in first start since Independence Day; 2 for 2 at Lrl and saw multiple winners exit those races   
#7 – Love Came to Town (12-1): Off the pace runner needed more than 6 furlongs in latest stakes effort; won minor stakes at Lrl nearly a year ago (Jan. 2nd); only "worse than second" outing in 5 at this distance was on an off track
Race 8 is the $100,000 Dave's Friend Stakes
#2 – Chief Lion (5-2): No other foe has speed or gaudy triple-digit speed figs to challenge him early, so leading rider J. Toledo should be able to milk the early fractions, leaving enough tank in the gas to hold off late comers     
#5 – Measured (12-1): Came up a neck short in stakes debut at Pen when 41-1 earning first triple-digit Brisnet# (102); 4 y.o. has had a solid 18 race career, churning his way through each condition; jock A. Wolfsont fits him like a glove (6:2-3-1)       
#8 – Heaven's Runway (2-1): Lit up Aqu toteboard to the tune of $66.50 in G3 event on Thanksgiving w/ neck victory over next out winner; failed as Post Time favorite in this event last year; NY-based jock C. Velasquez makes trip in just for this ride
Race 9
#3 – Flankenstein (8-5): Exits three turf races that kick started career; had lead at second call in all but lacked stamina to hold off rivals; switch to dirt should be uneventful as his breeding suggests dirt is the way to go
#1/1A – El Manut/Wilko's Last Dance (2-1): "EM" drops back in for tag after being no threat in MSW; adds Lasix and blinkers; mate is Canadian-bred FTS by Wilko who shows just a few so-so works but last from gate not too shabby
#5 – Glory Hound (10-1): Ran behind a couple others in here (#1 & #8) in debut for $16k w/ some interest (12-1); had the look of a runner wanting more distance and gets it in second start   
YESTERDAY'S NEWS  
On Friday December 30th at Laurel had 7 winners from the 9 race card (4 Top Selections; payoff in BOLD) having $2 WIN pay-off of $8.80 (2nd race), $7.00 (4th), $6.40 (5th), $7.40 (6th), $11.80 (7th), $6.60 (8th) and $6.60 (9th). Of the suggested multi-race wagers hit R8-R9 $2 DOUBLE for $19.00 (cost: $18). Year-to-date Top Selections are 303 for 1,204 (25.17%).
BEST BET of the Day (127: 31-28-19) Tiz a Diamond (7th race: 3-1 M/L; 3-1 PT) hung 5-wide into the first turn was taken back near the rear in the middle stages, began to rally on the turn, took to the rail entering the stretch and ran on willing to be second best and return $4.20 to PLACE and $2.60 to SHOW.
LONGSHOT PLAY of the Day (124: 13-13-16) Scarlett's Image (1st race: 12-1 M/L; 9-1 PT) never a factor, raced in the two path on the turn then swung to the four path entering the stretch to finish 5th.