The GQ Approach – Laurel December 30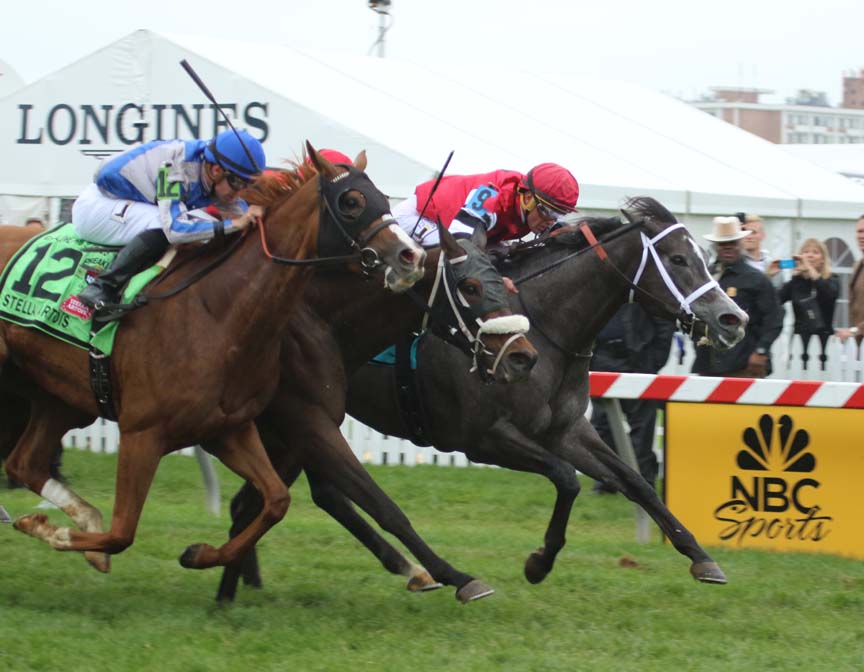 Mizz Money (#9) held off Vielsalm (in between) and Heath (#12) to win the Grade 3 Gallorette. Photo by Laurie Asseo.
The GQ Approach features full-card selections from Laurel Park (w/ live racing every Friday, Saturday and Sunday throughout 2016; Post Time 12:30pm EDT), including a daily Best Bet, Longshot Play, and multi-race wagers — including the 20 cent Rainbow Pick-6, 50 cent Jackpot Pick-5, as well as Pick-4s and rolling Doubles, Pick-3s and the Super High-5. 
CARRYOVERS
Rainbow Pick 6: $9,947
Super High 5: $994
Late Pick 5: $7,805
BEST BET OF THE DAY
Race 8 / #7 – Tiz a Diamond (3-1)
LONGSHOT PLAY OF THE DAY
Race 1  / #4 – Scarlett's Image (12-1)
[su_heading size="21″ align="left"]Multi-race wagers[/su_heading]
Race 1: $2 Double 3, 4, 5  w/ 6, 7, 9  ($18)
Race 3: $0.50 Pick-3  2, 5, 6  w/ 2, 3, 4  w/ 3, 5, 7  ($13.50)
Race 5: $0.50 Pick-5  3, 5   w/ 4, 6, 7  w/ 1, 6, 10 w/ 1, 7 w/ 2, 10 ($36)
Race 8: $2 Double 1, 4, 7 w/ 2, 5, 10  ($18)
[su_heading size="21″ align="left"]Analysis[/su_heading]
Weather: Mostly Cloudy, highs near 40
Projected condition of main track: FAST
No turf racing until Spring 2017
Race 1
#4 – Scarlett's Image (12-1): $$$ LONGSHOT $$$ Third race after one year layoff though first two on turf were ugly v. MSW, much like debut; lone dirt try resulted in runner-up at The Big T; trainer O. Figgins scores w/ 27% MSW to MCL runners
#3 – Street Heiress (4-1): First time in for tag after three off-the-board efforts, the latest being a distant fourth behind two next out maiden winners
#5 – Picnic Party (5-1): Claimed out of most recent race which was over 5 months ago (red flag?); keeps blinkers on and returns to dirt where she earned her best two speed figures
Race 2
#7 – Kitty Bank (5-1): Del meet leading rider this year, C. Cedeno has two mounts; this may be reason she's here; owns top Brisnet Prime Power# in this field and drops from restricted N1X
#9 – Eyerish Inspired (9-2): Though bred to run on turf, this gray won career debut then was runner-up next out, both on this Lrl dirt oval; third race after layoff
#6 – My Adeline (5-1): Trainer M. Eppler does wonders w/ her claims even though just 15% first off claim; initial start v. winners but runner-up (Poco Loco) from her maiden win came back to win next two starts   
Race 3
#2 – Sound the Horns (5-2): KY-bred FTS by Include out of a Fusaichi Pegasus mare cost West Point Tbreds group a cool $255k in Mar. '15; since been gelded (there goes the stud plan); worked in earnest a year ago then stopped, resumed training 7 weeks ago; McCarthy/Motion 21% past year
#6 – Yankee Tar (8-1): Blow the dust off this 3 y.o. gelding who last raced a year ago; showed a decent late kick in both starts against winners who blossomed into nice runners; recent works look promising
#5 – Kabang (7-2): Gelded since last start which was at Aqu sprinting on dirt after a string of five turf starts since transferring to M. Trombetta barn; past dirt efforts have been strong v. better     
Race 4
#4 – Kowboy King (5-2): Exits open $7,500 Claimer sprinting after showing a lot of early speed then weakened going two turns two back at this condition
#2 – Hard Thunder (10-1): Takes multi-level class drop in search of past form; should find this group of non-winners since June 30 a bit easier; encouraging that Karamanos returns to ride
#3 – Jumpin Frac Flash (2-1): Another class dropper who won just 3 months ago but qualifies for this condition as it was for $5k; also won in June for $7,500; nice record at distance (7:2-1-2)
Race 5
#5 – Habanero Gold (7-2): Gets back to preferred distance (6:2-3-0) where he can take this field from gate-to-wire; only foresee minimal pressure early
#3 – Field Sense (8-1): Takes appropriate drop after a trio of ugly efforts since summer layoff; fact that V. Carrasco rode this one to two runner-up finishes in the spring gives hope today
#7 – Hey Kid (8-1): Third race after layoff at this same level going 6f; 1 for 2 at distance and rider switch to A. Cintron could return positive results            
Race 6
#7 – Quality Interest (7-2): Here's a good test to see exactly how much better KY runners are the locals… if that is the case! Trainer K. Nations ships in after claiming this one at CD for $16k when runner-up in N3L
#4 – Grecian Prince (6-1): Speed figures have been ascending since returning to the track in the afternoon in spite of finding trouble every time out; gets upgrade in the saddle
#6 – True Arch (4-1): Winner in first race off W. Komlo claim; will try to go gate-to-wire w/ K. Davis back aboard in this softer spot     
Race 7
#10 – Dixie Deputy (5-2): Has been a model of consistency… 80+ Brisnet#s in past 10 races and beyond; trainer is 0 for 18 at meet and time to pay the barn bill, so the class drop is in order
 #1 – Riley Coyote (5-1): Away since August and just gets in under condition wire as he won on June 18 at CT; makes Lrl debut for trainer R. Nagle who ships runners in ready to win (9:2-2-1) 
#6 – Bully Song (7-2): Second race after claim, a 27% winning angle w/ trainer K. Magee who win percentage has been heading in the same direction as the temps in these parts lately; drop   
Race 8                                                                                                               
#7 – Tiz a Diamond (3-1): *** BEST BET *** Exits maiden win that saw second and third place finishers come back to break maiden in next race; two back was runner-up to a next out winner who is entered in stakes race on Saturday
#1 – Super Sharp (8-5): Strong one-two punch for meet leading trainer M. Eppler having the #7 and this filly who ran a game second at this level; two turns might help get her to Winners Circle
#4 – Bawlmer Hon (7-2): One of the best MD-bred names running locally; destroyed a state bred N1X field two back but couldn't keep up w/ pace in latest; should get an easy lead today
Race 9
 #2 – Balkan (2-1): Best of a poor lot of $16k maiden claimers here; drops from MSW after backing up like a city trash truck in latest after being on the lead to the second call
#10 – Jackson S (10-1): Showed nothing in debut versus $25k maiden claimers on the turf; gives dirt a try now that turf season is over; has a bullet work on Lrl dirt so he could surprise at a price
#5 – Robey's Boy (15-1): Got no play in debut (57-1) and ran to those odds versus better as he "passed tiring rivals"; possibly got an education and the others in here have just as many question marks   
YESTERDAY'S NEWS  
On Monday December 26th at Laurel had 5 winners from the 9 race card (4 Top Selections; payoff in BOLD) having $2 WIN pay-off of $5.40 (1st race), $3.40 (2nd), $10.60 (6th), $21.20 (7th) and $5.80 (9th). Of the suggested multi-race wagers hit R1-R2 $2 DOUBLE for $15.00 (cost: $6). Year-to-date Top Selections are 299 for 1,195 (25.02%).
BEST BET of the Day (126: 31-27-19) Our First Candy (7th race: 4-1 M/L; 7-2 PT) four deep around the turn, had a mild advance to the stretch then failed to sustain her move, flattening out to finish 5th.
LONGSHOT PLAY of the Day (123: 13-13-16) Maryland's Best (4th race: 12-1 M/L; 9-1 PT) broke slow and was bumped, saved ground off the pace, angeld out for the drive but failed to menace while finishing 7th.