The GQ Approach – Laurel December 26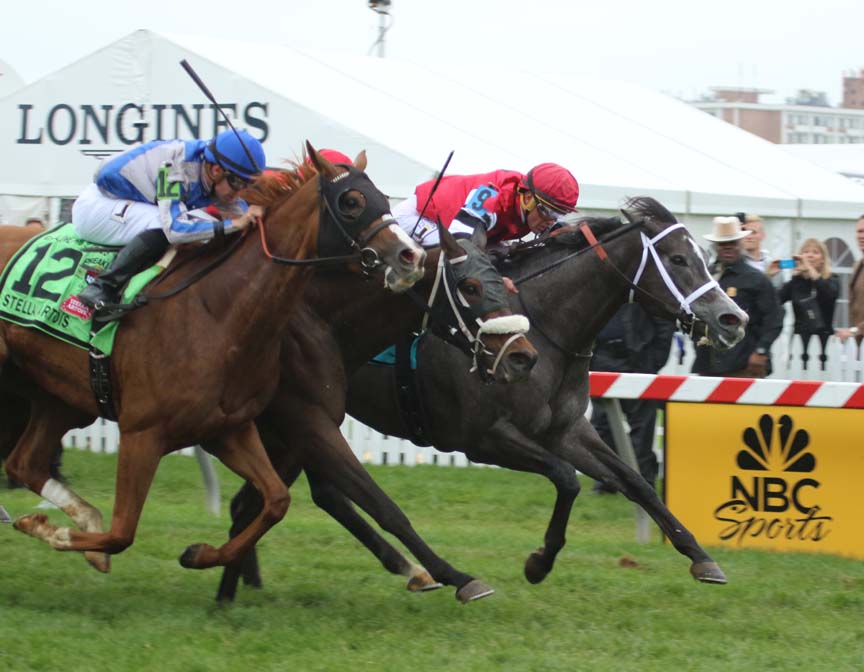 Mizz Money (#9) held off Vielsalm (in between) and Heath (#12) to win the Grade 3 Gallorette. Photo by Laurie Asseo.
The GQ Approach features full-card selections from Laurel Park (w/ live racing every Friday, Saturday and Sunday throughout 2016; Post Time 12:30pm EDT), including a daily Best Bet, Longshot Play, and multi-race wagers — including the 20 cent Rainbow Pick-6, 50 cent Jackpot Pick-5, as well as Pick-4s and rolling Doubles, Pick-3s and the Super High-5. 
CARRYOVERS
Rainbow Pick 6: $5,936
Super High 5: $5,241
Late Pick 5: no carryover
BEST BET OF THE DAY
Race 7 / #3 – Our First Candy (4-1)
LONGSHOT PLAY OF THE DAY
Race 4  / #5 – Maryland's Best (12-1)
[su_heading size="21″ align="left"]Multi-race wagers[/su_heading]
Race 1: $2 Double 1, 6, 9 w/ 7  ($6)
Race 3: $0.50 Pick-3  2, 4, 6  w/ 1, 2, 5  w/ 5, 6, 8  ($13.50)
Race 6: $0.50 Pick-4  1, 4, 8  w/ 3, 4  w/ 7, 8  w/ 1, 2, 7  ($18)
Race 8: $2 Double 7, 8  w/ 1, 2, 7  ($12)
[su_heading size="21″ align="left"]Analysis[/su_heading]
Weather: Mostly Cloudy, highs in the mid 40s
Projected condition of main track: FAST
No turf racing until Spring 2017
Race 1
#9 – Include Gold (9-5): Adds blinkers and drops a couple class levels; lone victory came on this course but on an off track sprinting
#1 – Weatherurnot (3-1): Speed from the rail will be tested early by NY shipper #5; if either scratched a gate-to-wire score is possible; like this one's ascending speed figures
#6 – Y'er Wan (6-1): Got SHOW purse v. better in last two @ PA tracks after adding blinkers; makes Lrl dirt debut while never OTB at this distance (3:0-2-1)
Race 2
#7 – Holiday Blues (8-5): Stands out with three consecutive 80+ Brinset#s, by far the best in this field; exits turf sprint which came after nose loss at this level going 6f on dirt locally
#4 – If You Believe (5-2): Import from SoCal via D. Jacobson private purchase; shows some uninspiring works and eligible to be claimed doesn't give a warm and fuzzy feeling in spite of recent races at SA and Dmr
#3 – Maryland's Love (10-1): Recent purchase via liquidation of the late Howard Bender estate; worth a look as lone win came in debut sprinting on Lrl dirt     
Race 3
#4 – Finito (4-1): Was in waaay over his head in latest; drops back to level where he was claimed 3 back and won v. N3L
#2 – Mongolian King (6-5): Barely lasted in latest going long @ Pen v. 5 rivals; returns to Lrl where he's never been worse than runner-up (3:1-2-0)
#6 – After the Cut Off (6-1): Takes multi-level drop due to suddenly being off form in last two; T. McCarthy getting leg up for first time is a positive sign             
Race 4
#5 – Maryland's Best (12-1): $$$ LONGSHOT $$$ Plenty early speed in this event, so this one can let the speed duel ensue and let the early leaders get leg weary in deep stretch
#1 – In Arrears (5-2): Speed from the rail, will dictate pace in a catch me if you can effort; cut back from 7 furlongs is key
#2 – High Roller (1-1): Failed as Post Time favorite in minor stakes here last month; just one work since but obviously one to beat
Race 5
#6 – Manille (5-2): Could be a gate-to-wire winner as she's been facing much better and others in here aren't the "need the lead to win" type; biggest concern is the pilot, 7 lb. bug J. Torres is just 1 for 18 at meet
#8 – Pret Say Eye (8-1): 0 for 7 on natural dirt but gets class relief in order to pay barn bill during winter racing; L. Gaudet/K. Gomez have teamed up for 4 wins from 6 outings this meet
#5 – Lemon Lover (6-1): First race after W. Potts claim (24%); 3 y.o. filly catches a fairly weak open $15k claimer; interesting that A. Cintron lands here instead of on #1 for Rickman/R. Alfano
Race 6
#8 – Painter's Rags (5-1): KY-bred FTS by Union Rags has extensive work tab with a couple recent bullets; like the string of 5 furlong works which should indicate readiness to go long in debut
#1/1A – Cruzin With Pachi/El Manut (15-1): #1 is KY-bred Awesome Again FTS out of Tiznow mare should like one mile distance as #1A comes off runner-up debut effort in w/ $16k MCL
#4 – Valhalla (5-1): Supposedly the weaker of the two T. Pletcher uncoupled entries; this colt had look of wanting more distance in 6½f debut; nice works since; should improve on stretch out     
Race 7
#3 – Our First Candy (4-1): *** BEST BET *** Been having wide trips while still improving on speed figs; finally gets an additional 1/16th of real estate to help has she does her best running in deep stretch
#4 – Socialize (7-2): Dangerous duo in G. Motion/T. McCarthy w/ Broken Vow filly making her third career start; bridesmaid by just a neck in latest w/ late rally going 7f at this same $25k MCL
#7 – Scarlett's Ransom (12-1): It's not by accident that trainer J. Robb, one of the best in MD w/ 2 y.o., gets 30% of his runners to Winners' Circle in their second career race; took action v. better in debut   
Race 8
#7 – Concordia's Way (9-2): Looks to score natural Hat Trick as he moves up into N2X company; interesting that loses services of J. Toledo who opts for Jacobson 6-1 runner (#4)
#8 – Service for Ten (5-1): Will need some pace help as this 7 y.o. does his best running in deep stretch; runner-up v. at same level when 7-wide on turn
#11 – Gursky (12-1): Away for over 5 months after failed effort first time v. N2X; previously had been a darling for bettors (PT fav. in 5 of past 8); typically part of Trifecta at this distance (6:1-3-1)
Race 9
#7 – My Giant (9-5): Makes dirt debut in 14th career start; drops to bottom of the claiming barrel as if he won't run a lick on dirt, but breeding doesn't suggest he won't; might be a bargain claim
#2 – Run for Zach (6-1): Very impressive run in first try around two turns to beat N2L; faces a mixed bag of runners whose 3rd win has eluded them, so a repeat performance could land him in Winners' Circle
#1 – Thought Partner (7-2): Has been dropping through the claiming ranks like a rock while trying to get win #3; failed as Post Time favorite in last outing at this level; J. Toledo back aboard   
YESTERDAY'S NEWS  
On Saturday December 24th at Laurel had just 4 winners from the 9 race card (2 Top Selections; payoff in BOLD) having $2 WIN pay-off of $10.00 (1st race), $12.40 (2nd), $5.00 (3rd) and $8.40 (9th). Of the suggested multi-race wagers hit R1-R2 $2 DOUBLE for $33.00 (cost: $18). Year-to-date Top Selections are 295 for 1,186 (24.87%).
BEST BET of the Day (125: 31-27-19) Risky Guy (3rd race: 2-1 M/L; 3-2 PT) prompted pace outside a rival then gained lead approaching the stretch, sprinted clear in upper stretch and held sway under brisk urging to win by ¾ of a length to return $5.00 to WIN, $3.40 to PLACE and $2.60 to SHOW.
LONGSHOT PLAY of the Day (122: 13-13-16) Waves On the Sea (9th race: 8-1 M/L; 6-1 PT) hesitated at the break spotting the field a few lengths, circled six wide to loom a factor mid-turn, pursed into the lane then gave way in the final furlong to finish 6th.