The GQ Approach – Laurel December 24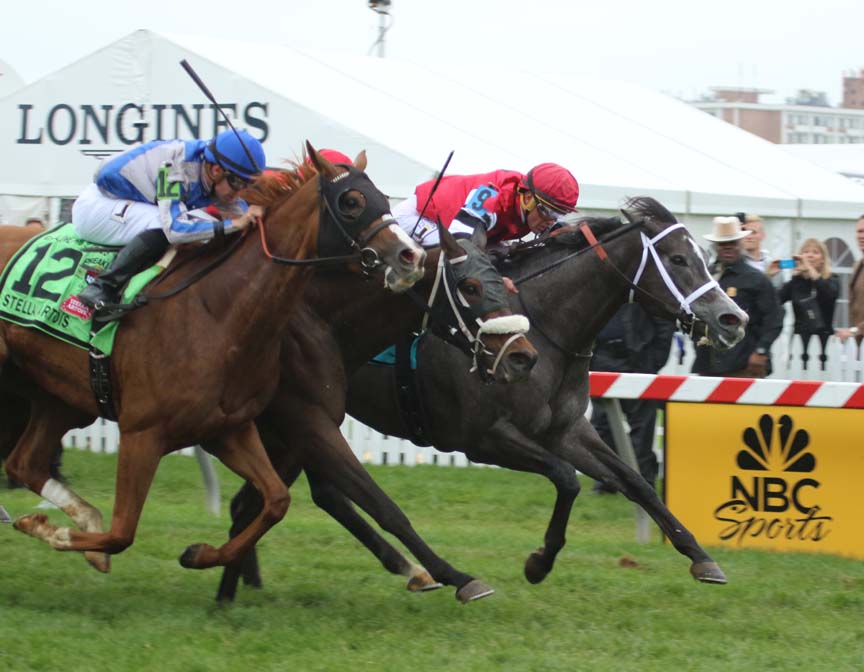 Mizz Money (#9) held off Vielsalm (in between) and Heath (#12) to win the Grade 3 Gallorette. Photo by Laurie Asseo.
The GQ Approach features full-card selections from Laurel Park (w/ live racing every Friday, Saturday and Sunday throughout 2016; Post Time 12:30pm EDT), including a daily Best Bet, Longshot Play, and multi-race wagers — including the 20 cent Rainbow Pick-6, 50 cent Jackpot Pick-5, as well as Pick-4s and rolling Doubles, Pick-3s and the Super High-5. 
CARRYOVERS
Rainbow Pick 6: $1,236.53
Super High 5: $644.55
Late Pick 5: no carryover
BEST BET OF THE DAY
Race 3 / #5 – Risky Guy (2-1)
LONGSHOT PLAY OF THE DAY
Race 9  / #5 – Waves On the Sea (8-1)
[su_heading size="21″ align="left"]Multi-race wagers[/su_heading]
Race 1: $2 Double 1, 6, 8 w/ 2, 5, 9  ($18)
Race 3: $0.50 Pick-3  1, 5, 7  w/ 7, 8, 11  w/ 3, 4, 8  ($13.50)
Race 6: $0.50 Pick-4  1, 4, 6  w/ 1, 12  w/ 1, 4, 9   w/ 2, 5, 8  ($27)
Race 8: $2 Double 1, 4, 9   w/ 2, 5, 8  ($18)
[su_heading size="21″ align="left"]Analysis[/su_heading]
Weather: Mostly Cloudy w/ rain in the morning, highs near 50
Projected condition of main track: SLOPPY to GOOD
No turf racing until Spring 2017
Special Holiday Post Time: 12:00pm EST
Race 1
#8 – Bohemian Bliss (2-1): Missed natural Hat Trick in latest @ Pen when got leg weary in final 1/16th; should be able to fly to the front early w/o much pressure and hold off late comers
#1/1A – Staff Sgt Reckless/Tracy Island (8-5): Formidable duo as "Staff Sgt" stronger of the two and no worse than second since trainer H. McMahon claim 5 races back; entrymate makes dirt debut after 5 starts on turf… a sloppy track might be to her liking
#6 – Nancy's Gone Wild (10-1): Cuts back to sprint after showing early interest going two turns @ Pen in first race since June; gets T. McCarthy in the irons and likes an off track (2:1-1-0)
Race 2
#9 – Senor Quickie (7-2): Was thrown to the wolves in both starts since trainer P. Schoenthal claimed this 7 y.o. for $7,500; got to Winners' Circle that day and in only previous start for open $5k       
#5 – Drop to Pop (20-1): Has offered nothing positive to go off of in past 3 outings but warrants a look if track comes up "off" as his best two races have come on the only two run on an off track
#2 – Greek God (2-1): Speed figs have been ascending but 0 for 3 on fast track while 2 for 4 when "off"; needs early lead to win and there are plenty others w/ same style; could be vulnerable    
Race 3
#5 – Risky Guy (2-1): *** BEST BET *** Jock V. Carrasco fits this gelding like a glove (6:3-1-1), likes Lrl (8:3-3-1) and a wet track (7:2-2-2) while regularly competing these Starter $5k & $7,500 events; prevailed by a neck in latest and was second best two back in a race that produced multiple next out winners
#1/1A – Cho Time/Cooking Up a Storm (8-1): Both are coming off less than stellar performances but "Cho" was reclaimed in latest by G. Brooks who can get him back in good form quickly; second start after layoff for "Storm", ran far behind top pick in here but capable of a better effort, loves Lrl (11:4-5-0)
#7 – To Dare (6-1): Beat $5kN3L in first start for meet leading trainer M. Eppler; has back class to take big step up and be on the scene late; 4 y.o. son of Curlin should take to an off track             
Race 4
#7 – Moonspell (9-2): Taking a leap of faith as this gelding makes first start since Tax Day and drops in for $25k tag for first time since debut in mud here a year ago, a runner-up effort which earned best Brisnet# of this bunch of maidens
#8 – Gavin Streetsense (5-2): One of K. Magee's private purchases from left coast connections who have had mixed results with these imports; adds blinkers but why no works since arriving last month?
#11 – We Were Kings (15-1): Possible Hunch Bet (re: "We THREE Kings…"?), yeah a stretch but 21% trainer ships in from FL as this ones been away since Sept. '15 debut when 4th behind a couple next out winners; worth using in this mixed bag of maidens
Race 5
#3 – Pharoah's City (3-1): Prx shipper for trainer M. Zulueta (27%) brings along F. Pennington for the ride after a big reversal in form lately, earning duplicate Brisnet# (89) which is best among today's foes
#8 – Gin Fuzz (8-1): Finally found his way to the Winners' Circle in 15th start, albeit on turf; so many near misses in the past including 2 runner-ups from 3 starts on dirt; Lightbulb Theory in play here
#4 – Forever Bernardini (6-1): Returns to main oval after finding turf and synthetic more pleasing; breeding suggests those first two outings on GP dirt was due to immaturity not dislike of the surface; positive jock switch to F. Lynch            
Race 6
#6 – Scorch (4-1): Have to wonder if this Candy Ride colt has been pointing to a turf return since training resumed in Oct. under the watchful eye of M. Dickinson, but was never quite ready? Regardless, should be cranked up for first start in nearly a year; an off track would help
#4 – Golden Glint (3-1): Certainly the one to beat based on most recent victory at this level when recording a triple-digit Brisnet# (101); trainer M. Eppler in tight race for training title
#1 – Flash McCaul (12-1): Connections should be doing a rain dance (runner-up in 3 of 4 off track efforts); has run behind a few others in here but w/ F. Lynch up for return engagement, look for improvement     
Race 7
#1 – Hanalei Sunset (6-1): MD-bred FTS by Pollard's Vision morning drills appear dull but nicely spaced, something typical of a trainer M. Eppler runner who often score at first asking (25%) when in for a tag
#12 – Wazzala (8-1): VA-bred FTS by Fierce Wind may want more estate to reach top cruising speed but extensive work tab w/ most recent from the gate over Lrl oval indicates she's ready
 #6 – So Refreshing (6-1): KY-bred FTS by Stay Thirsty cost $25k at local sale in May; ugly jock/trainer stats (0 of 29) but others in here have proven they aren't "all that"; might give AE #16 – On the Prowl (20-1) another look if she draws in… best two efforts have been v. similar         
Race 8
#1A – Nicaradalic Rocks (9-5): No interest in entrymate thank you but this gelding has paid handsome dividends since being claimed for $20k @ SA in July; ITM in all 5 Lrl starts w/ a win in MD Million Sprint Hcp
#9 – Bethel Wildcat (8-1): Quite the Christmas gift from ML maker Keith Fuestle as this colt owns top Brisnet Prime Power# in this field; getting G. Motion/T. McCarthy combo will also hurt your price come Post Time
#4 – Mr. Game Seven (15-1): Plenty of early speed signed on here so his late running style bodes well for a chance to upset; loves Lrl (4: 2-2-0) and would benefit from an off track (1 for 1)
Race 9
#5 – Waves On the Sea (8-1): $$$ LONGSHOT $$$ Fell in latest when clipped heels early in first race after 3-monthh layoff; only two other main track starts, both resulted runner-up efforts v. better
#2 – Wildcat Rising (7-2): An ugly record (16:0-3-2) yet she's been competitive at this level lately but appears to lack the will to win; Karamanos sticking around to ride a positive sign
#8 – Paradise Bird (8-5): Vulnerable favorite due to steep class drop coming off 9-month vacation; has burned tons of cash as she's been sent off as PT favorite or second choice in 5 of 6 starts 
YESTERDAY'S NEWS  
On Friday December 23rd at Laurel had just 4 winners from the 9 race card (2 Top Selections; payoff in BOLD) having $2 WIN pay-off of $3.40 (1st race), $7.40 (4th), $3.80 (6th) and $5.00 (9th). Year-to-date Top Selections are 293 for 1,177 (24.89%).
BEST BET of the Day (124: 30-27-19) Triple Black Jack (3rd race: 9-2 M/L; 5-2 PT) dueled three deep around the turn, held a clear lead in mid-stretch but weakened late while salvaging third to return $3.60 to SHOW.
LONGSHOT PLAY of the Day (121: 13-13-16) Crisis Averted (6th race: 6-1 M/L; 4-5 PT) WOW! After six of the thirteen entered were scratched, this one took all the money… relaxed kindly off the pace while four wide, responded when given her cue past the three eighths, cruised up four wide to take command with a quarter to go, quickly opened up a daylight advantage, was roused left handed a couple times leaving the eighth pole, continued to increase her advantage and was only minimal urging the final seventy yards to win by 9 lengths and return $3.80 to WIN, $2.80 to PLACE and $2.40 to SHOW.