The GQ Approach – Laurel December 23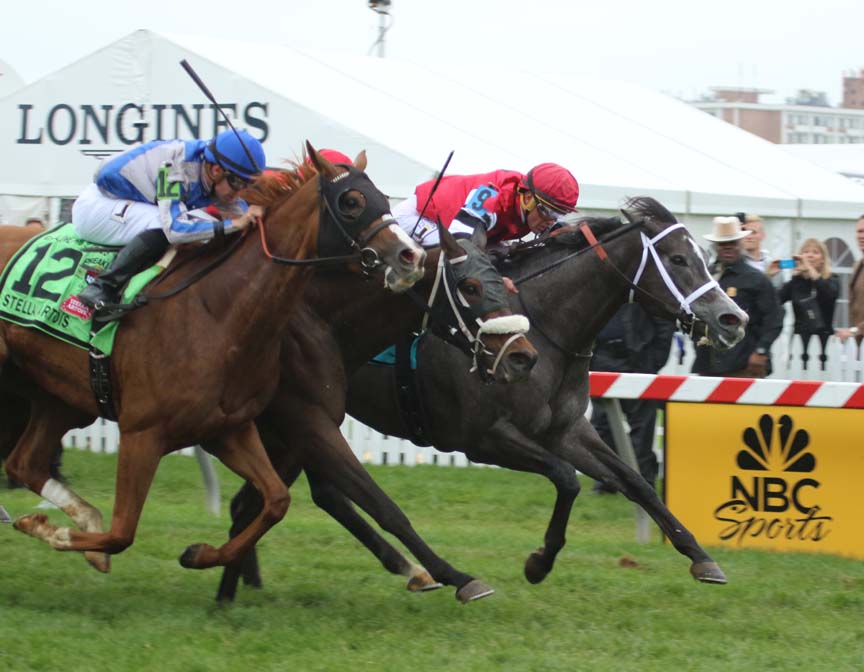 Mizz Money (#9) held off Vielsalm (in between) and Heath (#12) to win the Grade 3 Gallorette. Photo by Laurie Asseo.
The GQ Approach features full-card selections from Laurel Park (w/ live racing every Friday, Saturday and Sunday throughout 2016; Post Time 12:30pm EDT), including a daily Best Bet, Longshot Play, and multi-race wagers — including the 20 cent Rainbow Pick-6, 50 cent Jackpot Pick-5, as well as Pick-4s and rolling Doubles, Pick-3s and the Super High-5. 
CARRYOVERS
Rainbow Pick 6: $699.79
Super High 5: no carryover
Late Pick 5: no carryover
BEST BET OF THE DAY
Race 3 / #7 – Triple Black Jack (9-2)
LONGSHOT PLAY OF THE DAY
Race 6  / #4 – Crisis Averted (6-1)
[su_heading size="21″ align="left"]Multi-race wagers[/su_heading]
Race 1: $2 Double 1, 2, 4 w/ 1, 5, 9  ($18)
Race 3: $0.50 Pick-3  3, 6, 7  w/ 3, 5, 12  w/ 5, 10, 13  ($13.50)
Race 6: $0.50 Pick-4  1, 4, 7  w/ 8, 12  w/  3, 4, 8 w/ 3, 7, 11  ($27)
Race 8: $2 Double 3, 4, 8 w/ 3, 7, 11  ($18)
[su_heading size="21″ align="left"]Analysis[/su_heading]
Weather: Mostly Cloudy, highs in the upper 40's
Projected condition of main track: FAST
No turf racing until Spring 2017
Race 1
#1 – Set to Dance (9-5): Bridesmaid in both starts while the third place finishes came back to break their maidens; House Horse makes return trip from Bel for trainer C. Clement hoping third time is a charm
#4 – Sarah's Treasure (7-2): In 5 starts has raced on turf, fast & muddy main track surfaces; away 2 months after so-so turf outing; has finished closely behind 3 next out winners
#2 – Tiz Our Time (4-1): Been on the lead at midway point in last 3 efforts sprinting and middle distance but lacked will to win; latest going one mile may have put some stamina in her for cut back to 6f
Race 2
#5 – Hatteras Bound (4-1): Raced along a dead Lrl rail on MD Juv. Champions Day near the lead for 4 furlongs then gave way like many others along the rail that day; has already beaten 6 of 8 foes in here today in the past; only 1 of 2 in here with 2 wins
#9 – Parade of Nations (5-2): Here's the other runner with 2 career victories; beat lower level ($15k) 2 y.o. claimers in latest when PT favorite when stretched out to one mile (today's distance) after running behind top pick by 5+ lengths sprinting
#1 – Resident Scholar (10-1): Fresh off a 5¼ length maiden romp when claimed out of that race for $16k by K. Magee who gets 25% "1st after claim" runners to Winners' Circle; gets favorable pace scenario     
Race 3
 #7 – Triple Black Jack (9-2): *** BEST BET *** This 7 race maiden last ran on a fast, dirt track in Aug. '15 v. MSW, finished 7½ behind winner then was off 9 months; only other fast track effort he SHOWed in debut (July '15); been running on turf and dropping in ranks
#3 – Irish Handcuffs (3-1): Runner-up in all 3 fast track starts (the latest 3) at this same level sprinting; Deep Closer cuts back 1/16th today which will be a challenge in itself but rest of field is heavy with cheap speed
#6 – Full of Beans (10-1): Ran out of gas (pun intended) in latest sprint outing which came over 7 months ago @ Pim; just 3 though decent, nicely spaced works precede third career start             
Race 4
#12 – Antietam Creek (4-1): Just 1 for 12 lifetime on a fast track but should be threat off short layoff with cut back in distance; HOF trainer KTL & leading jock J. Toledo team-up to win at 24%
#3 – Northern Prancer (6-1): Back-to-back wins after starting career 0 for 12; speed figs have been ascending to the point a natural Hat Trick is a realistic possibility v. this group of N3L
#5 – Color Me Sexy (7-2): Boasts #1 Brisnet Prime Power ranking as she's never run a bad race in 10 career efforts; ran behind next out winners in last two at this level
Race 5
#13 – Back to Seattle (7-2): After a win, place & show in last 3 on Lrl grass, he got gelded for his efforts; adds blinkers as he returns to dirt oval and gets some class relief              
#10 – Heavenly Haze (6-1): An ugly lifetime record on fast track (1 for 20) yet continues to be backed at the windows (4-1 or less in last 10) but runner-up in 3 of 6 at this 5½ furlong distance   
 #5 – Saturday Sunshine (10-1): Will be first career start on fast track (4 turf; 2 off track) and drops to bottom level presumably because connections only value him as a turf runner      
Race 6
#4 – Crisis Averted (6-1): $$$ LONGSHOT $$$ Drops to bottom claiming level as turf season is history and have only displayed early speed in past dirt tries but against much better than this assembled group
#1 – Delightfullstorm (15-1): Showed promise versus similar but couldn't get 7 furlongs; catches a weak N2L field; needs smart ride from the rail as K. Davis retains mount after failing as PT favorite @ CT in latest
#7 – Avellaneous (12-1): Looking at past 10 races there's just one on main oval and she trailed throughout v. $10kN2L but lone win came over a fast Lrl dirt oval at this distance     
Race 7
#12 – Iredell (7-2): Curlin gelding has faced and competed against better throughout his 14 race career but second win has eluded him; a clean, stalking trip should get him to Winners' Circle
  #8 – Visual Effect (12-1): A debut winner locally sprinting in the slop v. $10k MCL makes third career start after troubled trip v. a bit tougher foes; A. Cintron back in irons
  #6 – Gwynn Oak Park (9-2): Steep class drop in addition to offering this previously Triple Crown nominated 3 y.o. colt for $9k for 4lb. break is usually raises a huge caution flag   
Race 8
#3 – How's Your Sugar (4-1): Couldn't get to today's ML fav. (#4) in latest effort, settling for Place; loves the Lrl strip (4:2-1-1) and can turn tables with a little pace help
#8 – Ghost Bay (8-1): View that sprint, first outing after layoff as a tightener for getting back to his accustomed two turn distance; leading rider J. Toledo & trainer R. Bailes 3 for 3 at meet
#4 – Jeezum Jim (5-2): A different runner since being stretched out to two turns (2 for 2); one to beat for trainer G. Capuano who is making final push to catch M. Eppler for training title
Race 9
#11 – Zendreya (7-2): Trainer L. Gaudet is wrapping up best year of her young career; this filly was beaten favorite on turf last out; past two 2 dirt were v. MSW whereas in for $10k here; breeding points to dirt success
 #3 – Startdwithawhisper (6-1): Leading trainer M. Eppler trying to fend off challenges for meet title hopes this gal is ready for graduation day; has shown signs of talent at this level, maybe stretch out to one mile helps
 #7 – My Sangria (4-1): Recent form on turf much better than dirt efforts in first two career starts; maturity and recent dirt drills give reason she'll be fine switching back to dirt   
YESTERDAY'S NEWS  
On Friday December 16th at Laurel had 5 winners from the 9 race card (2 Top Selections; payoff in BOLD) having $2 WIN pay-off of $15.80 (1st race), $3.00 (2nd), $9.80 (4th), $7.40 (5th) and $11.00 (9th). Of the suggested multi-race wagers hit R1-R2 $2 DOUBLE for $36.20 (cost: $18). Year-to-date Top Selections are 289 for 1,159 (24.94%).
BEST BET of the Day (122: 30-27-18) Boppin Anda Weavin (6th race: 6-1 M/L; 5-1 PT) stumbled badly at the start, covered in time to move into between rivals forging to the early lead, maintained that lead into the stretch when asked for best stride but could not hold off winner and lost the runner-up spot at the wire to return $4.20 to SHOW.
LONGSHOT PLAY of the Day (119: 12-13-16) Nopalito (7th race: 12-1 M/L; 10-1 PT) raced off the pace to the ½ pole, moved between rivals into the far turn and weakened to finish 7th.