The GQ Approach – Laurel December 18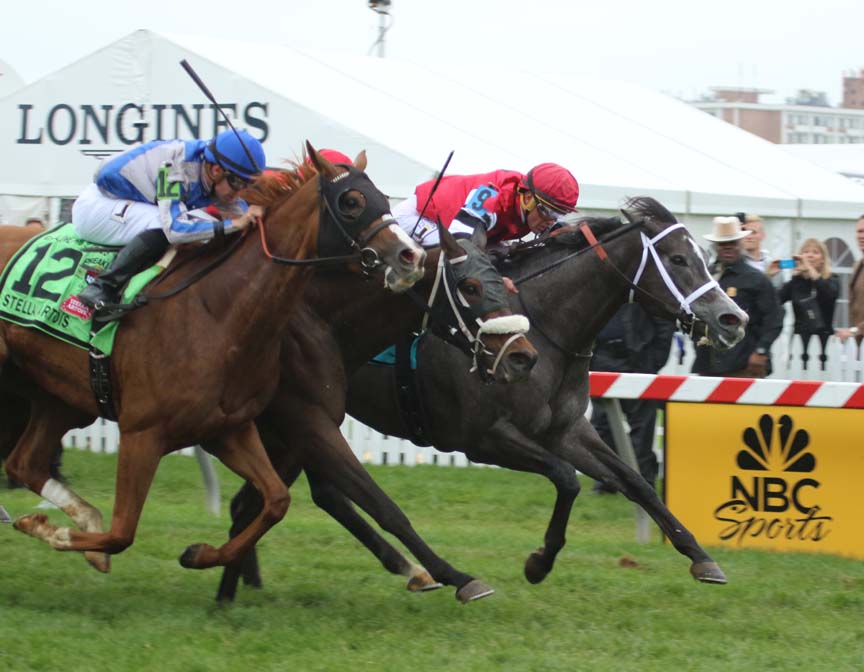 Mizz Money (#9) held off Vielsalm (in between) and Heath (#12) to win the Grade 3 Gallorette. Photo by Laurie Asseo.
The GQ Approach features full-card selections from Laurel Park (w/ live racing every Friday, Saturday and Sunday throughout 2016; Post Time 12:30pm EDT), including a daily Best Bet, Longshot Play, and multi-race wagers — including the 20 cent Rainbow Pick-6, 50 cent Jackpot Pick-5, as well as Pick-4s and rolling Doubles, Pick-3s and the Super High-5. 
CARRYOVERS
Rainbow Pick 6: no carryover
Super High 5: no carryover
Late Pick 5: no carryover
BEST BET OF THE DAY
Race 2 / #4 – Path Dependent (9-2)
LONGSHOT PLAY OF THE DAY
Race 5  / #8 – Perigee Moon Slide (15-1)
[su_heading size="21″ align="left"]Multi-race wagers[/su_heading]
Race 1: $2 Double 1, 6, 7 w/ 4, 5, 7  ($18)
Race 3: $0.50 Pick-3  1, 2, 6  w/ 2, 3, 4  w/ 6, 7, 8  ($13.50)
Race 6: $0.50 Pick-4  3, 6, 7 w/ 5, 10, 11  w/ 1, 5 w/ 2, 8  ($18)
Race 8: $2 Double 1, 5, 8 w/ 1, 2, 8  ($18)
[su_heading size="21″ align="left"]Analysis[/su_heading]
Weather: Mostly Cloudy, highs in the mid 40's
Projected condition of main track: SLOPPY to GOOD
No turf racing until Spring 2017
Race 1
#6 – Ideal Behavior (9-2): 1 of just 2 in here not coming off maiden win; best 3 of 5 races have come on main oval at Lrl
#7 – Fleur de Force (10-1): Debut winner for Zayat Stables under Rudy Rodriguez conditioning offered for $16k tag was a head-scratcher; the carrot daggles again for $20k in second start
#1/1A – Spicy Girl Red/Neyami (5-1): Both entrymates graduated in their most recent start, albeit v. maiden claimers, #1 long on grass & #1A sprinting on dirt; today is middle distance
Race 2
#4 – Path Dependent (9-2): *** BEST BET *** 0 for 15 lifetime but 14 have been on turf; runner-up in the slop 4 races back; excuses and wide trips in last few; trainer K. Magee wins w/ 39% on turf to dirt angle
#5 – Bama Sam (8-1): Away since March and barn takes advantage of Waiver Claiming Rule; look for this one to contest early pace as there isn't much speed signed on here
#7 – Ice On the Severn (10-1): That was yesterday but racing on slop might be to his liking as lone bullet drill came over a muddy Lrl surface
Race 3
#1 – Purnata (3-1): Been racing on turf (11:0-4-5) while only victories came on fast (3:1-0-1) and off (2:1-1-0) track surfaces
#6 – Fooled By Magic (8-1): May need some magic as trainer C. Sarson saddles first start of '16; banking on an off track as this filly likes it wet (3:1-1-1)
#2 – Vale Ridge (7-2): Yet to hit the board in start fast track starts but takes multi-class level drop; V. Carrasco becomes 10th different rider in this mares last 11 starts          
Race 4
#4 – Seven Knots (9-2): Second start w/ blinkers; showed late interest when travelling one mile on turf in last outing; might be the type of 2 y.o. who gets better by leaps and bounds w/ every start
#3 – Kid Sadove (2-1): 1 of 2 shippers on the Lrl card for trainer L. Rice is an IN-bred FTS by Lemon Drop Kid that has an extensive work tab; Toledo aboard not Rice's go to Lrl rider Karamanos; vulnerable favorite
#2 – Crescent Warrior (8-1): Debut was forgettable when chilly on the board (23-1) but that was on turf; trainer H. McMahon is 21% w/ turf-to-dirt runners
Race 5
#8 – Perigee Moon Slide (15-1): $$$ LONGSHOT $$$ A late running sprinter and grass specialists OR begging for more distance? Gets 7 furlongs and has shown a liking for an off track (3:0-1-1); third race after layoff
#6 – Nairet (3-1): Has run best races of career on an off track (3:1-1-1); an Also-Ran v. better, was runner-up in latest when dropped to this level and stretches out 1/8th
#7 – Goldies Tale (7-2): Exits 5 consecutive turf races hitting the board just once; earned diploma on Lrl dirt oval at only outing at today's distance            
Race 6
#7 – Boys From Boston (5-2): A busy freshman campaign (6:1-2-1) as only two OTB finishes came in graded stakes races; should find his half dozen competitors a bit easier handle
#3 – Bellows (9-5): Has twice earned an 80 Brisnet# in 3 starts, tops among today's rivals; stretching out to one mile should be no problem for this son of Hansen out of a Dixie Union mare
#6 – Fly E Dubai (12-1): Winning debut was a surprise to connection as this 2 y.o. was sent off as 21-1 longshot; though victory came in $40k MCL, it was visually very impressive     
Race 7
#10 – Supervisor (6-1): Didn't care for Prx surface or jump in class but has improved on Brisnet# in his past three starts; should display early speed as in previous Lrl outings for chance to go gate-to-wire
#11 – Hunt N Quest (8-1): Draw a line through last start, when hopped at start in turf sprint, first race in nearly a year; class drop and switch back to dirt should yield a better effort
 #5 – Drive at Nite (8-1): Did not exhibit closing kick that provided a couple runner-up finishes immediately after breaking maiden; wide trip in latest could explain poor showing; F. Lynch staying aboard is a positive sign   
Race 8
#1 – Sweetrayofsunshine (3-1): Might be the better of the 2 NY shippers from the R. Rodriguez barn; if track is "off" it enhances this 7 y.o. mares chances (4:2-2-0); beat $32k open claimers @ Bel in first race after claim two back
#5 – Boheme de Lavi (2-1): Took a well- deserved rest after being runner-up in minor stakes first off the claim for trainer K. Magee who gets 27% of his runners to Winners Circle second time out 
#8 – Scip's Sonata (12-1): Wide turn throughout resulted in worst defeat in '16 at this same level; can bounce back as she's done in the past
Race 9
#8 – Trudys Lucky (5-2): Runner up in best effort of 5 race career, first time going one mile; winner is entered in today's opener v. open $25k may or may not prove they beat a weak field of $16k MCLs
#2 – High Tolerance (8-1): Slim pickin's in this group of non-winners; going for a class dropper who is also stretching out, been away since late Sept. and addition of blinkers could be winning formula
#1 – Dear Charlotte (20-1): Running line from first two races as the look of a horse wanting more route of ground; showed late interest sprinting in debut at this level then took ill-advised class jump   
YESTERDAY'S NEWS  
On Friday December 16th at Laurel had 5 winners from the 9 race card (2 Top Selections; payoff in BOLD) having $2 WIN pay-off of $15.80 (1st race), $3.00 (2nd), $9.80 (4th), $7.40 (5th) and $11.00 (9th). Of the suggested multi-race wagers hit R1-R2 $2 DOUBLE for $36.20 (cost: $18). Year-to-date Top Selections are 289 for 1,159 (24.94%).
BEST BET of the Day (122: 30-27-18) CBoppin Anda Weavin (6th race: 6-1 M/L; 5-1 PT) stumbled badly at the start, covered in time to move into between rivals forging to the early lead, maintained that lead into the stretch when asked for best stride but could not hold off winner and lost the runner-up spot at the wire to return $4.20 to SHOW.
LONGSHOT PLAY of the Day (119: 12-13-16) Nopalito (7th race: 12-1 M/L; 10-1 PT) raced off the pace to the ½ pole, moved between rivals into the far turn and weakened to finish 7th.