The GQ Approach – Laurel December 16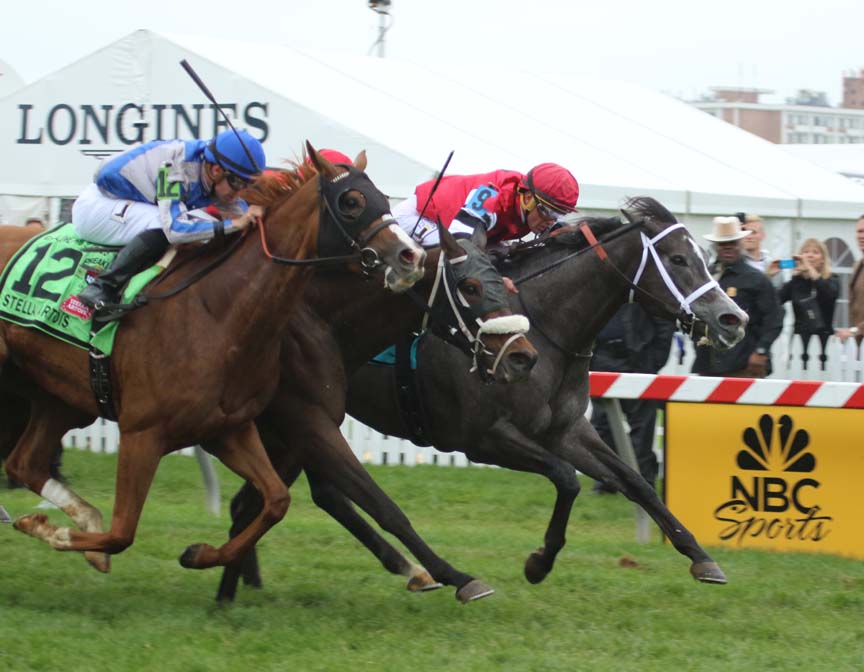 Mizz Money (#9) held off Vielsalm (in between) and Heath (#12) to win the Grade 3 Gallorette. Photo by Laurie Asseo.
The GQ Approach features full-card selections from Laurel Park (w/ live racing every Friday, Saturday and Sunday throughout 2016; Post Time 12:30pm EDT), including a daily Best Bet, Longshot Play, and multi-race wagers — including the 20 cent Rainbow Pick-6, 50 cent Jackpot Pick-5, as well as Pick-4s and rolling Doubles, Pick-3s and the Super High-5. 
CARRYOVERS
Rainbow Pick 6: $8,634
Super High 5: no carryover
Late Pick 5: no carryover
BEST BET OF THE DAY
Race 6 / #4 – Boppin Anda Weavin (6-1)
LONGSHOT PLAY OF THE DAY
Race 8  / #7 – Nopalito (12-1)
[su_heading size="21″ align="left"]Multi-race wagers[/su_heading]
Race 1: $2 Double  3, 4, 7  w/ 1, 2, 7  ($18)
Race 3: $0.50 Pick-3  2, 6, 7  w/ 4, 5, 8  w/ 5, 7, 8  ($13.50)
Race 5: $0.50 Pick-5  7, 8  w/ 4  w/  1, 6, 7 w/ 2, 3, 7 w/ 1, 6, 7  ($27)
Race 8: $2 Double  2, 3, 7 w/ 1, 6, 7  ($18)
[su_heading size="21″ align="left"]Analysis[/su_heading]
Weather: Mostly Cloudy and COLD, highs in the mid 20's
Projected condition of main track: FAST
No turf racing until Spring 2017
Race 1
#7 – I'm a Prankster (2-1): With the past few days of frigid temps, a speed favoring race track typically follows; if this will be the case this gelding should be a threat to go gate-to-wire coming off turf effort after breaking maiden v. the cheapest sorts in these parts
#4 – Mr Coupons (3-1): Prx shipper for 22% trainer J. Guerrero in '16 has always been well backed at windows but has disappointed (15:1-3-2); has been ITM in all 3 tries at this N2L level
#3 – Run for Zach (10-1): Makes 4th career start, 1st stretching out to two turns; should appreciate added distance as dam broke maiden at this distance and sire line is filled with distance runners
Race 2
#7 – Called in Sick (8-5): Should be the speed of the speed as her 4 furlong split times have been the fastest of this group; need to have faith that 10 lb. bug girl (A. Carrow) can beat the boys to the lead
#1/1A – Choice Prospect/Next Street (5-2): Meet leading rider (J. Toledo) is listed on both so hoping the weaker link (#1A) gets scratched; "Choice" hasn't raced since Aug. when in over her head, but at least she's been working in A.M.
#2 – Sisella (10-1): Takes another drop after breaking maiden by 10 lengths local on sloppy surface 3 races back for $16k; gets good gate rider in J. Acosta to get good position from rail     
Race 3
#4 – More Stormyweather (9-2): Second race after 4+ month layoff; put in a nice late run after traffic troubles at ½ pole; enough early speed in here to give hope that she can take advantage late
#3 – Lucky Greatness (5-1): Beat foes at this N4L @ Prx in first race after M. Serey claim when eligible for N3L in last outing; can lightning strike twice?! Maye if she gets early lead
#6 – William'sluckygray (6-1): Away since March when eased v. N1X @ Aqu.; privately purchased by owner/trainer C. Payne "for a song" as she's entered for $10k after 3 works             
Race 4
#4 – Rapid Rouge (10-1): Only runner in here who has constantly competed against open claimers while having excuses in 3 previous races prior to getting a good bob to prevail in latest
#5 – Classic Wildcat (3-1): 11 y.o. gelding makes 80th career start; has been part of Exacta in over 50% of of Lrl outings (51: 15-11-7); tries for natural Hat Trick
#8 – The Pulse (5-2): Won latest v. $5k open claimers and claimed by "MTHA award winning" trainer K. Magee; takes necessary step up while still in jail; will have company vying for early lead
Race 5
#8 – Generous Jack (8-1): KY-bred FTS is Gunpowder Farms home-bred by K One King who has had a number of runners start career locally… w/ mixed results but this colts work tab is riddled w/ bullets
#7 – Censure (5-2): KY-bred FTS by Blame was $335k Kee Jul '15 purchase is likely PT favorite as trainer R. Jenkins gets 22% 2 y.o. to Winners' Circle; recent works are attractive but none from gate?
#5 – Bean Boy (10-1): Turf to dirt angle in second career start; steps up from $40k MCL and was tardy in early stages; rider switch to J.D. Acosta means a quicker start should result            
Race 6
#4 – Boppin Anda Weavin (6-1): *** BEST BET *** Yeah all those 1's in his running line have been on turf in his last 8 outings BUT with the lack of early speed from his foes and an anticipated speed friendly surface, a third win in 9th start on dirt is a strong possibility
#1 – Waynesborough (5-1): Has been facing much better for the most part @ Prx while compiling a nice dirt record (15: 3-3-4); will need pace help from unlikely sources to make legit late run
#6 – Indian Red (2-1): Big form reversal in second start for trainer J. Ness after claim v. same Alw10000s @ PA tracks; vulnerable ML favorite makes Lrl debut and is 1 for 15 at distance     
Race 7
#7 – Rock Harbor (6-1): 0 for 13 but 8 have been on turf; career best speed figure came on natural dirt in 1st of 3 on this surface v. MSW; excuse in latest dirt race as jock lost irons
#1 – Silver Starship (7-2): Last two starts were on the grass v. $16k; drops to lowest level in 7th career start; past dirt speed figs are good enough to win v. this group
#6 – L G Crash (10-1): Not much early speed among this low level non-winners event; showed early speed in first race going further than 6 panels two back when lost lead late   
Race 8
#7 – Nopalito (12-1): $$$ LONGSHOT $$$ 3rd of 4 runners in Alw sprint event @ Mnr in first race after 2 month break; loved spending Summer racing on Pid synthetic crap; should improve stretching out to one mile (5:1-3-0)
#2 – Connemara Coast (9-2): Has been facing better and should be positioned just off the early speed duel between #4 and #5; gets best distance (7: 3-0-2)
#3 – Sheikinator (3-1): Suddenly a better runner in last 3 as trainer K. Nations must have found the right formula to help this 5 y.o. gelding blossom
Race 9
#1 – Speightsford (4-1): KY-bred FTS by Speightstown has extensive work tab w/ the last five bullets… count'em, the last five! jock/trainer combo have met in Winners' Circle after 3 of 7 starts
#7 – Blackjack Buster (3-1): Two-time beaten favorite; most recently a distant runner-up to a nice MD-bred 2 y.o. (El Areeb)
#6 – Somekindofmagician (9-2): Adds blinkers for second career start after closing w/ a rush while racing greenly on grass in debut   
YESTERDAY'S NEWS  
On Sunday December 11th at Laurel had 8 winners from the 9 race card (1 Top Selection; payoff in BOLD) having $2 WIN pay-off of $5.00 (1st race), $4.00 (2nd), $10.40 (3rd), $5.20 (4th), $5.60 (5th) $5.60 (6th), $4.60 (7th) and $3.80 (9th). Of the suggested multi-race wagers hit R1-R2 $2 DOUBLE for $10.00 (cost: $18, ouch!) and R3-R5 50 cent Pick-3 for $30.80 (cost: $13.50). Year-to-date Top Selections are 287 for 1,150 (24.96%).
BEST BET of the Day (121: 30-27-17) Cutty Shark (6th race: 5-2 M/L; 3-1 PT) stalked the pace off the rail, angled four wide into the lane, kept on gamely to the inside of TIZ SHOWBIZ and outbid that one for the place to return $4.00 to PLACE and $2.40 to SHOW.
LONGSHOT PLAY of the Day (118: 12-13-16) Stolen Secrets (7th race: 15-1 M/L; 34-1 PT) raced along the rail in a stalking position then gave way entering the stretch to finish 7th.