The GQ Approach – Laurel December 11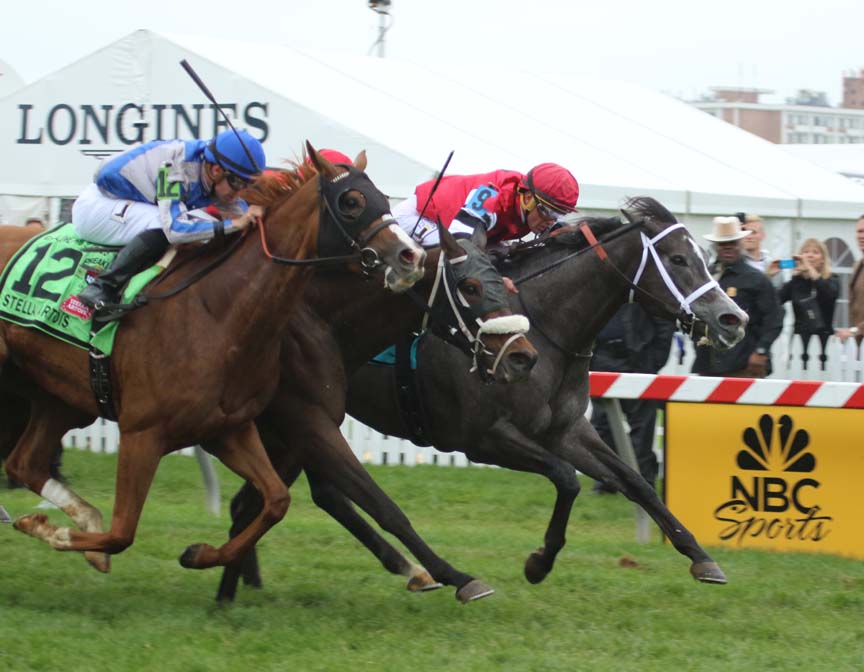 Mizz Money (#9) held off Vielsalm (in between) and Heath (#12) to win the Grade 3 Gallorette. Photo by Laurie Asseo.
The GQ Approach features full-card selections from Laurel Park (w/ live racing every Friday, Saturday and Sunday throughout 2016; Post Time 12:30pm EDT), including a daily Best Bet, Longshot Play, and multi-race wagers — including the 20 cent Rainbow Pick-6, 50 cent Jackpot Pick-5, as well as Pick-4s and rolling Doubles, Pick-3s and the Super High-5. 
CARRYOVERS
Rainbow Pick 6: $6,950.91
Super High 5: no carryover
Late Pick 5: $6,647.76
BEST BET OF THE DAY
Race 6 / #5 – Cutty Shark (5-2)
LONGSHOT PLAY OF THE DAY
Race 7  / #2 – Stolen Secrets (15-1)
[su_heading size="21″ align="left"]Multi-race wagers[/su_heading]
Race 1: $2 Double 1, 2, 4  w/ 2, 3, 8  ($18)
Race 3: $0.50 Pick-3  2, 6, 7  w/ 1, 3, 5  w/ 1, 4, 5  ($13.50)
Race 5: $0.50 Pick-5  1, 5,  w/ 5  w/ 2, 5, 6  w/ 3, 4, 6  w/ 2, 9, 11  ($27)
Race 8: $2 Double  3, 4, 6  w/ 2, 9, 11  ($18)
[su_heading size="21″ align="left"]Analysis[/su_heading]
Weather: Mostly Cloudy, highs in the upper 30's
Projected condition of main track: FAST
No turf racing until Spring 2017
Race 1
#1 – I Just Wanna Win (5-2): And she has in 6 of 18 starts, missing a natural Hat Trick when coming off a 7 month layoff due to a rough start, yet managed to be runner-up
#2 – Knacque (9-5): Takes a multi-level class drop from most recent two on dirt @ Pen; exits local two turn turf; appears to like Lrl main oval (6:3-0-1) 
#4 – Shady Lane Sunset (8-1): Third different jock climbs aboard since trainer T. Iannotti claimed for $4,000 three races back; would behoove F. Boyce to get into her early as this field lacks speed
Race 2
#8 – English Tudor (7-2): FTS by English Channel out of a More Than Ready mare belongs on turf, will race w/o Lasix by owner Olympic gold medalist Bode Miller has bought some nice runners in the past; like the work tab and chances v. a weak $16k MCL group
#3 – Resident Scholar (6-5): Runner-up at this level was first time hitting the board in five career outings; hard to take Morning Line odds on this guy w/ 3 other unknowns (aka FTS) in here
#2 – Horseshoe Harbour (12-1): Connections should be getting kickbacks from namesake; second start with blinkers after gate issues in first start in 6 months after being outrun in debut v. MSW 
Race 3
#6 – Con Gee (3-1): Appears to be only one interested in getting early lead, if jock J. Pimentel has read the PPs; makes Lrl debut in 24th career start for trainer S. Lake having a chilly meet (2 for 31)
#2 – Harrington Romance (5-2): Not a good $10k claim for the J. Ness outfit as she was off nearly 3 months before making first start for new barn and it was for $5k @ Pen earning a dubious "Evenly" chart comment; hoping for better today
#7 – Dance N Denae (8-1): Trainer C. Gonzalez only entry on the card; this gal prevailed v. $5k conditional claimers two back prior to failed turf try; part of Exacta in all 3 efforts at this distance
Race 4
#5 – Michazi John (7-2): After 3 tries v. MSW @ Prx, failing as Post Time favorite two back then caught up in traffic going two turns cuts back and drops in for $40k tag
#1 – Worth His Salt (7-2): Huge disappointment in second start coming 6 months after very encouraging debut, a distant second behind debut winner and graded stakes placed Recruiting Ready; second start w/ blinkers today
#3 – Amazing Campisi (6-1): Trainer T. Ritchey (22%) makes a return trip down I-95 to saddle Congaree colt in second career start; debut v. MSW was forgettable so he drops in for tag
Race 5
#1 – Hey Willie (3-1): Scored gate-to-wire victory on multi-class drop and was claimed by M. Eppler who does well in finding the back class on cheap claimer
#5 – Born in Brooklyn (7-2): Appropriately named NY-bred ships in from FL to make Lrl debut for 22% trainer J. Acquilano; runner takes step up trying for natural Hat Trick
#4 – Cold Facts (5-2): Hunch play of the day with temps just above freezing; jockey M. Franklin has been sitting on 999 career wins for a while, this one could get him to the milestone on class drop            
Race 6
#5 – Cutty Shark (5-2): *** BEST BET *** Exits a tough Alw5000s that has yielded two next out winners (the runner-up and 5th place finisher) while this gray got the Show purse; has plenty of back class to believe recent efforts at long odds indicate a top effort here
#8 – Ground Control (7-2): Gets back to 6 furlong sprint which should help him get to early lead after being a bit tardy going 4½f @ CT v. better
#6 – Tiz Showbiz (7-2): An immediate reclaim for trainer H. McMahon and paid a premium; cuts back to sprint     
Race 7
#2 – Stolen Secrets (15-1): $$$ LONGSHOT PLAY $$$ Have to believe she wasn't cranked up for that sprint in first race after 5 month layoff as trainer L. Curtis gets 31% of second race after layoff runners to Winners' Circle; added distance will be to this gals liking
#6 – Borino (5-2): Blinkers come off in 4th career outing for a jock/trainer duo who have been winning at a 33% clip at current meet; will only need a little improvement to graduate here
#5 – Double Sharp (10-1): Jock V. Carrasco back in irons for trainer M. Gorham as team is 25% this year; first time stretching out to one mile could offer better results than in the past   
Race 8
#4 – Thissongisaboutyou (6-1): Scored maiden victory in latest, her 8th start, second one w/ blinkers; good enough to repeat v. these
#6 – If I Was a Boy (9-2): Near miss in Alw$42kN1X going an extra furlong in most recent outing; has been runner-up in half of her starts (10:1-5-1) which may indicate early signs of "Seconditis"
#3 – Sazerac Girl (8-1): Has been racing exclusively on grass in past 12 outings yet her 3 dirt efforts are decent (3:0-2-1) and new barn (D. Capuano) recognizes that in first race after claim
Race 9
#2 – Little Kitten (4-1): Only runner in here to have won multiple races over the Lrl dirt oval; a lifelong earner at this bottom level can improve off the runner-up effort in latest
#11 – Balabusta (7-2): Can boast top Brisnet Prime Power# and has given 110% in every career one of her 7 career starts; speed figs are ascending
#9 – Amour's Charm (15-1): Bit of a bit more in last start and ran to her 16-1 odds; class relief can yield an ITM finish as she did 3 back at this level when not the cleanest of trips   
YESTERDAY'S NEWS  
On Saturday December 10th at Laurel had just 4 winners from the 9 race card (1 Top Selection; payoff in BOLD) having $2 WIN pay-off of $5.60 (1st race), $3.40 (5th), $6.60 (6th) and $26.80 (8th). Year-to-date Top Selections are 286 for 1,141 (25.07%).
BEST BET of the Day (120: 30-26-17) O Dionysus (9th race: 5-2 M/L; 8-5 PT) settled towards the rear travelling down the backstretch, swung 7-wide on the turn and flattened out in the final furlong to finish 4th.
LONGSHOT PLAY of the Day (117: 12-13-16) Struth (7th race: 8-1 M/L; 9-2 PT) set the pace two wide around the turn, drifted out in mid-stretch and gave way finishing 6th.