The GQ Approach – Laurel December 10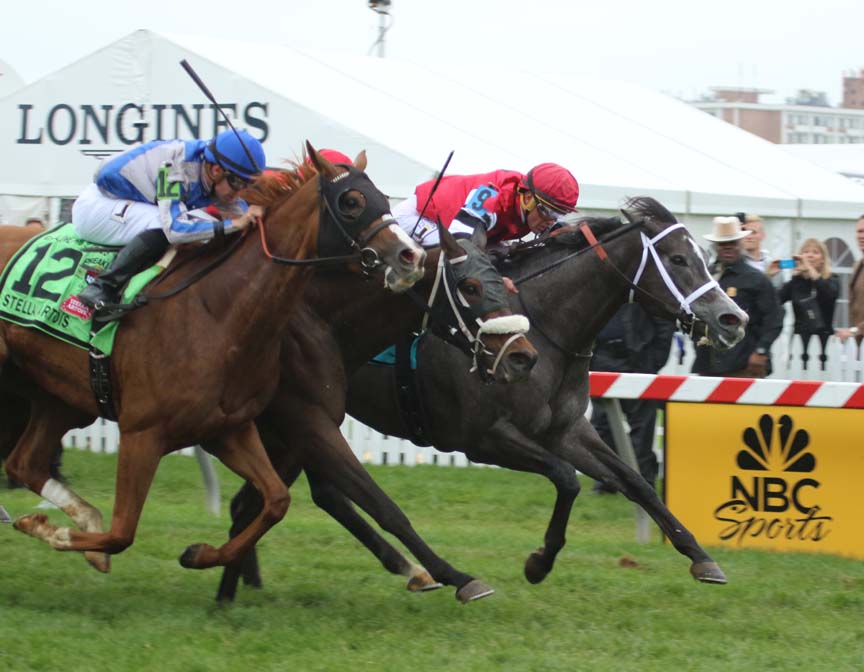 Mizz Money (#9) held off Vielsalm (in between) and Heath (#12) to win the Grade 3 Gallorette. Photo by Laurie Asseo.
The GQ Approach features full-card selections from Laurel Park (w/ live racing every Friday, Saturday and Sunday throughout 2016; Post Time 12:30pm EDT), including a daily Best Bet, Longshot Play, and multi-race wagers — including the 20 cent Rainbow Pick-6, 50 cent Jackpot Pick-5, as well as Pick-4s and rolling Doubles, Pick-3s and the Super High-5. 
CARRYOVERS
Rainbow Pick 6: $5,176
Super High 5: no carryover
Late Pick 5: no  carryover
BEST BET OF THE DAY
Race 9 / #5 – O Dionysus (5-2)
LONGSHOT PLAY OF THE DAY
Race 7  / #4 – Struth (8-1)
[su_heading size="21″ align="left"]Multi-race wagers[/su_heading]
Race 1: $2 Double 2, 4, 6  w/ 1, 3, 6  ($18)
Race 3: $0.50 Pick-3  1, 4, 8  w/ 1, 2, 6  w/ 6, 8, 9  ($13.50)
Race 6: $0.50 Pick-4  2, 7, 8  w/ 2, 4  w/  2, 5, 6 w/ 3, 5, 6  ($27)
Race 8: $2 Double 2, 5, 6 w/ 3, 5, 6  ($18)
[su_heading size="21″ align="left"]Analysis[/su_heading]
Weather: Partly Sunny, highs in the low 40's
Projected condition of main track: FAST
No turf racing until Spring 2017
Race 1
#2 – Scarlett's Ransom (4-1): FTS by Denis of Cork out of a Grand Slam mare finished up work tab for debut with two 6 furlongs drills; 11% trainer "Jerry" Robb gets 20% of firsters to Winners' Circle
#4 – Beautiful Nite Sky (5-2): NY-bred exits 2 restricted $40k MCL after lone local try was a runner-up effort to Phantom Shot who goes in MD Juv. Filly Championship in race 6 today
#6 – Sounds Delicious (7-2): Hard to gauge barn intent for this KY-bred FTS by Yes It's True; been working @ Aqu every 10-14 days but may only be making trip to fill 2-horse trailer with stablemate who is prohibitive favorite in Willa On the Move stakes in race 8
Race 2
#1 – D N A Approved (9-2): Looking past the turf "walk" in latest; should gun for the lead and get it w/o much pressure and hold off late arriving stretch runners
#3 – Rally With Class (7-2): Seeks 5th career win in just 10th start so it's odd that this 3 y.o. gelding hovers at the bottom claiming level; stamina will be tested trying to go an additional furlong
#6 – Turbin (3-1): One of the strangest angles of them all in play here… "Eased" (in latest) but that was over 3 months ago, only one published work since (4f in :52 flat) and gets jock (Jordan Erwin) making professional riding debut… not at 3-1, strictly using as a Saver in Double     
Race 3
#1 – Mr. Spaceman (6-1): Trainer L. Gaudet took the bait when claiming this NJ-bred 5 y.o. gelding for $5k as he won easily; finally finds a N4L race over a month later; a gate-to-wire candidate as the rest of this field lacks early foot
#4 – Concord Joe (3-1): Perfect record (3 for 3) was ended when he hopped at the start in latest, yet still ran on to finish just 3½ lengths behind winner @ Del in Alw$36kN1x event; slim pickin's for this condition so assuming drop is not by choice rather to get him in a race
#8 – Perfect Game Cain (7-2): Seldom used rider in the afternoon (E. Camacho) gets back aboard after closed a ton of ground late in turf sprint for N4L in first race after layoff; no excuse if he doesn't improve here getting back on dirt (7: 2-2-2)             
Race 4
#6 – Ghoul's Night Out (6-1): MD-bred FTS by Ghostzapper out of a Not For Love mare ships from Bel for A. Dutrow's only entry on the card; has spent some training time @ Fai as well; trainer/jock team have done well lately (3 for 7)
#2 – Discreet Deceit (6-1): Second time blinkers; seems to hang when she gets to the lead in the stretch; change of rider may hel;p correct that kink in the armor
#1/1A – Zingalong/Moonlighting Majic (6-1): Suspect one of these entrymates will scratch as C. Potts listed on both FTSs; prefer the #1A as she flash early speed on a track that may start favoring it w/ freezing temps recently  
Race 5
#9 – Scip's Sonata (9-2): Looking for nice stalking trip just behind the cheap speed (#2) to get first run turning for home; rough trip in $75k Geisha stakes yet rallied to complete the Superfecta
#6 – Alpine Sky (4-1): Idle since mid-Oct. when she followed up her maiden score here over a sloppy track; attracts T. McCarthy to ride as he's 7 for 21 (33%) at meet w/ trainer C. Lynch
#8 – Welcoming (8-5): Trainer C. Clement simply ships runners ready to win (6:2-2-1); runs best in first race after layoff which is the case today, adds blinkers and switches back to dirt mile, surface and distance of only two career wins          
Race 6 is the $100,000 Maryland Juvenile Filly Championship Stakes
#7 – Crabcakes (3-1): Made short work out of a MSW field in racing debut @ Pen receiving a 84 Brisnet#, tops among this group while being geared down the final 1/16th just 7 days ago; ships in for trainer Bernie Houghton who has had success @ Lrl (11: 3-2-1) during this meet
#2 – Phantom Shot (6-1): Took four tries to graduate in second start w/ blinkers and taking a huge step forward earning 81 Brisnet#, good for second best in this bunch; her tactical speed should allow for a nice stalking trip  
#8 – Old Line Gal (5-2): Afleet Alex ownership group paid $210K for this good-looking Stay Thirsty MD-bred gal who was heavily back in first 3 starts on the way to finally earning her diploma; was overmatched in minor turf stakes @ Bel when 84-1; fits better with these fillies    
Race 7 is the $75,000 Howard M. Bender Memorial Stakes
#4 – Struth (8-1): $$$ LONGSHOT $$$ Has the potential to be a local sprint star in minor and MD-bred stakes; only a DQ has kept him out of Exacta at this distance (4: 2-1-0); will be just off early speed in this his stakes debut stakes and gets first run at likely Post Time favorite (#2) to pull the upset  
#2 – Morning Fire (5-2): Strange to see in a sprint "Lone Speed" but this colt warrants that label in here; gave up early in latest, a $100k local stakes when never got lead as an 11-1 outsider; this will be third race after 6-month layoff and recent work indicates a top effort is in order       
#5 – Rockinn On Bye (7-2): Disturbing fact when looking at lifetime record (39: 6-13-6) as he's been runner-up in last 3 starts… minor stakes, allowance & G3; never OTB going 6 furlongs (9: 2-5-2) but winning is missing from his 2016 resume' in 10 starts; looks like another "late on the scene" run to grab a minor share
Race 8 is the $100,000 Willa On the Move Stakes
#6 – Hot City Girl (3-5): Idle since mid-August with an lingering foot abscess but her latest two bullet drills imply she's 100% and good to go; won $100k Safely Kept in her last trip down I-95 from her home base @ Bel; an alert start is imperative as she's never been more than a length off the pace in any of her 6 career wins; only foe that might head her early is #7     
#2 – Sweet On Smokey (8-1): Exits a near gate-to-wire win in Starter Allowance as 6-5 favorite in first race off the bench; runner-up in last 3 efforts, all as beaten fav.; only OTB finish @ Lrl came in G2 Barbara Fritchie (4th by 3¼); should get first run at prohibitive favorite after other speed give her their best shot early       
#5 – Athena (6-1): Just less than a year ago this filly/trainer duo shipped in from CD to take the Thirty Eight Go Go Stakes over this dirt oval; can lightning strike twice? It sure can as trainer Helen Pitts makes first trip back to Lrl since that victory; filly seems to fit these minor stakes events as she's hit the board in all 5 starts in such races
Race 9 is the $100,000 Maryland Juvenile Futurity
#5 – O Dionysus (5-2): *** BEST BET *** How good is this son of Bodemeister? He won debut in spite of running off with jock in the irons during the Post Parade; in second outing was much the "second best" to No Dozing who was fourth in next outing, G1 Breeders' Futurity at Keeneland then most recently runner-up in the G2 Remsen; this G. Capuano trainee ran career best Brisnet# (95) in latest effort, a restricted stakes @ Prx    
#6 – Hatteras Bound (20-1): Just one of three in here to have beaten winners as he did it v. $25k open claimers while being just one of two to have won going beyond 6 furlongs; has improved speed figure-wise in each of his 4 career outings; a threat to upset at a huge price    
#3 – Bonus Points (2-1): Doubt that there will be a Todd Pletcher (0 for 2 & OTB here) sighting in the Lrl paddock saddling this colt who earned diploma over a muddy Bel surface going two turns on Oct. 1st; lone fast, dirt track try resulted in picking up the Show purse v. maidens at one mile which indicates this middle distance suits him 
YESTERDAY'S NEWS  
On Friday December 9th at Laurel had just x winners from the 9 race card (x Top Selections; payoff in BOLD) having $2 WIN pay-off of $11.20 (4th race), $8.00 (7th) and $12.60 (8th). Year-to-date Top Selections are 285 for 1,123 (25.38%).
BEST BET of the Day (118: 30-26-17) Daily News (8th race: 2-1 M/L; 4-5 PT) advanced wide in hand and cleared rivals after a furlong, set pace two to three wide, was taken on past the five-sixteenths pole, dueled inside eventual runner-up from the quarter pole to mid-stretch and gave way stubbornly, settling for the Show purse to return $2.40 to SHOW.
LONGSHOT PLAY of the Day (115: 12-13-16) Parseghian (4th race: 12-1 M/L; 16-1 PT) was wrangled back soon after the start and angled in, moved up towards the rail but steadied entering the turn, progressed on after then steadied again when in close in upper stretch then lacked a further response finishing 12th.