The GQ Approach – Laurel December 9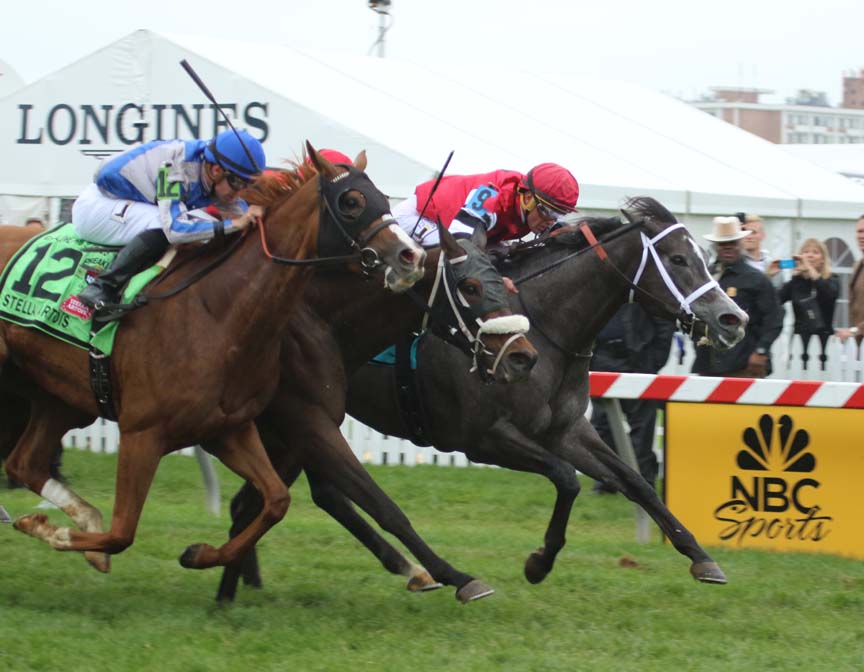 Mizz Money (#9) held off Vielsalm (in between) and Heath (#12) to win the Grade 3 Gallorette. Photo by Laurie Asseo.
The GQ Approach features full-card selections from Laurel Park (w/ live racing every Friday, Saturday and Sunday throughout 2016; Post Time 12:30pm EDT), including a daily Best Bet, Longshot Play, and multi-race wagers — including the 20 cent Rainbow Pick-6, 50 cent Jackpot Pick-5, as well as Pick-4s and rolling Doubles, Pick-3s and the Super High-5. 
CARRYOVERS
Rainbow Pick 6: $4,142.35
Super High 5: no carryover
Late Pick 5: $3,374.82
BEST BET OF THE DAY
Race 6 / #4 – Cooking Up a Storm (2-1)
LONGSHOT PLAY OF THE DAY
Race 9  / #4 – Lieutenant Dale (15-1)
[su_heading size="21″ align="left"]Multi-race wagers[/su_heading]
Race 1: $2 Double 2, 3, 5  w/ 6, 7, 8  ($18)
Race 3: $0.50 Pick-3  1, 2, 5  w/ 2, 3, 6  w/ 1, 6, 8  ($13.50)
Race 5: $0.50 Pick-5  6  w/ 4, 8  w/ 1, 3  w/ 8, 12, 16  w/ 3, 4  ($12)
Race 8: $2 Double 8, 12, 16  w/ 3, 4, 9  ($18)
[su_heading size="21″ align="left"]Analysis[/su_heading]
Weather: Partly Sunny, highs in the low 40's
Projected condition of main track: FAST
No turf racing until Spring 2017
Race 1
#3 – Gimme Kimmy (3-1): Takes appropriate drops from MSW to $25k MCL for third career start; needs alert start to be engaged w/ foes early
#2 – Elatha (7-2): Same story as top pick on class relief and number of starts but has already shown quickness from gate; cut back to sprint should yield similar run to debut when earned highest dirt speed fig of this bunch
#5 – Dominic's Pride (6-1): MD-bred FTS by M Eighty out of an Allen's Prospect mare only shows a trio of works, each a month or so apart… typically not a good sign but trainer D. Barr has impressive 23% win rate w/ MCL firsters
Race 2
#7 – Finito (3-1): Was a vet scratch last weekend when entered in Alw$24kN1X event coming off $5k claim by trainer G. Brooks; makes mandatory jump in class while just a few days form getting out of "jail"
#6 – Fran's Buckaroo (2-1): Got caught late 2 back when in for this same condition but this distance is another 1/16th which makes this gelding a vulnerable favorite
#8 – Going to Market (9-2): Got first win in nearly 2 years (18 starts) in last outing v. cheaper; has back class that may indicate this 7 y.o. still has the competitive juices to handle step up     
Race 3
#5 – D. K's Code (4-1): One of the few in hear taking big drop from MSW to$16k MCL; should get fast track for first time in career (prev. were on turf & slop); like the "Mild late interest" in debut as the top two who were in there are pretty nice
#1/1A – Haircut Bill / El Manut (5-2): #1 presumably better of these two as beaten fav. in last (3rd by 2¼) and a neck loser 3 back, both were at this level and over Lrl fast dirt track; #1A is FTS by Parading who earned his living on the turf but has attracted T. McCarthy so don't ignore if #1 gets scratched
#2 – Archie's Revenge (6-1): Tough assignment from the rail but after getting buried v. MSW in first race off C. Tapscott claim for $16k in debut when 3rd as 5-2 second choice; should be considered a threat to graduate v. these             
Race 4
#6 – Bo Vuk (5-2): Has looked brilliant in last 3, the first coming 9 months after debut; should be able to handle added distance as sire won multiple graded stakes at one mile and beyond and dam's only 2 two victories came at 7 furlongs and one mile
#3 – Cort'n Asong (9-2): Basically stopped v. $16k Str Alw bunch when first time equipped w/ blinkers; keeps the hood on while dropping back to level where he was runner-up two back
#2 – Tambourin (9-2): Tries natural dirt for first time in 10th career outing, 1st for L. Gaudet after claim (24%) for $10k; 4 y.o. gelding by Smart Strike out of a Dixieland mare should "do" dirt just fine
Race 5 is OFF THE TURF
#6 – Red Hot Warrior (5-2): Nice work tab over the past 8 weeks as something obviously went amiss in that July 30th start when stumbled at the start then never ran a lick; may need pace help
#1 – Uncle Leo (20-1): Will be interesting to see who scratches as most early speed are turf specialists, except for "Leo"; yeah he's really cheap on dirt ($5k @ Pen and Del) but if left alone on the lead… watch out!
#8 – Best Yes (8-1): No starts on fast track but has participated in an off the turf event, so he shouldn't scratch; morning drills on fast track display a couple bullets            
Race 6
#4 – Cooking Up a Storm (2-1): *** BEST BET *** Been on the sidelines since returning from spending the summer @ Pid; loves Lrl dirt (10: 4-5-0) oval as he feasted on similar completion last winter; will need track to continue to be kind to runners coming from off the pace
#8 – Risky Guy (3-1): Two runner-up efforts after trainer J. Maldonado claim; the latest coming against a real tough customer (Double Whammy); part of Exacta in 20 of 41 starts
#9 – Dixie Deputy (8-1): Makes third start after layoff which could help turn the tables on #8 who has gotten better of him in last two; cut back to 5½f helps as he's 6 for 8 lifetime at this distance    
Race 7
#3 – Nicaradalic Rocks (7-5): Finally found his upper limit when no threat in $200k open stakes event @ Mvr; takes a big step back to a level he should handle easily based on previous races under the care of trainer K. Magee
#1 – Joy Drive (6-1): Discovered in last that turf racing should not be in his future and/or exited that race in need of extended rest and got it; scheduled to ship in from NY w/ stablemate in entered in race 8 but off the turf 
#5 – Saratoga Heater (8-5): Owner/trainer D. Jacobson ships in NY-bred to try for natural Hat Trick but not on an off track on which all 4 career victories have come   
Race 8 is OFF THE TURF
 #8 – Formby (7-2): Will miss out on initial turf start in 4th of career but still needs to prove she can handle stretch out to two turns; boasts best dirt track speed figure of all entered here
#12 – Bawlmer Hon (5-1): The best of the MTO entries IMHO; destroyed restricted N1X group when 4-5; both victories have come in gate-to-wire fashion in only two turn races of her career
#16 – Daring Bride (9-2): Should still go as she has twice before in off the turf races, the first when winning debut; hasn't had cleanest of trips in past 3 efforts yet been part of Exacta in all (3:1-2-0)
Race 9
#4 – Lieutenant Dale(15-1): $$$ LONGSHOT $$$ One of just a few dropping in class seeking 4th win; cuts back to 6 furlongs and won only other start at this distance; gets jock upgrade w/ V. Carrasco in the irons
#3 – Habanero Gold (5-1): Has generally been a cash cow in 23 starts; runner-up to next out winner in latest @ CT and has delivered ascending speed figures; has run even better previously
#9 – Minor Legend (4-5): Failed as lukewarm favorite on big drop while racing on turf; another significant drop but on fast, dirt track where he's never won (6:0-1-1)
YESTERDAY'S NEWS  
On Sunday December 4th at Laurel had just 3 winners from the 9 race card (1 Top Selections; payoff in BOLD) having $2 WIN pay-off of $11.20 (4th race), $8.00 (7th) and $12.60 (8th). Year-to-date Top Selections are 285 for 1,123 (25.38%).
BEST BET of the Day (118: 30-26-17) Daily News (8th race: 2-1 M/L; 4-5 PT) advanced wide in hand and cleared rivals after a furlong, set pace two to three wide, was taken on past the five-sixteenths pole, dueled inside eventual runner-up from the quarter pole to mid-stretch and gave way stubbornly, settling for the Show purse to return $2.40 to SHOW.
LONGSHOT PLAY of the Day (115: 12-13-16) Parseghian (4th race: 12-1 M/L; 16-1 PT) was wrangled back soon after the start and angled in, moved up towards the rail but steadied entering the turn, progressed on after then steadied again when in close in upper stretch then lacked a further response finishing 12th.